Last updated on May 15th, 2023
This oven roasted roast beef dinner is easy enough to prepare any night of the week! Seasoned with salt, pepper, and thyme, it's seared until brown then finished under the broiler. Serve drizzled with pan juices.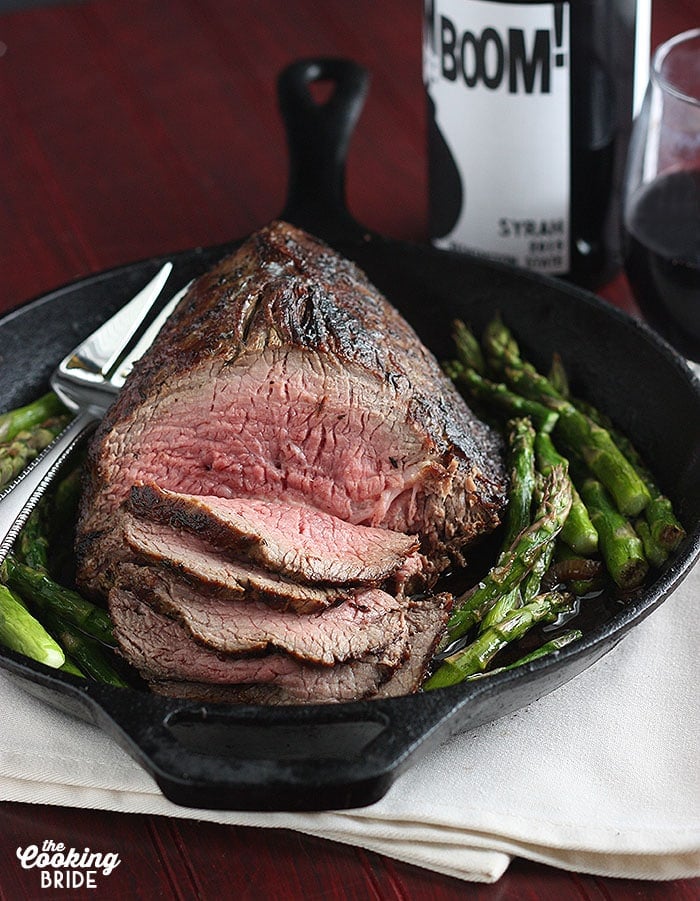 Do you ever just get a hankering for roast beef? You know, beautifully seared on the outside and deliciously pink on the inside.
Preparing a roast beef dinner for your family doesn't have to be expensive.
You don't have to go out and spend a load of money on a beef tenderloin or a prime rib. Sure, that may be what's best, but it's not practical. At least not when it comes to my grocery budget. For this recipe, I used a boneless English roast because my local grocery store was running a sale. You could also use top round roast, top sirloin roast, bottom round roast, or eye of round roast. It produces delicious results and is easier on your wallet.
A roast beef dinner doesn't have to take a lot of time.
I have prepared roast beef dinners that are slowly simmered for an hour or more. They're delicious, but not everyone has time for that. I like to let my roast come sit out of the fridge for 20 – 30 minutes to room temperature. This allows for more even cooking. I season it with a combination of salt, pepper, dried thyme and garlic and onion powder, then sear it on all sides in a really hot skillet. I find a cast iron skillet works best. It conducts the best heat and I can go straight from the stove top to the broiler.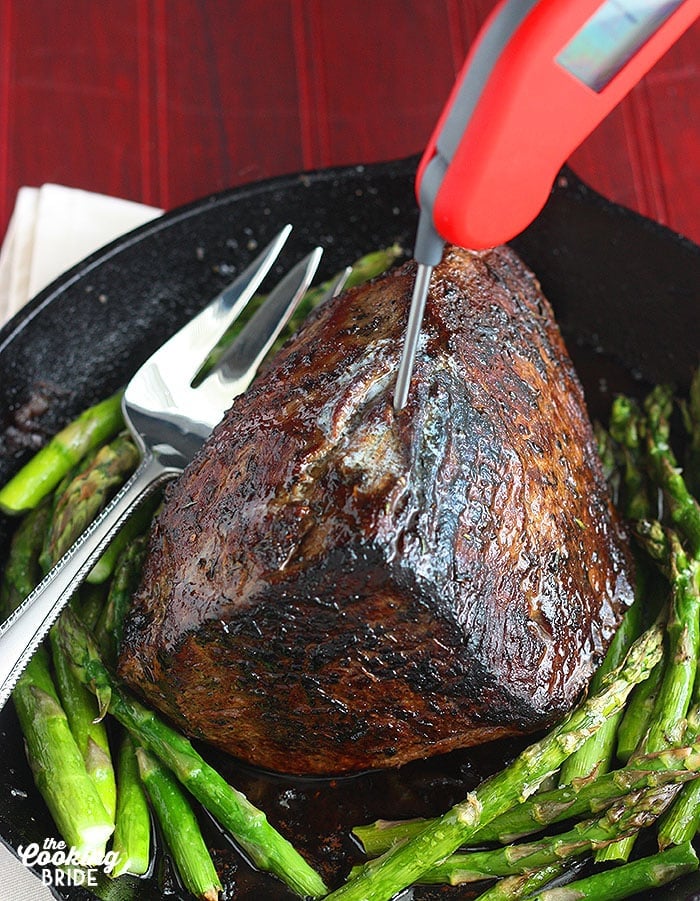 After you've seared your roast on all sides, place it about five inches from the boiler. Halfway through cooking, rotate your roast.  Finally, you want to use a good meat thermometer to check the internal temperature. The Thermoworks Thermapen® Mk4 is my go-to. I like to take my roast out of the oven when it is about 10 degrees away from being done — 145 degrees for medium rare and 165 degrees for medium. Don't worry, the temperature will continue to rise as it rests.
Let your meat rest.
You've probably heard people say this before — you should listen! Cutting into your meat right when you pull it out of the oven will cause all your juice to run out, resulting in dry meat. Allowing it to rest for 10 – 15 minutes gives the juice time to redistribute back into the roast. IF you are worried about your roast getting cold, tent it with some aluminum foil.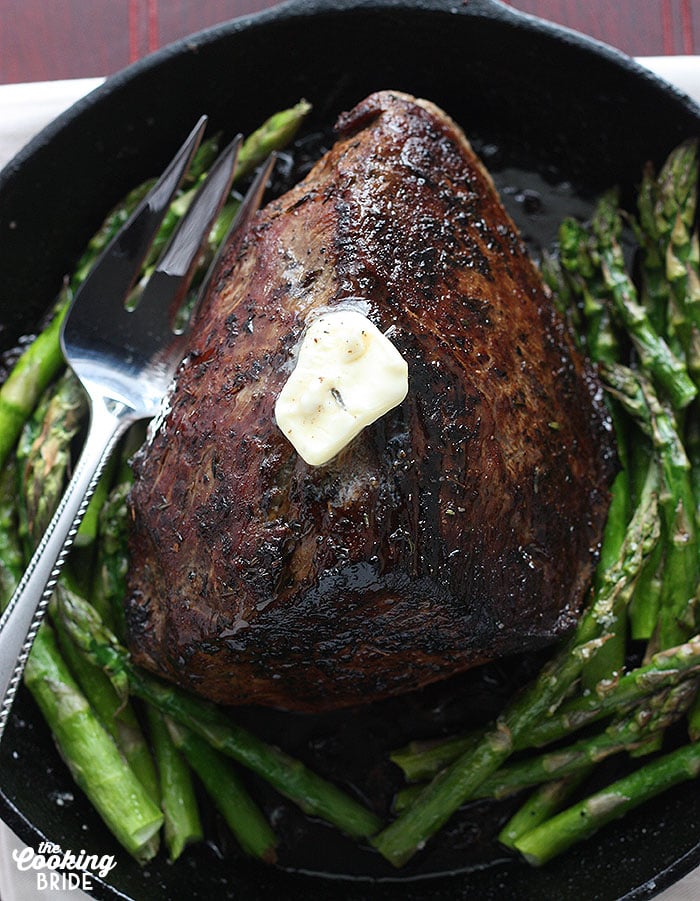 Finally, slice against the grain.
If you look at your roast closely, you will see the strands of connective tissue. You don't want to slice parallel to these connective tissues. You want to slice perpendicular, or "against the grain." Slicing with the grain results in a tough and chewy bite. Slicing against the connective tissues causes it to be more tender. Don't believe me?  Try it.
There you have it, a roast beef dinner you can have on the table in under an hour! If you have any leftovers, I suggest using them in this Black and Blue Steak Salad.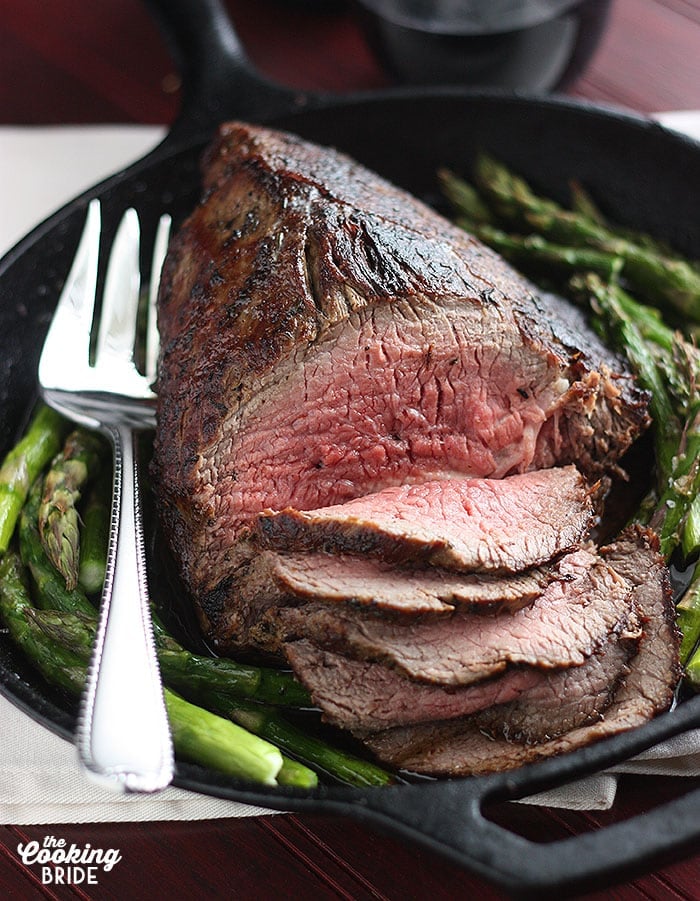 Looking for a few delicious side dishes to serve with your roast?
Oven Roasted Roast Beef Dinner
This oven roasted roast beef dinner is easy enough to prepare any night of the week! Seasoned with salt, pepper, and thyme, it's seared until brown then finished under the broiler. Serve drizzled with pan juices.
Ingredients
2

tablespoons

vegetable oil

2-3

pound

boneless English roast

1

tablespoon

Kosher salt

1

teaspoon

ground black pepper

1

teaspoon

garlic powder

1

teaspoon

onion powder

1

teaspoon

dried thyme leaves

2

tablespoons

butter

divided

¼

cup

red wine
Instructions
A half hour before cooking, set the meat out to come to room temperature.

Preheat broiler. Move oven rack to the topmost postion, or where the roast will be at least five inches from the heat.

Heat vegetable in a large ovenproof skillet over medium high heat.

Combine salt, black pepper, garlic powder, onion powder and thyme leaves. Season both sides of meat with the seasoning mixture. Gently pat the seasonings into the meat.

Brown roast in hot oil, about 3-4 minutes per side (or until meat no longer sticks to the bottom of the pan).

Place meat under broiler, about five inches below element. Leave oven door slightly ajar to prevent overcooking. Cook for 15 minutes for medium rare, or until an instant read thermometer reads 135 degrees for medium rare, 155 degrees for medium well.

Remove the roast from the pan and set aside. Place 1 tablespoon of butter on top of the roast to melt while it rests. Allow meat to rest for 15 minutes. Tent with aluminum foil to trap the heat.

In the meantime, place the skillet on a burner at medium heat. Add the red wine and scrap any browned bits off the bottom of the pan.

Add the remaining butter to the pan and stir to melt. Season with salt and pepper to taste.

Slice roast against the grain. Serve drizzled with pan sauce.
Nutrition
Serving:
2
ounces
|
Calories:
90.2
kcal
|
Carbohydrates:
1
g
|
Protein:
17
g
|
Fat:
2.5
g
|
Saturated Fat:
1
g
|
Sodium:
350
mg
|
Potassium:
440.2
mg
|
Iron:
3.2
mg