Last updated on March 21st, 2023
It doesn't get any easier on a weeknight than a sheet pan dinner. This smoked sausage bake combines sausage with veggies, hash brown potatoes and baked eggs.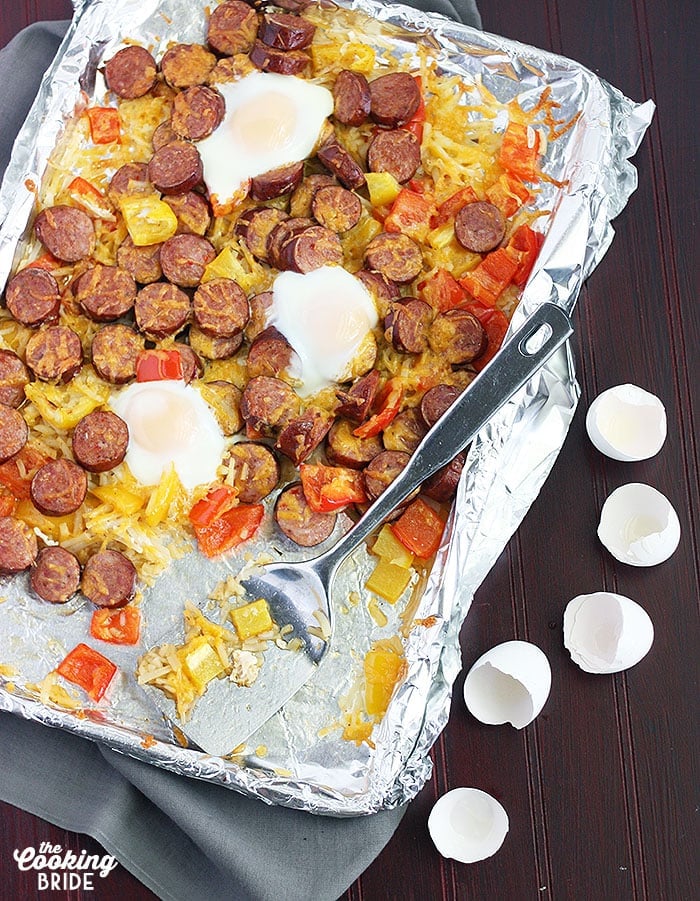 School is back in full swing for us and let me tell you … I am missing the lazy, laid back days of summer all ready. No more getting around to making dinner when we feel like it. I try to make sure my boys are bathed and in bed by a decent hour every night, which means I have to get dinner on the table by a decent hour every night.
Throw in homework and a few after school activities — that doesn't leave a lot of time for tending to something fussy on the stove. I love a good sheet pan dinner as much as the next mom or dad. They are quick, delicious and don't involve a lot of clean up afterwards (because who wants to end their day washing dishes?)
What is the best sausage to use?
Another aspect I love about sheet pan dinners is the versatility. You can get creative with the ingredients or take the opportunity to clean some items from your fridge.
I chose to use smoked sausage for my sheet pan dinner. Since it's pre-cooked, it shaves off a few minutes on the cooking time. I also like the sweet flavor that's balanced by the salty cheese and Cajun seasoning. Other options are sweet Italian sausage, Kielbasa, andouille. If using an uncooked sausage, you'll want to leave them whole rather than slicing the sausage like I did. You may also need to adjust the cooking time for the thicker cut.
Time saving tip
I know sometimes that span of time between getting home from school and getting dinner on the table can be crazy! It helps to have something ready that you can just dump and go about your business. If I know I'm going to be short on time, I will prep all my ingredients the night before or earlier in the day while my kids are at school. That includes slicing and chopping everything and storing it in an airtight container in the fridge.
Sometimes I take it a step further and arrange everything on the sheet pan, cover it with plastic wrap and place it on a level surface in the fridge. That way when its time to fix dinner, all I have to do it preheat the oven, peel off the plastic wrap and place it in the oven.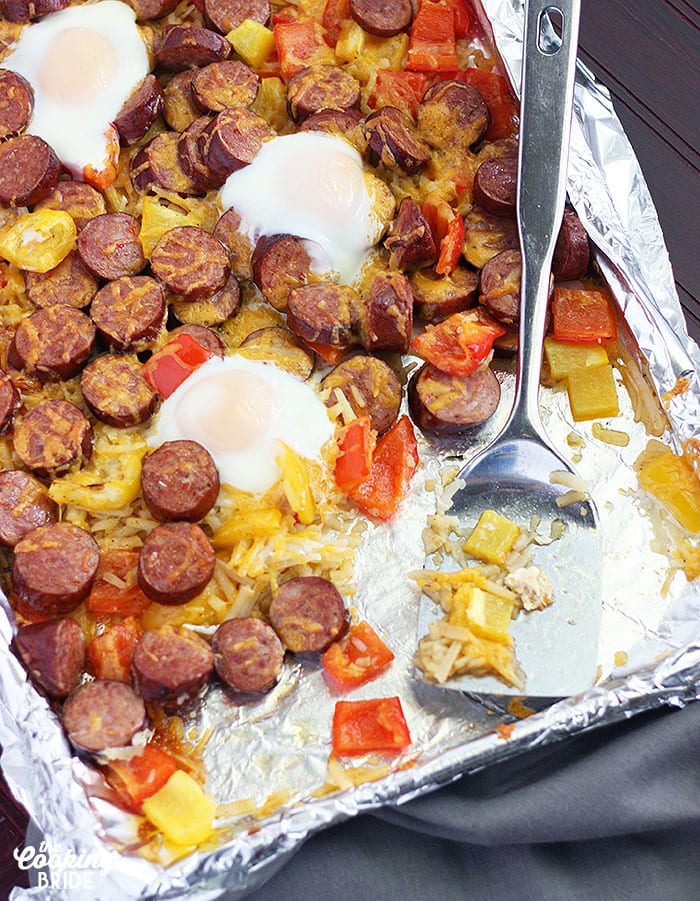 How to Make Sheet Pan Smoked Sausage Bake
Start by lining a sheet pan with aluminum foil. I don't know about y'all, but I hate washing sheet pans. You will appreciate that you did this later when all you have to do it peel the foil off the pan and throw it in the trash. Spray the foil with cooking spray.
Slice two pounds of smoked sausage into medallions. Slice one red bell pepper and one yellow bell pepper and add it to the mix. Then add 1 ½ cups for shredded frozen hash brown potatoes. Don't even worry about thawing them. They will cook up in no time.
Drizzled everything with one tablespoon of olive oil. Then season with one to two tablespoons of Cajun seasoning. Stir everything around with a wooden spoon until it's all coated.
If you have little kids that will be eating this meal, you may want to omit the Cajun seasoning, as it may make it too spicy for them. Typically, if I'm making this for the entire family, I will mix the veggies and sausage with the olive oil to get it coated, then sprinkle half of the pan with Cajun seasoning and leave the other half plain.
Bake the sausage and veggies at 350 degreed F for 20 minutes. Remove the pan from the oven and sprinkle with cheese. Using a spoon, clear a few spots here and there to crack open some eggs. Season the eggs with salt and pepper.
Return the pan to the oven and bake until the eggs are opaque. Baking for eight minutes should yield a runnier yolk. For a yolk that is more done, start checking after 10, 12 or even 15 minutes.
More Quick and Easy Weeknight Meal Recipes:
For even more meal ideas, check out my 30 Minute Meals Pinterest Board.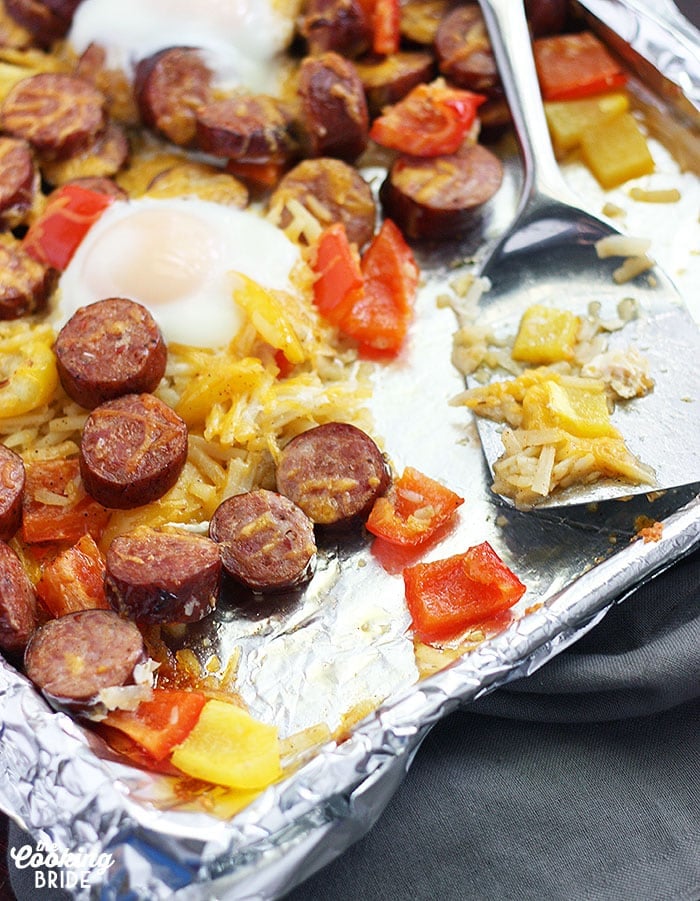 Sheet Pan Smoked Sausage Bake
It doesn't get any easier than a sheet pan dinner. This smoked sausage bake combines sausage with veggies, hash brown potatoes and baked eggs.
Ingredients
2

pounds

smoked sausage

sliced

1

red bell pepper

sliced

1

yellow bell pepper

sliced

1 ½

cups

frozen hash brown potatoes

1

tablespoon

olive oil

1-2

tablespoons

Cajun seasoning

½

cup

shredded cheddar cheese

6

large eggs
Instructions
Preheat oven to 350 degrees.

Line a sheet pan with foil. Arrange the bell peppers and potatoes on the pan. Drizzle with olive oil. Sprinkle with Cajun seasoning and salt and pepper to taste. Stir to combine.

Arrange the smoked sausage over the peppers and potatoes. Bake for 20 minutes.

Sprinkle the cheddar cheese over the top. Make a few nests in the hash and crack the eggs into the nests. Sprinkle the eggs with salt.

Bake for another 8-10 minutes until eggs are set.
Nutrition
Serving:
1
serving
|
Calories:
480
kcal
|
Carbohydrates:
33
g
|
Protein:
20
g
|
Fat:
30
g
|
Saturated Fat:
9
g
|
Cholesterol:
45
mg
|
Sodium:
1020
mg
|
Potassium:
1020
mg
|
Fiber:
5
g
|
Sugar:
7
g
|
Vitamin A:
15
IU
|
Vitamin C:
20
mg
|
Calcium:
8
mg