Last updated on March 30th, 2023
Don't slave over a hot skillet for the perfect batch of homemade French fries. Get your fix with these easy CRISPY oven baked French fries.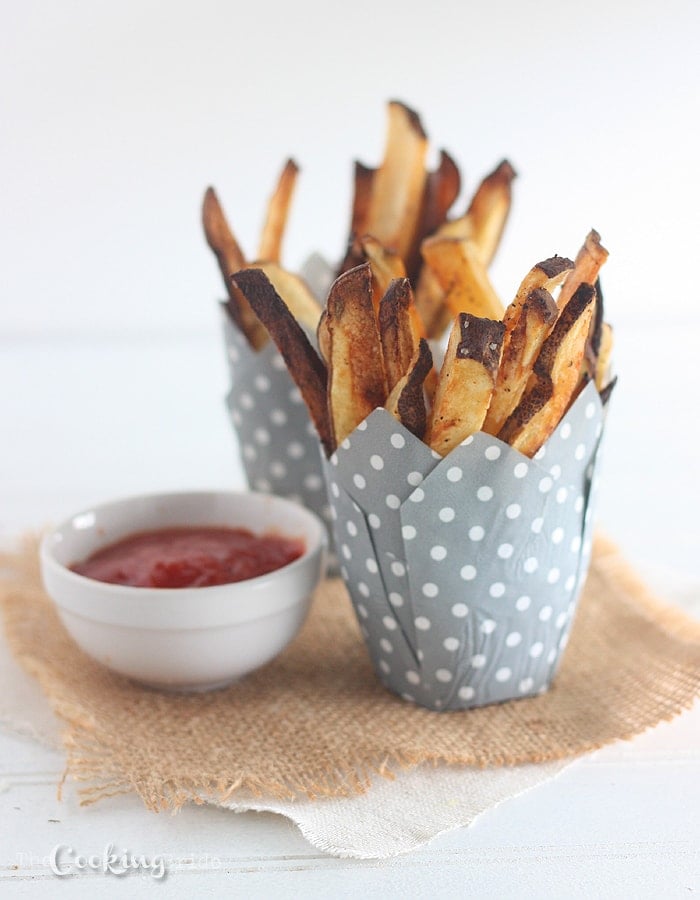 The entire time I was pregnant with Big Brother, I craved fried potatoes. As in, I salivated at the thought of greasy Lay's potato chips. I could smell a McDonald's drive thru a mile away.
Fried foods still remain one of my guilty pleasures. I don't do a lot of frying at home, however. One, it's unhealthy. And two, it's messy! Grease splatters everywhere and sometimes 24 hours after I have fried something, the smell still lingers in my house.
That's why I LOVE these oven baked French fries!
I know what you're thinking. Crispy fries in an oven – that's impossible. Granted, you're not going to achieve McDonald's-level crispiness. But these fries definitely have a crunch to them and that golden brown color that's so appetizing. Definitely no sogginess here.
The secret is soaking the potatoes in water beforehand. Do not skip this step! It's that important. Soaking the sliced potatoes in water draws out a lot of the starch that can prevent your fries from becoming crispy.
Next, you need to let them dry. Once I've drained the potatoes, I line a baking sheet with a layer of paper towels, lay the potatoes out in a single layer, and blot the tops with another paper towel. If you have time, you can let them air dry for a few more minutes before you apply the oil and seasonings.
I kept this recipe pretty basic, but you can definitely experiment with different seasonings to suit your taste. The other thing I love about this recipe — I can usually stick these in the oven just as the husband is putting dinner on the grill and they will be done around the same time. Only I didn't have to stand over a vat of hot oil to get my French fry fix!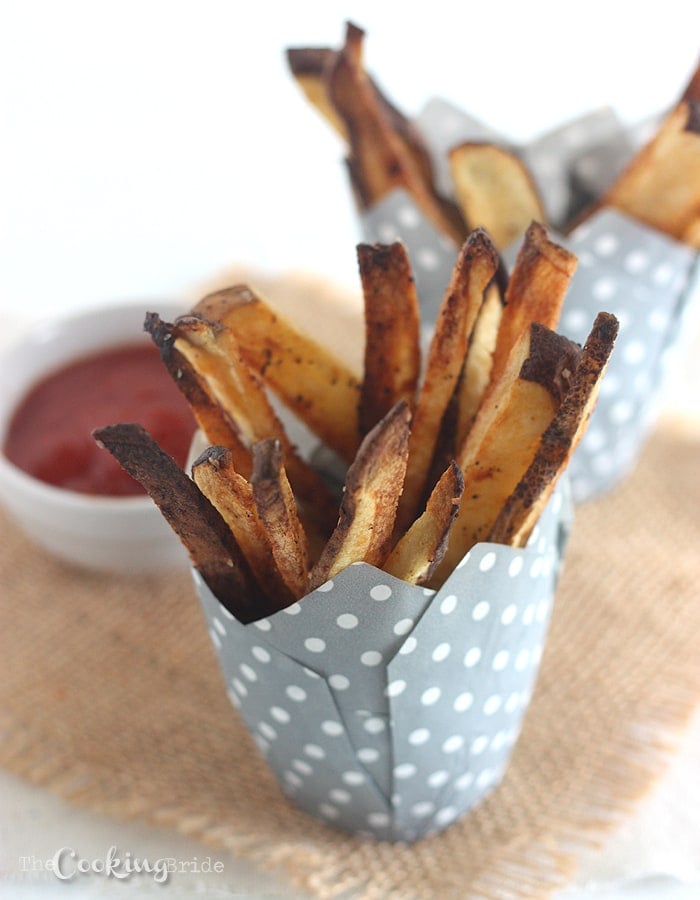 Crispy Oven Baked French Fries
Don't slave over a hot skillet for the perfect batch of homemade French fries. Get your fix with these easy CRISPY oven baked French fries.
Ingredients
3

large russet potatoes

cut lengthwise into even sized sticks

4 ½

tablespoons

olive oil

divided

¾

teaspoon

garlic powder

Kosher salt and black pepper

to taste
Instructions
Place cut potatoes in a large bowl. Cover with cool water. Soak potatoes for 30 mintues.

Preheat oven to 475 degrees.

Lay out a layer of paper towels. Spread potatoes out in a single layer over the paper towels. Blot with additional paper towels.

Spray backing sheet(s) with a layer of cooking spray. Arrange potatoes in an even single layer on the sheets. Drizzle each pan with equal amounts of the oil (usually 1 ½ tablespoons per pan. Don't overdo it or you will end up with soggy fries). Sprinkle fried with the garlic powder, salt and pepper. Toss the fries until they are evenly coated with the oil. Arrange them again in an even layer.

Bake the fries for 20 minutes. Flip the fries, then return them to the oven and bake them for an additional 5 minutes or until the fries are golden brown. Season with additional salt and pepper if desired.