Last updated on May 23rd, 2023
If you're a steak fan, you'll love this ribeye recipe. Ribeye steaks are marinated then grilled and served with a creamy horseradish mustard sauce.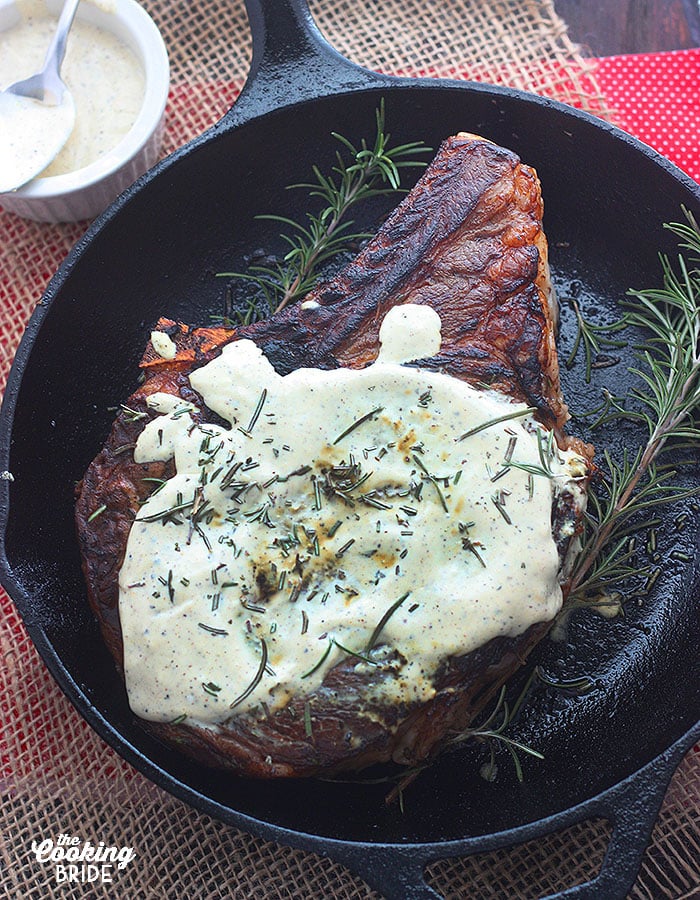 Last year, I wrote a tear-jerker about my mother. I realized I am way overdue to write one of those posts about my Dad.
I am an only child and a bonafide Daddy's girl. When I was younger – before I became interested in boys and clothing and shopping and hairstyles – my Dad and I would drop my mother off at the mall while we went "exploring." Really, we were just running errands around town, but calling it exploring sounds so much more exciting when I was a little kid.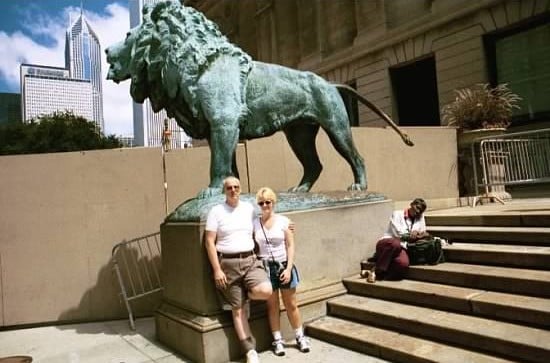 Dad and me circa sometime in the late 1990's (?) infront of the the Art Institute of Chicago. I would have been in high school. There are so many things I love about this pic – my awesome denim shorts, my rockin' tube socks, and the photobomber over in the corner . . .
Inevitably, at some point during the day my Dad would cave and buy me some sort of treat that my mother would deem completely inappropriate for a little girl. Like when I went through a phase where I bit my nails and he bought me a pair of fire engine red Lee Press on Nails (I am totally dating myself here). I thought they were glamorous, but my mother wasn't amused (honestly, I probably wouldn't have been either.)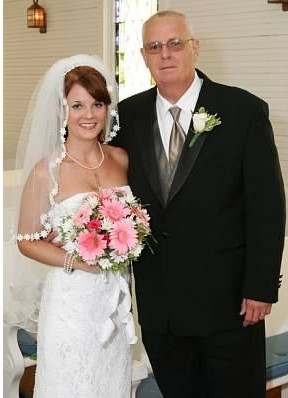 Dad and me c.2006 right before he walked me down the aisle.
Or the time he took me to breakfast at an IHOP and let me order chocolate chip pancakes with whipped cream and chocolate syrup with chocolate milk to drink. I probably didn't come off that sugar high for at least three days.
But the best story that we still talk about to this day is the time we came to pick her up and I was carrying a porcelain doll in my arms. She was beautiful – long golden hair the color of straw, blue eyes, salmon pink satin dress with lace detailing. I named her Becky Thatcher because at the time I was reading The Adventures of Tom Sawyer. My mom looked at Becky Thatcher then looked at my dad with raised eyebrows and asked, "Where did she get that?"
Daddy just shrugged his shoulders and replied, "There was a man giving them away on a street corner." That's his story and he has stuck to it all this time.
As I got older, we butted heads a lot. I am without a doubt a female version of that man. Ask my mother and she will wholeheartedly agree. In fact, ask my husband and he will probably agree as well. Both of us stubborn and hot-headed, he is the only person that has ever been able to make me so mad I wanted to spit razor blades.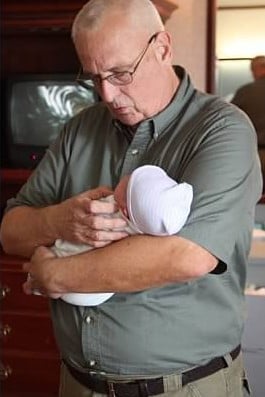 The day my Dad became a Papa c. 2010
Yes, I am a Daddy's girl and my Daddy indulged me. But he gave me more than a fancy China doll and red Lee Press on Nails. He took an interest in me and made me feel important. You have no idea how big of an impact that had on shaping me to be the woman I grew up to be. In junior high and high school, when boys started to take notice and peer pressure was on to "go all the way," I didn't feel the need to give in just to gain acceptance. I learned to respect myself and to expect it from the boys who would later try to steal my heart and from the man I would eventually vow to spend the rest of my life with. I married a good man because my Daddy made me believe that I deserved nothing less.
Today, my Dad and I butt heads only occasionally. Now that I'm grown and that whole parenting thing is behind him, our relationship has morphed into true friendship. Don't get me wrong, there are still days when I need to call my Daddy for advice. I don't think that will ever change.
Like most red-blooded men, my Dad loves a good steak. These rib eye steaks absolutely fit the bill – tender and juicy topped with a creamy horseradish sauce for a little bite. It's definitely Father's Day worthy.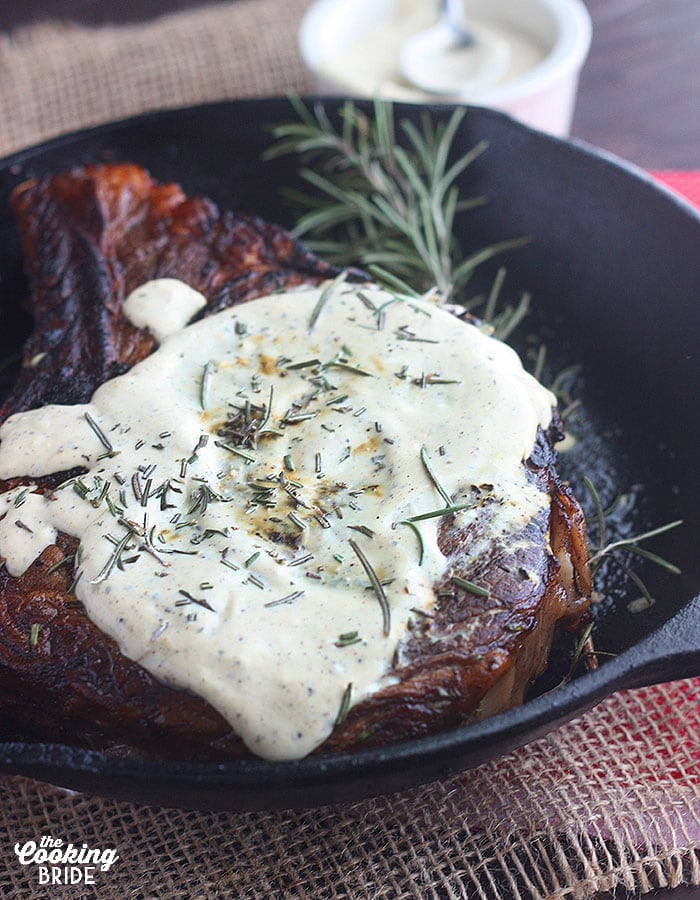 Ribeye Steaks with Horseradish Mustard Sauce
If you're a steak fan, you'll love this ribeye recipe. Ribeye steaks are marinated then grilled and served with a creamy horseradish mustard sauce.

Ingredients
For the steaks:
¼

cup

Worcestershire sauce

2

tablespoons

balsamic vinegar

2

tablespoon

olive oil

2

tablespoons

chopped fresh rosemary

2

14-oz. each ribeye steaks

Sea salt and freshly ground pepper to taste
For the Horseradish Mustard Sauce:
2

tablespoons

prepared horseradish sauce

1

tablespoon

Dijon mustard

¼

cup

buttermilk

1

tablespoon

sour cream

1

teaspoon

freshly ground pepper

plus more to taste

½

teaspoon

sea salt

plus more to taste

1

teaspoon

chopped rosemary
Instructions
Prepare a charcoal or gas grill for direct heat.

Combine the first five ingredients in a glass dish or large resealable plastic bag. Add the steaks and turn to coat on both sides.

Marinate steaks in the refrigerator for at least 1 hour, but no more than eight hours.

Bring steaks to room temperature just before cooking. Sprinkle both sides with salt and pepper to taste.

Place steaks on a hot grill and cook for 5-6 minutes per side for rare (110 degrees). For medium-rare steaks, slide the steaks to one side of the grill away from direct heat and grill for an additional 7-8 minutes until the steak's internal temperature reaches 120 degrees.

Let steaks rest for 10 minutes on a cutting board, loosely covered with foil.

Just before serving, drizzle with horseradish mustard sauce.

Combine all ingredients in a small bowl. Season with additional salt and pepper if desired.

Store any leftovers in an airtight container. Sauce will keep up to a week.