Last updated on May 23rd, 2023
Thick grilled boneless pork loin chops are stuffed with a creamy brown rice mixture seasoned with homemade fresh herb pesto.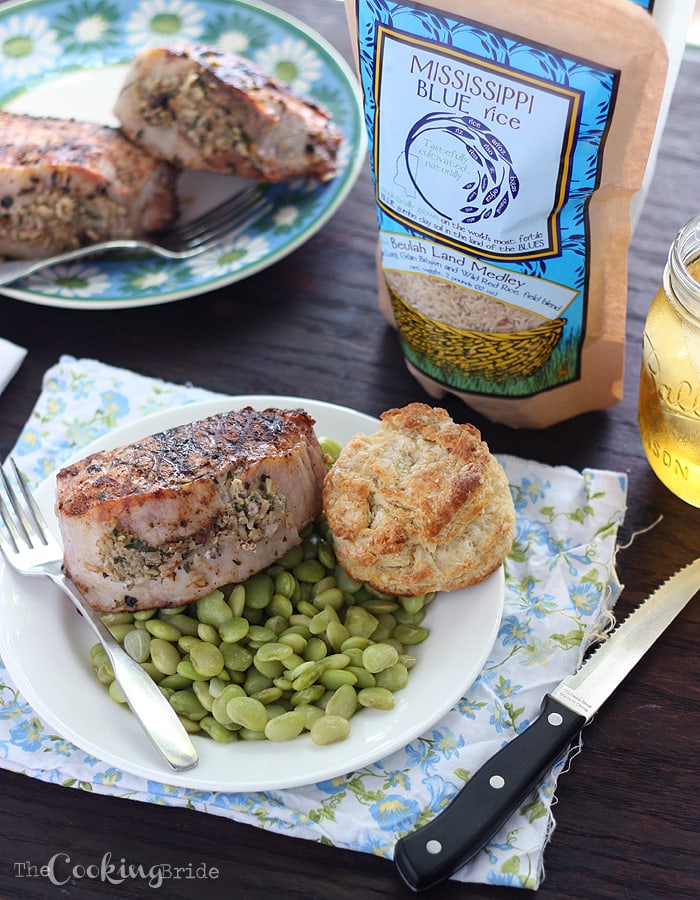 This post was not sponsored by Eat Y'all or Two Brooks Rice.
This post may contain affiliate links. Click here to learn more about how affiliate links are used on this site.
So, did y'all know that the word gumbo doesn't just pertain to that thick hearty stew so popular in Louisiana? It also describes a very sticky clay commonly found throughout the southern half of the United States. Yeah, me neither. That is, until just a few weeks ago.
Recently, I met the Wagner family, a 10th generation farming family (TEN! WOW!) who grows rice in Sumner, located in the Mississippi Delta. They sell their rice under the label Two Brooks Rice (formerly Mississippi Blue Rice).
That's right. Rice doesn't just come from Asia and we grow more than cotton in Mississippi. In fact, Mississippi is the No. 6 rice-producing state in the country. I went to college in the Mississippi Delta. I remember tooling along Hwy 8 towards Delta State, not much to see but flat farm land and rice fields. It was very easy to zone out on a drive like that. Your mind drifts off and suddenly you remember you're operating a moving vehicle and you wonder how many minutes have passed.
Two Brooks Rice is ecologically grown. They do everything they can to ensure that their growing practices leave a small carbon and water footprint, while still producing a product that also fresh and delicious. With everything in the news these days about questionable farming practices and what exactly is in that plate of food you're eating, I can totally admire and appreciate what the Wagner family is doing.
Before the tour ended, Eat Y'all's founder, Andy, handed out samples to some of us. As he handed me my bags, he said, "Okay Cooking Bride, I want to see some recipes on your blog." That kind of put me on the hook, huh?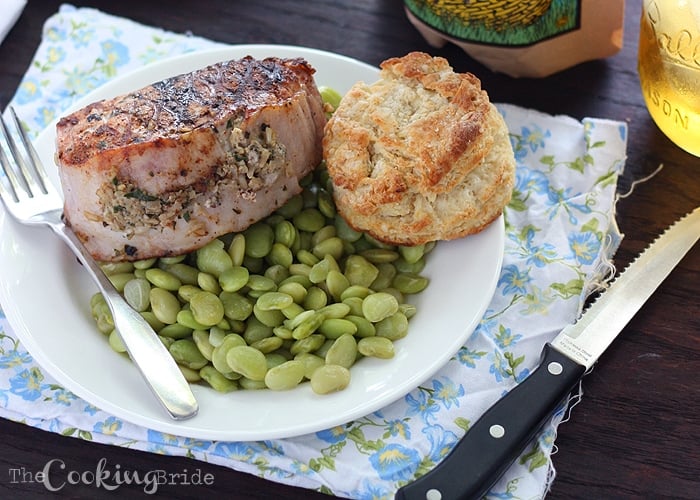 I immediately began brainstorming ideas. Nothing in my cookbooks really blew me away. Then I remembered this recipe for pesto rice stuffed pork chops. This recipe isn't new. In fact, I made it waaay back when this blog was just a wee thing. It was a good recipe that desperately needed some revamping and new photography. Perfect!
I always plant an herb garden every summer. I LOVE taking advantage of the flavors of fresh herbs, which is why I deviated from traditional basil pesto and added a little bit of everything from the garden. If you have time, lightly toast your pecans. If not, no sweat. They will still add a wonderful earthy bite to the rice filling. For this dish, I used Two Brooks Rice Beulah Land Medley. It's a whole long grain brown and while red rice field blend.
These stuffed pork chops work wonderfully on the grill. The secret is to cut a pocket in the loin chop rather than butterflying them. Cut the pocket as deep as you can without cutting through the wall of the chop, then pack that rice filling in there. I mean, really get it inside every nook and cranny. Secure the open end with a toothpick and you should have a very minimal amount of stuffing that seeps out while cooking. Just remember to remove the toothpick before serving.
I sprinkled the outside of these with a homemade spice rub blend that I shared yesterday. Because these chops are so thick, they are very filling. I suggest serving these with a light side dish like these grilled vegetable kebabs.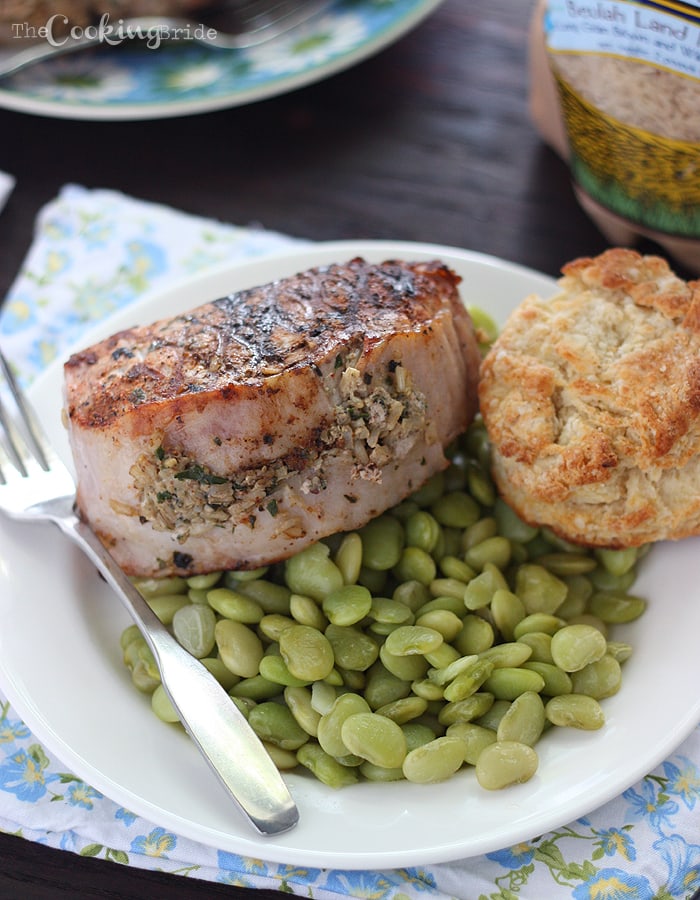 More Pork Recipes You Might Enjoy:
Pesto Rice Stuffed Pork Loin Chops
Thick grilled boneless pork loin chops are stuffed with a creamy brown rice mixture seasoned with homemade fresh herb pesto.
Ingredients
Pesto Rice Stuffing:
1/2

cup

fresh basil leaves

1/2

cup

fresh parsley leaves

1/4

cup

fresh sage leaves

1/2

cup

pecans

3

cloves

garlic

2

tablespoons

grated Parmesan cheese

2

tablespoons

olive oil

2

tablespoons

cream cheese

softened

2

cups

cooked long grain and wild rice
Pork loin chops:
6

pork loin chops

cut about 2 inches thick

3

tablespoons

barbeque spice rub
Instructions
Combine first six ingredients in a blender or food processor. With the machine running, add the olive oil in a slow steady stream. Process until all ingredients are thoroughly blended.

Add pesto and cream cheese to the cooked rice. Mix until cream cheese and pesto are evenly incorporated. Season with salt and pepper to taste.

Meanwhile, preheat a charcoal or gas grill.

Cut a pocket in the center of each chop, making sure not to cut all the way through. Stuff each pocket with the pesto-rice mixture. Secure the open end with a toothpick. Season outside of each chop with barbeque rub.

Grill the chops for about 20 minutes, flipping halfway through, until the juices run clear and the rice stuffing is heated through. Let the chops rest for ten minutes before serving.