Last updated on March 30th, 2020
Salty pretzels, chewy coconut, and sweet M&M's give these loaded pretzel cookies an abundance of tastes and textures.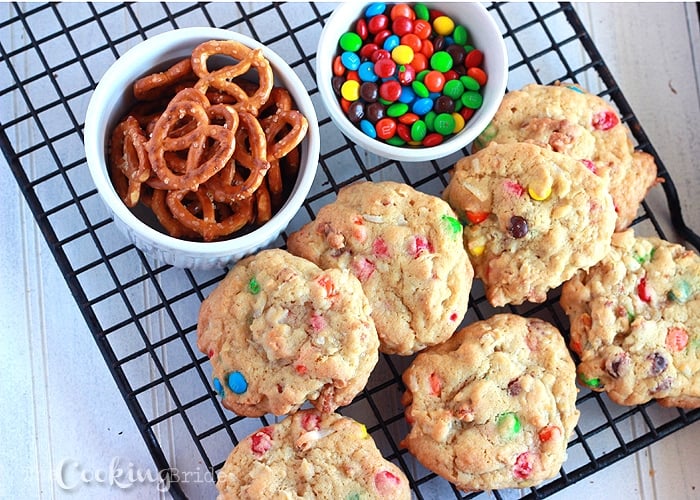 \About a month ago, The Husband and I decided to turn off the television on the weekends. We're in the midst of potty training with Little Tot and we hit a stumbling block because he would become so distracted by what was on the TV he would forget to tell us he needed to go. And truthfully, The Husband and I had fallen into that rut of letting the TV baby-sit our child. We'd hit play on the Xbox and while Little Tot was glued to the screen, The Husband and I would go about our day. That's not the kind of parent I want to be.
It's remarkable how that one little act can change everything.  I commented to my husband after the first weekend of no TV that I felt more relaxed.  Little Tot's behavior seemed better – he was more pleasant and less like a terrible two-year-old.  It has also forced The Husband and me to focus on spending time with our child.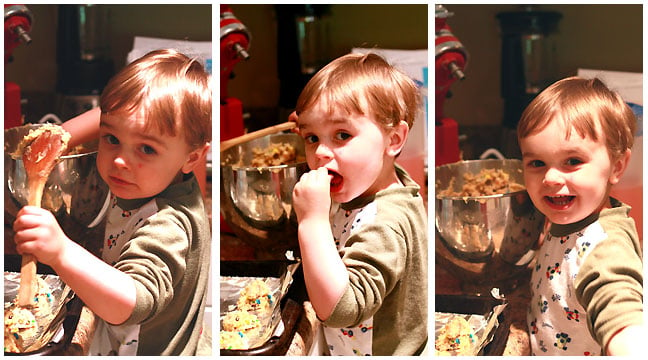 I have only just recently started letting Little Tot help me in the kitchen.  I wasn't sure how it would go because he doesn't stay still for very long.  But a couple weeks ago when I had to make biscuits, I decided to give it a shot.  Sure, I probably could have made the biscuits in about half the time it took us with slightly less stress, but he had a ball.  He loved helping me roll out the dough with the rolling pin, carefully cutting out the biscuits, and then watching them rise as they baked in the oven.
The process of making these cookies was slightly different.  Little Tot was all into it until I pulled out the bag of M&M's.  After that, the only thing he cared about was popping as many "Yum Yums" into his mouth as he could.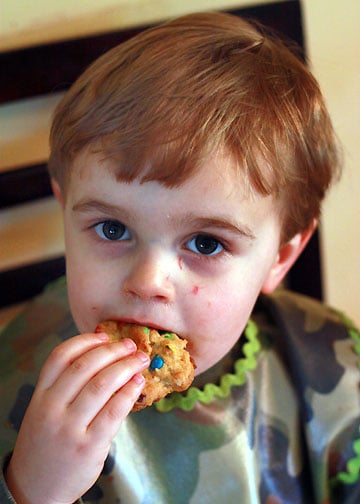 These loaded pretzel cookies have a variety of tastes and textures going on – salty and sweet, crunchy and chewy.  They were tasty in more ways than one.  But more importantly, I made memories with my kid.  Twenty years from now, he probably won't remember if he received the latest piece of plastic junk for Christmas.  But hopefully, what he will remember is standing tiptoe on his footstool while his mama let him eat all the M&M's out of the cookie dough.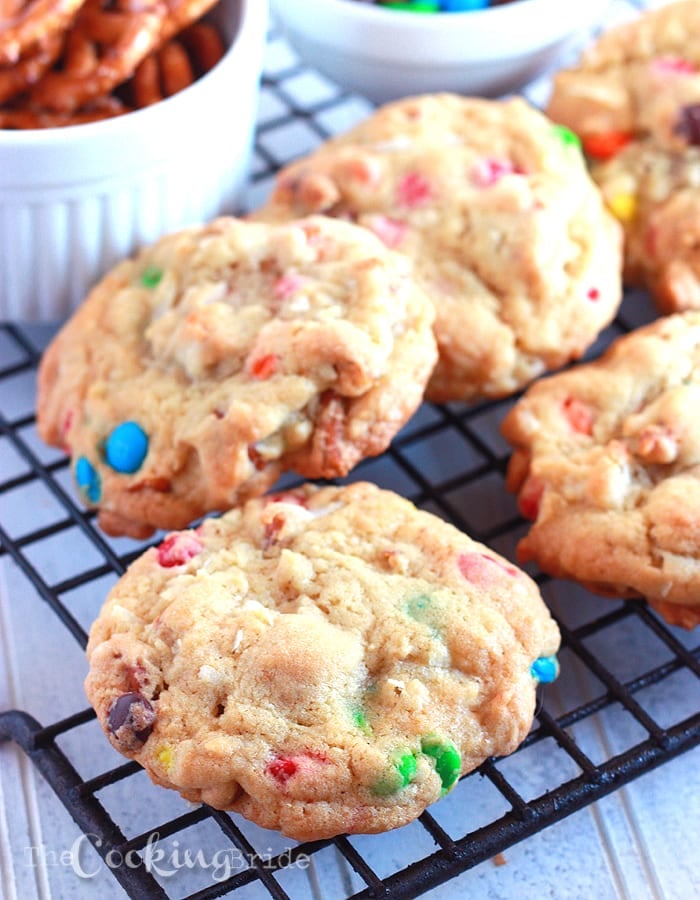 Loaded Pretzel Cookies with Coconut and M&M's
Salty pretzels, chewy coconut, and sweet M&M's give these loaded pretzel cookies an abundance of tastes and textures.

Ingredients
1

cup

butter

softened

1

cup

sugar

1

cup

packed brown sugar

2

eggs

2

teaspoons

vanilla extract

2-1/2

cups

all-purpose flour

1

teaspoon

baking powder

1

teaspoon

baking soda

1

teaspoon

salt

2

cups

miniature pretzels

broken

1-1/2

cups

flaked coconut

1-1/2

cups

mini M&M's
Instructions
In a large mixing bowl, cream butter and sugars at medium speed of an electric mixer until light and fluffy.

Add eggs and vanilla. Continue to beat at medium speed until ingredients are well-combined.

In a separate bowl, sift together flour, baking powder, baking soda and salt.

With the mixer on low, add the dry ingredients, about 1/3 of the mixture at a time, to the creamed mixture. Mix until just combined. Repeat this step until all the dry ingredients have been added to the flour mixture.

Gently add in the pretzels, coconut, and M&M's.

Refrigerate dough for 30 minutes before baking. In the meantime, preheat oven to 350°.

Form two tablespoonfuls of dough into balls. Place on a greased cookie sheet, about 3 inches apart. Bake for 12-14 minutes or until cookies reach desired level of doneness.

Remove from pans to cool on wire racks.