Last updated on October 15th, 2023
Old fashioned apple dapple cake is "dappled" fresh diced apples and pecans. It's baked until golden brown and topped with warm caramel sauce.
Now that fall is upon us, everyone is going crazy over pumpkin. I'll be honest, with the exception of a few tried-and-true pumpkin recipes, it's not my favorite seasonal fruit. I decided instead to dive into apples. Whether you like sweet or tangy, I can get way more excited about these crunchy, juicy little gems.
What is an Apple Dapple Cake?
I think it has a fun, cheerful name, don't you? It would be hard to stay in a bad mood after trying to say the words "apple dapple" five times fast. I don't know who came up with this creative name, but it's named so because apple pieces are dappled throughout the cake. The ingredients also include chopped pecans, warm fall spices like nutmeg and cinnamon and a sugary sweet caramel sauce thats poured over the cake while it's still warm, allowing the sweetness to seep into every nook and cranny of the cake.
What apples should I use?
Not all apples are created equal. Different tastes and textures make certain apples better suited for different uses. If you want to learn more, you can check the post I wrote about choosing the best apples for baking. I chose Granny Smith apples because they are easy to find, have a firm texture that withstands baking and its tangy flavor complements the flavors of the cake without making it too sweet.
How to Make Apple Dapple Cake
In a large mixing bowl, combine three large eggs, 1 ½ cups of vegetable or canola oil and two cups of white granulated sugar. Using an electric mixer, beat these ingredients together until they are well blended.
Next, sift together three cups of all-purpose flour, one teaspoon of salt, one teaspoon of baking soda, one teaspoon of ground cinnamon and ½ teaspoon of ground nutmeg. We're sifting them together rather than dumping each ingredients into the bowl individually to ensure these ingredients are evenly dispersed through the batter. Add half of the flour mixture to the bowl and mix on low until the flour is incorporated, then repeat the step with the remaining flour.
Add two teaspoons of vanilla extract, 1 ½ cups of chopped pecans and three cups of chopped apples. It took about 2 ½ – 3 medium Granny Smith apples to make up three cups chopped. Before chopping, I cored the apples, peeled off the skin, then pulsed the apple pieces in my food processor. Turn the mixer on medium and mix just until the apples and nuts are incorporated.
Pour the batter into a greased nine inch Bundt cake or angel food cake pan. Bake the cake at 350 degrees for 1 – 1 ¼ hours until a toothpick inserted near the center of the cake comes out clean.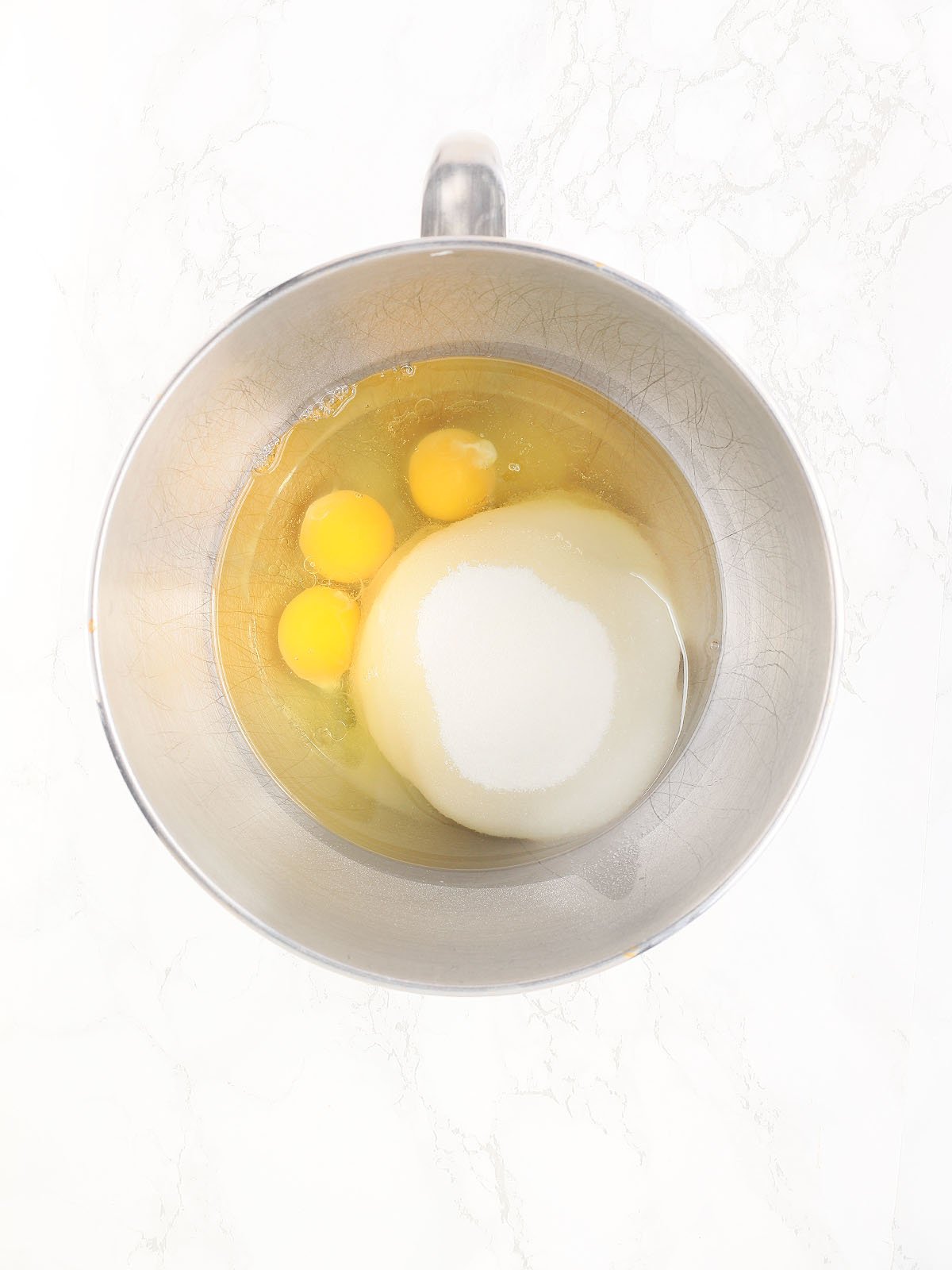 How to make the caramel sauce
While the cake is baking, melt ½ cup of unsalted butter, one cup of brown sugar and ¼ cup of milk in a small saucepan. Be sure to stir frequently to heat the caramel mixture evenly and prevent the sugar from burning. With the cake still in the pan and warm from the oven, pour the warm caramel sauce over the top and along the edges of the cake. If the sauce pools up in certain places, don't worry. The cake will absorb the sauce.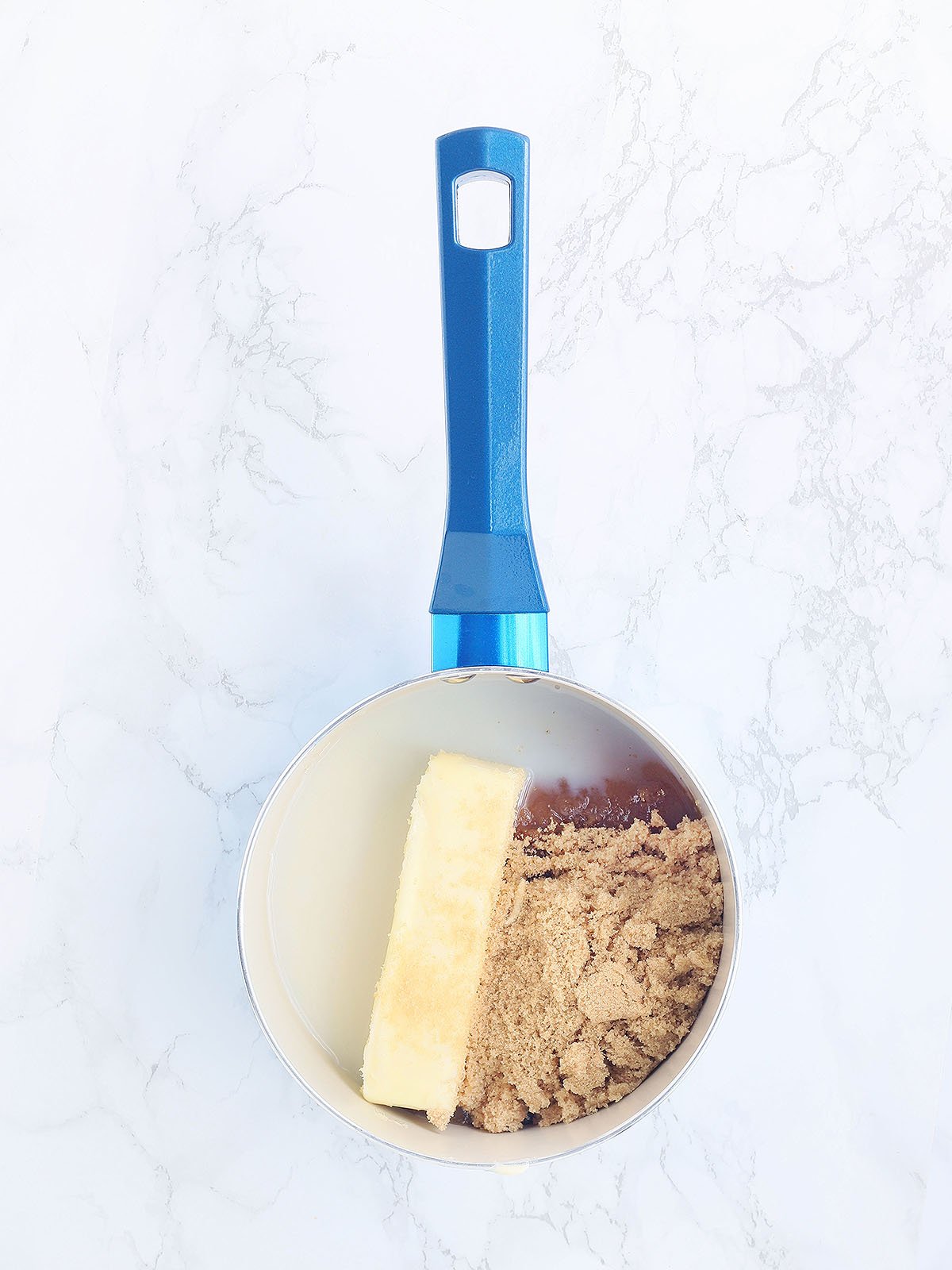 Let the cake cool completely in the pan. In fact, once the cake has reached room temperature, I like to cover it and store it in the refrigerator until the next day. Before serving, run a knife along the perimeter of the cake pan, then invert the cake onto a plate.
Apple Dapple Cake has a texture similar to banana bread. I like it smeared with a knob of butter for breakfast or warmed and served with a scoop of vanilla ice cream for dessert.
Storage, Freezing and Reheating
Storage. Apple Dapple cake can be stored at room temperature for 1-2 days. After that, it needs to be stored in an airtight container or cake saver to prevent mold from forming. Consume within 5-7 days.
Freezing. Once baked, leftover Apple Dapple Cake can be frozen for later. I recommend wrapping the cake in plastic wrap then a layer of aluminum foil to prevent freezer burn. Eat within three months. Thaw completely before serving.
Reheating. As I mentioned above, Apple Dapple Cake is delicious hot or cold. The easiest way to reheat individual slices is to pop it in the microwave for 20-30 seconds. To reheat an entire cake, warm it in a 350-degree oven for 10-15 minutes until heated through, or warm individual slices at the same temperature for about five minutes.
More Apple Recipes