Last updated on May 22nd, 2023
Cracklin' corn bread is a traditional Southern treat that goes back decades. Meaty pork cracklings are baked into tender yellow corn bread.
This post may contain affiliate links. Click here to learn more about how affiliate links are used on this site.
Before we dive into this recipe, I just want to clear one thing up. We Southerners have a tendency to drop our G's when it comes at the end of a word. Don't ask me why, it's just how we've be raised. It's not chicken and dumplings … it's dumplins. We are never going … we are goin.' It's not fixing to … it's fixin.' (Which, by the way, doesn't mean we intend to repair anything. But that's a story for another day). If you refer to this bread as anything other than cracklin' bread, you might get a few raised eyebrows. Somebody will inevitably ask you where you're from. But that's none of my business.
Like so many old school traditional Southern foods, its origins are murky. People have been making and eating cracklin' bread for decades. In fact, Harper Lee mentions cracklin' bread in her infamous 1960 novel To Kill a Mockingbird. But why people started throwing fried bits of pig skin into their corn bread is mystery. My guess? Back in the day when it came time to butcher a hog, nothing was wasted. Someone discovered frying the pig fat was a tasty snack. Mixing it into corn bread was an economical way to feed a family when money was scarce.
The difference between cracklings and pork rinds
Even if you've never butchered your own hog, you've likely tried pork rinds. These delicious, fried, high-protein, low-carb treats are available as commercial snacks all over the U.S. Cracklings and pork rinds start off the same. It's the way they are processed that makes them different.
Both are made from pig skin. The skin is boiled, then dried. For pork rinds, the fat is removed before it's fried. It has a crunchy, airy texture. Cracklings still have some of the fat attached. Hard cracklings are not fried. They look like thin strips (kind of like lo mein noodles) and have a REALLY crunchy texture, as if they could crack your teeth. Tender cracklings are fried. They are crunchy like pork rinds, but have a denser, meatier texture. For this recipe, we are using tender cracklings.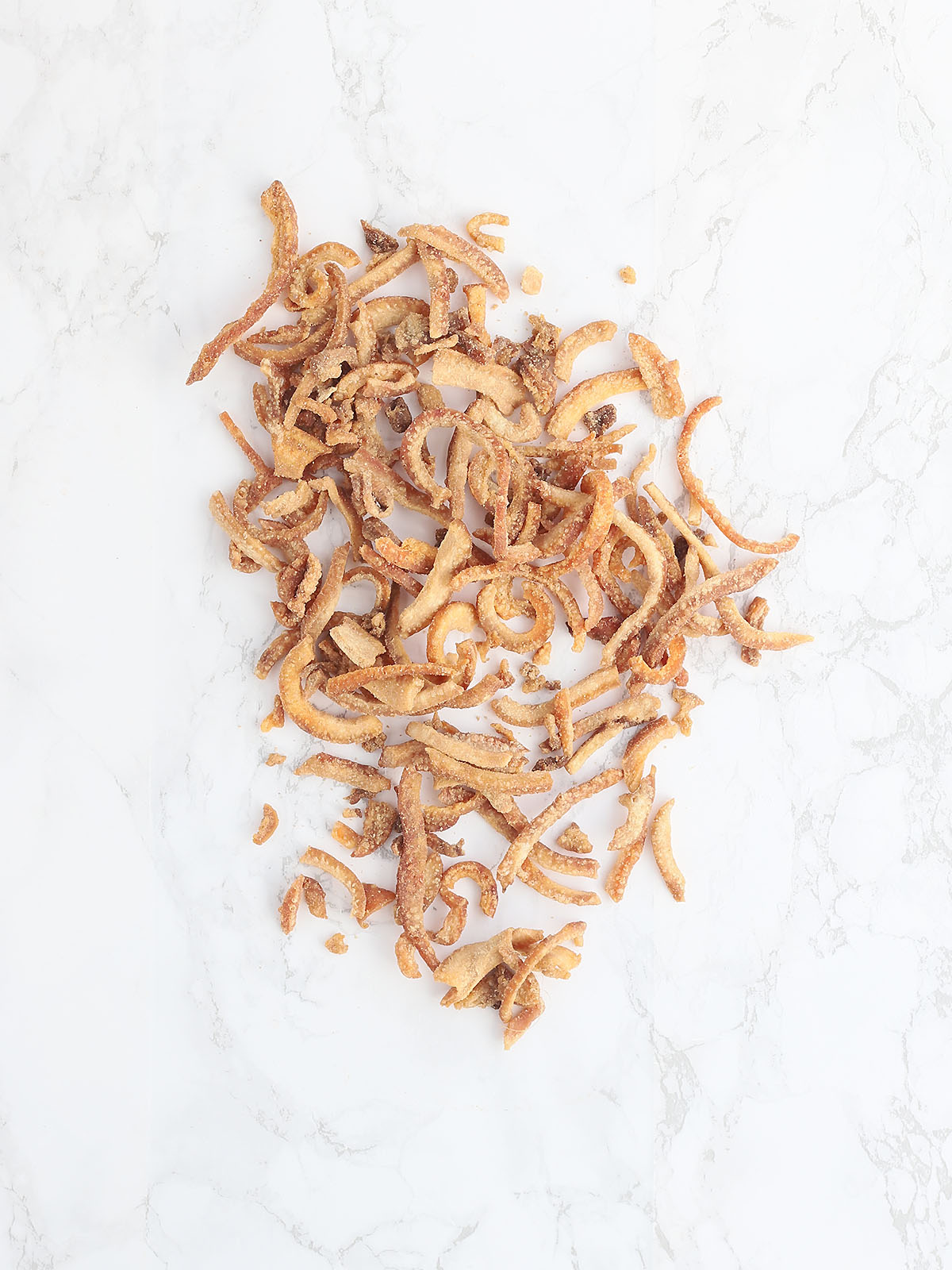 How to Make Cracklin' Corn Bread
Preheat the oven to 350 degrees F. Place one tablespoon of bacon grease in the center of a 10-inch cast iron skillet. If you don't have bacon grease on hand, you can also spray the skillet with a light coating of cooking spray. Place the skillet in the oven while it preheats so the bacon grease can melt. Once the grease is melted, carefully swirl the grease around to coat the skillet, or get a paper towel and wipe it around to coat.
In a medium mixing bowl, combine one cup of self-rising white cornmeal, one cup of all-purpose flour and two teaspoons of baking powder. Whisk the dry ingredients until they are uniformly mixed. Add 1 1/2 cups of milk and two large slightly beaten eggs. Whisk again until the mixture is smooth and free of lumps.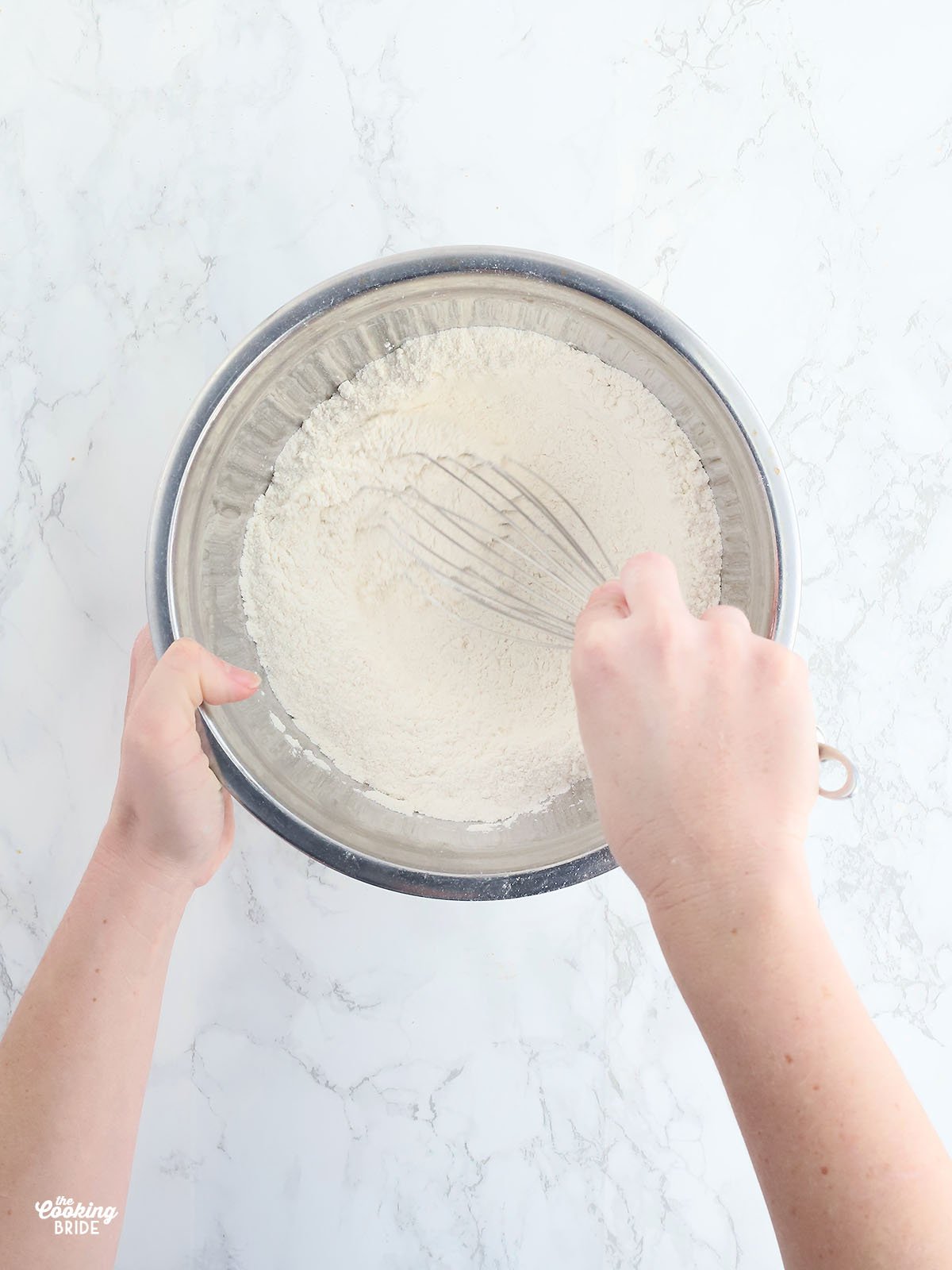 If the pork cracklings are large, you may need to break them up into smaller pieces. Easiest way I've found it to put the cracklings in a plastic bag and roll or whack them with my rolling pin. Add one cup of pork cracklings to the batter and stir until the cracklings are evenly mixed throughout the batter. Pour the batter into the hot, greased skillet. Bake the bread for 25 minutes or until a toothpick inserted near the center comes out clean.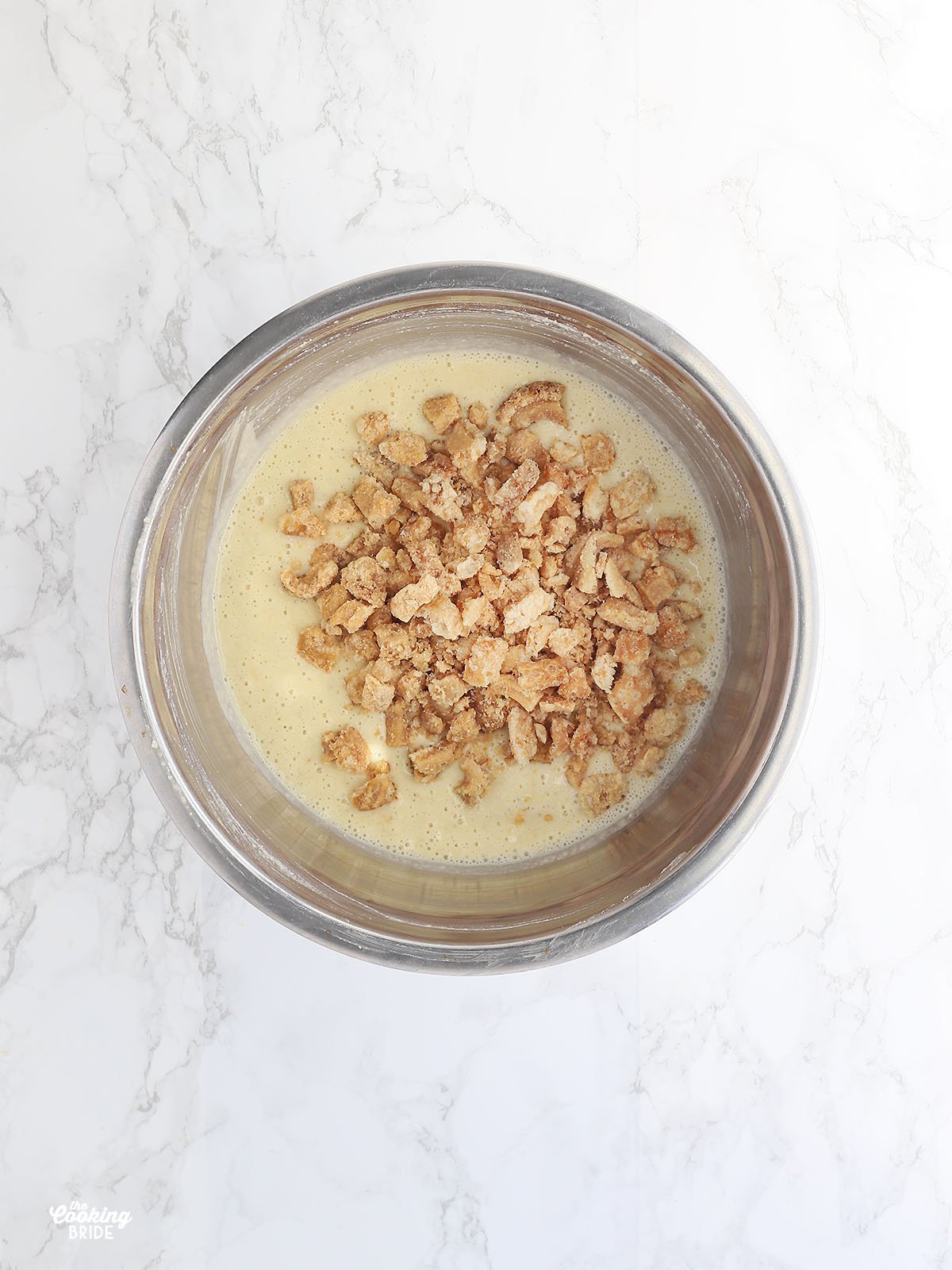 The cracklings do lose their crunch during baking. But, they add a meaty, smoky texture to every bite. I think cracklin' bread is best served warm right out of the oven. However, a slice a room temperature with a cold glass of milk is also a fave.
Storage, Freezing and Reheating
Storage. Cracklin' bread should be stored in a plastic storage bag or wrapped in plastic wrap within two hours to prevent it from drying out. Store the bread in the refrigerator and consume within five days.
Freezing. Baked cracklin' bread can be stored in the freezer for up to three months. I advise wrapping the bread in a layer of plastic wrap, then a layer of aluminum foil to keep out freezer burn or weird flavors from leeching into the bread. Allow the bread to thaw at room temperature for about an hour before serving.
Reheating. Individual servings of cracklin' bread can be reheated for 15-30 seconds in the microwave. Alternately, warm it in a 350-degree oven for 10 minutes or until heated through.
You Might Also Like