Last updated on December 28th, 2020
Try this set it and forget it recipe for slow cooker collard greens. Collards are slowly simmered with bacon until tender for a truly tasty Southern side.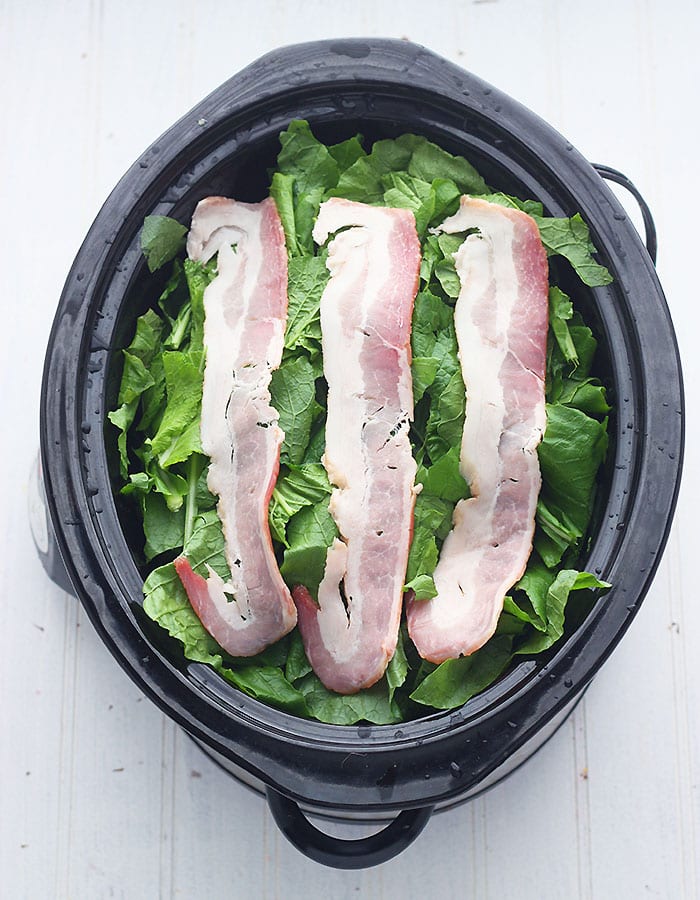 One Sunday afternoon after church, The Husband asked if I would teach him how to cook greens. He was having a hankering, but he knew cooking greens took some doin'. Instead of burdening me with the task, he wanted to learn to make them himself.
Of course I obliged. You teach a man to fish …
Prior to that Sunday afternoon, it had been awhile since I'd prepared greens. Once they had simmered on the stove for a couple hours, I took a bite to make sure they were seasoned properly … then I took another bite … and another bite.
Needless to say, over the next few days I enjoyed The Husband's pot of greens just as much as he did. It got me thinking … instead of stirring a pot for two hours, what if I could dump everything in a slow cooker, set it and forget it, and have a perfectly cooked pot of greens by the end of the day?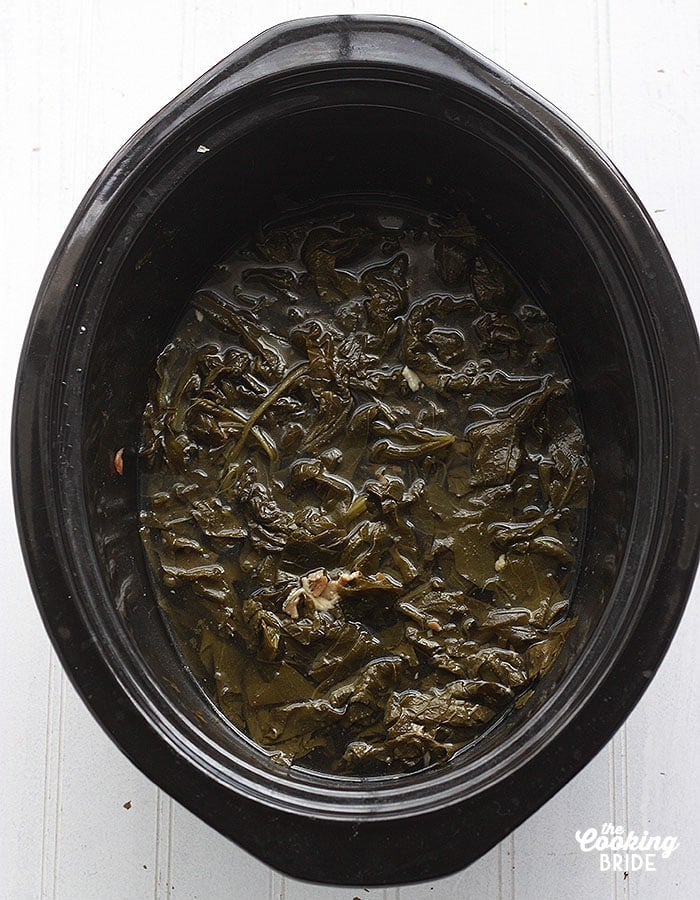 This was a last minute decision on Monday morning. I had just bought four bunches of fresh collards from the store with the intention to cooking them over the weekend. And then I didn't. Now a busy week had begun and I just didn't have time to baby sit a simmering pot for two hours. Out comes the trusty old slow cooker.
Traditional Cooking Methods
Traditional cooking methods use a smoked ham hock to add flavor. That's what I use in my Southern Turnip Greens recipe. However, on this particular day I didn't have a ham hock. I had bacon. I had to work with what was on hand. And I may have added a few tablespoons of bacon grease to the crock.
I am a Southern girl. I keep a mason jar of bacon grease in the fridge. You never know when it might come in handy.
The Slow Cooker Method
After washing and chopping my greens, I stuffed them all in the crock of my slow cooker. Remember, they cook down to almost nothing, so stuff those suckers in tight. After adding a few quarts of water and some apple cider vinegar, I set the timer on my slow cooker for five hours and muttered a prayer under my breath.
Five hours later as I lifted the lid and peeked inside, I was pleasantly surprised by what I found. Tender greens as flavorful as if I had simmered them on the stove all afternoon. As far as I'm concerned, this is the way to cook greens, y'all.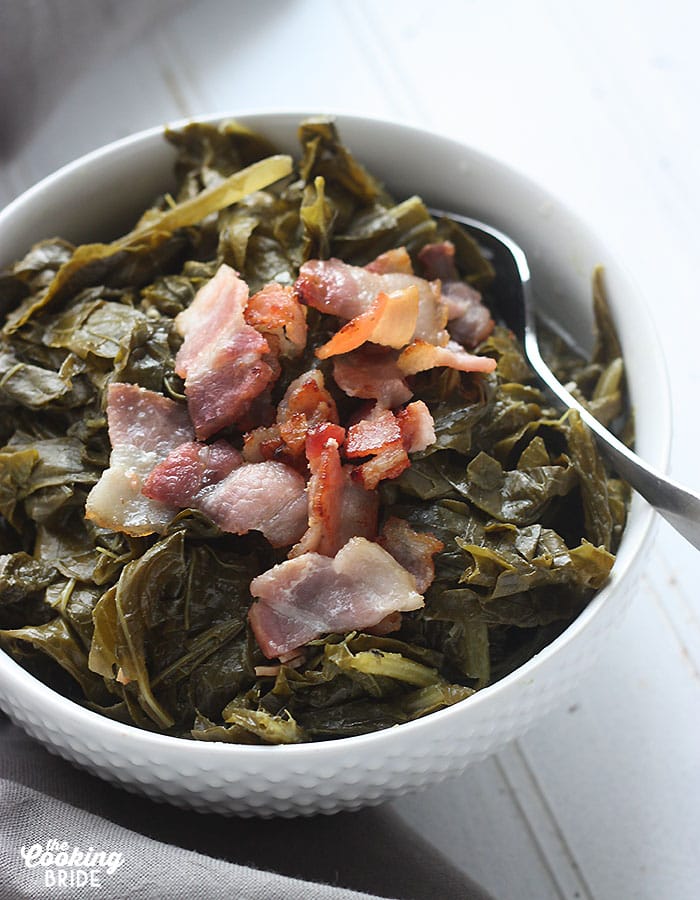 You Might Also Like:
Slow Cooker Collard Greens
Try this set it and forget it recipe for slow cooker collard greens. Collards are slowly simmered with bacon until tender for a truly tasty Southern side.
Ingredients
4

large bunches of collard greens

6

ounces

bacon

or 1 smoked ham hock

3

tablespoons

bacon grease

1/2

cup

apple cider vinegar

2

quarts

of water

1/4

teaspoon

sugar

salt and pepper to taste
Instructions
Thoroughly wash your greens to remove any dirt or grit.

Remove the tough center stems from the leaves and discard. Coarsely chop the greens.

Pack the greens into the crock of a slow cooker (I used a 6-quart slow cooker. Remember, the greens will cook down a lot, so don't stress if your crock pot seems a little full).

Coarsely chop the bacon and add it to the crock. Add the bacon grease, apple cider vinegar, water, and sugar. Season with salt and pepper. Give everything a stir.

If you are using a ham hock instead of bacon, nestle the ham hock into the greens.

Cook your greens on low for 5 hours until tender. Season with additional salt and pepper to taste.
Nutrition
Calories:
290
kcal
|
Carbohydrates:
3
g
|
Protein:
6
g
|
Fat:
27
g
|
Saturated Fat:
9
g
|
Cholesterol:
38
mg
|
Sodium:
298
mg
|
Potassium:
125
mg
|
Vitamin A:
15
IU
|
Calcium:
210
mg
|
Iron:
0.2
mg