Last updated on May 23rd, 2023
Warm up this fall with a bowl of rich and hearty chicken peanut stew, made with diced tomatoes, chicken thighs, creamy peanut butter and sautéed veggies.
This post is sponsored by Alabama Peanut Producers Association. The opinions contained within are my own.
Until recently, I didn't give much thought to peanuts other than my weekly trips to the farmer's market during the fall so I can make a batch of boiled peanuts, or making sure I have plenty of jars of peanut butter stocked in my pantry for my kids' PB&J and. Now, I don't know that I will ever open another jar of peanut butter without thinking of the warm and generous people of Southeast Alabama whose entire livelihood has revolved around peanut farming for more than 100 years.
The 2021 Alabama Farm-to-Table Peanut Harvest Tour
If you're reading this post right now with a raised eyebrow, you're not alone. I got quite a few quizzical looks from folks when I told them I was about to hop on a plane and head to Dothan, Alabama for three days for the Peanut Harvest Tour. I'll admit, I really wasn't sure what to expect from the trip, but I was getting three nights ALONE in a hotel room out of it, so what did I have to lose?
Our hosts for the tour were Kaye Lynn and Abby of the Alabama Peanut Producers Association. The association is voluntarily funded by peanut growers and their sole purpose is to promotion the peanut industry as well as fund research and educational programs. In addition to myself, the tour group consisted of two food educators, Mark from Auburn University's Culinary Science Program and Joseph from the Culinary and Hospitality Institute at Jefferson State Community College, and four other food bloggers – Lynda from Southern Kissed, Constance from Cosmopolitan Cornbread, Katrina from In the Kitchen with K Marie and Stacey from Southern Bite.
From the very first day, we traveled all over Southeast Alabama meeting farmers, learning about peanuts and how they are grown. Up until the early 1900's, cotton was king in Alabama as it was in most of the South. That is until 1915, when boll weevils, little beetles that feed on cotton buds and flowers, migrated through the United States from Mexico and decimated the cotton crop that year. Faced with economic collapse, farmers began implementing techniques invented by George Washington Carver to restore their economy, which included planting peanuts. Today, Alabama is only second to Georgia as the largest producer of peanuts in the U.S.
Next time you open up a jar of peanut butter, thank a farmer in Alabama. Sixty-five percent of the peanuts harvested in the state are used to make peanut butter, while the remainder are sold to confectioners like Mars (Peanut M&M's anyone?) or to make peanut oil. Fun fact: Peanuts aren't actually a nut; they are a legume (aka a member of the pea family), making them a vegetable.
I left Dothan with a new found respect not only for peanuts, but for farmers as well. The people of Dothan and Southeast Alabama are passionate about peanut farming. And after opening up their farms and their homes to group of strangers all in the name of peanuts, they are also some of the most generous and kind people you will ever meet.
How to Make Chicken Peanut Stew
Of course, I can't write about Alabama peanuts without including a peanut recipe. My first inclination was to post something sweet (because we had a fine peanut butter bread pudding for lunch from The Blue Plate on our first full day.) But after listening to a lecture on peanut nutrition from Dr. Samara Sterling of The Peanut Institute, I decided to change tactics.
Peanut stew is traditionally a West African staple dish. However, I did put my own Southern spin on the dish, so I'm not at all claiming this to be authentic. Contrary to what you might be thinking, the peanut butter swirled into the broth gives the stew a delicious nutty flavor, but is not sweet at all.
We're going to start by making our own broth for the stew. Place 2 ½ pounds of boneless, skinless chicken thighs in a large stockpot. You can use chicken breasts if you want, but I'm partial to the flavor of thighs. Cover the thighs with water, then bring the water to a boil. You can add some aromatics, like celery stalks or carrots, to the broth to add some additional flavor if you have some on hand.
Boil the chicken thighs for 20 minutes. Then remove the pot from the heat, remove the chicken thighs from the hot broth and set aside to cool. Once the thighs are cool enough to handle chop them into ½ inch to ¾ inch pieces. Reserve three cups of the broth. You can store any remaining broth in the refrigerator for another use. This can be done a few days in advance to save time later. Just store the chicken and broth in the fridge until ready to use.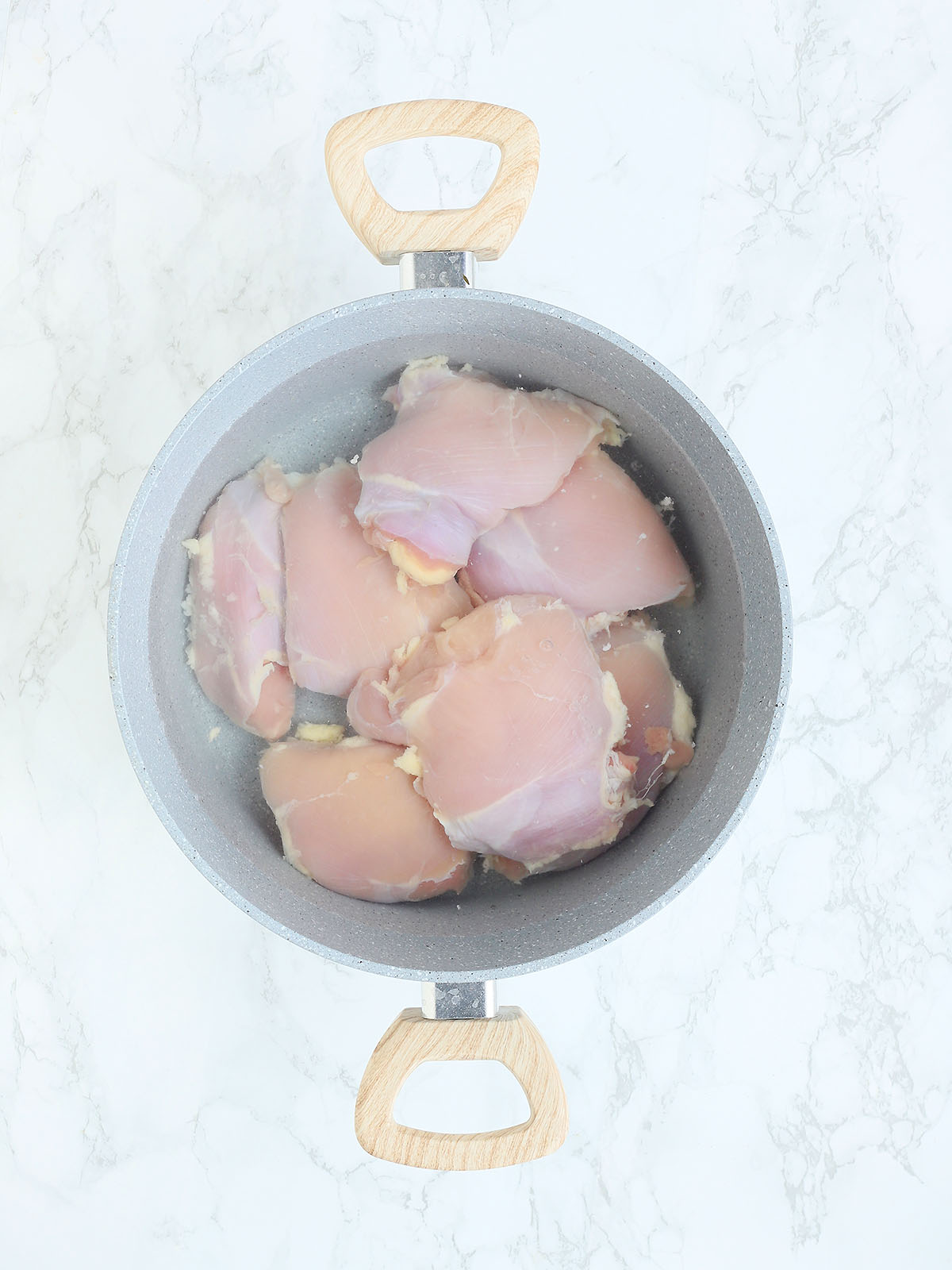 Using the same stock pot, heat one tablespoon of oil over medium heat. Add one diced onion, one diced green bell pepper, and one diced celery stalk. Cook the vegetables for 7-10 minutes until they are tender. Add two cloves of minced garlic and sauté for another 30 seconds.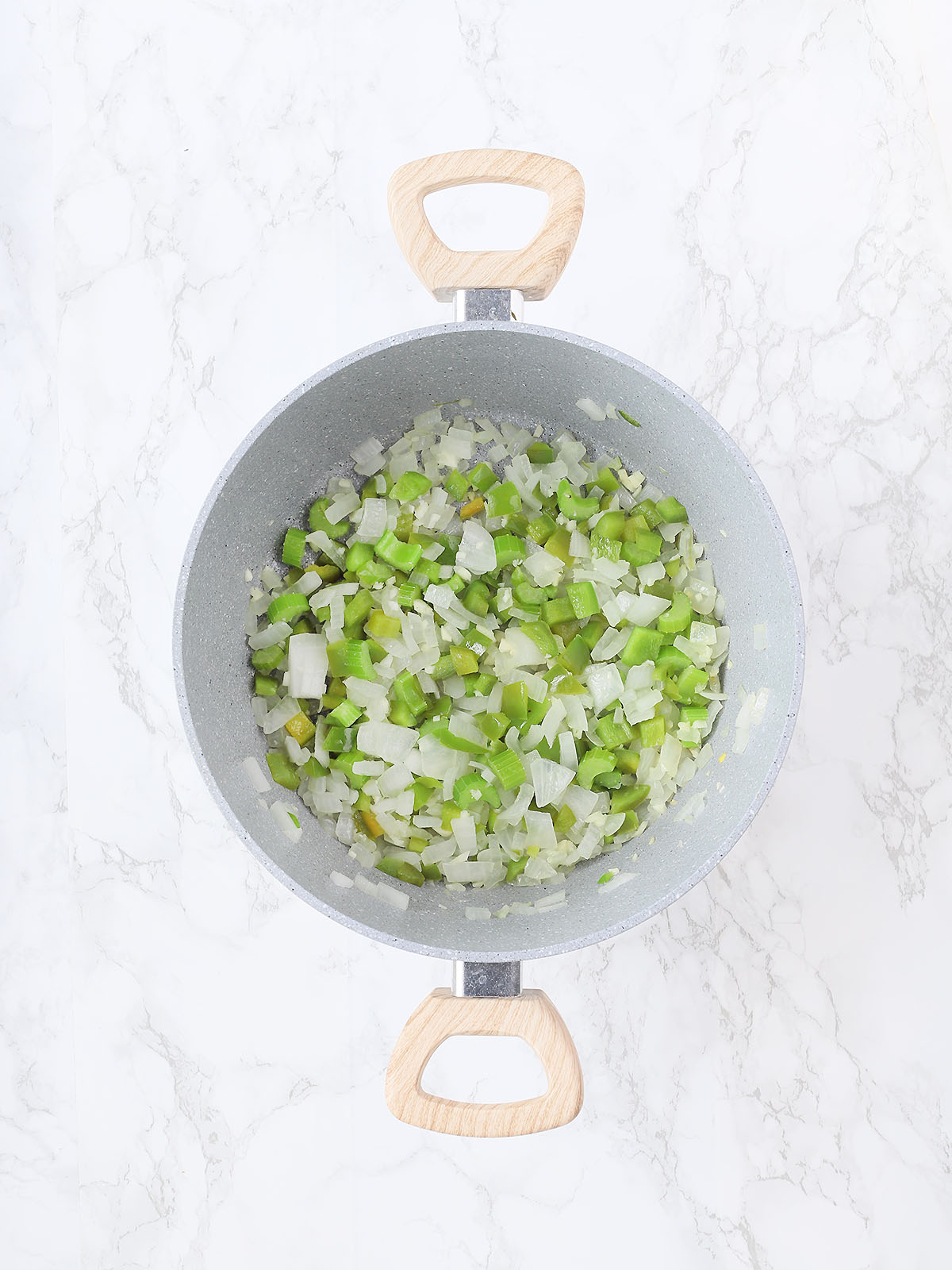 Add two tablespoons of tomato paste, one 14.5-ounce can of diced tomatoes and one tablespoon of creamy peanut butter to the pot. Stir until it is combined with the vegetables. Add the three cups of reserved chicken broth and one cup of fresh or frozen sliced okra. If using frozen okra, there is no reason to thaw it first, just pour it in frozen. Bring to a boil. Reduce the heat to medium low, then simmer the stew uncovered for 30 minutes.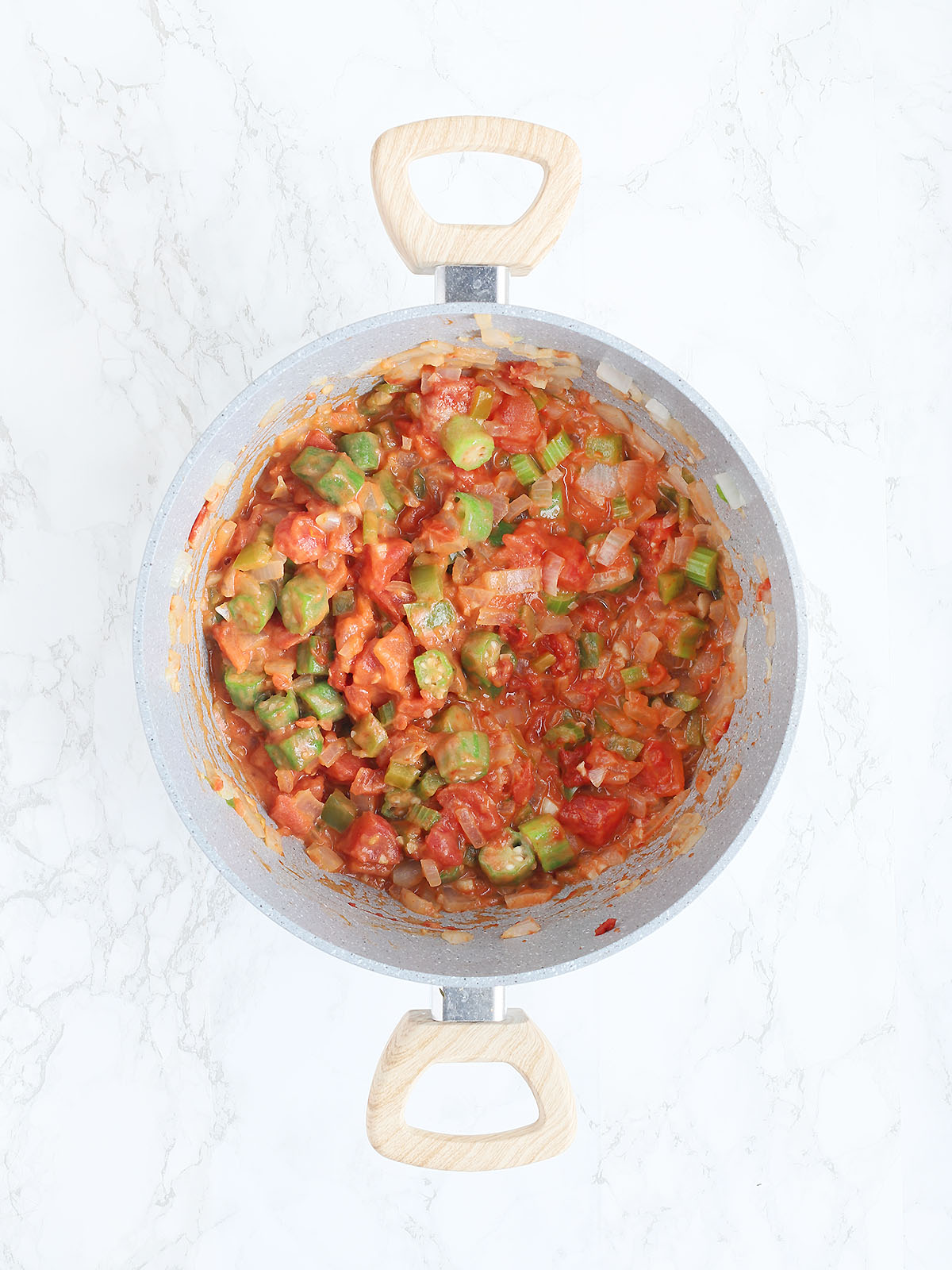 Add the diced chicken pieces back to the pot and cook until heated through, about 1-2 minutes more. Season the chicken peanut stew with salt and pepper, to your preference. Serve over hot cooked rice and garnish with chopped peanuts and cilantro if desired.
Storage, Freezing and Reheating
Storage. Store any leftover chicken peanut stew in an airtight container in the refrigerator within two hours. Stew should be consumed within four days.
Freezing. Chicken peanut stew will keep for up to three months in the freezer. Transfer the cooled stew to an airtight container, being sure to leave enough room at the top for expansion as the liquid freezes. You can also spoon it into a plastic freezer bag, leave a couple inches for expansion as it freezes, then carefully fold the top of the bag over to remove any air.
Reheating. Allow the chicken peanut stew to thaw overnight in the refrigerator. Once thawed, transfer the stew to a medium saucepan and reheat over medium heat for 10-15 minutes until heated through.
You Might Also Like: