Last updated on September 18th, 2018
Sauteed green beans are stir fried in an Asian-inspired sauce of ginger, garlic and sesame oil for an easy, flavorful, and healthy side dish.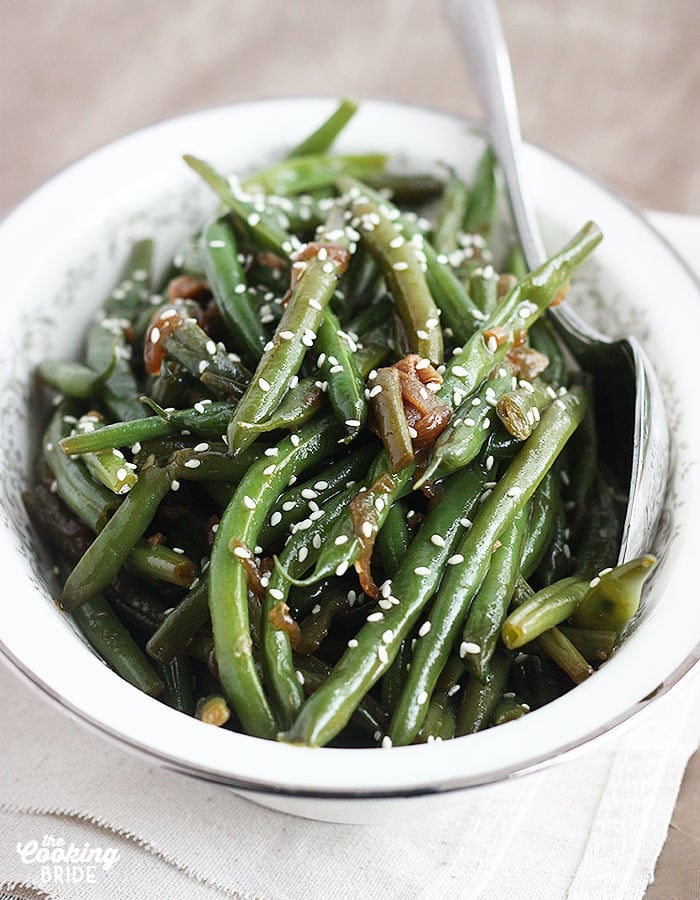 I adore my mama, ya'll. I just want to make that abundantly clear before I type this next sentence. I think my mama was a goody-two-shoes growing up. As in, she was that kid that always ate her vegetables without having to be asked. Would willingly choose a carrot stick over a candy bar. At least that's what she has me believe.
Her good eating habits did not rub off on me. I was never that kid growing up. And while my palate has changed as I have gotten older, I eat vegetables more out of a self-awareness that things really do fall apart once you hit 30 if you don't take care of yourself. But if I was given the option, I would still choose a candy bar over a carrot stick.
My body needs vegetables to be healthy, which means I need to find a way to prepare them that will make me more likely to eat them. Over the years, I've found stir frying is an easy and flavorful way to make sure I get my veggies.
Benefits of Stir Frying
Stir frying is an Asian technique that involves searing food in a wok or skillet at high heat with a small amount of oil. The benefit of this cooking method is that the veggies retain a lot more of their nutrients.
You only need a small amount of oil, so the fat content is pretty low. And the veggies fry up pretty quick, making it a perfect cooking method for a quick meal.
Health benefits of Fresh Green Beans
Like most vegetables, green beans are loaded with vitamins and minerals. They are a good source of fiber, potassium, protein, iron, and zinc. They also contain 10 percent of the daily recommended value of folate. If you're a women trying to get pregnant or are pregnant, then you know folate is essential to preventing birth defects.
Green beans also contain anti-oxidants similar to those found in green tea, which can prevent heart diease, cancer and diabetes.
what to look for when buying fresh green beans
You want beans that are bright green. They should also snap easily when bent. Stay away from beans that have blemishes, are turning brown or you can see the seeds inside.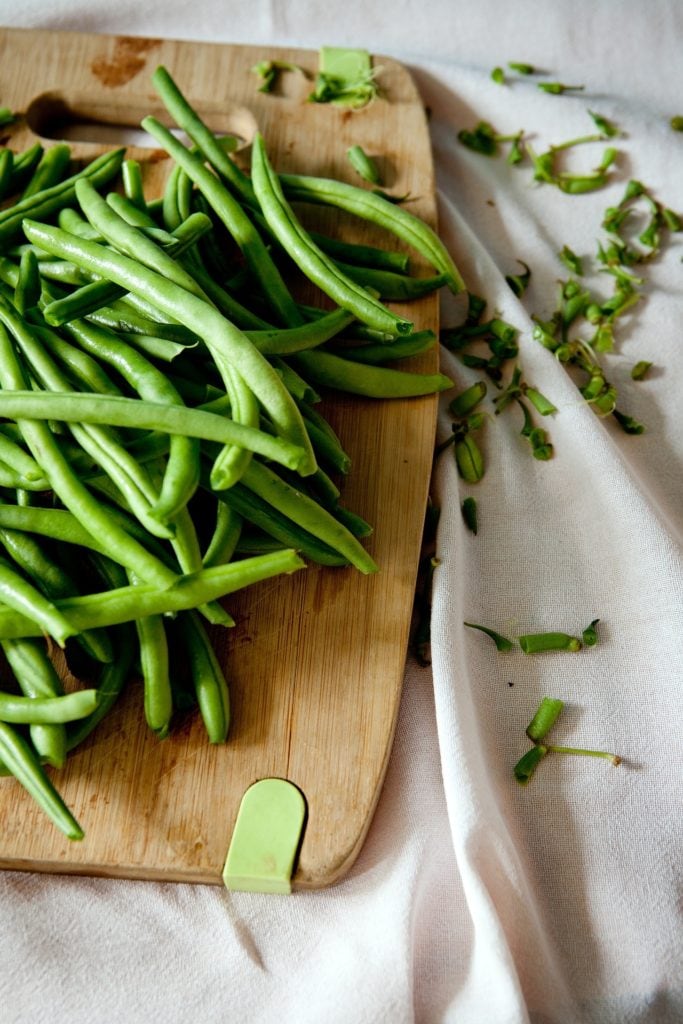 If you're not using the beans right away, it's best to store them in your vegetable drawer in the refrigerator. Green beans are best if used within two days, but they will last up to five.
Before using, rinse the beans under gold water to remove any dirt or grime. Cut off the stem end of the bean, then cut them into uniform pieces so they cook evenly.
How to Make Sauteed Green Beans with Ginger and Caramelized Onions
Step one. Once you've washed your beans, you want to blanche them. This just means we're going to boil them for just a few minutes to precook them. This also helps the beans to retain their vibrant green color.
Bring a large pot of salted water to a boil. Adding a little salt to the water allows the beans to absorb some flavor. While you're waiting for the water to boil, get a big bowl of ice water ready. I'll tell you why in just a sec.
Add the green beans to the boiling water. Cook for three minutes. Then immediately drain the beans and put them in the ice water. The beans will continue to cook after to remove them from the boiling water. The ice water immediately stops the cooking. Set the beans aside.
Time saving tip: This can be done a day in advance!
Step two. Heat a little vegetable oil in a large skillet or wok. Once the oil is hot, add your thinly sliced onions.
I like to use yellow onions for this recipe just because they are sweeter and their sugar content allows them to caramelized a little better. You want them slice pretty thin so they cook up quickly. You can do this with a knife, but I prefer to use a mandoline slicer. It's quick and I know I'll get uniform slices.
Once you've added the onions to the pan, you're going to want to saute them just until they get soft and translucent. This will probably take five minutes. Sprinkle them with a little bit of sugar. The sugar will help them caramelize even further. Continue to saute for another 15-20 minutes. By this time they should be very soft and brown.
Time saving tip: This can also be done a day ahead of time!
Step three. After sauteing the onions, you will probably notice some bits of food stuck to the bottom of the pan. There is a lot of concentrated flavor in those stuck on bits. We're going to add some chicken broth while the pan is still hot and scrape up all that stuck on food. That's called deglazing.
Next, we're going to add some minced garlic and thinly sliced fresh ginger. If you don't have fresh ginger, 1/2 teaspoon of dried ginger can be substituted.
Add some sesame oil, another tablespoon of sugar and two tablespoons of soy sauce to the pan, along with the blanched and cooled green beans.  If you made your onion ahead of time, add them back at this point also. Stir fry the green beans just until heated through.
Step four. Pour any sauce from the pan over the green beans before serving. Sprinkle some sesame seeds over the top for garnish.
The Asian-inspired sauce on this dish is just subtle enough to give the green beans some flavor without being overwhelming. However, if you find you need more flavor, feel free to amp it up a bit with additional soy sauce or chili garlic paste for a little kick.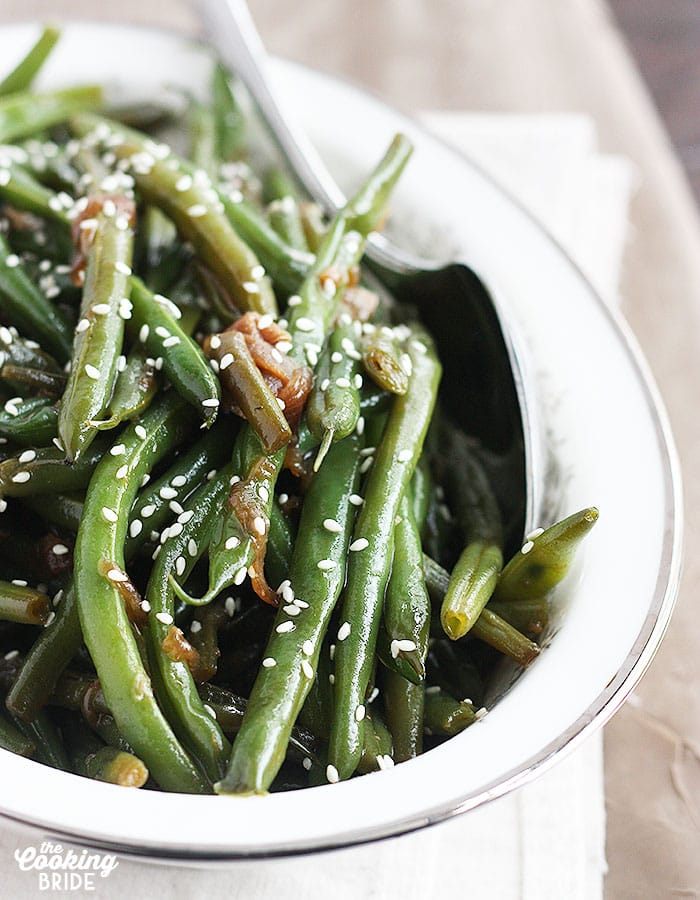 You Might Also Like:
Sauteed Green Beans with Ginger and Caramelized Onions
Sauteed green beans are stir fried in an Asian-inspired sauce of ginger, garlic and sesame oil for an easy, flavorful, and healthy side dish.
Ingredients
1

pound

fresh green beans

1

tablespoon

vegetable oil

1

small yellow onion

thinly sliced

¼

cup

chicken broth

4

cloves

garlic

pressed

6

thin ginger slices

3

tablespoons

sesame oil

1

tablespoon

sugar

2

tablespoons

soy sauce

Sesame seeds

optional
Instructions
Bring a large pot of lightly salted water to a boil. Add green beans and boil for three minutes. Immediate plunge beans into cold water to stop cooking. Set aside.

Heat vegetable oil in a large skillet or wok. Once hot, add onions. Sprinkle with a little salt to their draw out juice. Sauté until onions until they start to soften, about five minutes. Once the onions are soft and translucent, sprinkle them with a little bit of sugar. Continue to sauté until onions are very soft and start to brown, about 15 - 20 minutes.

Once the onions are brown and jammy looking, deglaze the pan with the broth. Add the garlic and ginger and cook until fragrant, about 1 minute. Add the remaining ingredients, sautéing until green beans are tender and heated through.

Pour green beans and any remaining sauce in a serving dish. Sprinkle with sesame seeds if desired.
Nutrition
Serving:
1
cup
|
Calories:
193
kcal
|
Carbohydrates:
15
g
|
Protein:
3
g
|
Fat:
14
g
|
Saturated Fat:
4
g
|
Sodium:
565
mg
|
Potassium:
333
mg
|
Fiber:
3
g
|
Sugar:
8
g
|
Vitamin A:
785
IU
|
Vitamin C:
18.5
mg
|
Calcium:
57
mg
|
Iron:
1.5
mg