Bread pudding recipe is over the top delicious with dried cranberries and white chocolate chips and drizzled with warm rum creme anglaise sauce.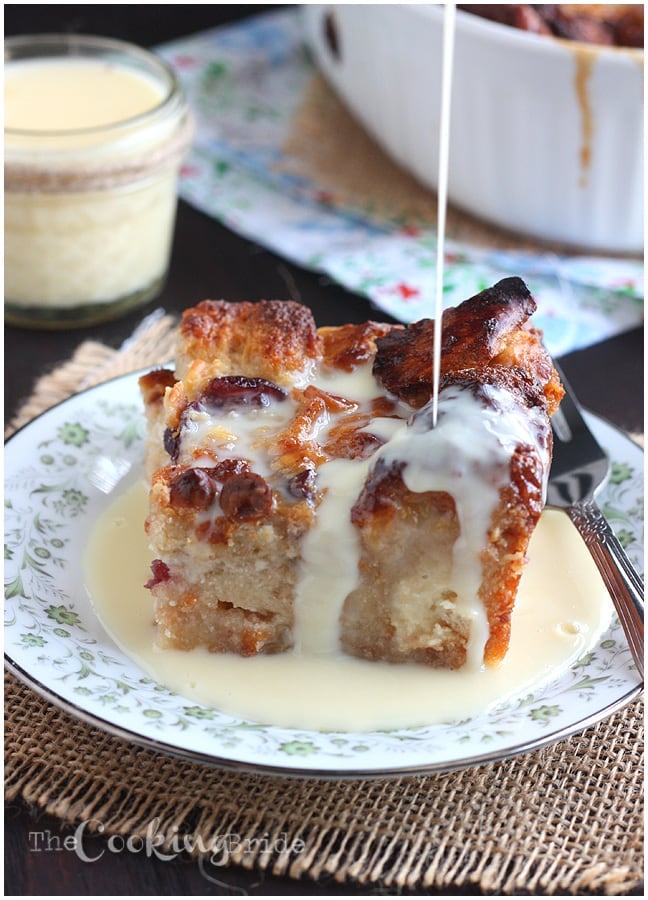 As far as desserts go, I'm more of a chocolate girl. I'll usually choose brownie a la mode over crème brulee or even bread pudding.
But oh my word, this bread pudding is over the top.
A few years ago, I was asked to cover an event for one of the magazines I write for. It was a bread pudding competition among local chefs here in Jackson. Proceeds went to charity. Afterwards I interviewed the winning chef – Andy Cook, formerly of the Parker House and now chef and owner of a fantastic BBQ restaurant in town called the Pig & Pint.
Andy was gracious enough to share the recipe. I keep ALL my past work, but I had a hard time finding this one in my archives. I feared by some freak computer glitch I had lost it forever, but lo and behold, I found it. Hooray!!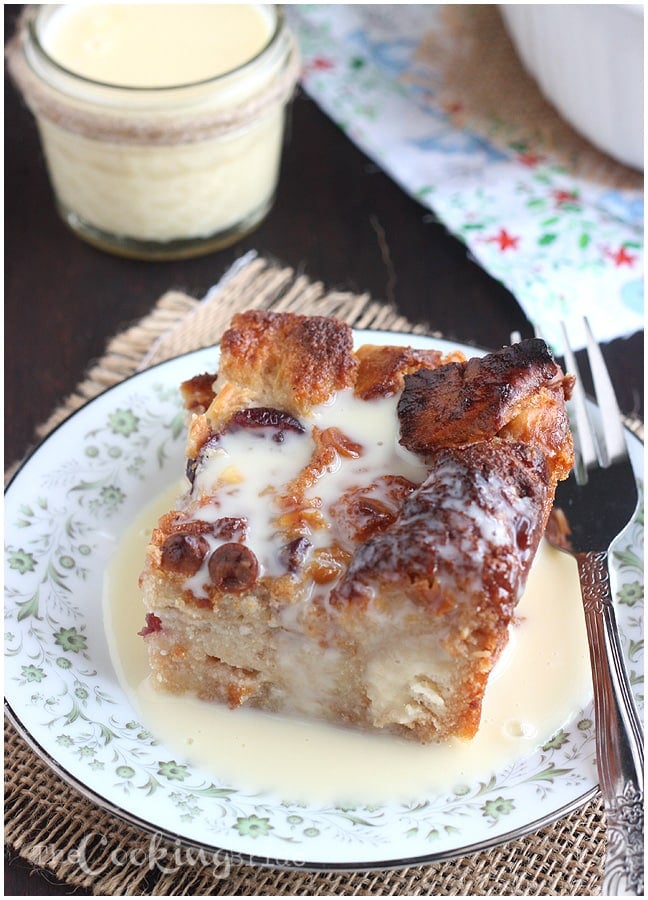 Of course, the recipe was written for feeding a huge crowd, so I had to make some adjustments and scale it back lest we would be eating bread pudding every night for a week (you can easily double this, though, if you are serving this to a crowd). And one thing I have noticed with chefs – just because they make great food doesn't mean they are the best recipe writers. A lot of times they are cooking off the cuff so they aren't thinking about exact measurements and step-by-step directions. I was sure to keep a pencil nearby to make notes in the margins as I went.
When I say it's over the top, I mean it's the best bread pudding I've ever eaten. It has that warm, gooey, comforting texture with the hint of white chocolate in every bite. Do not skip out on the rum crème anglaise. It makes the dish and honestly, I could eat it with a spoon like pudding. If you are serving little ones, substitute the rum in the crème anglaise with rum extract. You'll still get the rum taste without worrying you might intoxicate your sister's kids.
Though I don't know your sister's kids. Or your kids, for that matter. You might welcome a little mellow buzz.
I did not just say that.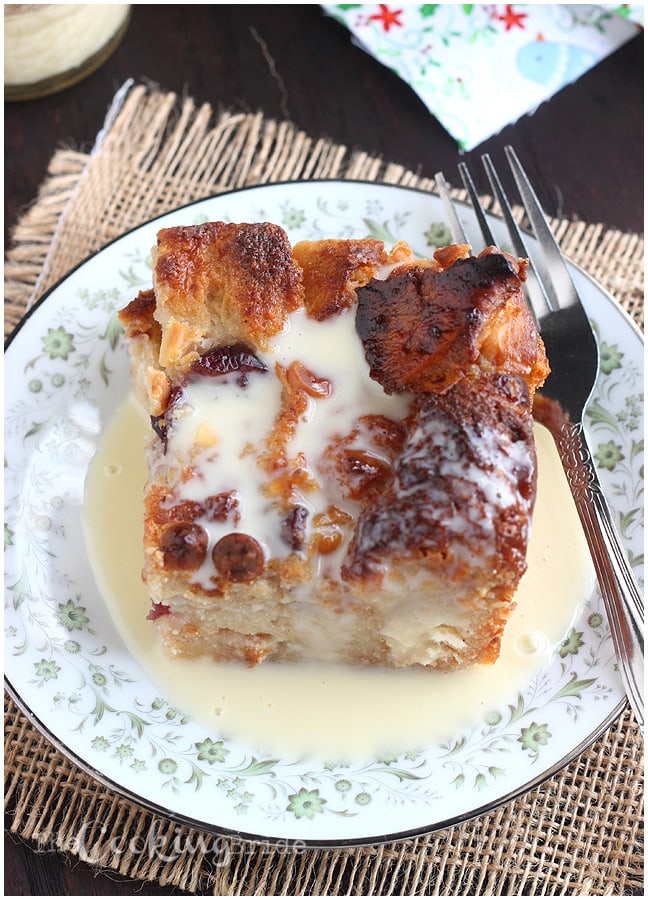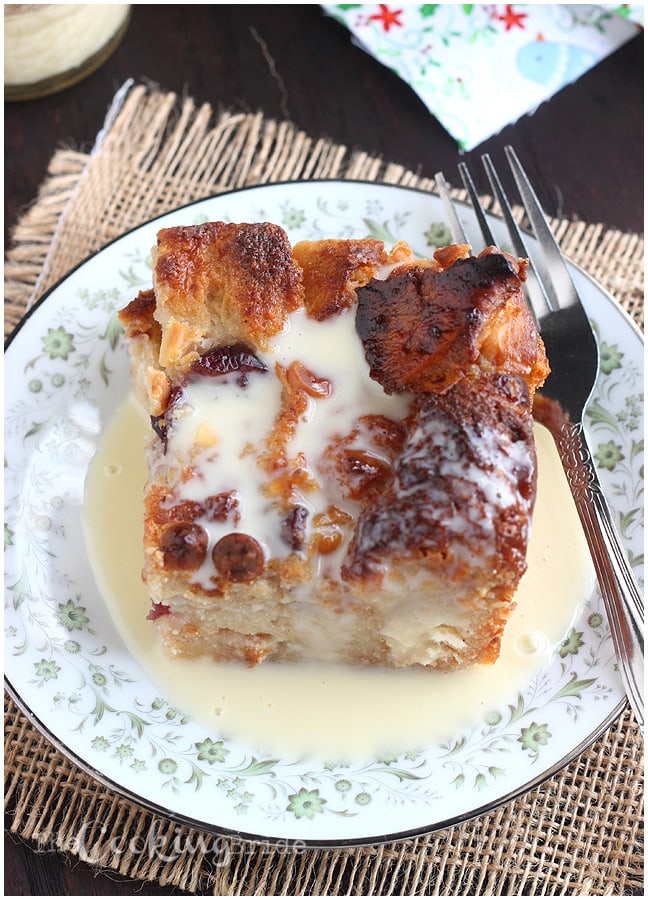 White Chocolate Cranberry Bread Pudding with Rum Crème Anglaise
Bread pudding recipe is over the top delicious with dried cranberries and white chocolate chips and drizzled with warm rum creme anglaise sauce.
Ingredients
For the bread pudding:
1

cup

heavy cream

1

cup

milk

4

eggs

slightly beaten

3/4

cup

plus 2 tablespoons granulated sugar

divided

1

12 oz. bag white chocolate chips

3/4

cup

whole cranberry sauce

not the jellied kind

10

cups

torn crusty bread

French bread works well
For the rum crème anglaise:
2

cups

heavy cream

3/4

cups

granulated sugar

1

teaspoon

vanilla extract

2

egg yolks

slightly beaten

Rum or rum extract
Instructions
For the bread pudding:
Combine all the ingredients except the bread in a large mixing bowl. Whisk together thoroughly. Add bread and mix until bread is moist. Allow bread to soak for 1 hour, or up to 12 hours.

Preheat oven to 350 degrees.

Coat an 8 x 8 x 2 baking dish with non-stick cooking spray. Pour bread mixture into the pan. Sprinkle with the remaining 2 tablespoons of sugar. Bake for 1 -1 ½ hours until bread is golden on top and bread pudding is not water in the center.

Top with rum crème anglaise sauce.
For the rum crème anglaise:
Combine all ingredients except the egg yolks in a medium saucepan. Bring to a simmer. Cook until mixture reached 145 degrees when measure with a candy thermometer. Remove from heat.

Break egg yolks into a medium mixing bowl. SLOWLY whisk half of the hot crème mixture into the egg yolks, whisking constantly. Once eggs have been tempered, add the remaining crème mixture. Set crème anglaise aside to cool. Mixture will thicken as it cools.

Add rum or rum extract to taste.
Recipe Notes
Recipe can be doubled. If doubling, use a 9 x 13 x 2 baking dish.