Last updated on May 25th, 2023
Give these easy meatballs a try the next time you are in the mood. A combination of ground pork and beef are mixed with herbs and spices, then baked in the oven.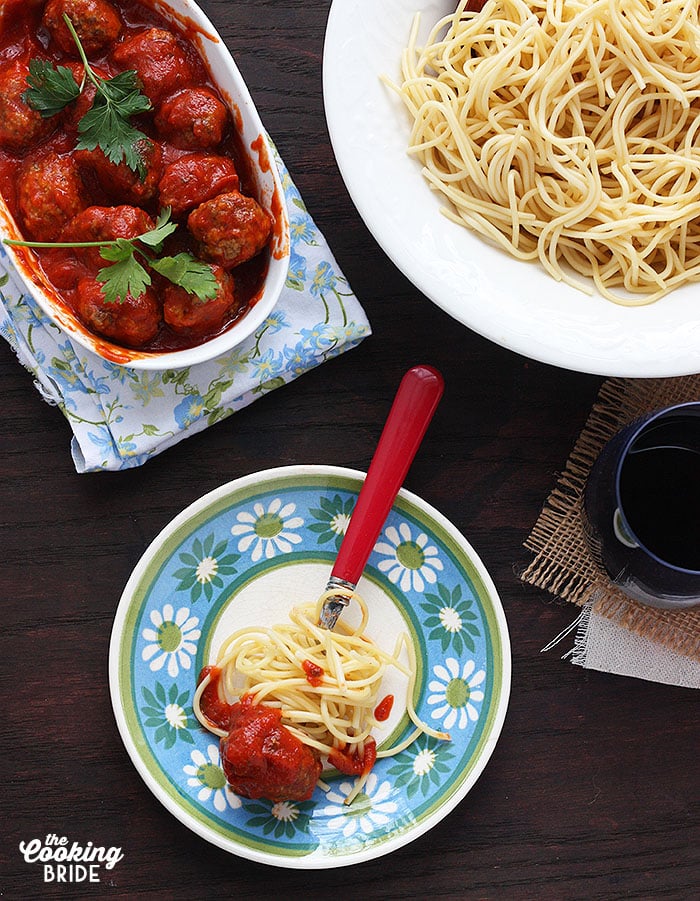 This post may contain affiliate links. Click here to learn more about how affiliate links are used on this site.
Meatballs are such a versatile kitchen staple because there are so many different ways to use them. Yes, there is the tried and true comfort food, spaghetti and meatballs. But you can also throw them in a hoagie roll to make sandwiches, fry them, glaze them, sautee them, braise them, throw them in soup …
I could go on, but I won't. I think you get the idea.
Not only are meatballs easy to make, but they are easy on your grocery budget. They only require a few simple ingredients … and maybe a willingness to get your hands a little dirty.
First, the Meat
I've made meatballs out of chicken, pork, Italian sausage and ground beef. Each has their place, depending on how you intend to serve them. But for a basic recipe, I like to use a combination of ground beef and pork. The pork adds a little fat to the meat, ensuring a more tender, juicy end result.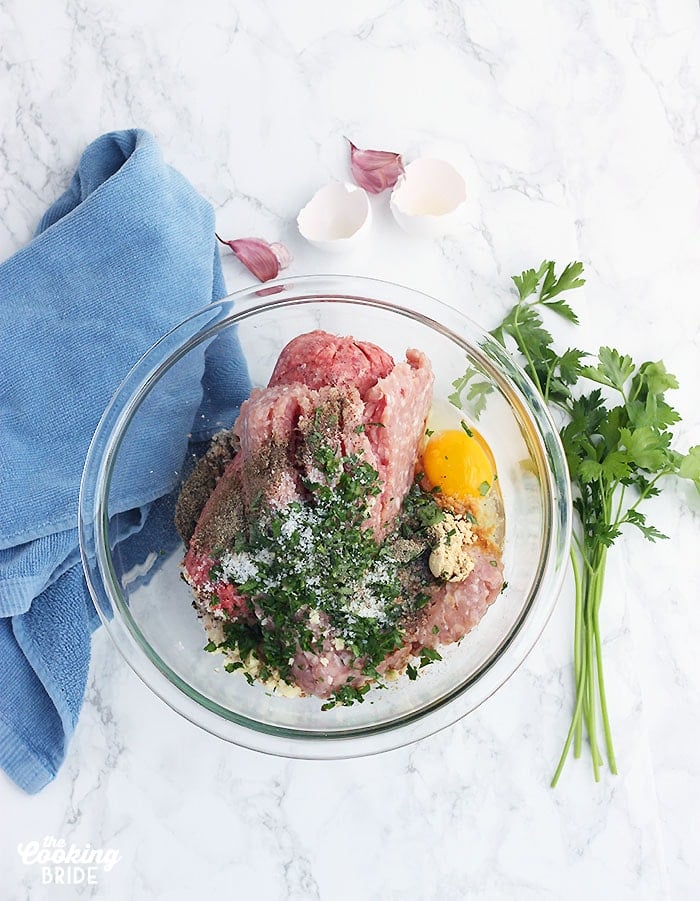 You Need a Binder
You don't want your meatballs to completely fall apart during the cooking process. Soggy breadcrumbs and an egg are the glue that binds those fellas together without drying them out.
I haven't bought store bought breadcrumbs in years – I make my own! No one in my family eats the ends of a loaf of bread. Rather than throw them out, I grind them up and store them in a plastic bag in my freezer. Check out my post on how to turn plain breadcrumbs into Cajun or Italian-style.
Mix it All Together
Meatball aficionados swear that the only proper way to mix meatball ingredients is to do it by hand. I totally agree! It's the fastest way to get everything evenly combined without overworking the meat. Overworked meat makes a tough meatball! If the thought of diving in up to your wrists in raw meat makes you squeamish, toughen up buttercup get some rubber gloves. Or think of it as play dough.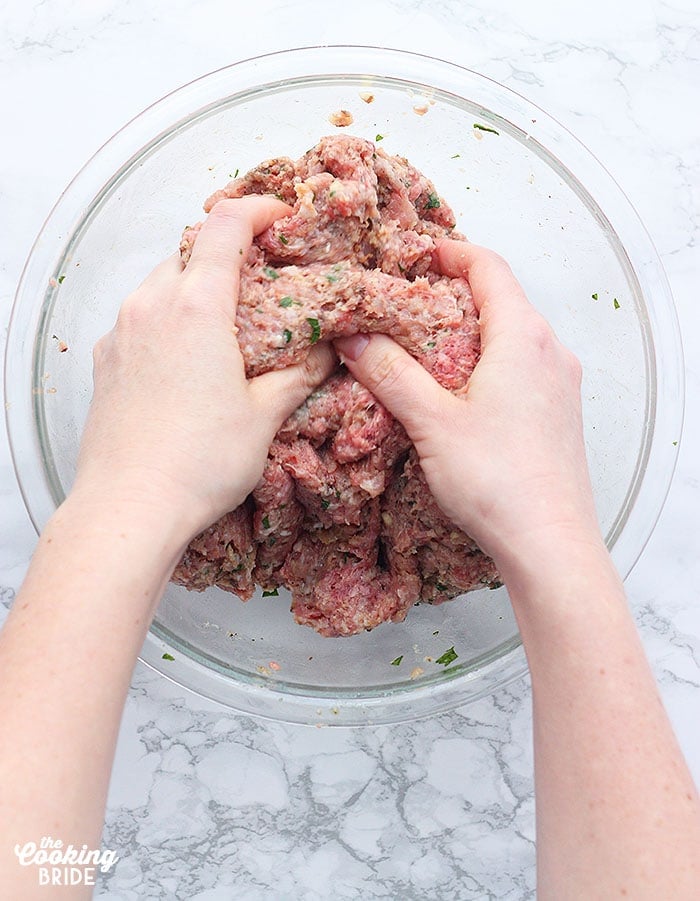 Forming the Meatballs
For me, the perfect meatball size is no bigger than 1 ½ – 2 inches wide – easy enough to stab with a fork and pop in your mouth. You can eyeball it, but I like to use a cookie scoop to ensure I get a consistent size every time.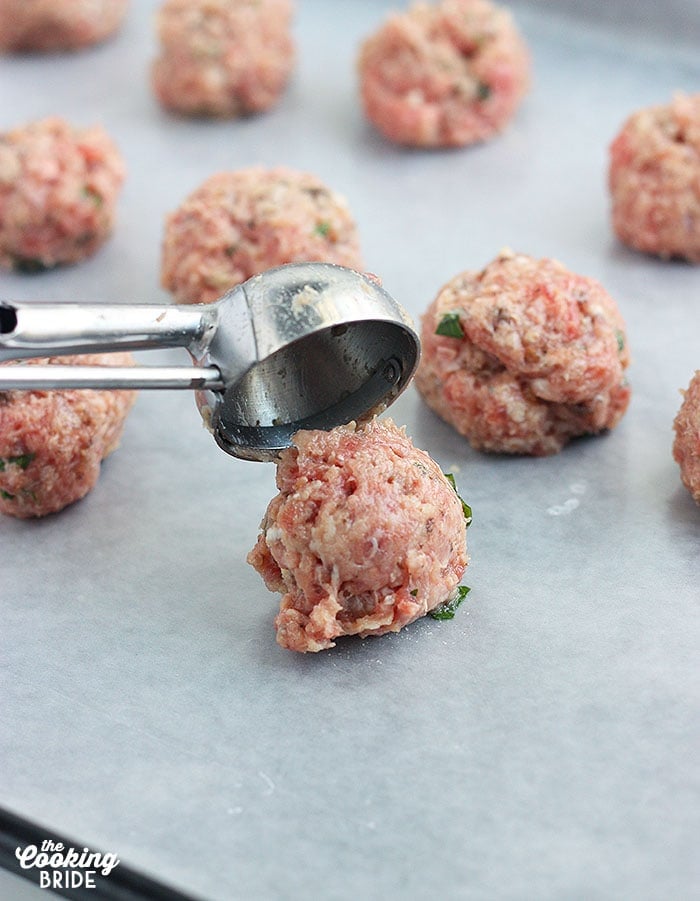 You can bake your meatballs …
You can simmer your meatballs in a sauce or pan fry them in a skillet, but usually when I make meatballs, I'm making a large batch. It's easier for me to arrange them in a single layer on a baking sheet and roast them in the oven just until they are no longer pink. You can store them in the refrigerator for a few days (just let them cool first).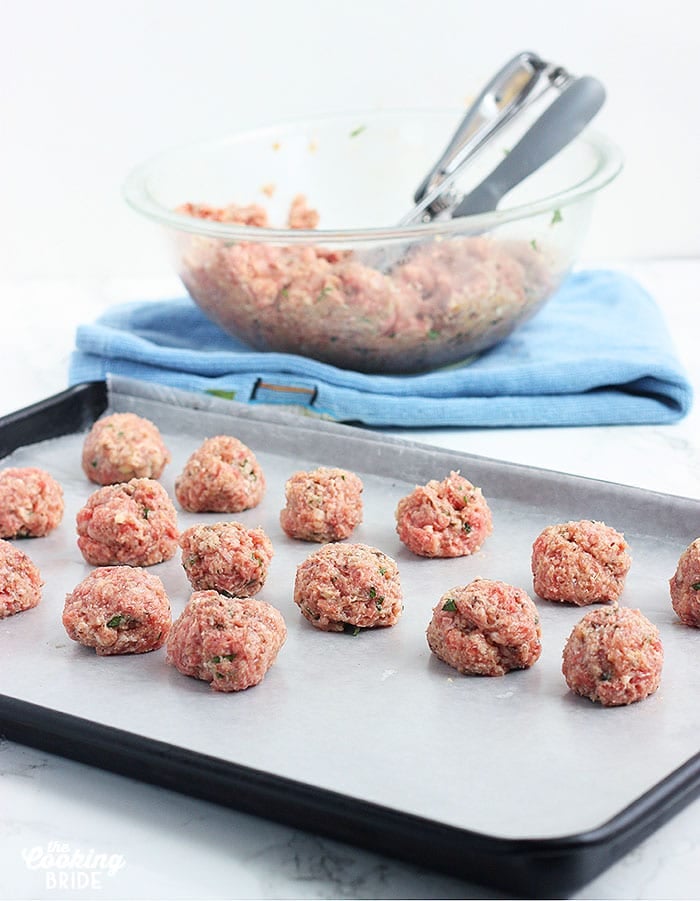 … or You Can Freeze Them
As I mentioned, I usually make a few dozen meatballs at one time. Obviously, there is no way my family of four can eat all those in one sitting. That's why I like to freeze them in batches.
You can freeze them before or after cooking, it really doesn't matter. The key is freezing them individually. Lay them out on a flat surface (a cookie sheet it fine). Place the entire sheet in the freezer and leave them there until they are solid. This prevents them from sticking together and creating one giant frozen meatball popsicle. Once they are completely frozen, you can divide them up into serving sized portions and put them back in the freezer. Give them a couple hours to thaw before cooking.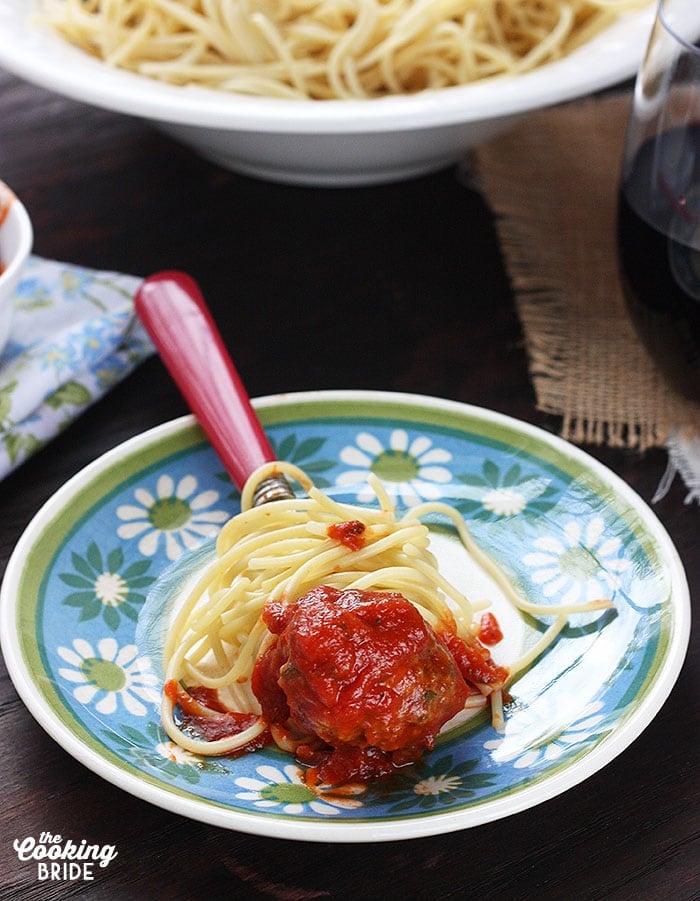 You Might Also Like:
Easy Meatballs
Ingredients
1

cup

breadcrumbs

¾

cup

milk

1

pound

ground beef

1

pound

ground pork

2

cloves

garlic

minced

1

large egg

slightly beaten

1

tablespoon

Worcestershire sauce

½

teaspoon

dry mustard

2

tablespoons

fresh minced parsley
Instructions
To bake the meatballs:
Preheat oven to 350 degrees.

Combine the breadcrumbs and milk in a large mixing bowl. Let stand for about 5-10 minutes until the breadcrumbs are soggy.

Add the remaining ingredients to the bowl. Mix together until everything is thoroughly combined. You can use a spoon, but I think the best way to mix meatball ingredients without overmixing is to use your hands.

Prepare a baking sheet with cooking spray. Roll the meat mixture into approximately 1 ½ - inch balls. Arrange the meatballs on the baking sheet. You don't have to worry about them spreading, but you also don't want them touching.

Bake the meatballs for about 15-20 minutes until they are cooked through a no longer pink.
To freeze the meatballs:
Arrange the formed meatballs on a cooking tray. Place the cooking tray with the uncooked meatballs on a flat surface in the freezer. Allow meatballs to freeze completely, then place them in a freezer safe container or plastic bag. When you are ready to cook them, only pull out as many as you need.