Last updated on May 15th, 2023
The perfect summertime treat — strawberry and basil are a unique but tasty combination in these refreshing homemade frozen popsicles.
This post may contain affiliate links. Click here to learn more about how affiliate links are used on this site.
When I saw this recipe in my latest Taste of Home Magazine, I knew I had to make these popsicles. All of them. I wanted a freezer full of homemade popsicles and I was going to have it.
I may have gotten a little carried away. Friday afternoon I came home with three pounds of fresh strawberries, three pints of fresh blackberries, and an entire basket of peaches. At one point The Husband walked into kitchen, looked around at all the popsicle molds I bought on clearance and me feverishly blending up a batch of blackberries and mint leaves with a crazed look on my face, and asked me just how many popsicles did plan on making.
In the end, I bought WAY too much fruit. And I didn't even consider the fact that even if I popped all my frozen popsicles out of the molds to refill them with more fruit puree, all my sticks were taken. Yes, I could have used wooden Popsicle sticks, but that meant making another trip to the store. It's 101 degrees outside. Even in my crazed, Popsicle frenzy, I wasn't that motivated to leave the house.
The "fruits" of my labor were worth it, though. These popsicles were so delicious and refreshing. If you are feeling fancy, pair them with a glass of sparkling wine.
The original TOH article included recipes for four different popsicles. I am including the recipe below because it's the only one I changed – from strawberry-cilantro to strawberry-basil. For the other three recipes, check out the TOH website.
Before signing off, Happy 4th of July!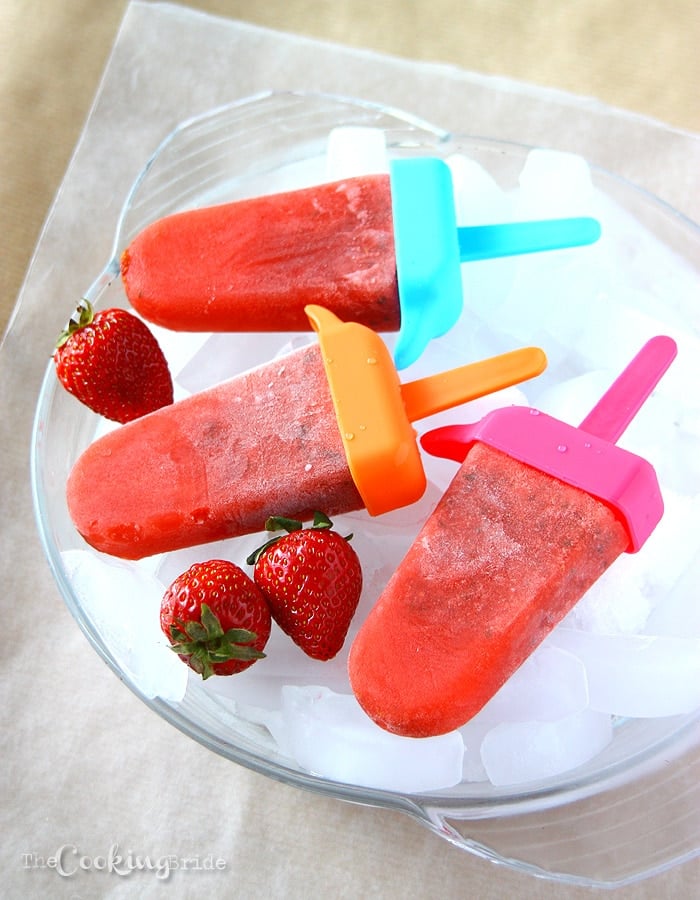 You Might Also Like:
Strawberry Basil Frozen Popsicles
The perfect summertime treat -- strawberry and basil are a unique but tasty combination in these refreshing homemade frozen popsicles.
Ingredients
4

cups

fresh strawberries

tops removed

1/4

cup

packed fresh basil leaves

2

cups

water

1

cup

packed brown sugar

12

popsicle molds or paper cups

3 ounces each and popsicle sticks
Instructions
In a medium saucepan, combine water and brown sugar. Bring to a boil and then cook over medium high heat until sugar is dissolved, forming a simple syrup. Remove from heat and allow to cool.

In the meantime, combine the combine the strawberries and basil in a blender or food processor. Pulse until mixture forms a smooth puree and ingredients are combined. This should give you about two cups of strawberry-basil puree.

Pour strawberry-basil puree into simple syrup. Stir to combine. Pour mixture into popsicle molds. For best results, allow to freeze for at least eight hours.