Last updated on May 25th, 2023
Quick and easy marinated asparagus is a zesty and delicious springtime side dish or healthy afternoon snack.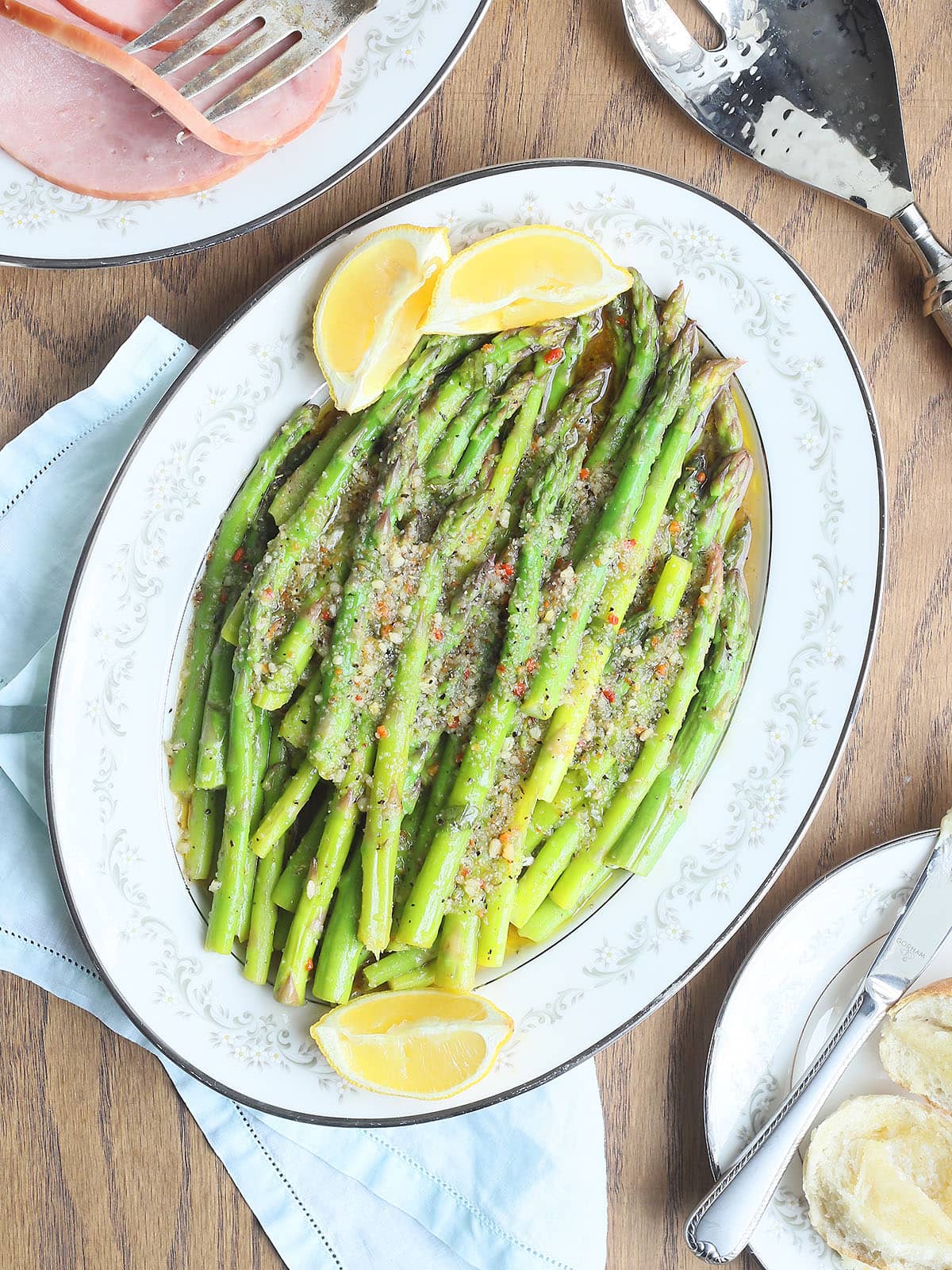 One of the things I love about springtime, besides the arrival of warmer weather, is the availability of fresh produce. Yes, I know we live in a day and age where just about any fruit and vegetable is available year round. But some fruits and vegetables, like asparagus, are noticeably better when they are in season. I try to take advantage of that window by making ALLL the asparagus recipes. I'm excited to add this marinated asparagus dish to my repertoire. It's perfect as a cold side dish for a lunchtime picnic or to satisfy hunger cravings as a healthy afternoon snack.
Tools and ingredients you'll need
Chances are, you have most of the marinade ingredients in your cabinets. To make this recipe, you'll need:
2/3 cup olive oil
1/4 cup white wine vinegar – you can also substitute with red wine vinegar. I don't recommend subbing with distilled white vinegar, simply because plain vinegar has a much stronger flavor than wine vinegars.
1 tablespoon freshly squeezed lemon juice – bottled lemon juice has a weird metallic taste, so I strongly recommend freshly squeezed here.
2 (0.6 ounces each) Italian salad dressing seasoning mix – I can usually find this in the same aisle as bottled salad dressings.
2 teaspoons minced garlic
4 teaspoons sliced green onions
1-2 teaspoons hot sauce – add additional for more heat or leave out if you don't want a kick.
2 bunches fresh asparagus
2 teaspoons of salt
Deep skillet or pot large enough to allow the asparagus to lay flat.
Dish or plastic freezer bag also large enough to allow the asparagus to lay flat.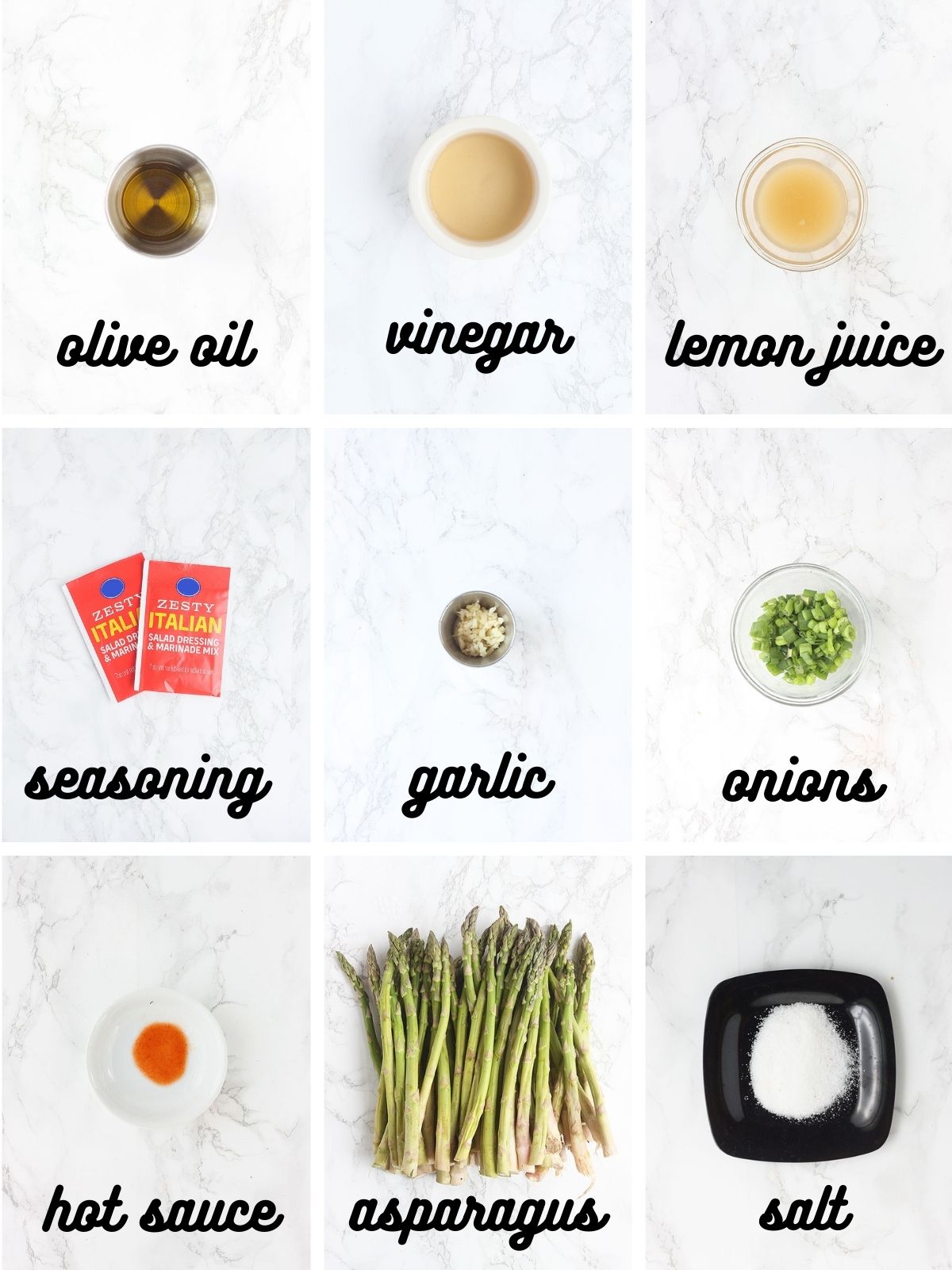 Picking the best asparagus
Fresh asparagus has long green stalks topped by a "flowery" bud. They come in several different colors including dark green, light green, white and even purple. It needs to be kept chilled to prevent it from wilting; therefore, many grocery stores will store bundles standing upright in water or crushed ice. Look for firm, plump stalks that stand straight up. The bud at the end should be tight. Stay away from stalks that appear wrinkled or limp or buds that are loose or damaged.
Fresh asparagus is best if it is cooked the same day you purchase it. However, you can store it in the refrigerator in a jar of water covered loosely with a plastic bag. Be sure to use it within four days.
Prepping the asparagus for cooking
Before we get started, we need to do a little work to prepare the asparagus. Asparagus grows up from the ground, so it's always a good idea to rinse the stalks under cool water to wash away any dirt or debris. The bottom ends of the stalks also have a woody texture (not very appetizing) so you'll want to trim those. You can cut the stalks about 1/4 of the way up. However, I was taught to gently bend the stalk. Wherever it naturally breaks is where the woody part ends.
Asparagus spears also have these pointed little leaves on the sides. These can also be a little tough. Most processors do a good job of removing the worst offenders before they are shipped to the store. I've honestly never needed to trim these, but if you spot one that could make trouble, slice it off with a sharp paring knife.
Cooking the asparagus
Fresh asparagus can be eaten raw. But larger stalks tend to be a little tough, so we're going to give these stalks a quick dip in salted boiling water. Bring two inches of water to a boil over medium high heat. Add two teaspoons of salt and stir until dissolved. The salt adds some additional flavor to the asparagus.
Once the water starts to boil, add the asparagus in an even layer. You may need to do this in batches depending on how wide your pan is. Reduce the heat to a simmer and cook the asparagus for 1-2 minutes. We don't want the spears to be raw, but we do still want them to have a bite. Thinner spears are perfect after a minute, but thicker spears may need to cook for the entire two minutes or more.
Asparagus is very easy to overcook. Even after you remove the spears from the water, they will still continue to cook for several minutes. Once you remove them from the pan, have a bowl of ice water at the ready. Plunge the asparagus into the ice water to immediately stop the cooking process.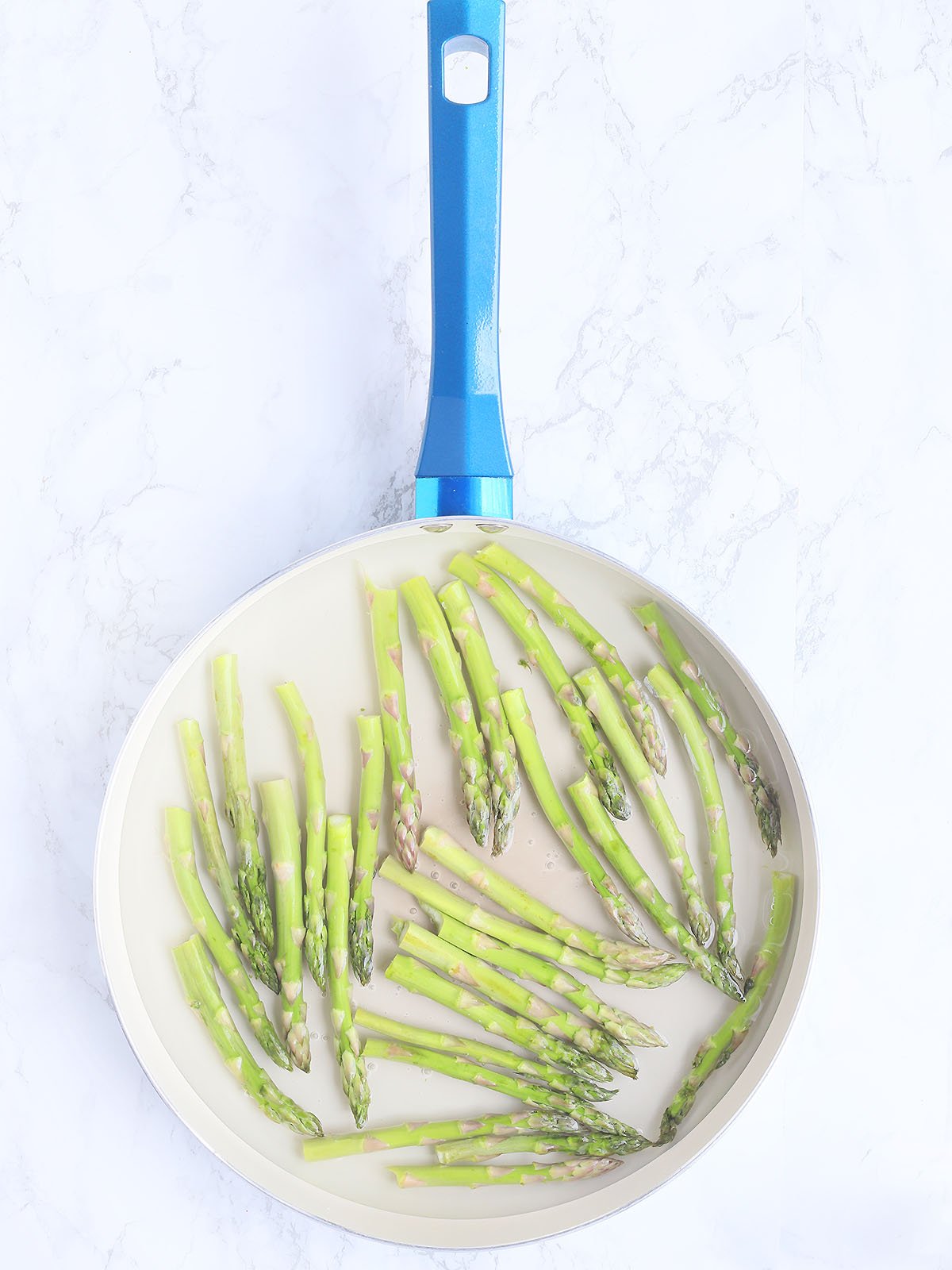 Assemble the marinated asparagus
Drain the asparagus from the ice water. Then layer it in a dish that's wide enough for the asparagus to lay flat. You can also use a gallon sized freezer bag. Pour the marinade over the top of the asparagus and give it a stir to coat. Cover the dish (or seal up the plastic bag), then place the asparagus in the refrigerator and let it marinate for at least three hours. Since olive oil tends to solidify when it has been chilled, I recommend letting the asparagus come to room temperature before serving to guests.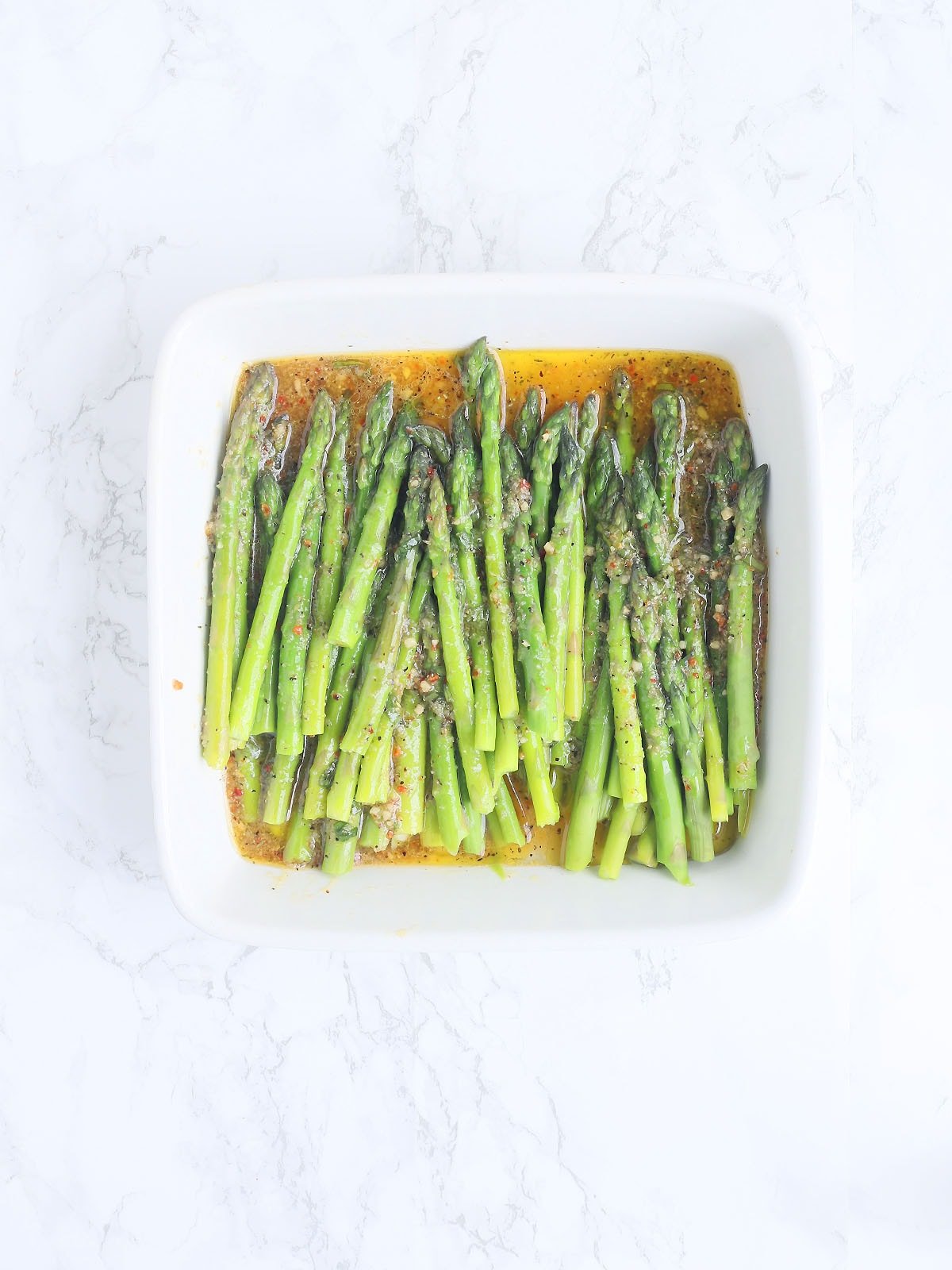 What to serve with marinated asparagus
Marinated Asparagus
Quick and easy marinated asparagus is a zesty and delicious springtime side dish or healthy afternoon snack.
Ingredients
2/3

cup

olive oil

1/4

cup

white wine vinegar

1

tablespoons

freshly squeezed lemon juice

2

(0.6) ounce

packages Italian salad dressing seasoning mix

2

teaspoons

minced garlic

4

teaspoons

sliced green onions

1

teaspoon

hot sauce

optional

2

bunches fresh asparagus

2

teaspoons

salt
Instructions
In a small mixing bowl, combine the olive oil, vinegar, lemon juice, seasoning mixes, garlic, green onions and hot sauce, if using. Whisk the ingredients together, then set aside. Season with additional salt if needed.

Rinse the asparagus under cold water. Remove the tough ends from each stalk. Trim any large scales from the stems as needed.

In a skillet large enough to lay the asparagus flat, bring about two inches of water to a boil. Add the salt.

 Carefully lay the spears in the boiling water. Let the water return to a boil, then simmer the asparagus over medium-low heat for 5-7 minutes until the asparagus is still slightly crisp.

Drain the water from the skillet and immediately run the asparagus under cold water to stop the cooking.

Transfer the asparagus to a dish wide enough to lay the asparagus flat. You could also use a gallon freezer bag.

Pour the marinade over the top of the asparagus. Cover and refrigerate for a minimum of three hours.
Notes
Storage.
Keep marinated asparagus in a resealable container in the refrigerator. The asparagus will continue to absorb the marinade flavors the longer it sits. However, after a few days the spears will lose their bite and start to become soggy. Best to consume within 3-4 days. 
Nutrition
Serving:
6
spears
|
Calories:
10
kcal
|
Carbohydrates:
2
g
|
Sodium:
133
mg
|
Sugar:
1
g
|
Vitamin A:
57
IU
|
Iron:
0.4
mg