Last updated on May 24th, 2023
Take advantage of strawberry season with this simple, but creamy homemade strawberry ice cream recipe. Cream, sugar, and fresh strawberries burst with every bite.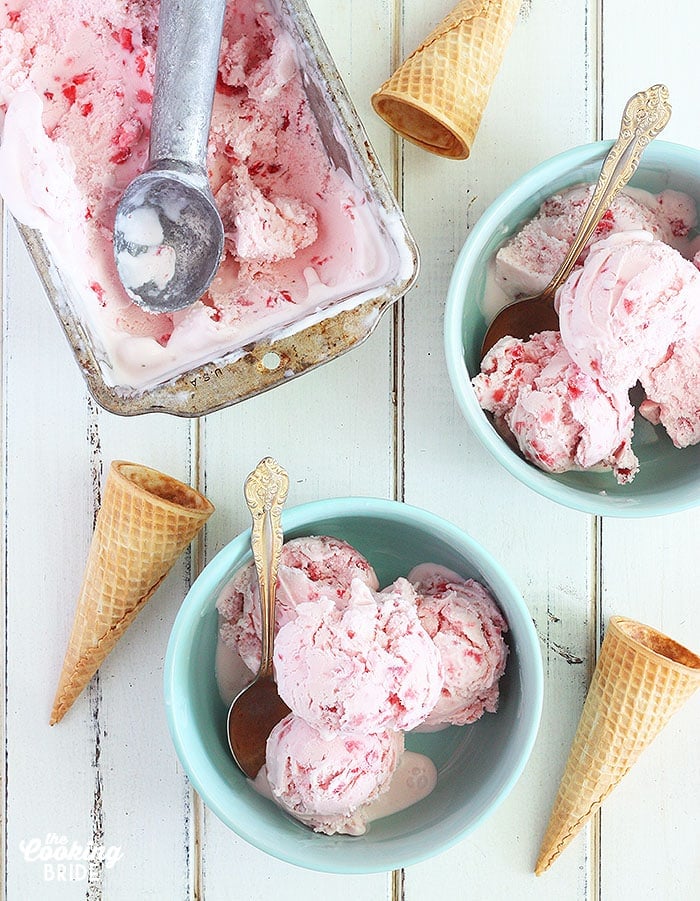 This post may contain affiliate links. Click here to learn more about how affiliate links are used on this site.
A few weeks ago, Louisiana strawberries started showing up at my farmer's market. Every year I buy a whole flat (sometimes even two). In my opinion, Louisiana strawberries are the best and I always panic that I won't have enough to get me through until next spring when I can stock up again.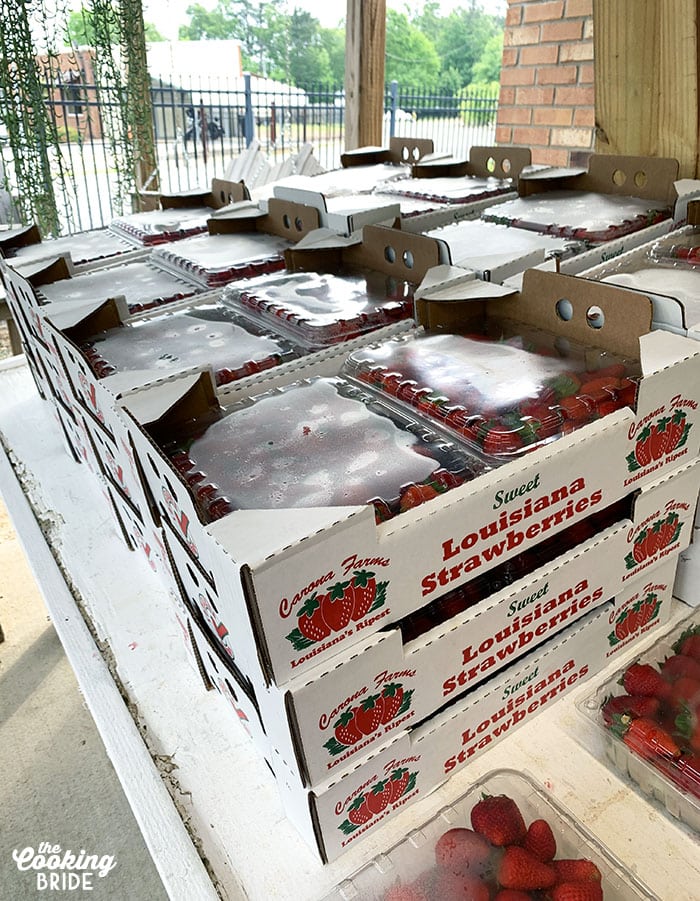 I like to freeze my strawberries by washing them, letting them dry, removing the hull, and then laying them out on single layer on a cookie sheet. Usually within 24 hours or less, they are frozen and I can dole them out into pint-sized portions in a vacuum seal bag.
Not long after I put up my latest stash, I started craving strawberry ice cream. I mean literally, it was just about all I could think about. I finally decided to just give in one night after work and make my own. The Husband thought I was nuts. It was probably eight o'clock at night before I got started and believe me I was exhausted from working all day. But I HAD TO have it RIGHT THEN. Forty-five minutes later I had a bowl of soft serve homemade ice cream sitting in my hand and let me tell you it was probably the best bowl of strawberry ice cream I have ever eaten.
Fresh or Frozen Berries
If you have fresh strawberries on hand — great! Be sure to wash them thoroughly before you get started. If you don't have any fresh berries, frozen strawberries will work just fine. You don't even need to thaw them.
Strawberry ice cream ingredients and Tools You'll Need
This recipe is super simple. It doesn't involve making a custard first, which can take more time.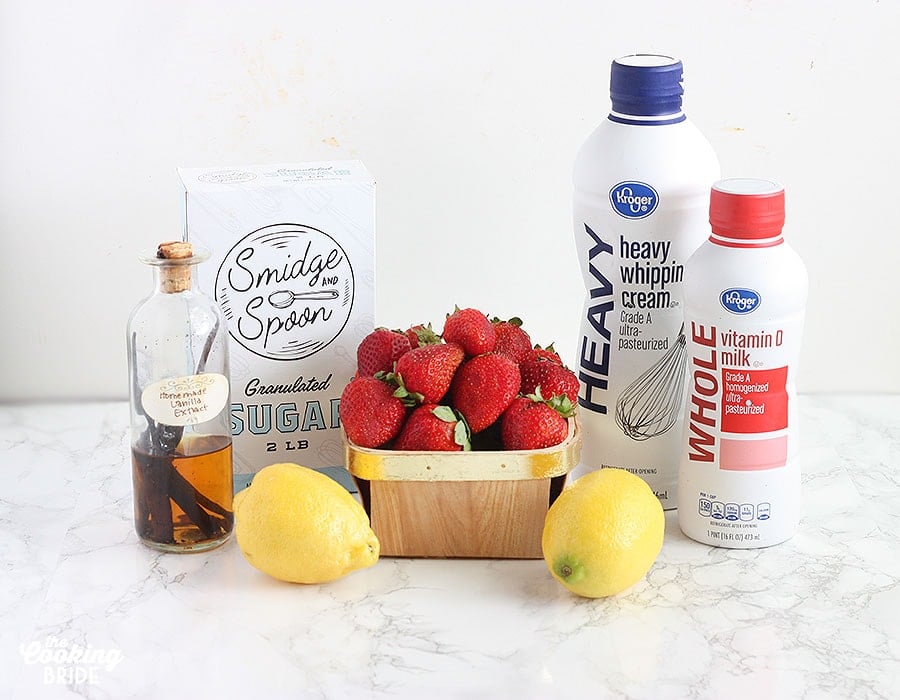 You'll need:
3 cups fresh or frozen strawberries, stemmed and sliced
4 tablespoons of freshly squeezed lemon juice
White granulated sugar
Whole milk
Heavy whipping cream
Vanilla extract
This recipe does require an ice cream maker. If you just try to freeze the mixture on its own without churning it, the texture will end up with a lot of ice crystals and not the creamy goodness you were hoping for. I have been using this Cuisinart Ice Cream maker for years. I store my freezer bowl in the bottom of my deep freezer to ensure that I am ready to go should the mood strike me.
How to make homemade strawberry ice cream
Start by combining the strawberries with the lemon juice and 1/2 cup of sugar. Mix everything together and let it stand for about 2 hours. This gives the sugar time to draw out all the juices from the strawberries.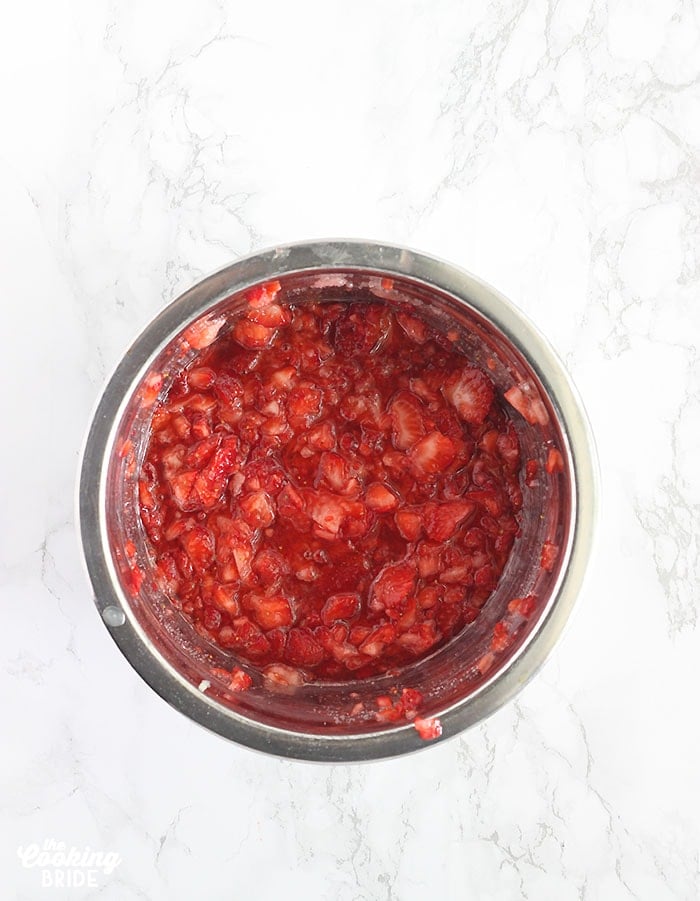 Afterwards, strain the strawberries through a colander and reserve the juice. If you like chunks of strawberries in your ice cream like I do, reserve half the strained strawberries. Mash the rest.
In another mixing bowl, whisk together the whole milk and sugar. Keep whisking until you are sure the sugar is dissolved. Then add heavy cream, the reserved strawberry juice, all the strawberries and a little vanilla extract.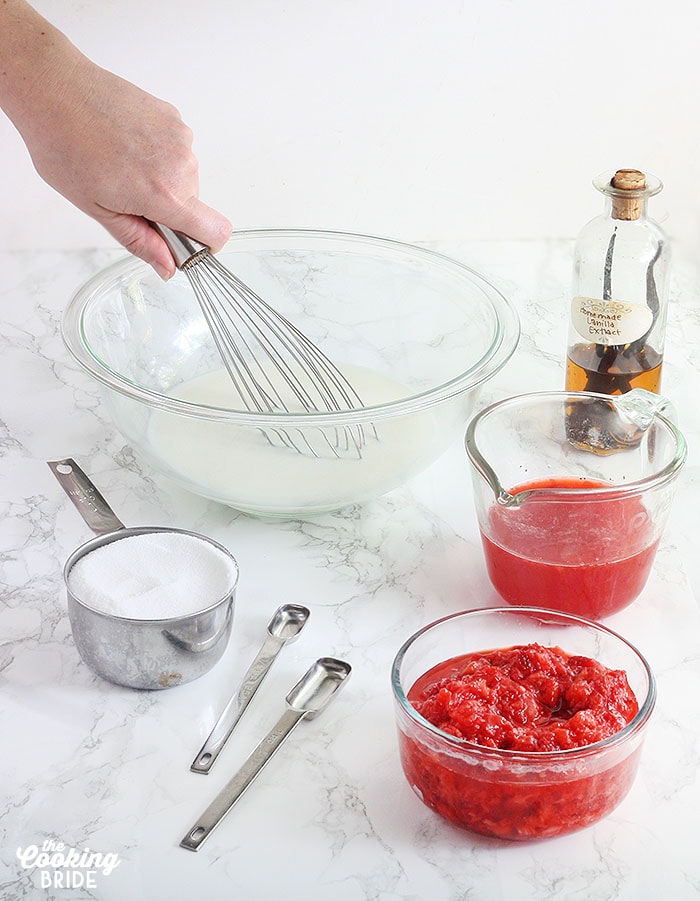 Pour this mixture into the FROZEN bowl of your ice cream maker. Turn it on and walk away. In about 30 minutes, you should have ice cream resembling soft serve. If the thought of homemade ice cream is making you salivate, you can eat it now. Otherwise, scoop it out into a freezer safe container and let it firm up in the freezer for a few hours.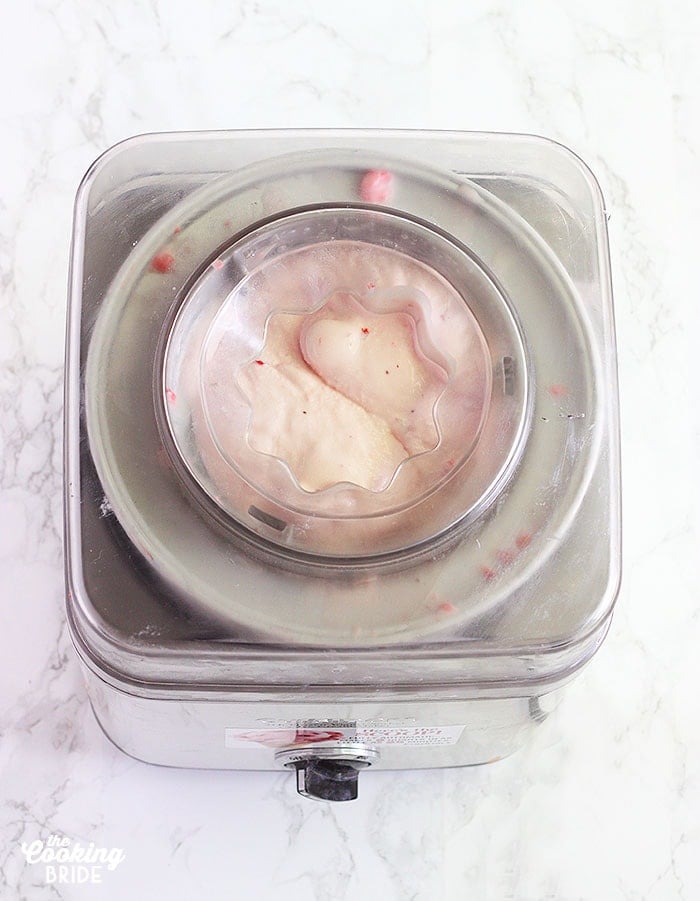 The best way to store homemade strawberry ice cream
If you plan on eating your homemade strawberry ice cream within a day or so, you can pour it into a bread loaf pan and place it in the freezer until firm. That does, after all, make for a prettier presentation
However, if you anticipate the ice cream lasting more than a week, you'll want to place it in a freezer safe container with a lid. Carefully layer a piece of plastic wrap over the surface to prevent ice crystals from forming on the surface.
Place the ice cream in the back of the freezer, rather than storing it in the door, to keep the temperature consistent.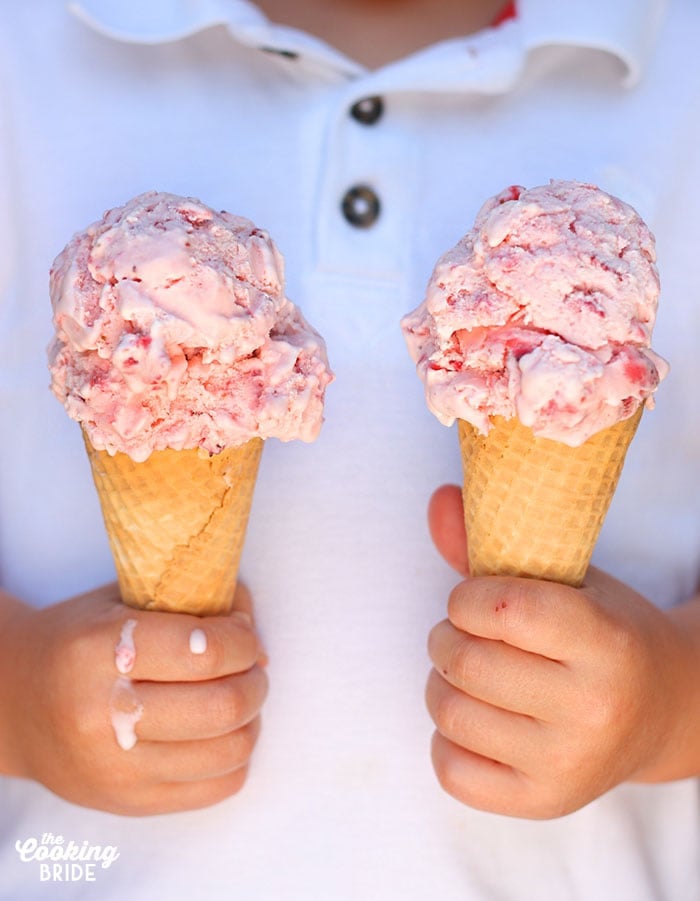 More ice cream recipes:
Homemade Strawberry Ice Cream
Take advantage of strawberry season with this simple, but creamy homemade strawberry ice cream recipe. Cream, sugar, and fresh strawberries burst with every bite.
Ingredients
3

cups

fresh or frozen strawberries

sliced

4

tablespoons

lemon juice

1-1/2

cups

sugar

divided

1-1/4

cups

whole milk

2-3/4

cups

heavy cream

1-1/2

teaspoons

pure vanilla extract
Instructions
In a small bowl, combine the strawberries with the lemon juice and 1/2 cup of the sugar. Stir until combined and set aside for at least two hours.

Strain the strawberries through a colander and reserve any juice. If you like big chunks of berries in your ice cream, set aside half of the berries and chop into smaller pieces. Puree the rest.

In a medium mixing bowl, whisk together milk and remaining sugar just until sugar is dissolved.

Add the heavy cream, reserved strawberry juice, pureed strawberries and vanilla.

Pour mixture into a prepared ice cream maker. Churn according to manufacturer's instructions.

About five minutes before mixing is completed, add the remaining chopped strawberries.

You can eat the ice cream at this point. However, if you would like a firmer consistency, transfer the ice cream to an airtight freezer container and freeze for about two hours.
Nutrition
Serving:
1
cup
|
Calories:
103
kcal
|
Carbohydrates:
15
g
|
Protein:
1
g
|
Fat:
5
g
|
Saturated Fat:
3
g
|
Cholesterol:
17
mg
|
Sodium:
7
mg
|
Potassium:
111
mg
|
Fiber:
1
g
|
Sugar:
14
g
|
Vitamin A:
335
IU
|
Vitamin C:
5
mg
|
Calcium:
17
mg
|
Iron:
1
mg