Last updated on March 30th, 2023
Satisfy your sweet tooth this holiday season with a batch (or two!) of pillowy soft homemade divinity candy.
This post may contain affiliate links. Click here to learn more about how affiliate links are used on this site.

There is a saying, "You know who your true friends are if they give you homemade divinity." Actually, no. I just made that up. But if you've ever made homemade divinity candy, you know what I'm talking about. And if you've never made homemade divinity, a word of wisdom: If someone ever gives you homemade divinity candy, even if divinity is not your thing, thank them profusely. Because of the time it takes to make divinity, I only give mine away to people I really like.
Ingredients and tools needed to make homemade divinity candy
A day with low humidity – I'm not even joking with this one. We live in a day and age with central heat and air. You wouldn't think the weather would have any affect on the outcome of a recipe. But in this case, it does. High humidity will impact the way the divinity dries and could result in gooey candy. Check the humidity levels on the day you intend to make divinity. If it is raining or the humidity level is more than 50%, plan to make the candy on another day.
4 cups white granulated sugar
1 cup light corn syrup – you can not exchange dark for light corn syrup in this recipe like you can with my pecan pie. Dark corn syrup will affect the look and flavor of the finished product, so make sure you use light.
¾ cup of water
3 room temperature egg whites – room temperature egg whites produce more volume when they are beaten than cold egg whites.
1 teaspoon vanilla extract
1 cup chopped pecans
Additional pecan halves for garnish, optional
Candy thermometer – we need to heat the sugar and corn syrup to 260 degrees F, also known as hard ball stage. Some people can decipher hard ball stage by sight. I'm not one of those people. The most foolproof way to ensure your sugars have been heated to the appropriate temperature is with a candy thermometer.
Stand mixer – I know some of y'all probably have mamas and grandmamas who beat their divinity by hand back in the day or with an electric hand mixer. I don't recommend it. At one point, the divinity candy needs to beat for 10-15 minutes. I don't know anybody who can beat something nonstop for 15 minutes. I've also heard trying to use a hand mixer can burn out the motor.
Cooling racks – not necessary, but this does help to facilitate the drying process a little faster.
Heat the sugar
In a medium saucepan, combine the sugar, corn syrup and water. Heat over low heat and stir until the sugar is dissolved. The mixture will be cloudy. I kept stirring until I no longer spot any sugar granules on my spoon. Increase the heat to medium high and bring the sugar to a boil. Place your candy thermometer into the saucepan and heat, without stirring, until the candy thermometer reaches 260 degrees. Immediately remove the saucepan from the heat.
Beat the egg whites
While your sugar is boiling, beat the egg whites. Just be sure to keep an eye on your thermometer. Using your stand mixer, beat the egg whites at medium to medium-high speed until they reach stiff peaks. Stiff peaks means when you lift the whisk out of the egg whites, the peak stands straight up rather than falling back over on itself.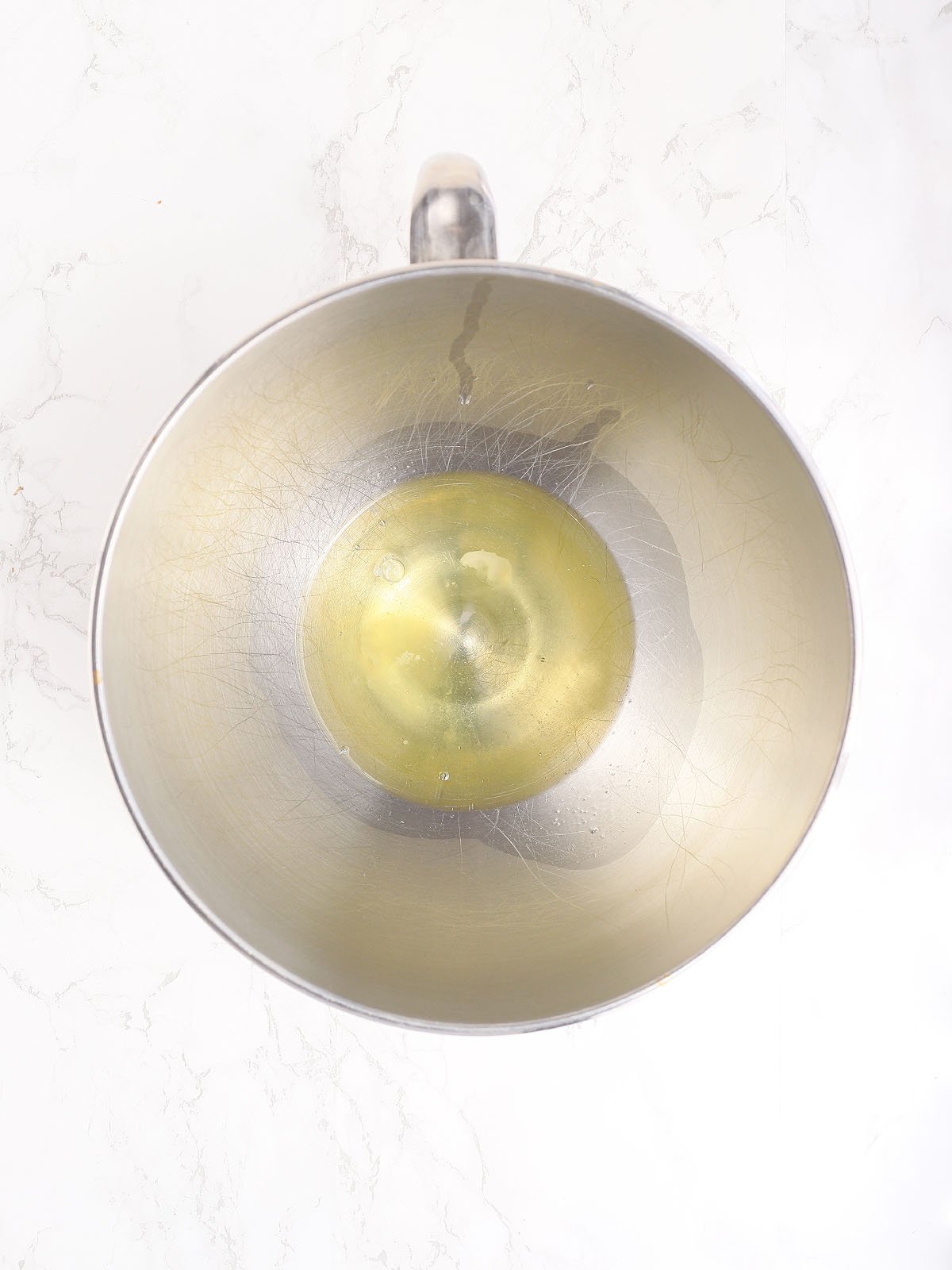 Add the sugar mixture
With the mixer running on medium speed, pour the sugar mixture into the egg whites in a slow and steady stream. I want to emphasize that this needs to be done slowly. Adding the sugar slowly is going to add volume to the egg whites and allow them to stabilize. However, adding the sugar too quickly will cause your egg whites to deflate.
Just beat it
Once all the sugar has been added, leave the mixer running and set your timer for 10 minutes. We are trying to cool the egg whites slowly by incorporating air. You will notice the egg whites have a shiny sheen to them at first, but as they start to cool, that sheen will start to dull. After 10 minutes, if your egg whites are still glossy and not holding a shape, beat them for 5-10 minutes more.
Add the nuts and vanilla
At this point, you should be able to scoop up a bit of the mixture with a spoon and it will hold its shape and not run all over. If you've achieved this, add the vanilla extract and chopped pecans. Mix on low just until the pecans are evenly mixed throughout.
Dry the divinity
Spoon heaping tablespoons of divinity onto waxed or parchment paper. It's helpful to use a second spoon or small spatula to push the divinity off the spoon and onto the waxed paper. If you want, top each candy with a pecan half while it's still soft. Allow the divinity to dry at room temperature for at least two hours, but it can take up to 24 hours for it to completely dry (this is where low humidity comes in to play).
Once the divinity has hardened to the point where you can pick it up without damaging it, it's helpful to move it to a cooling rack to finish drying. This allows more air to circulate underneath the candy and facilitate the drying process. Homemade divinity candy is properly dried when it's no longer sticky to the touch. It should have a pillowy soft texture, like nougat (you know that bottom layer you bite into when eating a Snickers bar?).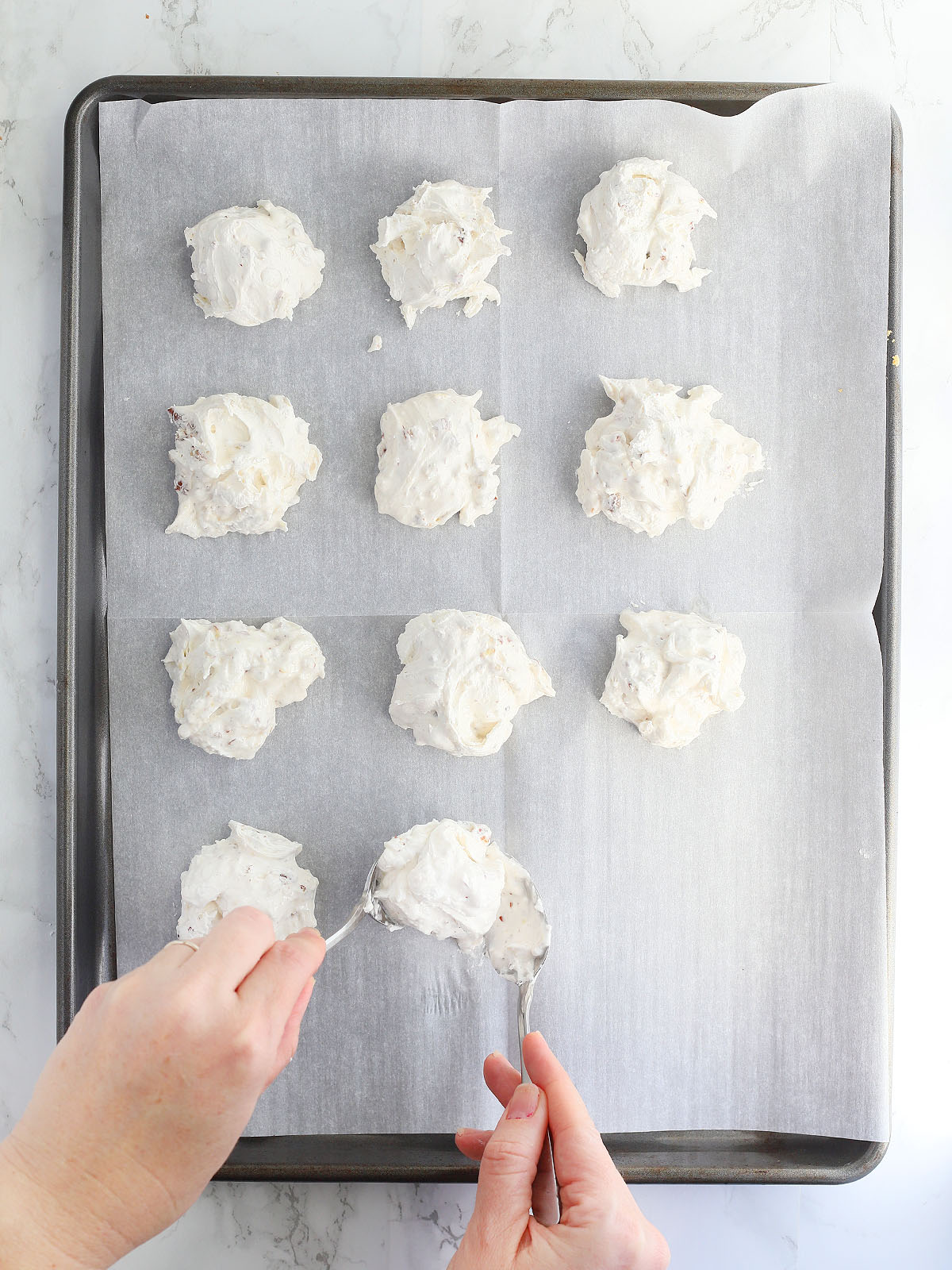 Storage
Homemade divinity candy can go stale, so it's important to store it in an airtight container or freezer bag in a cool dry place. Consume within two weeks. Divinity candy can also be frozen for up to two months.
You might also like