Last updated on May 22nd, 2023
The Hurricane cocktail is one of New Orleans most popular signature drinks. Rum, passion fruit juice, lime juice and grenadine give this rose-colored drink a tropical flavor.
This post may contain affiliate links. Click here to learn more about how affiliate links are used on this site.
I'm proud to say, I have experienced Mardi Gras in New Orleans at least once in my life. I was 28, married but no kids yet. The husband and I went with two other friends. It was an experience of a lifetime to say the least. But now that I'm older, it's not something I would want to do again.
I tried my first Hurricane cocktail during that trip. I remember it was at a bar on the famous Bourbon Street, but for the life of me I don't remember which one (oddly enough, there is a lot I don't remember from those few days). I do remember the tropical sweetness of the drink goes down easy, and before you know it you are hammered. Proceed with caution.
The History Behind the Hurricane
Pat O' Brien's bar in New Orleans takes credit for creating the city's most iconic drink. During WWII, spirits like bourbon and whiskey were hard to come by. However, rum could be easily imported from the Caribbean to the Port of New Orleans, then put on barges to make its way up the Mississippi River. With rum so plentiful, it only made sense to make do with what you had. The name comes from the signature glass the cocktail is served in, which resembles the glass cover of a hurricane lamp.
Make a Simple Syrup
Before you get started, you will want to whip up a batch of simple syrup. It's nothing more than equal parts sugar and water. Combine the sugar and water in a small saucepan, simmer over low heat until the sugar is melted. That's all there is to it. You may want to do this an hour or so ahead of time so the syrup has time to cool before you start making cocktails. Any leftover syrup will store for several weeks in an airtight container in the fridge.
How to Make a Hurricane Cocktail
Fill a shaker with ice cubes. Add two ounces of light rum, two ounces of dark rum, two ounces of passion fruit juice, one ounce of orange juice, a ½ ounce of fresh lime juice, and one tablespoon of simple syrup.
Grenadine is what gives the drink its beautiful blush color. It's a non-alcoholic mixer made from the juice of pomegranates. Just about any good liquor will carry it. If your grocery store has a cocktail mixers section, you might be able to find a bottle there too. Add one tablespoon of grenadine to the shaker. Put the lid on tight and shake until everything is combined. Fill two hurricane glasses with ice. Strain the cocktail into the glasses. Garnish with fresh fruit if desired.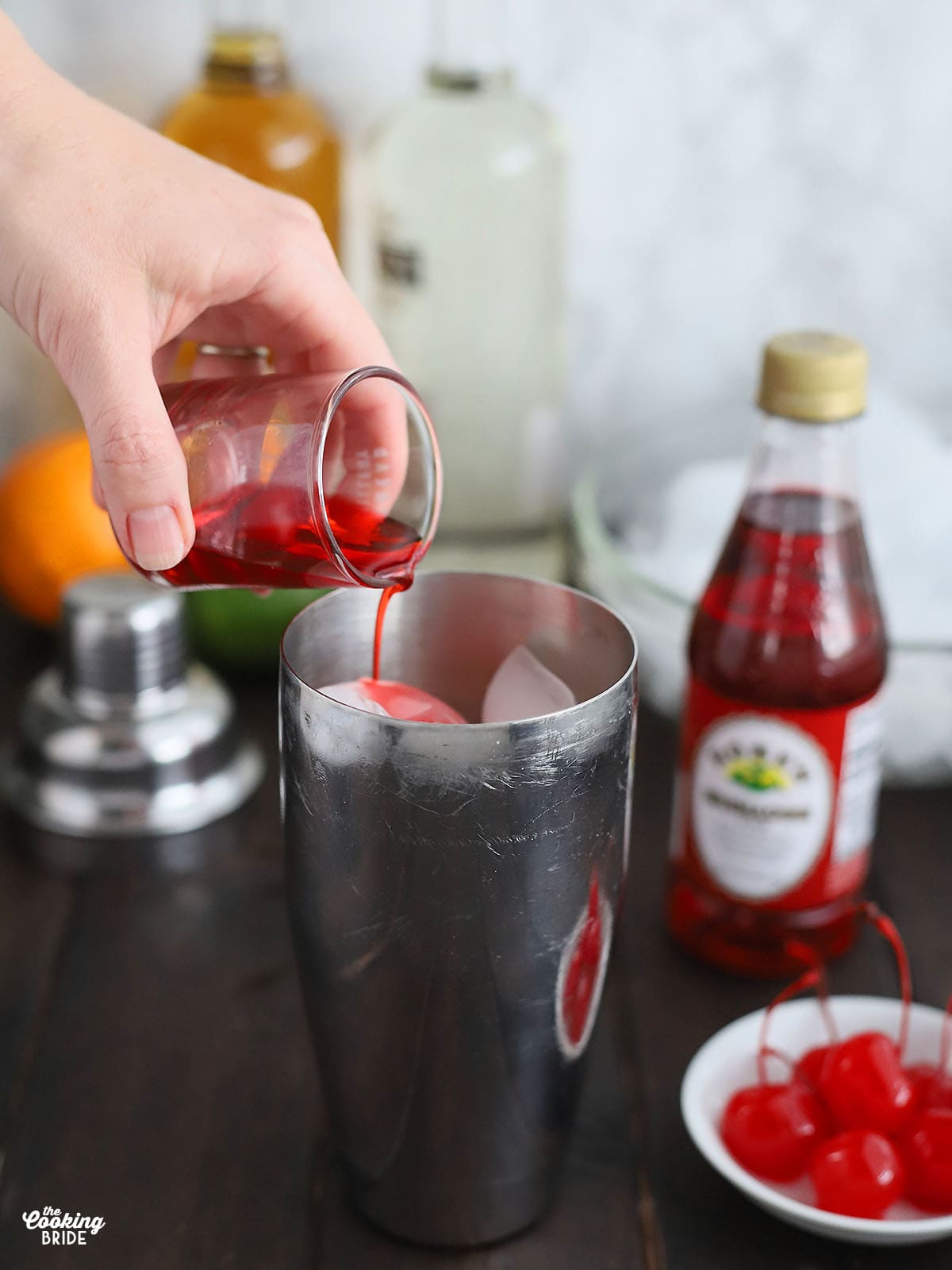 You Might Also Enjoy: