Last updated on June 5th, 2023
No other cocktail is more synonymous with the South than a classic mint julep. Learn how to make this easy cocktail for yourself right at home.
This post may contain affiliate links. Click here to learn more about how affiliate links are used on this site.

It's probably the one cocktail most synonymous with the South. Demure in stature, its legacy is wound throughout southern culture more tightly than kudzu vines on the side of a highway. I am, of course, talking about the mint julep. While simple to make, there is a strict code you must follow: fresh mint leaves — lightly muddled, crushed ice, and good quality bourbon. The cocktail is the reason I keep a pot of mint growing on my back porch.
Mint Julep Throughout History
Throughout ancient history, mint has long been employed as a digestive aid to soothe upset stomachs. In the late 1700's, mint julep cocktails were actually prescribed to relieve nausea, indigestion, and vomiting. In fact, it wasn't uncommon to sip a mint julep alongside the morning meal. By the early 1800's, people began to consume the cocktail more for social, rather than for medicinal purposes.
Former United States Secretary of State Henry Clay, brought the mint julep to Washington D.C. while he was still serving as United States Senator from Kentucky. From there, the popularity of dainty cocktail from the South spread like wildfire throughout the rest of the country. Mississippi author William Faulkner was known to have a certain technique when making his cocktail. Margaret Mitchell's character Scarlett O' Hara from Gone with the Wind describes the scent of mint on her father as she straightens his cravat. Even F. Scott Fitzgerald references the drink in the pages of his famous novel, The Great Gatsby.
Why are mint juleps served at the Kentucky Derby?
While the julep is closely associated with the South, The Kentucky Derby is perhaps the tie that binds. It is said that mint juleps were served at the first race. In fact, it's rumored that Meriwether Lewis Clark Jr., who built the famous Churchill Downs complex in 1875 where the race is help every year, grew fresh mint out back.
Even though the derby held its inaugural race back in 1875, the mint julep did not become the official cocktail until 1939, sixty-four years later. Theft was becoming a problem – attendees were pilfering water glasses from the event. Instead of fighting a losing battle, the owners decided to turn it into a marketing tactic. The following year, mint juleps were served in souvenir cups.
The signature silver mint julep cup
Churchill Downs President Bill Corum introduced the signature silver julep cups in 1951. History records giving out silver cups as prizes at horse races as far back as the early 1800's. Corum needed another merchandise hook to sell on race day and the first silver cups were made available for sale that year. As crushed ice is piled high inside the gleaming cup, a layer of frost begins to form on the outside of the cup.
Best bourbon for a mint julep
If you are not a bourbon drinker, you may be wondering what type of bourbon to buy for a mint julep. Since mint juleps are synonymous with Kentucky, I recommend staying with a Kentucky bourbon. But you don't have to break the bank.
Good bourbon choices include:
Woodford Reserve
Four Roses
Knob Creek
Wild Turkey
Maker's Mark
Of course, if you are a bourbon drinker and you have a brand you are partial to, throw all my advice out the window. Go with what you know.
Peppermint or spearmint?
Not all mint is made equal. The difference is the amount of menthol found in each plant. Menthol is what gives mint its "minty" flavor. Peppermint contains 40% menthol, which is great for candies but not so much for a julep. Spearmint contains less than 1% menthol. It's minty without being overpowering and definitely the right choice here. Look for bright green leaves free of brown spots or holes.
How to make a traditional mint julep
A classic mint julep contains just a few basic ingredients – fresh mint leaves, a sweetener, bourbon and ice. To start, place about eight fresh mint leaves in the bottom of a glass. If you have a julep cup, great! If you don't, no worries. Opt for a rocks glass instead.
Next, we want to muddle the leaves in the bottom of the glass. That simply means we are mashing the mint leaves against the bottom of the glass so that they release their oils. If you don't have a traditional muddler, you can also use a pestle or even the bottom or a wooden spoon. You don't want to pulverize the leaves into mush. My rule of thumb is to mash them until you start to smell the mint.
Now for the sweetener. Some recipes instruct your to add a sugar cube or powdered. I prefer a mint julep with simple syrup. Simple syrup is equal parts sugar dissolved in water and is ideal for sweetening drinks. This video walks you through the steps of how to make simple syrup yourself. Add 1/4-ounce of simple syrup and 2 ½ ounces of bourbon to the glass.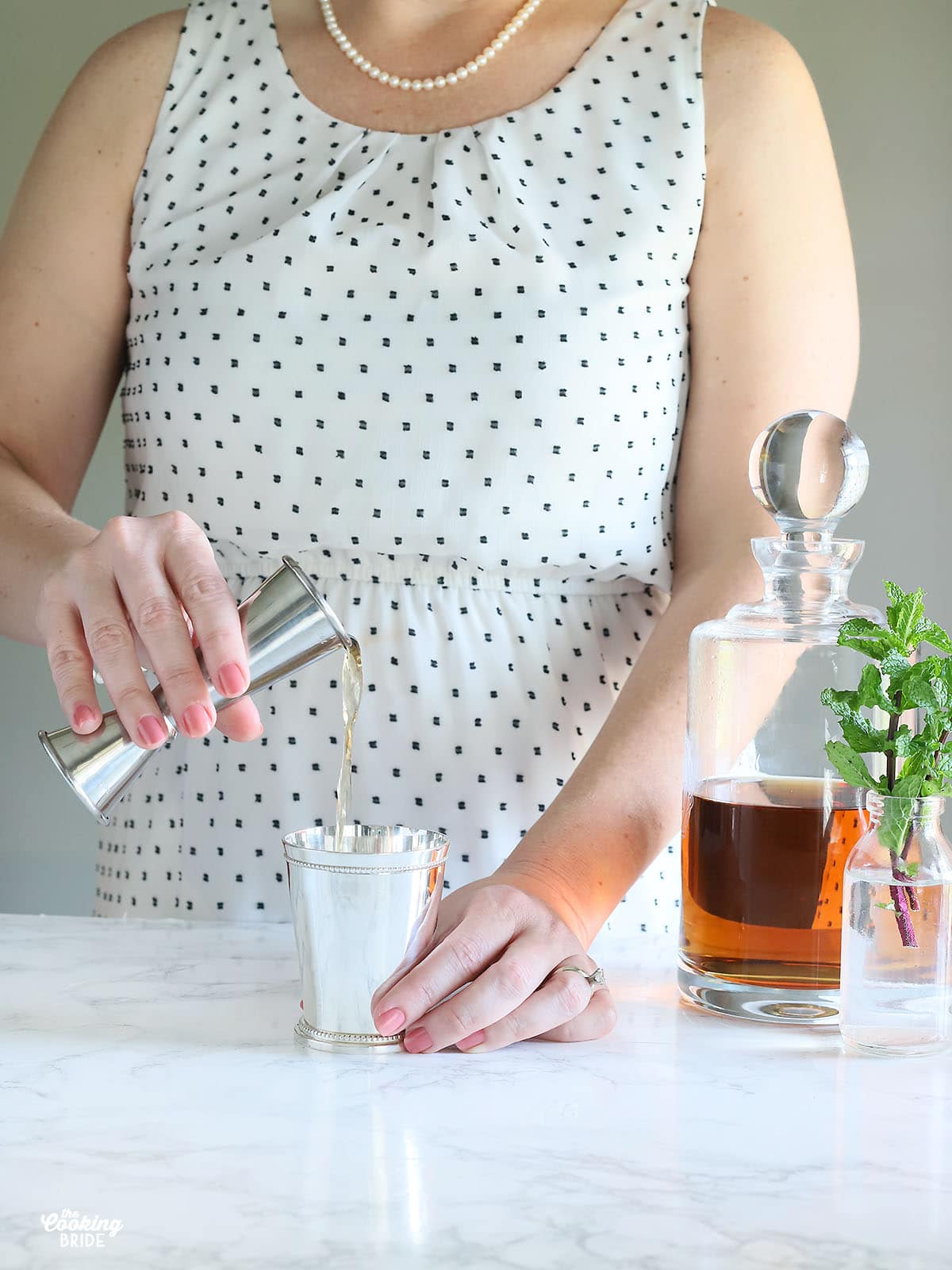 Crushed ice comes next. You don't have to have some fancy ice maker to crush your ice for you. If you're like me and your crushed ice maker doesn't even work half the time, simply place a decent amount of ice in a plastic freezer bag. Then take a meat mallet, rolling pin, baseball bat, whatever, and beat the crap out of the ice until it's broken up into little pieces.
Pack the cup with ice and give it a good stir to combine all the ingredients. Then add a little more ice until it's almost spilling over the top. Garnish with a sprig of fresh mint leaves and a straw.
Nonalcoholic mint julep
If you don't fancy yourself a drinker, but still want to partake in a mint julep, there are a few ingredients you can opt for in lieu of the bourbon. Consider replacing the libations with lemonade, ginger ale, even sweet tea.
You Might Also Like: