Last updated on May 15th, 2023
Zucchini patties made from fresh sliced zucchini and seasoned breadcrumbs are fried until golden brown and served with a creamy and cool dill sauce.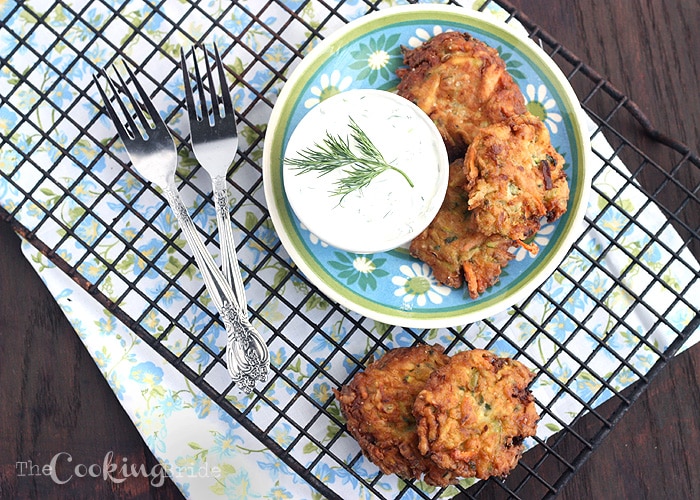 This post may contain affiliate links. Click here to learn more about how affiliate links are used on this site.
Unfortunately this year, I don't have a bumper crop of zucchini growing in my garden. And based on most of the comments I got on my salsa post, a lot of you out there have gardens that suffer as mine does. It's good to know I'm not alone in this.
However, for those of you who have zucchini growing out your ears, are getting tired of zucchini bread, or the site of another slice of grilled zucchini makes you cringe, I would suggest giving these little fried zucchini patties a try. I have had the recipe for years and try to make it at least once a summer. These golden treats are a little spicy, but they pair well with the cool and creamy dill dipping sauce.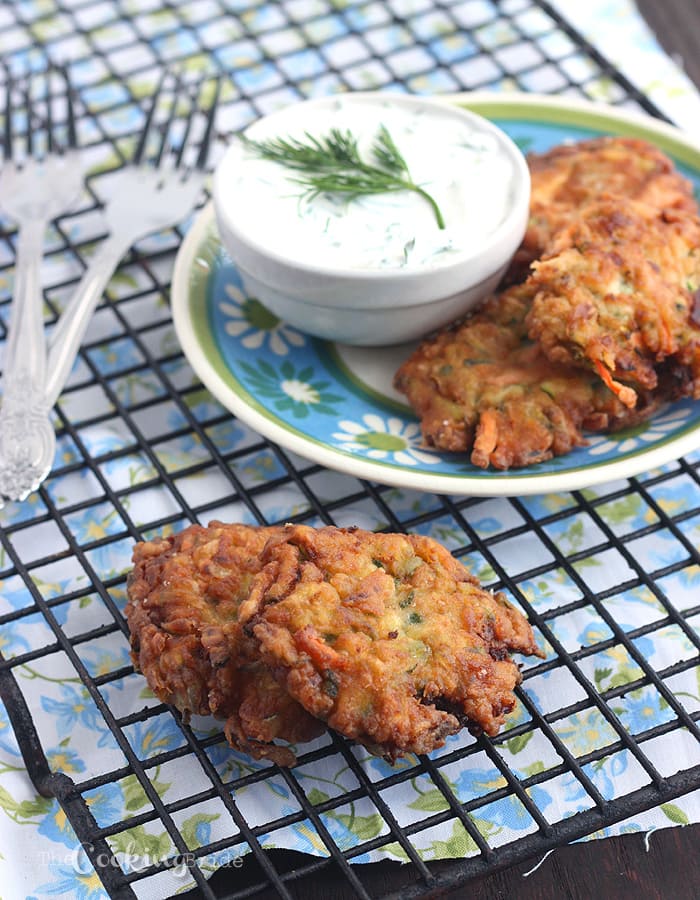 How to Make Fried Zucchini Patties
Start by shredding your zucchini. I find a plain old box grater works just fine for this. Save yourself a step and buy the shredded carrots from the grocery store. Give your onion a few good whirls in a food chopper.
Next, line a colander with paper towels. Let your veggies drain for about two hours. Zucchinis hold ALOT of water. You want to get all the excess moisture out so your patties keep their shape and fry up nicely.
While you're waiting, mix together some breadcrumbs, seasoned salt, and garlic powder in a large mixing bowl. Add one egg and a little melted butter, then stir until combined. Once the veggies have drained, add them to the mixture and stir again. Now you're ready to form your patties.
Heat a few inches of oil in a large skillet. I love to use cast iron for frying because it heats quickly and holds a consistent temperature.  Pour a little flour into a shallow dish. Start forming your patties by grabbing about 3 tablespoons of batter and gently pressing it between your fingers. Once the patty is formed, dredge it in the flour. Then carefully add the patties to the hot oil a few at a time. Fry for about seven minutes until the zucchini patties are crisp and golden. Drain on paper towels until ready to serve.
Don't Forget the Sauce!
Th seafood seasoning in this recipe gives these zucchini patties a little kick. Cool it down with this thick and creamy sauce. Whisk together some sour cream, lemon juice, chopped fresh dill, salt and pepper. It's perfectly light and the dill complements the flavors of the zucchini patties nicely.
My zucchini came from my local farmer's market. They may not have come from my own yard but at least I know they came from somewhere in Mississippi. That's about as homegrown as I'm gonna get.
Unless you're giving some away. In that case, let me send you my address.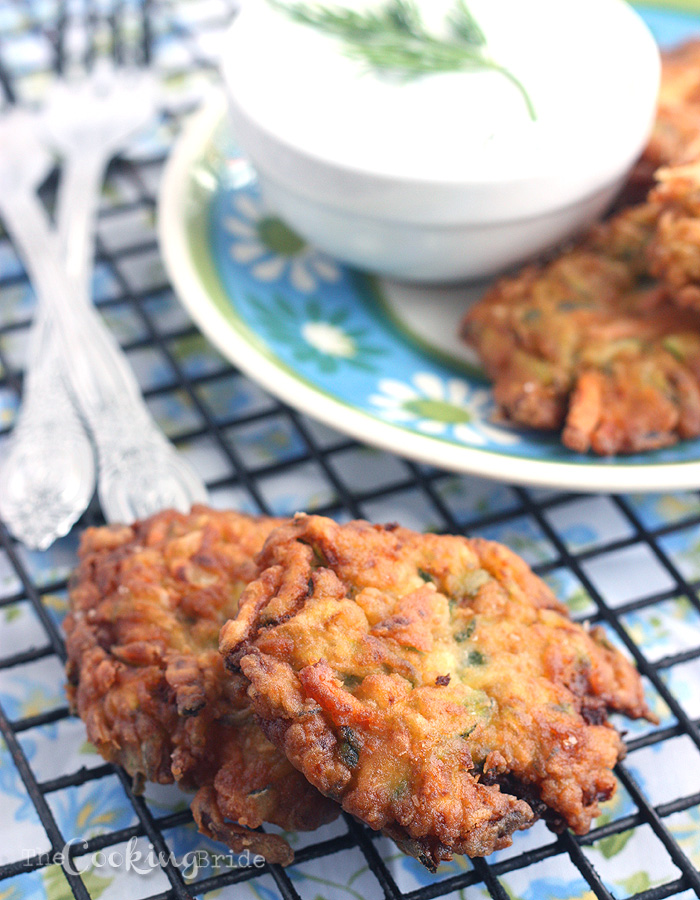 More Zucchini Recipes:
Zucchini Patties with Dill Dipping Sauce
Zucchini patties made from fresh sliced zucchini and seasoned breadcrumbs are fried until golden brown and served with a creamy and cool dill sauce.

Ingredients
Dill Dipping Sauce
3/4

cup

sour cream

2

tablespoons

minced fresh dill

1

teaspoon

lemon juice

1/8

teaspoon

salt

1/8

teaspoon

pepper
Zucchini Cakes
2 ½

cups

shredded zucchini

1

large carrot

shredded

1/4

cup

finely chopped onion

about ½ of a medium sized onion

1

cup

Italian-style seasoned breadcrumbs

1/4

teaspoon

garlic powder

1

teaspoon

seafood seasoning

1

medium egg

lightly beaten

2

tablespoons

unsalted butter

melted

1/4

cup

all-purpose flour

1/2

cup

canola oil
Instructions
For the dip, combine all the ingredients in a small bowl. Cover and refrigerate until ready to serve.

For the cakes, place zucchini, carrot, and onion in a colander. Allow to drain for at least 2 hours. Blot any excess moisture with a paper towel.

Heat oil to 375 degrees in a large skillet.

In a large bowl, combine breadcrumbs, seasoned salt, and garlic powder. Stir in eggs and butter. Add shredded vegetables and mix until everything is well-combined.

Place flour in a shallow bowl. Shape zucchini mixture into small patties. Dredge in the flour, coating both sides, then place in hot oil. Fry for 7-10 minutes, flipping halfway through. Drain on paper towels. Serve hot with dill dipping sauce.
Makes 2 dozen cakes and ¾ cup dip.
Notes
It is very important to drain as much moisture from the shredded vegetables as possible. Too much liquid will prevent the cakes from binding together. If time allows, line a large bowl with paper towels and let the shredded vegetables sit uncovered in the refrigerator for several hours. You can also place them in a cheesecloth and squeeze out the excess moisture.
Also, try to keep the patties small. If the patty is too large it will not stick together.
From Taste of Home Magazine