Last updated on March 30th, 2023
Stuffed zucchini boats are filled with Italian sausage and tomato sauce, then topped with mozzarella cheese for a quick, low carb weeknight meal.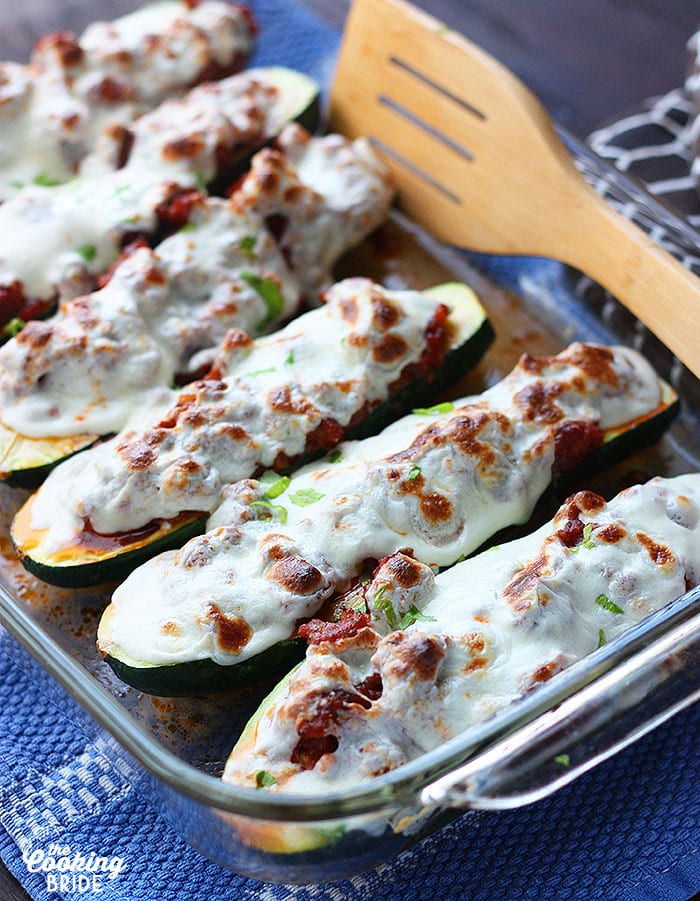 When I was pregnant with Big Brother, I really made an effort to eat healthy.
When I was pregnant with Little Brother, all that went out the window. I was pregnant, in Mississippi, during the summer. FOR THE SECOND TIME! If I couldn't enjoy a cold beer on the back porch on a hot August day, then dammit I would eat all the ice cream I wanted. I was going to get fat anyway, right?
At one point I remember standing in the middle of my kitchen six days before the big day eating caramel apple dip from the carton like it was pudding. My mother is a retired OB nurse and an annoyingly healthy eater. She lives almost two hours away, but that afternoon I could sense her spirit sitting on my shoulder wagging her disapproving finger at me.
Miraculously, I gained the same amount of weight with both boys. Or maybe it's no miracle at all. The first time around I wasn't chasing a three-year-old.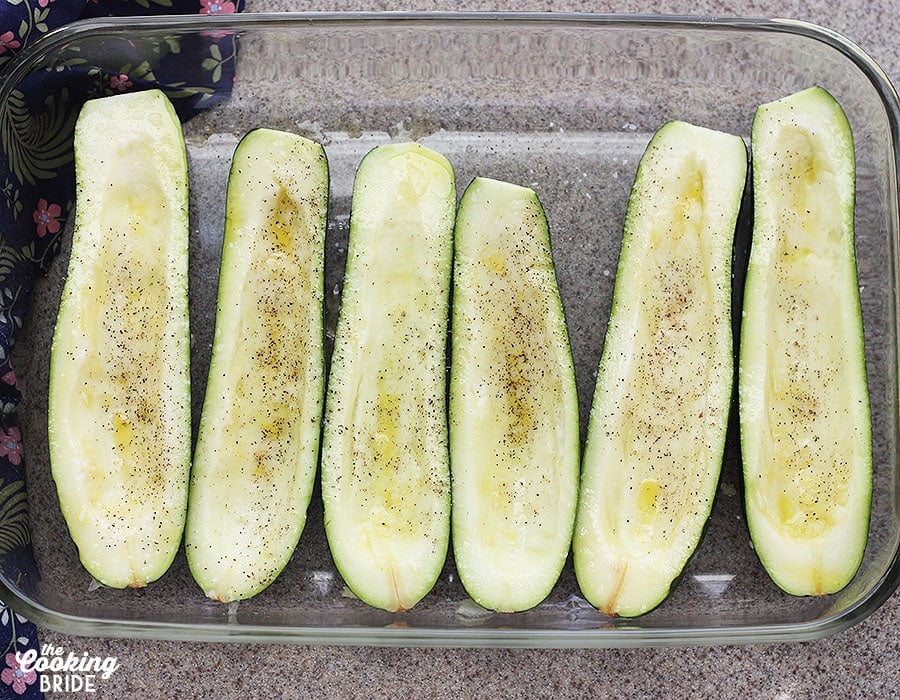 After figuring in the baby, excess fluids, and all that other extra stuff that a woman's body carries around while pregnant, I ended up with 15 pounds of extra weight that needed to come off. Exercise has helped. But giving up those wonderful pregnancy eating habits was hard to do. Goodbye nightly bowl of ice cream. Goodbye lunchtime bowl of pasta with a side of garlic bread. I will unabashedly confess that I love carbs. They love me too. But they are very possessive and like to come between me and my favorite pair of skinny jeans.
Diets don't work, but lifestyle changes do. Your body needs carbs to function. But instead of getting my carbs from bread and pasta, I'm getting them from fruits, veggies, and dairy. Zucchini is a vegetable I don't eat often enough. It's loaded with Vitamin C and fiber. This recipe Italian sausage stuffed zucchini boats are great because the tomato sauce and cheese satiates my craving for Italian food without the pasta.
That and it's quick to prepare. Dinner is easily ready and on the table in under 30 mintues. These days, quick is important.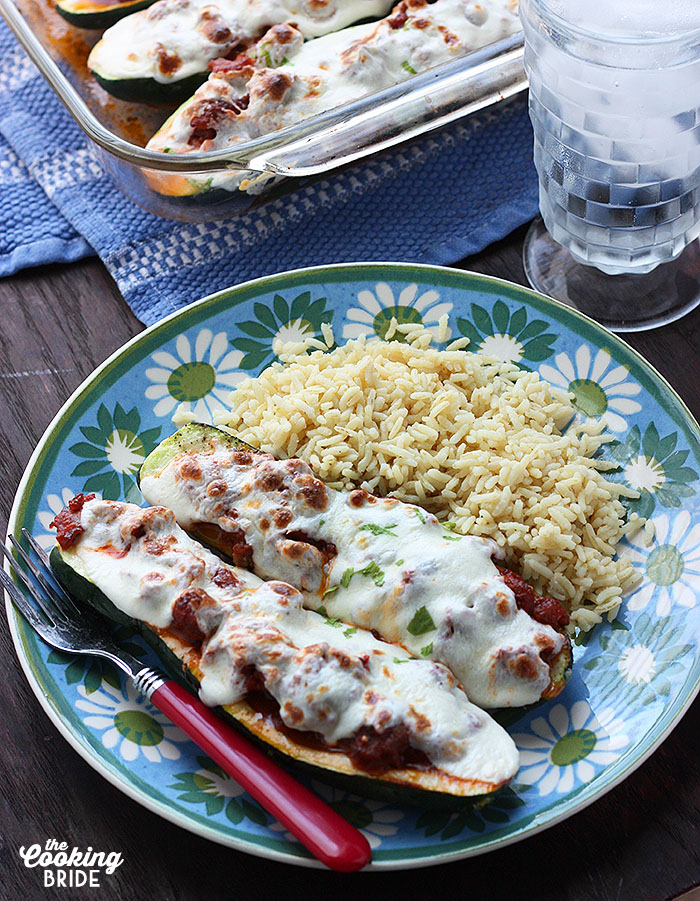 You Might Also Like:
Italian Sausage Stuffed Zucchini Boats
Stuffed zucchini boats are filled with Italian sausage and tomato sause, then topped with mozzarella cheese for a quick, low carb weeknight meal.
Ingredients
3

medium sized zucchini

halved lengthwise, insides scooped out with a spoon, leaving about a 1/4-inch boarder

1 ½

tablespoons

extra-virgin olive oil

plus extra for brushing on the zucchini

Salt &pepper

1/2

lb.

bulk Italian sausage

casings removed

2

garlic cloves

minced

1

cup

pasta sauce

8

oz.

fresh mozzarella cheese

shredded

1/4

c.

grated Parmesan cheese
Instructions
Preheat oven to 350 degrees. Brush hollowed zucchini generously with olive oil. Season with salt and pepper. Bake for about 20 minutes, or until the zucchini is tender.

In the meantime, cook the Italian sausage, breaking pieces up with a spoon, until sausage is no longer pink. Add the garlic and cook until garlic is fragrant, about 30 seconds. Stir in pasta sauce.

Fill each zucchini boat with equal amounts of the sausage mixture. Top with mozzarella and Parmesan. Return to the oven and bake until cheese is melted and gooey, about 5-10 minutes.