Last updated on June 6th, 2023
This old fashioned peach cobbler recipe is just like Grandma used to make. Sweet, fresh peaches are topped with a buttery golden crust. Perfect with a scoop of homemade vanilla ice cream.
This post may contain affiliate links. Click here to learn more about how affiliate links are used on this site.

Peach cobbler has become an annual summertime tradition at my house. As soon as baskets of fresh peaches start showing up at the farmer's market down the street from my house, I start planning a cobbler.
Tools and ingredients you'll need
1 cup butter
4 cups sliced peaches – four large peaches should produce the equivalent amount of sliced peaches needed.
2 cups white granulated sugar, divided
3/4 cup all-purpose flour
2 teaspoons baking powder
3/4 cup milk
1/8 teaspoon of salt
Whipped cream or ice cream
8 x 8 x 2 inch baking dish – If making this recipe for a crowd, you can easily double this recipe and bake it in a 9 x 13 x 2 inch baking dish.
Prepare your peaches
You can use canned peaches for this recipe, but if fresh peaches are in season USE THEM! There is no comparison! Peaches should be cut into 1/2-inch thick wedges with the skins removed. Once the peaches are sliced, combine them with one cup of sugar in a large mixing bowl and set aside.
Mix the batter
Next, place the butter in the 8″ x 8″ casserole dish in a 350 degree oven. While the butter is melting, mix together some more sugar, flour, baking powder, milk, and salt. Once your butter is melted, pour the batter over the melted butter. Now here comes the most important step in this entire recipe. DO NOT STIR! Resist the urge, please. Just pour it in and don't touch it.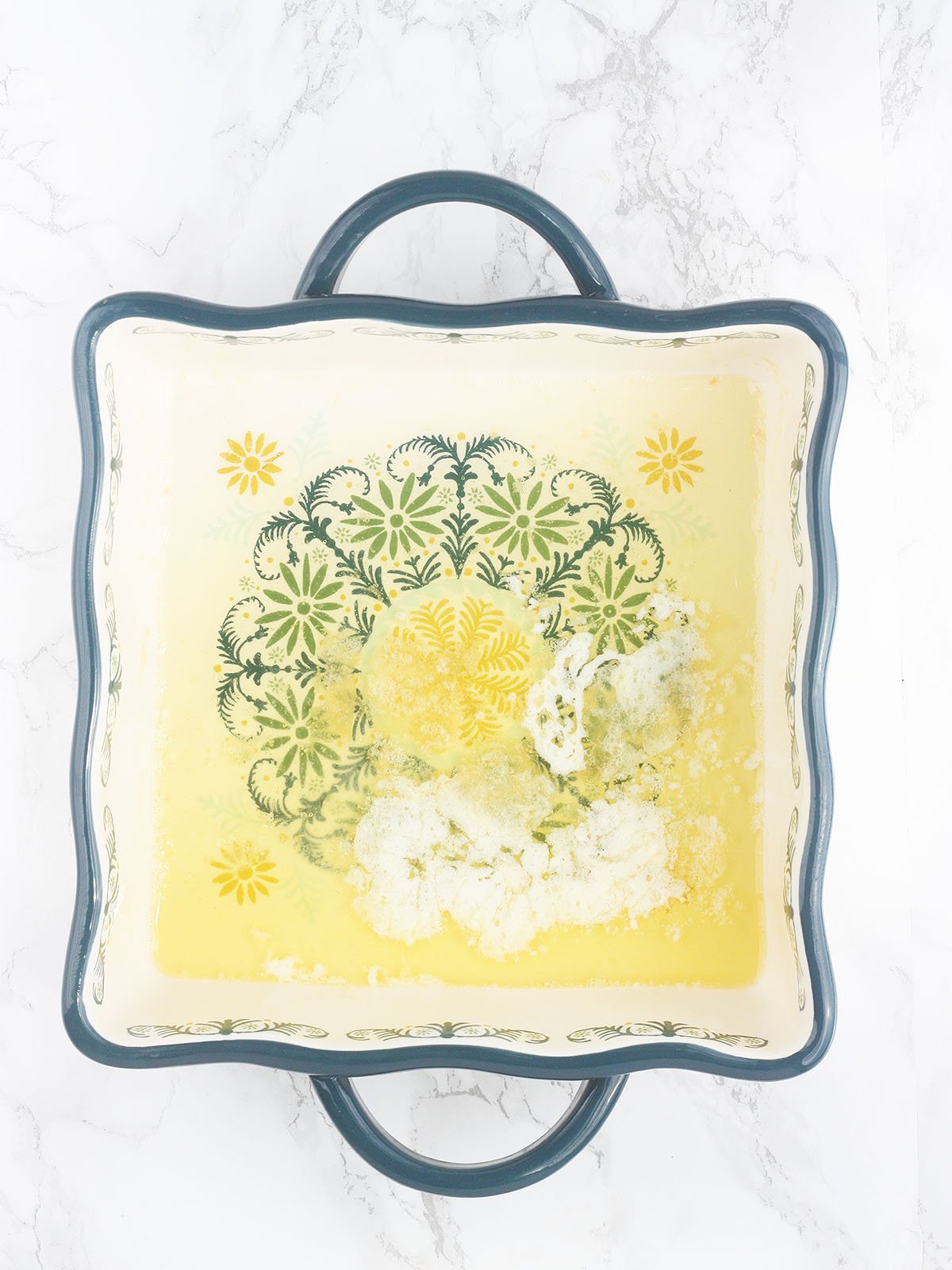 Add the peaches
By now, your peaches have been marinating in that sugar for a few minutes. Go ahead and pour them over the batter. Again, let me remind you — DO NOT STIR. Trust me on this. It will be fine. Put your cobbler in the oven and bake for one hour. The crust that was previously on the bottom will rise to the top and become golden brown and crisp. YUM! The only thing that could make this better is to serve warm with a scoop of vanilla ice cream. Enjoy!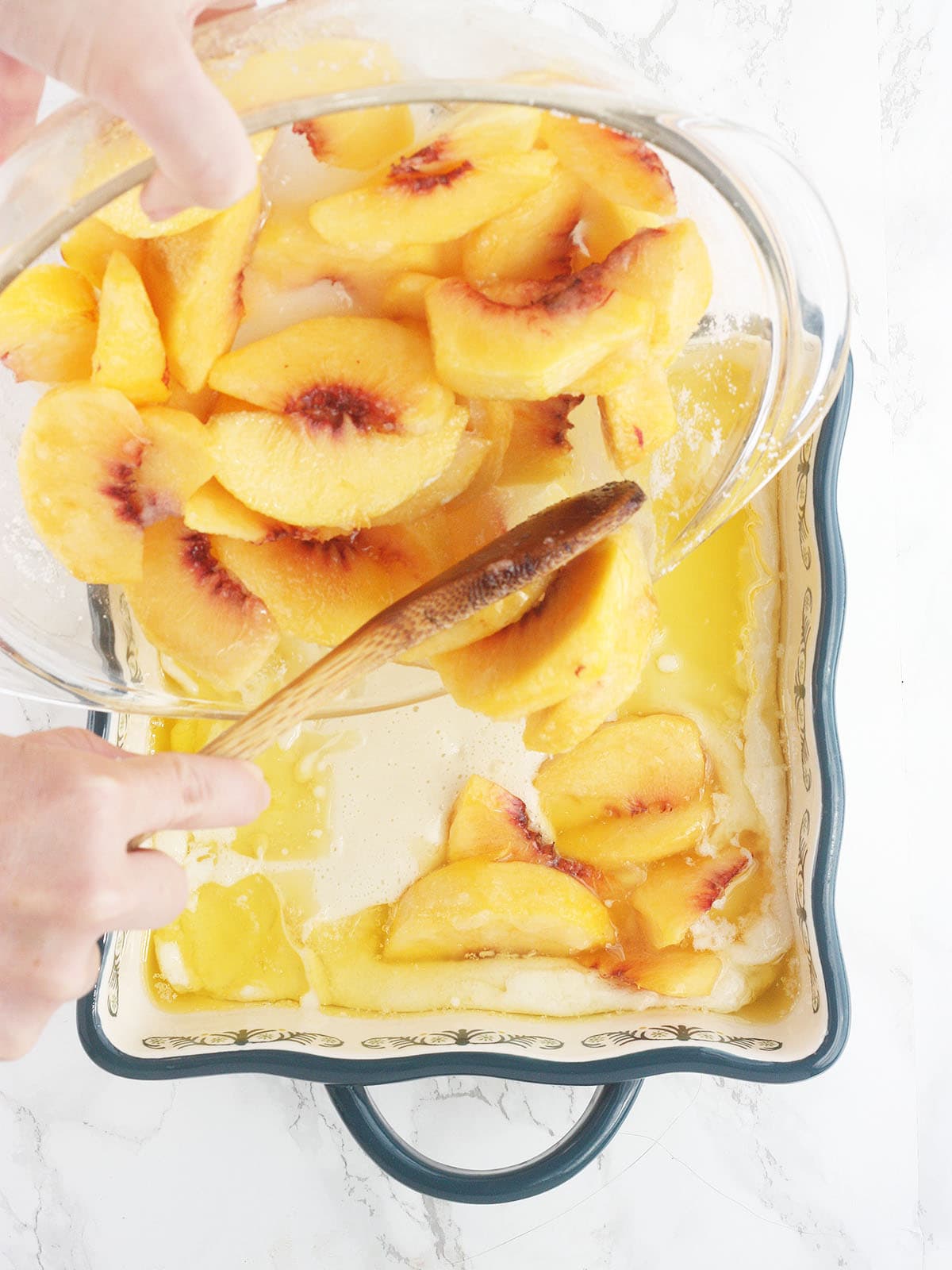 Storage, freezing and reheating
Storage. Once the cobbler has cooled, cover the dish with plastic wrap or transfer the cobbler to an airtight container with a lid. Store the cobbler in the refrigerator. Consume within five days.
Freezing. This cobbler must be baked before freezing. Cover the pan with plastic wrap and then a layer of aluminum foil. Place the cobbler on a level surface in the freezer. Consume within three months. Allow the cobbler to thaw overnight in the refrigerator before reheating.
Reheating. Preheat the oven to 350 degrees. Bake the cobbler for 20-30 minutes until heated through. If the crust begins to brown too quickly, loosely cover the top with aluminum foil.
More cobbler recipes