Last updated on March 30th, 2023
Honey cake is a perfect segue into fall. This simple spice cake recipe is seasoned with warming flavors of ground ginger and cinnamon.
This post may contain affiliate links. Click here to learn more about how affiliate links are used on this site.

Did you know September is National Honey Month? I didn't know such a month existed until recently. While I have quite a few savory honey recipes on this site, I didn't have any desserts. Therefore, I thought this might be a good time to introduce you to the Honey Cake. It's a no-frills spice cake that's a perfect way to segue into fall.
Make the Honey cake Batter
Cream together 1/2 cup of softened unsalted butter and one cup of honey in a large mixing bowl. Then add one large egg and 1/2 cup of buttermilk and mix again until everything is combined.
In a separate bowl, sift together 1/2 teaspoon of salt, two cups of flour, one teaspoon of baking soda, 1/2 teaspoon of ground ginger and 1/2 teaspoon of ground cinnamon. Turn the mixer on low and add half of the flour mixture to the butter mixture and mix until just combined. Repeat with the remaining flour mixture and continue to mix on low until the batter is smooth.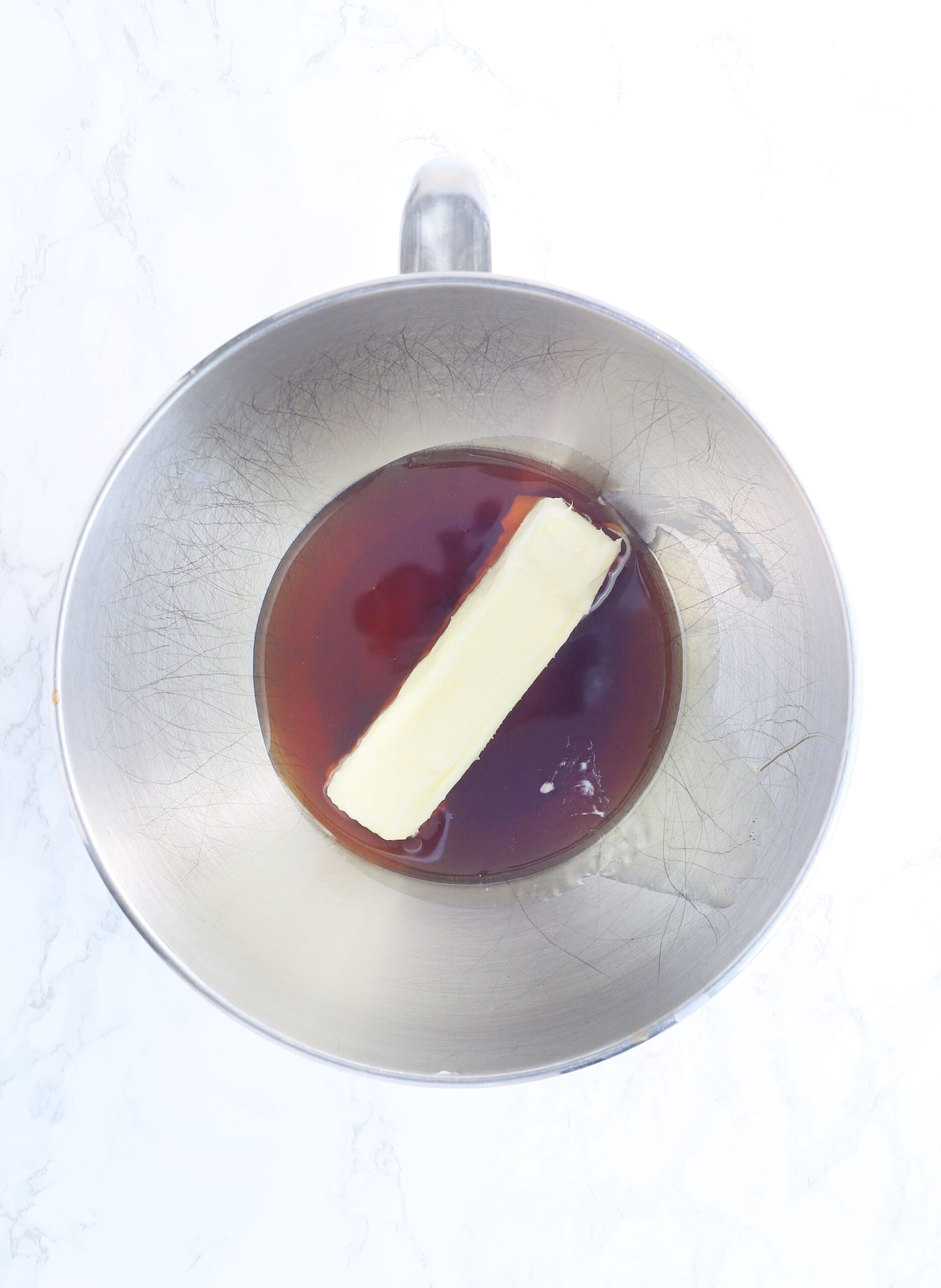 Bake the cake
I just love how rustic a cake looks when it's baked in a cast iron skillet. If you don't have a cast iron skillet, you can always use an 8-inch round cake pan. Bake the cake at 350 degrees for 30 – 35 minutes or until a toothpick inserted near the center comes out clean. Be aware that if you cook the cake in a round cake pan instead of a cast iron skillet like I did, your baking time may vary.
I chose to keep things simple and top my honey cake with fresh fruit and a drizzle of honey. I love eating it with a mug of hot coffee or tea. However, if you wanted to add frosting to the cake, I recommend whipping up a batch of Homemade Cream Cheese Icing.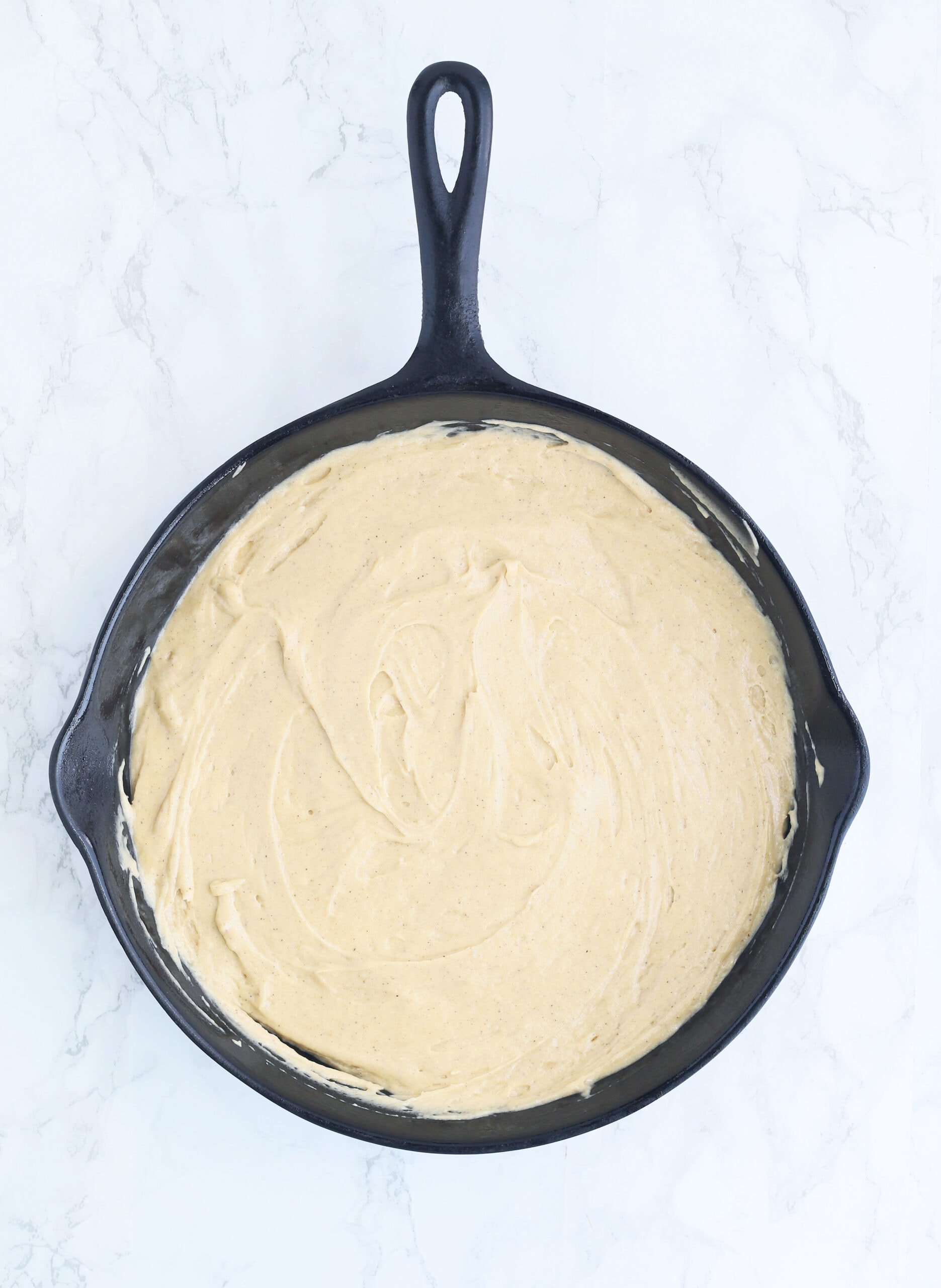 Storage, Freezing and Reheating
Storage. Once the cake cools, I recommend removing it from the pan. This is very important if you baked the cake in a cast iron skillet. Storing the cake in the skillet could cause the skillet to rust. For a single layer cake like this, I store it in my pie saver to prevent it from drying out. You could also transfer the cake to a large plate and cover it with plastic wrap. The cake can be stored at room temperature for a day or so. Any longer than that and it needs to be stored in the refrigerator to prevent mold. Consume within seven days.
Freezing. Wrap the cooled cake in a layer of plastic wrap followed by a layer of aluminum foil to prevent freezer burn. Store in the freezer for up to three months.
Reheating. I think honey cake is delicious eaten warm, cold or at room temperature. However, you can warm it up in the microwave for about 15-20 seconds. Don't do this if you've frosted it with the cream cheese icing, though. The microwave will cause the icing to melt.
You Might Also Like