Last updated on May 24th, 2023
Easy chocolate meringue recipe is simple to follow, yet produces fool-proof results, The rich chocolate filling is topped with billowy sweet meringue.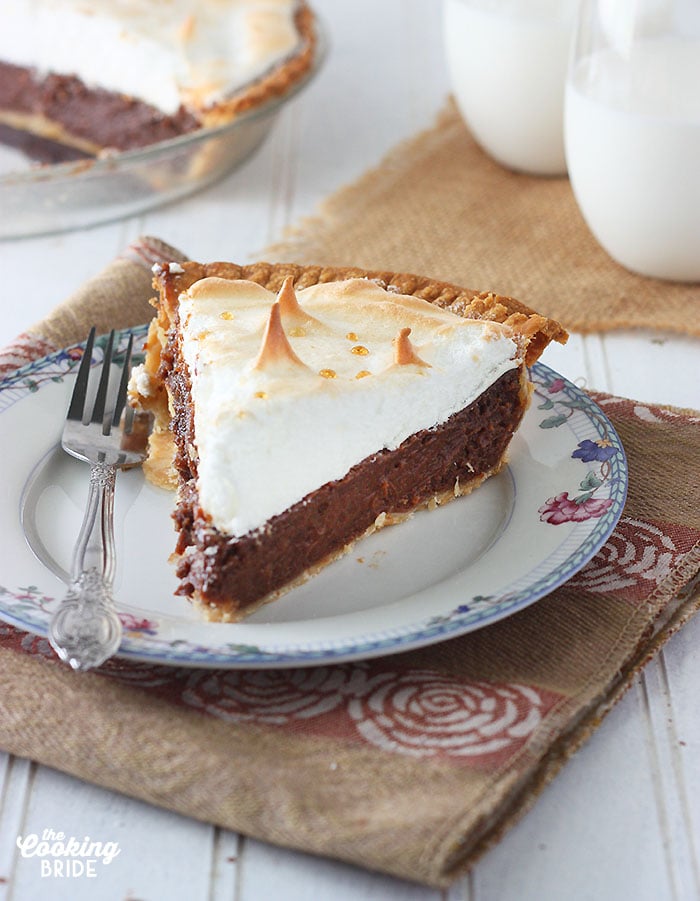 This post may contain affiliate links. Click here to learn more about how affiliate links are used on this site.
If you ask The Husband what his favorite dessert is, he will reply without hesitation, "My wife's chocolate pie."
This pie recipe holds a special place in my heart. Eight years ago, when The Husband was just The Boyfriend, I offered to make him a special dessert for his birthday. He requested a chocolate meringue pie.
I don't even remember where the original recipe came from. It's dated June 2003 and printed in simple Times New Roman font. The corners are dog-earred. There is a big chocolate splotch in one corner (I finally wised up and now store it a page protector).
Every year since that birthday, he requests a chocolate meringue pie. Now that he's a dad, he requests it for Father's Day too. I've made this recipe so many times, I could probably make it blindfolded. It's a simple recipe that produces fool-proof results and a rich flavor.
How to Make Chocolate Meringue Pie
First you want to sift together flour, sugar and cocoa powder into a medium soft pan. I like to sift these three ingredients together to prevent lumps later on. Whisk in a can of evaporated milk and vanilla.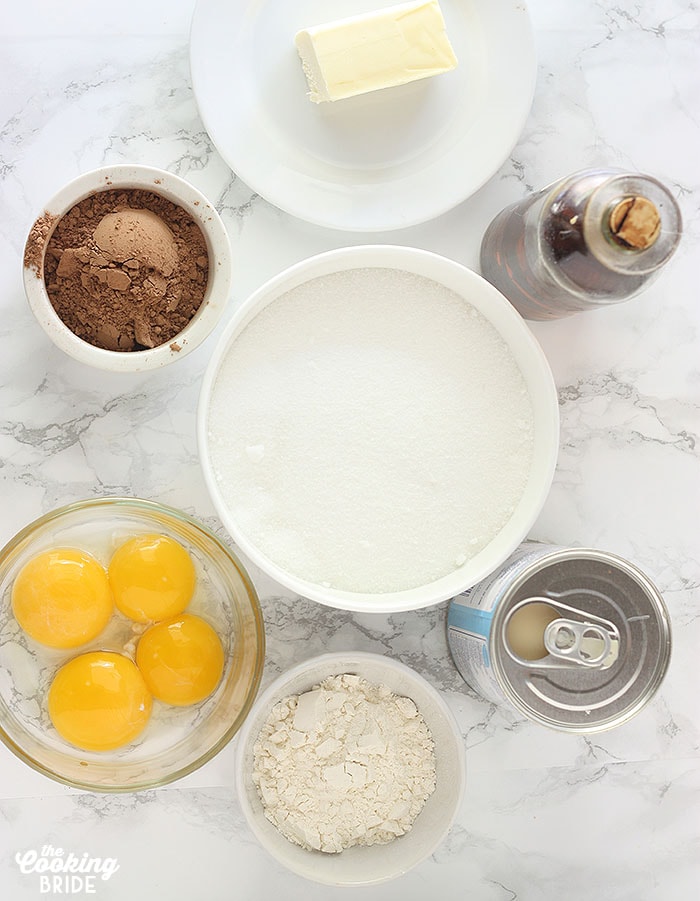 Separate four eggs. Reserve those egg whites – you'll need them later for the meringue! Gently beat the egg yolks, then pour them into the pan. Gently whisk the egg yolks until they are combined with the chocolate mixture.
Finally add a stick of butter to the mixture. Turn the burner to medium and simmer the chocolate mixture until the butter is melted. You want to sit this frequently to keep the chocolate mixture smooth and to prevent it from burning on the bottom of the pan.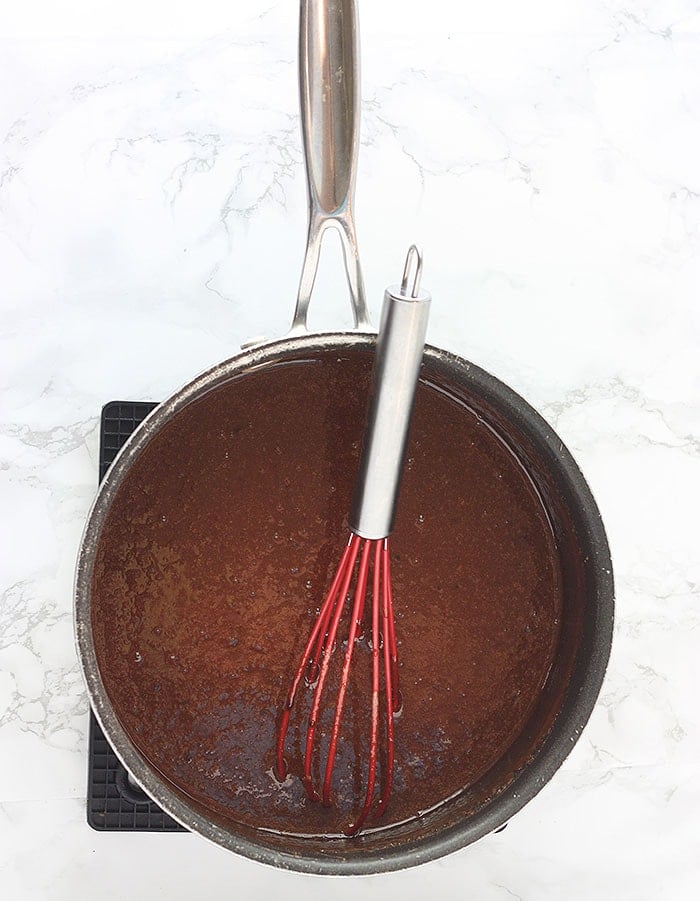 While you are waiting for the butter to melt in the chocolate mixture, roll and trim one pie crust to fit a deep dish pie plate. If you're looking for a homemade pie crust, I have a recipe for a great one here.
Once the butter has melted, the chocolate mixture should be the consistency of warm pudding. Carefully pour it into the pie shell. Place the pie in an oven preheated to 350 degrees and bake until the filling look set when shaken, about 35-40 minutes. If your crust starts to look too brown, cover it with a pie crust shield or a few strip of aluminum foil.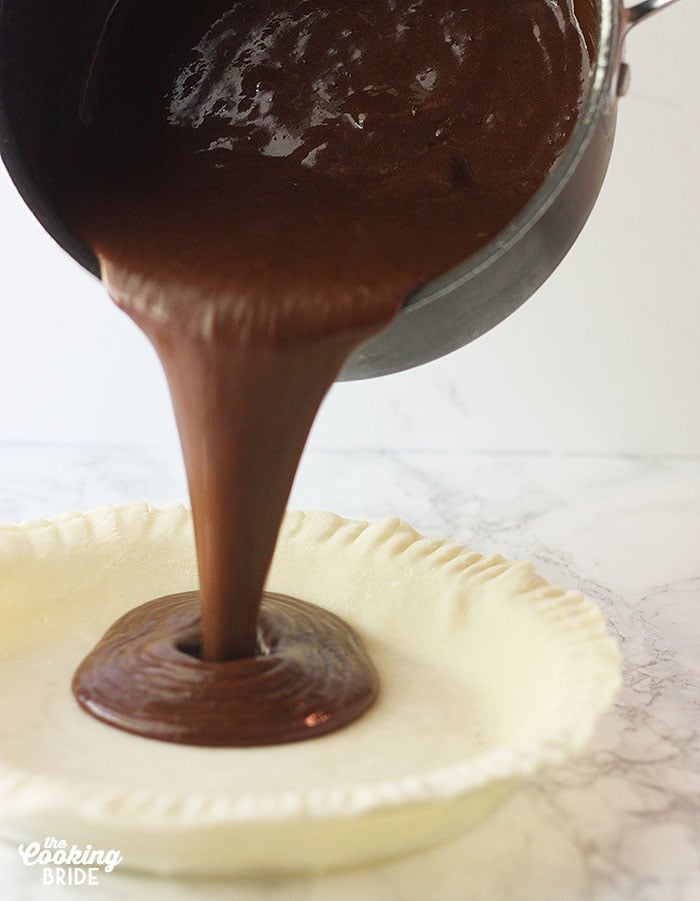 About 15-20 minutes before your pie comes out of the oven, start making your meringue. It's like the crowning jewel of this pie. Making meringue is super easy, but novice bakers may become intimidated by it. Relax … check out this post on how to make fool proof meringue every time.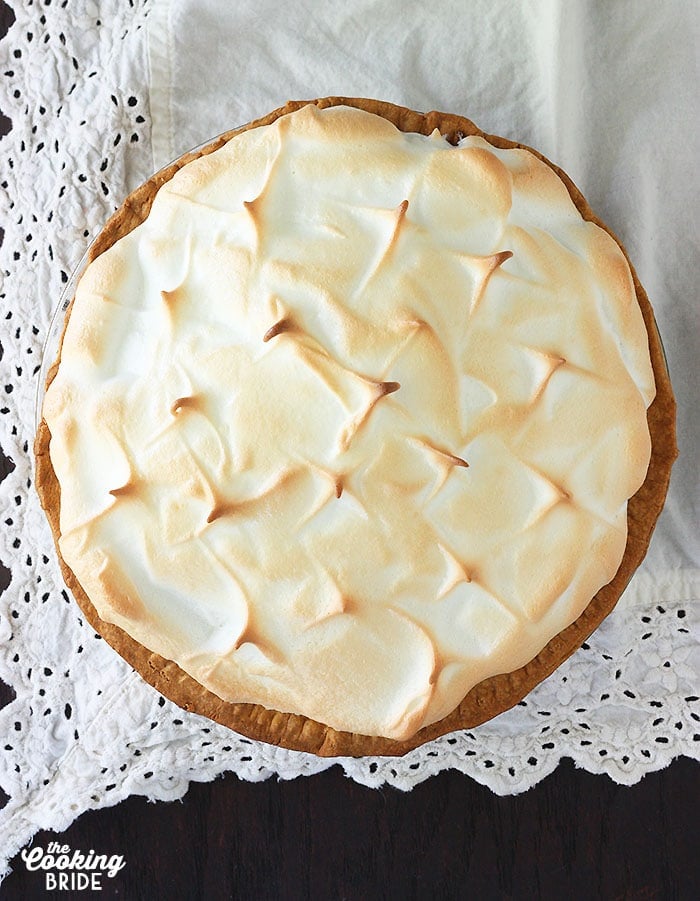 After you pull your pie out of the oven, immediately top it with the meringue. Be sure to spread the meringue out until it touches where the crust meets the pie. Place the pie back in the oven and bake about 10-15 minute more until the meringue starts to turn golden.
Allow the pie to cool at room temperature. Afterwards, store it in the refrigerator.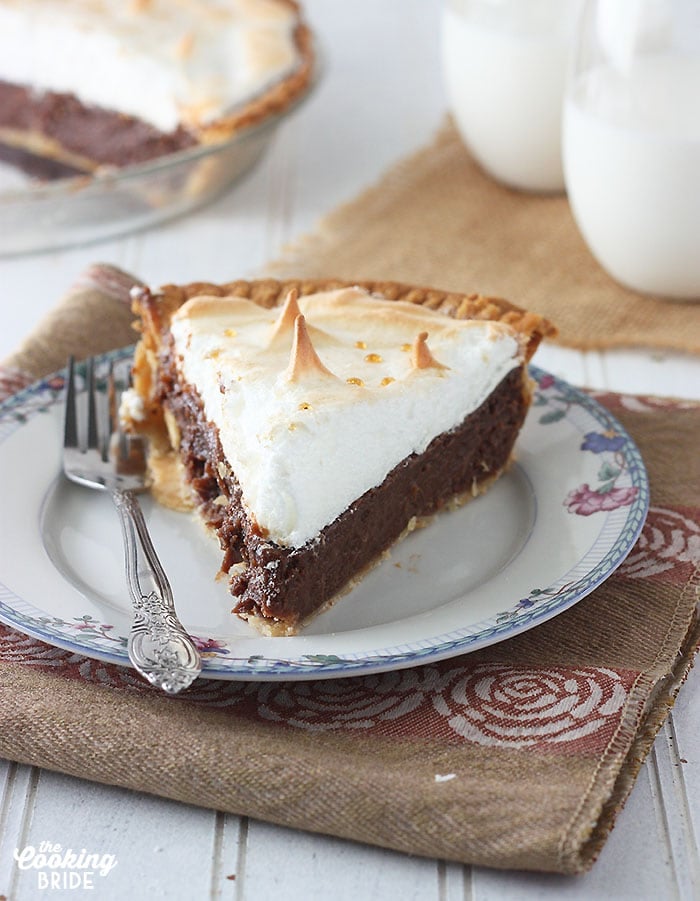 Related Recipes:
Chocolate Meringue Pie
Easy chocolate meringue recipe is simple to follow, yet produces fool-proof results, The rich chocolate filling is topped with billowy sweet meringue.
Ingredients
For the filling:
1/4

cup

all-purpose flour

5

tablespoons

unsweetened cocoa powder

2

cups

white sugar

1

(12 fluid ounce) can evaporated milk

1

teaspoon

vanilla extract

4

egg yolks

1/4

cup

butter

1

(9 inch) single crust pie
For the meringue:
4

egg whites

1/4

teaspoon

cream of tartar

1/4

cup

white sugar
Instructions
For the pie:
Preheat oven to 350 degrees F.

In a medium bowl, sift together flour and cocoa powder. Stir in sugar.

Add mixture to a medium saucepan and blend in evaporated milk and vanilla.

Beat the egg yolks slightly, and stir into pan until just combined.

Add the butter. Heat, stirring constantly, until butter is melted. Pour filling into unbaked pie shell.

Bake for 35 to 40 minutes or until the pie looks set when gently shaken.
For the meringue:
In the meantime, combine egg whites and cream of tartar in a clean, dry metal or glass bowl. Beat at medium speed until egg yolks form bubbles and look frothy.

Add the sugar, one tablespoon at a time. Beat on medium speed between each addition until the sugar is well incorporated. At this point, when you pull your mixer out of the meringue, the point that forms will fall over on top of itself. This is soft peaks.

Keep beating the eggs whites until they become more dense and shiny. You know your meringue is ready when you pull the mixer out and the point stands up straight. This is stiff peaks.

Spread or pipe the meringue over the top of your pie as soon as it comes out of the oven. Spread meringue all the way to the edge where the crust and the pie meet to seal the meringue.

Return the pie back to the oven. Bake until the meringue begins to brown, about 10-15 minutes.

Allow the pie to cool at room temperature.
Nutrition
Serving:
1
slice
|
Calories:
330
kcal
|
Carbohydrates:
44
g
|
Protein:
6
g
|
Fat:
14
g
|
Saturated Fat:
4
g
|
Cholesterol:
40
mg
|
Sodium:
530
mg
|
Fiber:
1
g
|
Sugar:
26
g
|
Vitamin C:
1.7
mg
|
Calcium:
60
mg
|
Iron:
1.8
mg