Last updated on May 23rd, 2023
Sweet potato tart is sweet potato casserole in dessert form. Sweet potatoes are baked in a graham cracker crust and topped with marshmallow meringue.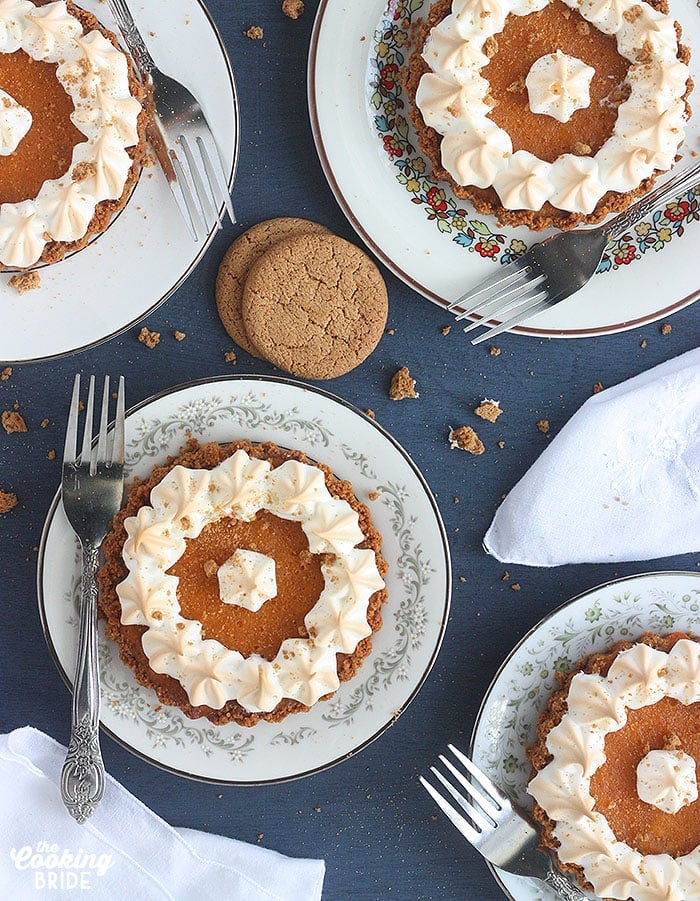 This post is sponsored by Minerva Dairy. The opinions contained within are my own.
This post may contain affiliate links. Click

here

to learn more about how affiliate links are used on this site.
If you're one of those folks who adores a good
sweet potato casserole
laden with melted butter, cinnamon, sugar and melty marshmallows, this sweet potato tart is for you. That was basically my inspiration – to make sweet potato casserole in dessert form. You're welcome!
This tart is also for those peeps who just can't, no matter how hard they try, seem to get behind the pumpkin spice bandwagon. Substituting sweet potato for pumpkin yields a lighter, velvety and slightly sweeter filling. Both of my kiddos, who usually turn down pumpkin pie during the holidays, gave my sweet potato tart recipe a resounding thumbs up.
What is the difference between a tart and a pie?
Pies and tarts are both part of the same family. Think of them as cousins. Both consist of a crust filled with a sweet or savory filling. Pies are baked in a pie plate, have deeper sides and the crust overlaps the rim of the dish. A pie may or may not have a crust on the top and the bottom.
Tarts have a single bottom crust only. They are baked in a tart pan, which have shallow, fluted sides. The bottom of a tart pan lifts out, much like a springform pan. Tart crusts are traditionally made from pastry, but as you will see in this recipe, they don't have to be.
Can I make a tart without a tart pan?
Yes. A pie plate, quiche pan or springform pan can be used. A few hacks for making a tart without an actual tart pan can be found here:
How to make the graham cracker crust
Right after chicken broth, graham cracker crust is one of those things I do not recommend buying from the store. It's SO easy to make at home, it only takes a few ingredients and it will taste EONS better than a store bought.
It starts with butter
The three main ingredients in a typical graham cracker crust are graham crackers, butter and sugar. Butter is the glue that holds the crust together. It's so important to use REAL butter, not margarine. Since butter plays such a big role here, I opt for a quality butter with a high butterfat content – like Minerva Dairy Butter.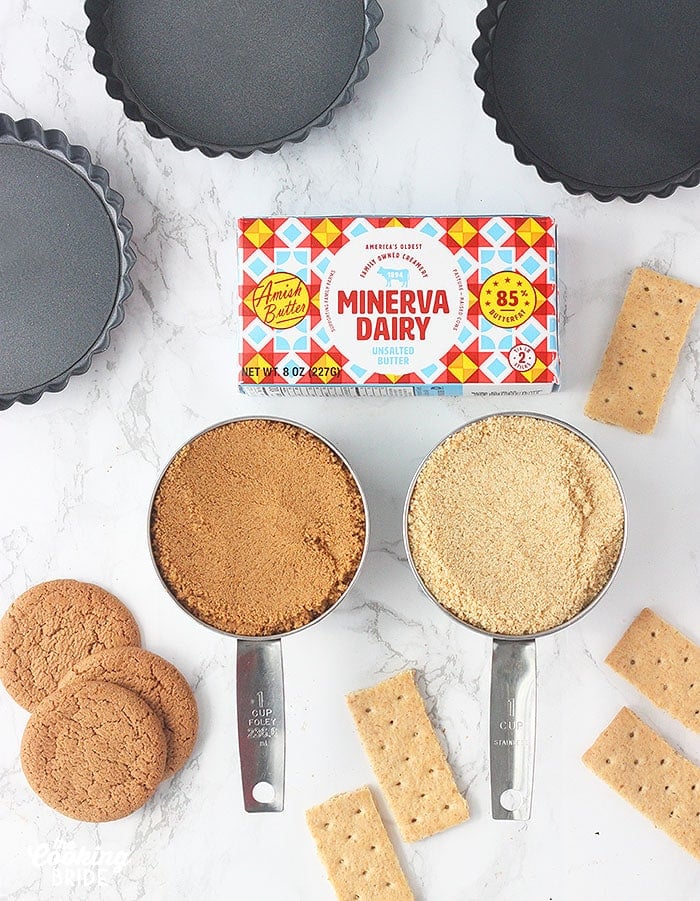 About Minerva Dairy
You've heard me mention Minerva Dairy before – I used their unsalted butter to give my cheddar bacon blueberry scones a light and fluffy texture. Minerva Dairy has been making butter for 125 years (that's six generations!), earning them the title as the oldest family-owned creamery in America that produces traditionally made, slow-churn butter from pasture-raised cows.
Why I choose Minerva dairy butter for baking
It's all about the butterfat, baby! Plain and simple, butterfat is the ratio of fat to water. Higher butterfat yields a flakier texture and more buttery flavor. Standard butter sold in the U.S. contains 80% butterfat. You may run across some European brands that tout 83% butterfat. Minerva Dairy's Amish butter contains 85% butterfat! The butter is slowly churned in small batches using ingredients sourced locally. You can find Minerva Dairy butter in your area by typing in your zip code on the Find Us page on their website.
Crush the crackers
I wanted to take my graham cracker crust one step further by replacing half of the graham cracker crumbs with crushed ginger snaps. I love the sweet, spicy flavor it adds. If you want more of the spice flavor from the cookies, feel free to adjust the ratio accordingly.
For the crust, you'll need 1 ¼ cups of crushed gingersnaps and 1 ¼ cups of crushed graham crackers. That came out to approximately 16 cookies and 8 whole graham cracker sheets. Place the cookies and graham crackers in a food processor and pulse it until it becomes fine crumbs.
Alternately, you could place the cookies and crackers in a large zippered plastic bag. Use a rolling pin or a meat mallet to crush the cookies and crackers. You may not get as fine a crumb, but it works in a pinch.
Melt six tablespoons of Minerva Dairy unsalted butter. Pour the melted butter over the crumbs and stir until well combined. The mixture will resemble wet sand. I felt the gingersnaps provided enough sugar for the crust, but you can add one or two tablespoons of white or brown sugar for more sweetness.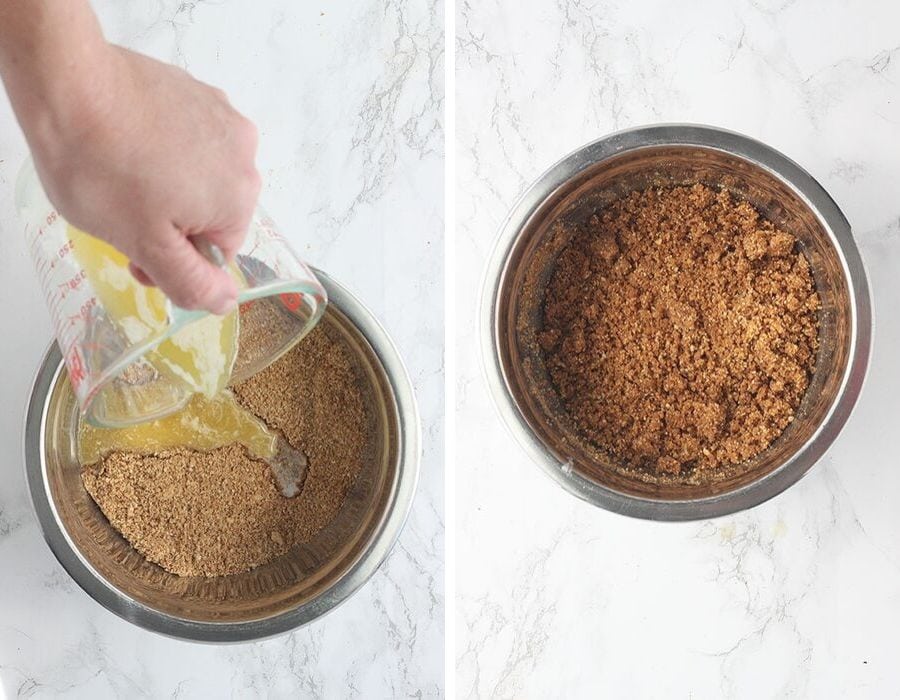 Prebake the crust
Preheat the oven to 325 degrees F. This recipe yields one large 9-inch tart or six 4.75-inch mini tart pans. Press the crumbs into the bottom and up the sides of the pan. I find it's easier to form the sides first, then go back and form the bottom. You want the crust to be about ¼-inch thick.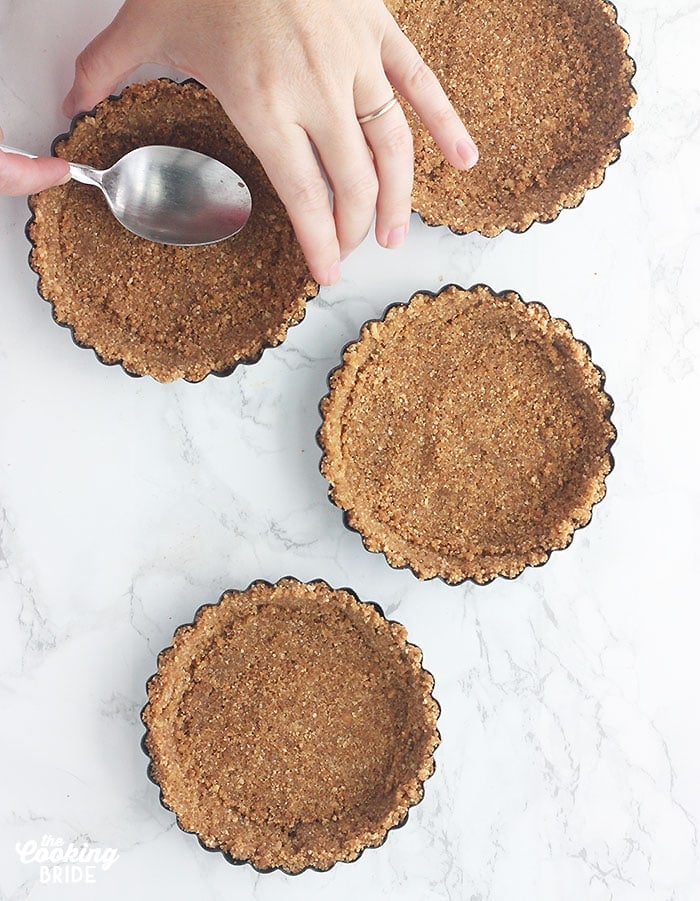 Place the crust(s) into the preheated oven and bake for 15 minutes until they are golden brown. Remove the crusts from the oven and allow them to cool slightly.
How to make the sweet potato tart filling
You will be starting with approximately two cups of mashed, cooked sweet potato. That's about two medium sweet potatoes, depending on size. The sweet potatoes can be cooked ahead of time. I like to steam my potatoes skin on for about 40 minutes in my Instant Pot. You can also bake them in a 375 degree oven for one hour. I don't recommend boiling because everything leaches out into the water.
In a large mixing bowl, add ½ cup of softened Minerva Dairy unsalted butter to the mashed sweet potatoes. Blend at medium speed. With the mixer still running, add ½ cup of whole milk and two large eggs, one at a time.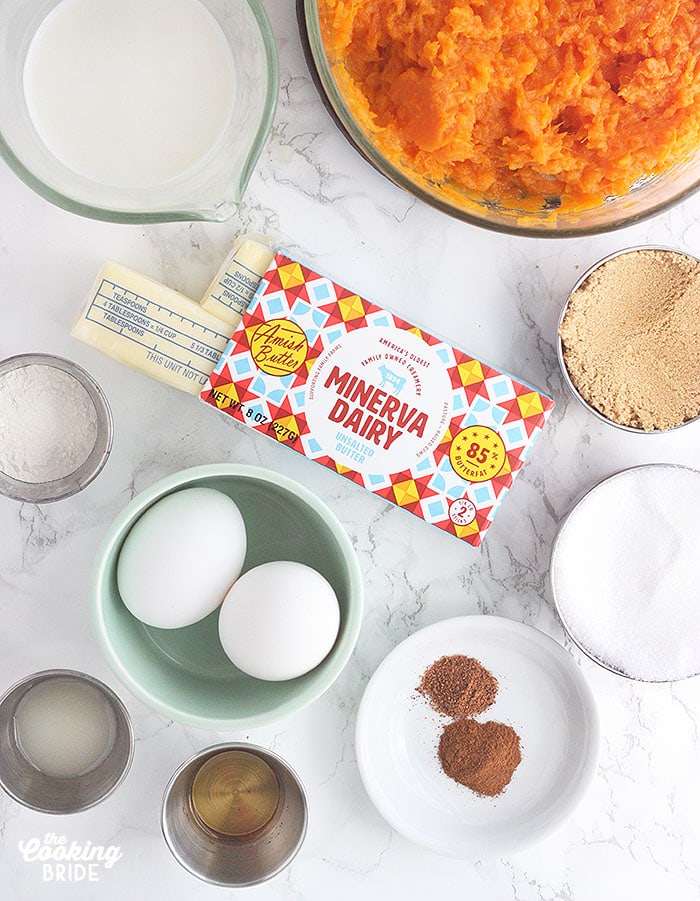 Finally, add ¼ teaspoon ground nutmeg, ½ teaspoon ground cinnamon, one teaspoon vanilla extract, one cup of white granulated sugar, ½ cup light brown sugar, two tablespoons of flour and one tablespoon of lemon juice.
The filling will be soupy. Don't worry, it will thicken up just beautifully as it bakes. Line a large baking sheet with foil. Arrange with shell(s) on the baking sheet. Pour the filling into the cooled tart shell(s). Bake at 325 degrees for 45 minutes if you're making mini tarts. For a large tart, you might need to bake for an additional 15 minutes. The filling will be set and not wobbly when it's done.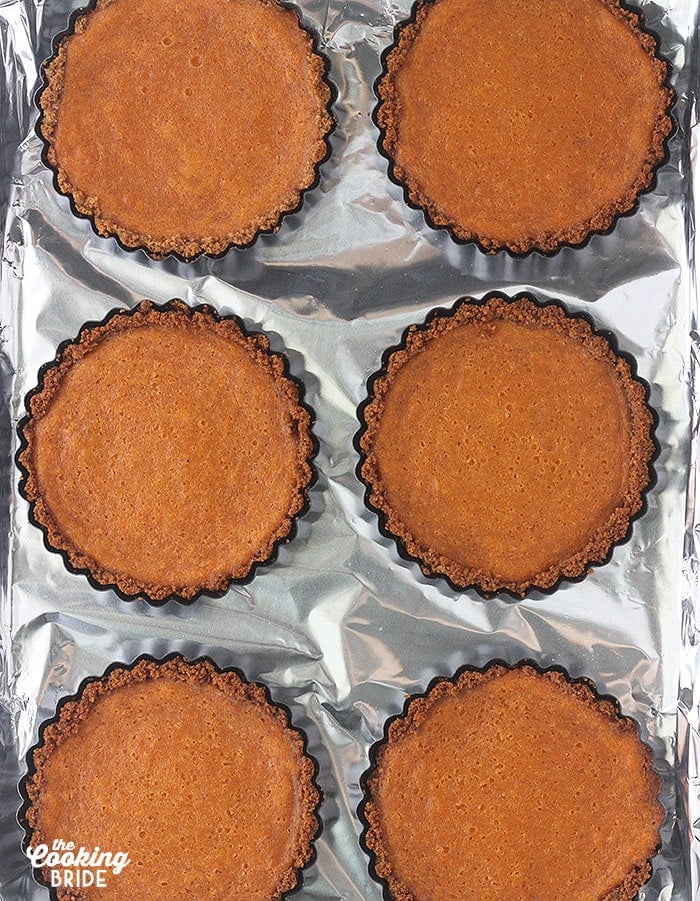 The tart(s) can also be made up to 24 hours in advance. Store them in a covered container in the refrigerator until ready to serve. I recommend letting them sit at room temperature for about 30 minutes prior to serving to take off the chill.
How to make the marshmallow meringue
And now for the showstopper that absolutely makes this dessert – marshmallow meringue. If you've never made meringue before, I recommend checking out my post Tips and Tricks: How to Make Meringue.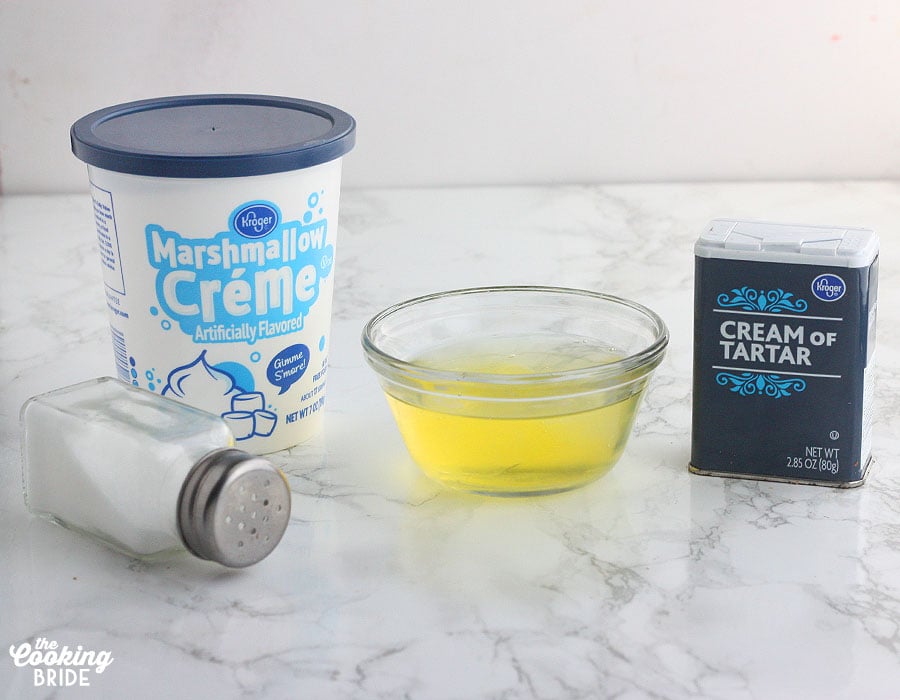 Combine three room temperature egg whites in a large mixing bowl with ¼ teaspoon cream of tartar, 1/8 teaspoon of salt and ¼ cup of white granulated sugar. Beat on medium speed until the meringue starts to become foamy, then increase the speed to medium high until soft peaks form.
Spoon in the marshmallow crème. Continue to mix at medium high speed until stiff peaks form. The meringue will be thick and shiny.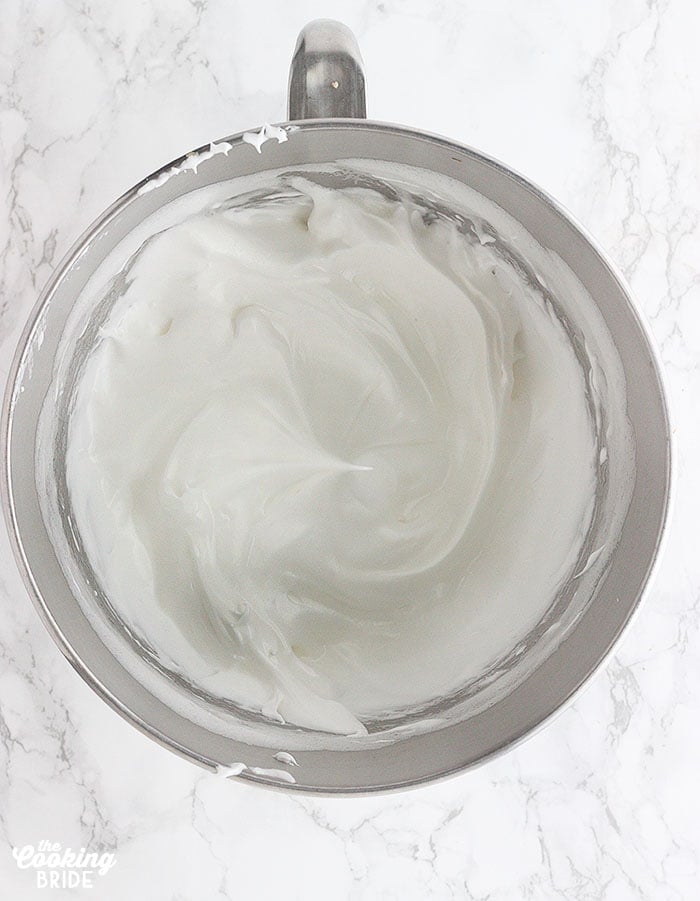 I chose to pipe the meringue over the top of my tarts for a prettier picture. I don't consider myself to be a great decorator, so I appreciate the ease of this Cake Decorating Kit. But, you don't have to go all fancy like I did. Simply spoon the meringue over the top of the tart with a spatula. Be sure spread the meringue all the way to the edge of the crust to seal. Return the tart(s) back to a 325-degree F oven and bake until the meringue starts to turn golden brown, about 10-15 minutes.
For best results, prepare the meringue right before you're ready to bake. You could get away with baking the tart(s) an hour before serving and allow it to sit at room temperature.
How to store your sweet potato tarts
Because of the meringue, sweet potato tart is best when eaten within a few hours. However, any leftovers should be stored in a covered container in the refrigerator. Keep in mind, the meringue will likely weep or get a little soggy the longer it sits in the fridge.
More Minerva Dairy Recipes:
You Might Also Enjoy: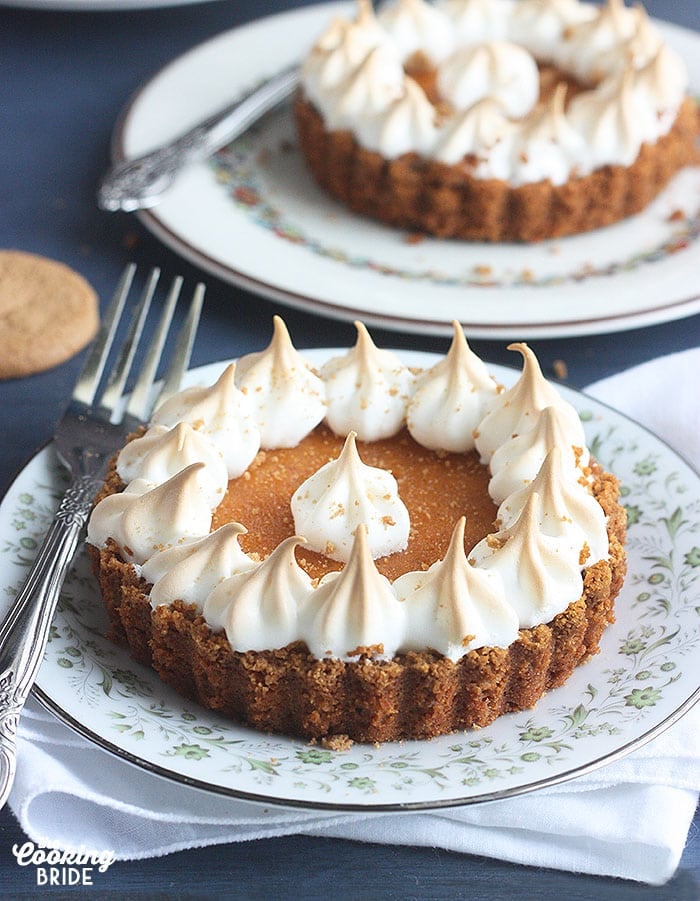 Sweet Potato Tart with Marshmallow Meringue
Sweet potato tart is like sweet potato casserole in dessert form. Creamy sweet potatoes are baked in a graham cracker crust and topped with toasted marshmallow meringue.
Ingredients
Sweet Potato Filling:
2

medium cooked sweet potatoes

mashed (about 2 cups)

½

cup

unsalted Minerva Dairy butter

softened

½

cup

whole milk

2

large eggs

¼

teaspoon

ground nutmeg

½

teaspoon

ground cinnamon

1

teaspoon

vanilla extract

1

cup

granulated white sugar

½

cup

light brown sugar

2

tablespoons

flour

1

tablespoon

lemon juice
Marshmallow Crème Meringue:
3

egg whites

room temperature

¼

teaspoon

cream of tartar

1/8

teaspoon

salt

¼

cup

white granulated sugar

1

7 ounce jar marshmallow crème
Instructions
For the crust:
Preheat oven to 325 degrees.

In a medium bowl, combine crushed cookies and graham crackers. Add butter and mix to combine. Crumbs should form a ball when squeezed in the palm of your hand. If not, add additional melted butter one tablespoon at a time until you reach desired consistency.

Press crumbs into the bottom and up the sides of one 9-inch fluted tart pan or six 4.75-inch mini fluted tart pans. Bake for 15 minutes or until crust is set. Remove crust from the oven and allow to cool.
For the sweet potato filling:
Combine mashed sweet potatoes and butter in a large mixing bowl. Mix at medium speed until blended.

Pour in the milk.

Add the eggs, one at a time.

Add the nutmeg, cinnamon, vanilla, sugars, flour, and lemon juice.

Pour mixture into the cooled crust. Bake at 325 degrees for 45 minutes to one hour until the center is set and no longer wobbly.
For the marshmallow meringue:
While tart is baking, beat the egg whites, cream of tartar, salt and sugar at medium high speed using an electric mixer. Beat until soft peaks form.

Gradually add the marshmallow crème. Continue to beat until stiff peaks form.

Spread or pipe meringue over the tart, making sure to seal edges. Bake at 325 degrees for 15 minutes until the meringue is golden.
Nutrition
Serving:
1
slice
|
Calories:
394
kcal
|
Carbohydrates:
50
g
|
Protein:
4.6
g
|
Fat:
20
g
|
Saturated Fat:
10
g
|
Trans Fat:
0.5
g
|
Cholesterol:
84
mg
|
Sodium:
238
mg
|
Potassium:
215
mg
|
Fiber:
2.3
g
|
Sugar:
31
g
|
Vitamin A:
201
IU
|
Vitamin C:
13
mg
|
Calcium:
6
mg
|
Iron:
7
mg