Last updated on March 30th, 2023
Spicy rigatoni casserole gets a kick from hot Italian sausage. This easy to assemble dish can be made ahead of time and freezes well.
I love recipes that are quick and easy for a weeknight meal, but also allow me to hide some veggies in there that my kids will eat without complaint. This spicy rigatoni casserole fits that bill.
Cook the Rigatoni
Rigatoni is a large, tube-shaped pasta with lines or ridges along the outside. The ridges hold sauce and the pasta itself stands up well to a longer cooking time and still keep its texture and shape. This design makes rigatoni perfectly suited for casseroles like this one. However, if you can't find rigatoni, you can always substitute with penne, ziti, or even macaroni.
Bring a large pot of salted water to a boil over medium high heat. Cook one 16 ounce package of rigatoni according to the package directions, then drain the pasta and set aside.
Prepare the sausage
One 16-ounce package of hot ground Italian sausage gives this casserole a kick. Sometimes I can find packages of ground Italian sausage and sometimes all I can find are the sausages sold in links. If you can only find links, that's fine. We just need to remove the meat from the casing before we start to brown it.
The sausage casing is thin and easy to move. Simply make a shallow incision along the edge of the sausage. Peel the casing off and discard it. If you need more clarification, check out my video below. Brown the sausage in a large skillet over medium heat, breaking it up into smaller pieces with a wooden spoon, until the meat is no longer pink. Using a slotted spoon, remove the sausage from the skillet to drain on paper towels. Reserve the grease.
I fed this casserole to both of my kids and neither of them thought the hot Italian sausage made the casserole too spicy. However, if you have littles that are sensitive to spicy food, you can substitute half or all the sausage with mild or sweet Italian sausage.
Sauté the zucchini
I planted zucchini in our garden for the first time this year. We aren't prolific zucchini eaters, so before we even saw our first harvest, I started developing recipes that I easily add a zucchini to. I cut one medium zucchini into smaller pieces so they would easily blend in with the pasta and sauce. After dicing them, I sauteed them for about 3-5 minutes until tender in the reserved grease from the Italian sausage. If the sausage wasn't particularly greasy, add a little olive oil to the pot before adding the zucchini.
Next, add two cloves of garlic and continue to sauté for an additional 30 seconds. Sprinkle in one tablespoon of flour and stir until the vegetables are evenly coated and there are no lumps. Cook the flour and vegetables for two minutes.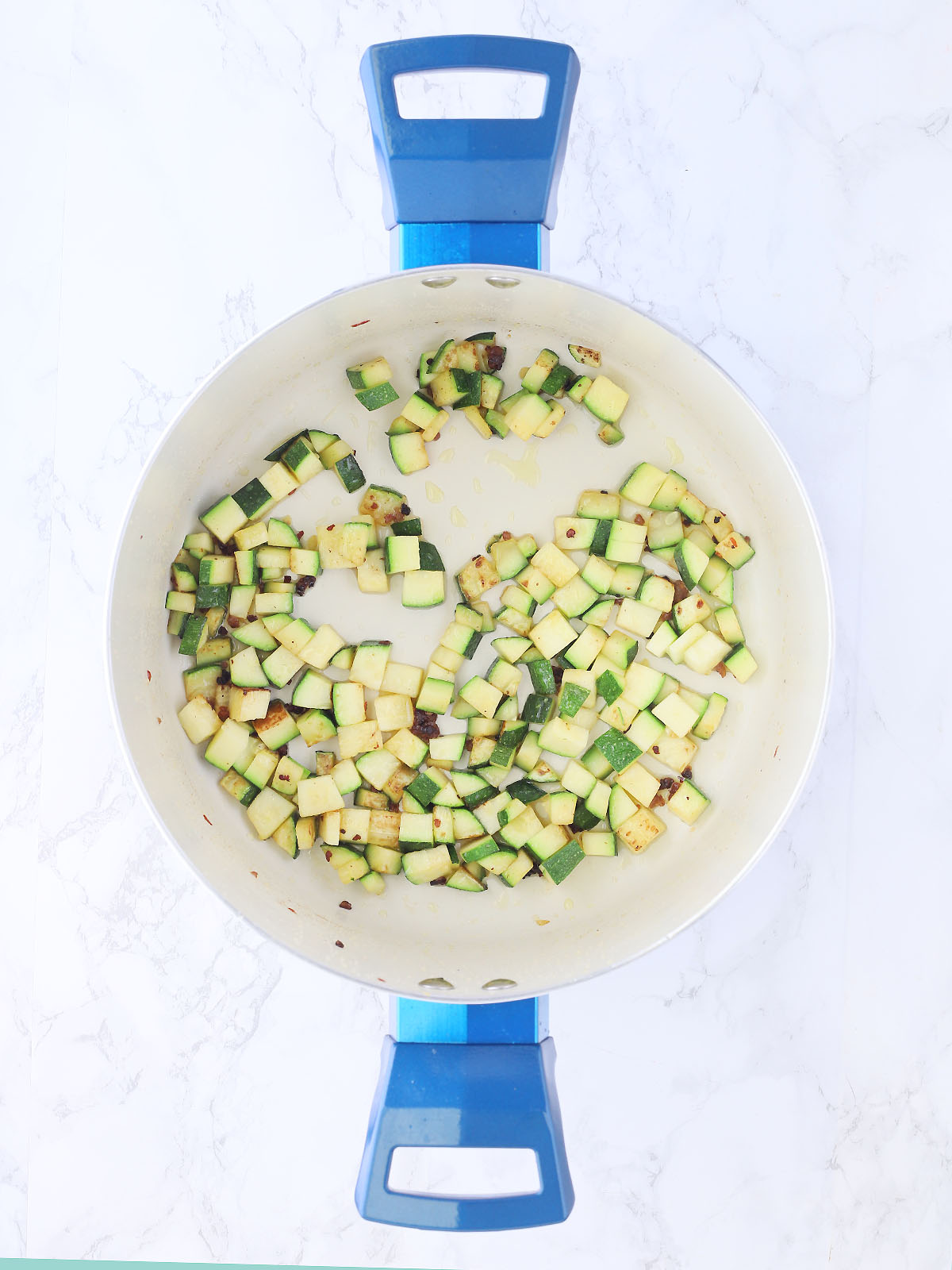 Make the Sauce
Pour in one 24-ounce jar of your favorite spaghetti or marinara sauce. Then add one tablespoon of fresh basil leaves and one tablespoon of fresh oregano. If you don't have access to fresh herbs, you can substitute with dried. Since dried herbs are more concentrated than fresh, cut the amount in half – 1 ½ teaspoons of both.
We are going to make the tomato sauce rich and creamy by adding 4 ounces of cream cheese. Letting the cream cheese come to room temperature for about 30 minutes before adding it to the sauce helps the cream cheese melt easier and more evenly. Finally, add ¼ cup of grated Parmesan cheese. Season the salt with salt and pepper to your preference.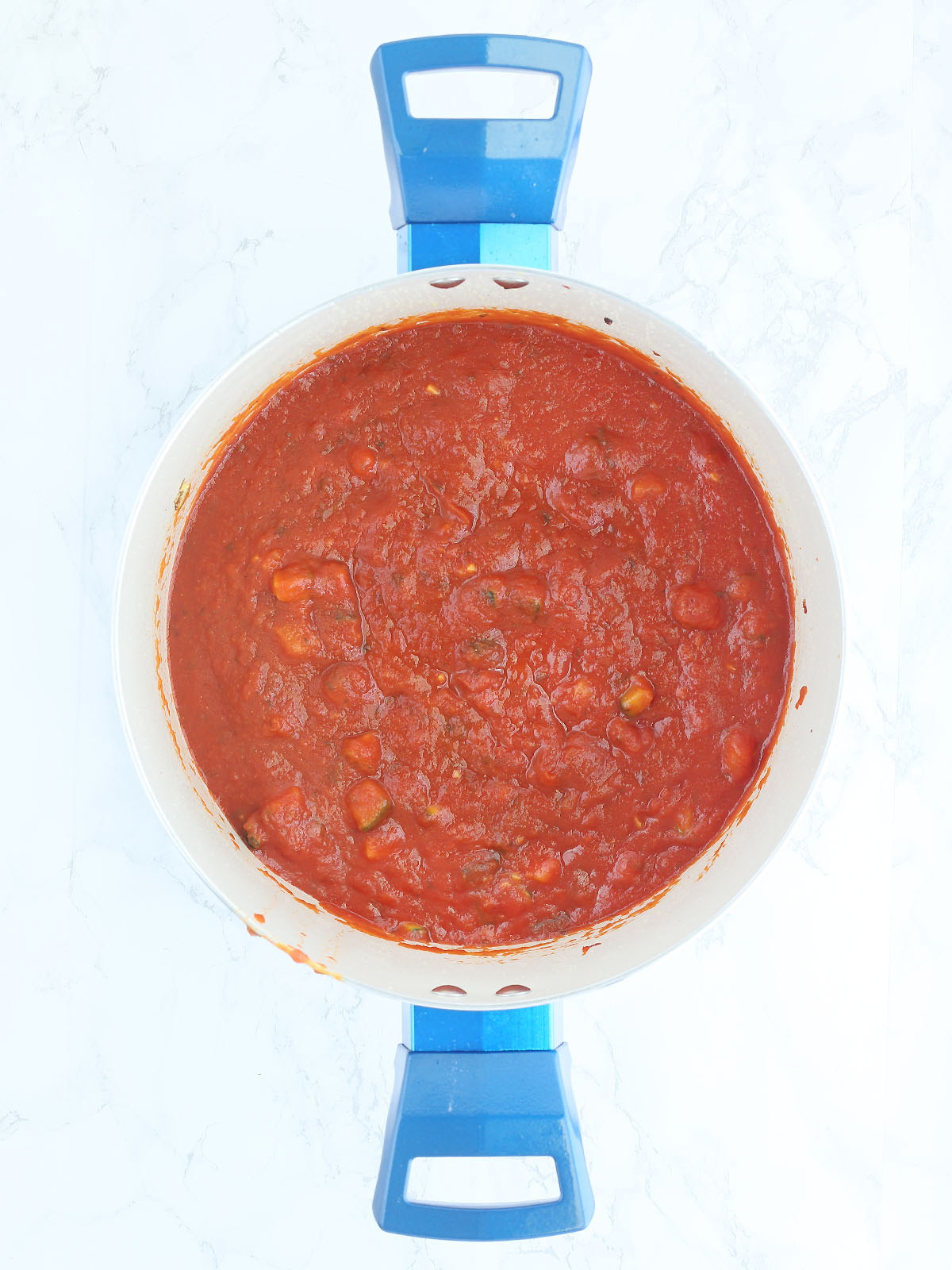 Assemble the casserole
Return the rigatoni and sausage and back to the pot. Stir until the pasta and sausage are completely coated with the sauce. Spread the mixture into a greased 9 x 13-inch casserole dish. You can also use a 2.5-quart oval baker. Top the pasta with mozzarella cheese. I like the way fresh mozzarella melts, so I used 8 ounces of sliced fresh mozzarella. However, one cup of shredded mozzarella cheese will also work just as well.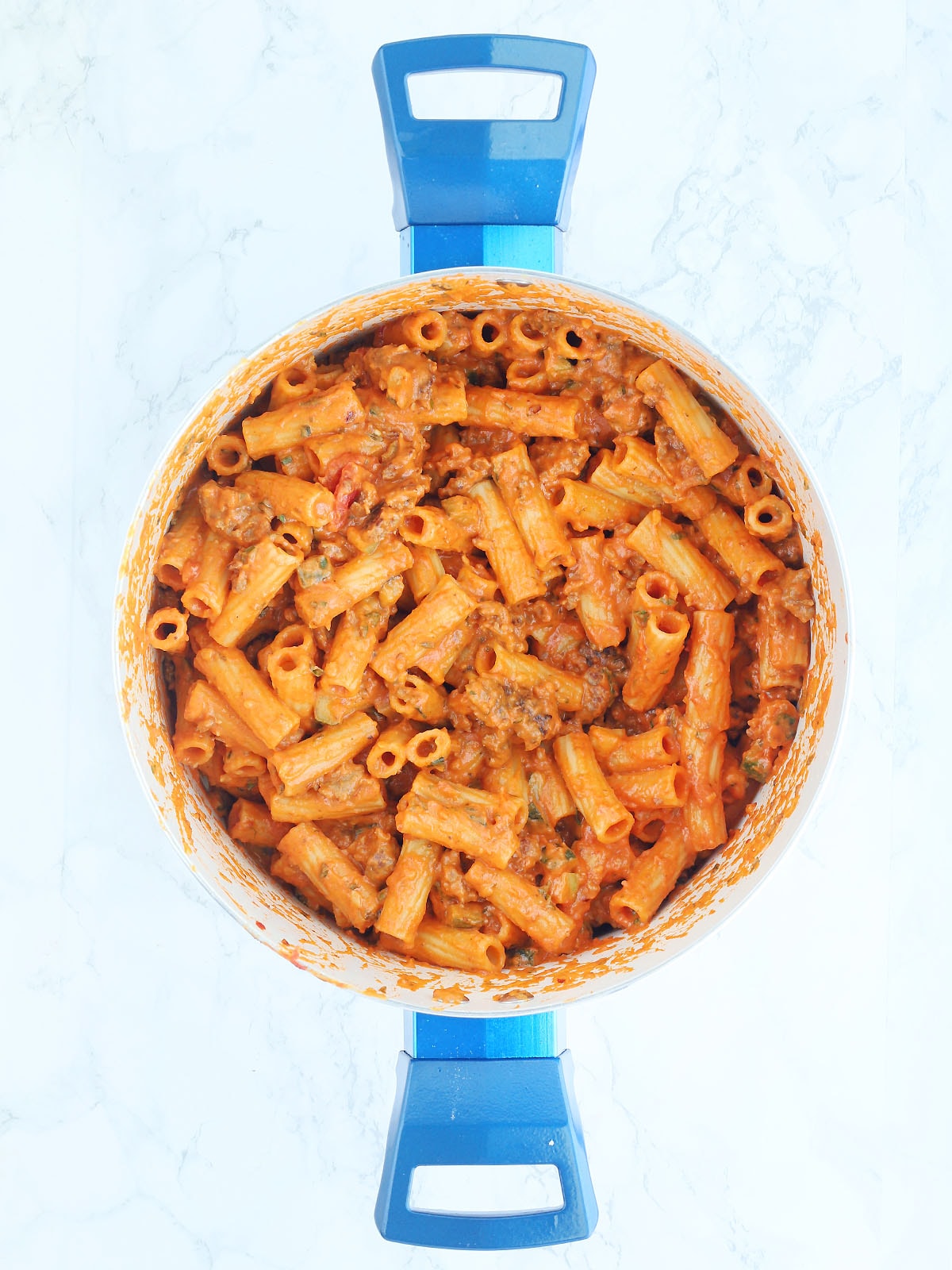 Bake the casserole uncovered in a 375 degrees oven for about 10 minutes until it is heated through, and the mozzarella cheese is melted. Remove the casserole from the oven and allow it to rest for about 10 minutes before serving.
Storage, Freezing and Reheating
Storage. Cover the spicy rigatoni casserole with a lid or a layer of tin foil and store in the refrigerator within two hours. Consumer within five days.
Freezing. This casserole freezes well, so consider doubling the recipe and freezing one unbaked casserole for later. Eat within three months.
Reheating. Allow a frozen casserole to thaw in the refrigerator for 24 hours, then bake at 375 degrees for 15 – 20 minutes until heated through and the cheese is melted. To reheat a casserole that has not been frozen and stored in the refrigerator, preheat the oven to 250 degrees and bake for one hour until the casserole is heated through. Individual servings can also be reheated for 1-2 minutes in a microwave.
What to Serve with Spicy Rigatoni Casserole