Last updated on May 22nd, 2023
A shot of Kahlúa and brandy make this boozy, creamy, frozen Brandy Alexander pie a delicious decadent dessert that is for adults only.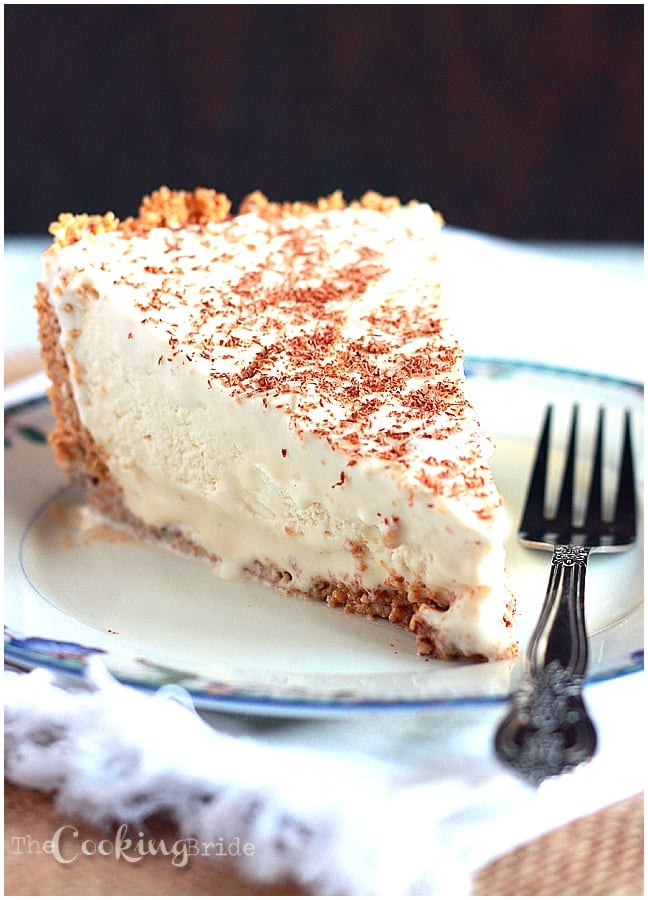 Just a warning, this pie is for adults only. There is a shot of Kahlúa and a shot of Brandy in it and since there is no cooking involved to burn off some of the alcohol, it is boozy as all get out. The Husband said he thought he got a buzz just after eating one slice.
Sorry Junior, there is some plain vanilla ice cream for you in the freezer. This here is for Mommy and Daddy only.
The Husband thinks this is quite possibly one of the best desserts I have ever made. It is so cool and creamy, and the cinnamon graham cracker crust? Oh my gosh, why and I just now discovering these? I may never go back to plain graham crackers again!
Just a quick note, make sure your whipped cream is well incorporated. I had a little section on the bottom that wasn't as firm as the rest of the pie. Since alcohol doesn't freeze on its own, I'm thinking that was the problem.
After finishing a slice of this pie, The Husband promptly picked up his plate and began to lick it. No lie. It's that good.
Amendment 2/2/2013 – The original recipe I based this dessert on instructs you to let the pie freeze overnight (i.e. eight hours). I suggest freezing it for 24 hours. Every time I've made this dessert since, it has never been anywhere near set after eight hours. The alcohol content in the pie is working against you in this case, causing the filling to freeze at a much slow rate. Therefore, I've adjusted the recipe to allow for 24 hours before set.
Another tip, try freezing this in a deep freezer rather than a stand up freezer. A stand up freezer may not allow the pie to get cold enough to set.
Frozen Brandy Alexander Pie
A shot of Kahlúa and brandy make this boozy, creamy, frozen Brandy Alexander pie a delicious decadent dessert that is for adults only.
Ingredients
Crust:
1-1/2

sleeves cinnamon graham crackers

1/2

cup

chopped pecans

1

tablespoon

sugar

6

tablespoons

unsalted butter

melted
Filling:
2

cups

heavy cream

2

14 oz. cans sweetened condensed milk

4

tablespoons

Kahlúa

4

tablespoons

brandy

2

teaspoons

vanilla extract

Shaved chocolate

for garnish, optional
Instructions
For crust:
Process graham crackers, pecans, and sugar in a food processor until it becomes fine crumbs.

Combine crumbs with melted butter. Press mixture into the bottom and up the sides or a 12-inch springform pan.
Filling:
Using an electric mixer, beat cream at medium speed until stiff peaks form.

In a separate bowl, combine condensed milk, Kahlúa, brandy, and vanilla.

Carefully fold in whipped cream. Make sure the whipped cream is well-incorporated before pouring the mixture into the graham cracker crust.

Place pie in the freezer and freeze for at least 24 hours.

Garnish with shaved chocolate if desired.
Notes
This pie needs to set for at least 24 HOURS! Make sure you plan ahead accordingly.