Last updated on August 27th, 2018
Tender veggies and a splash of lemon juice in this creamy, velvety Meyer lemon chicken soup really brightens up a cold winter's day.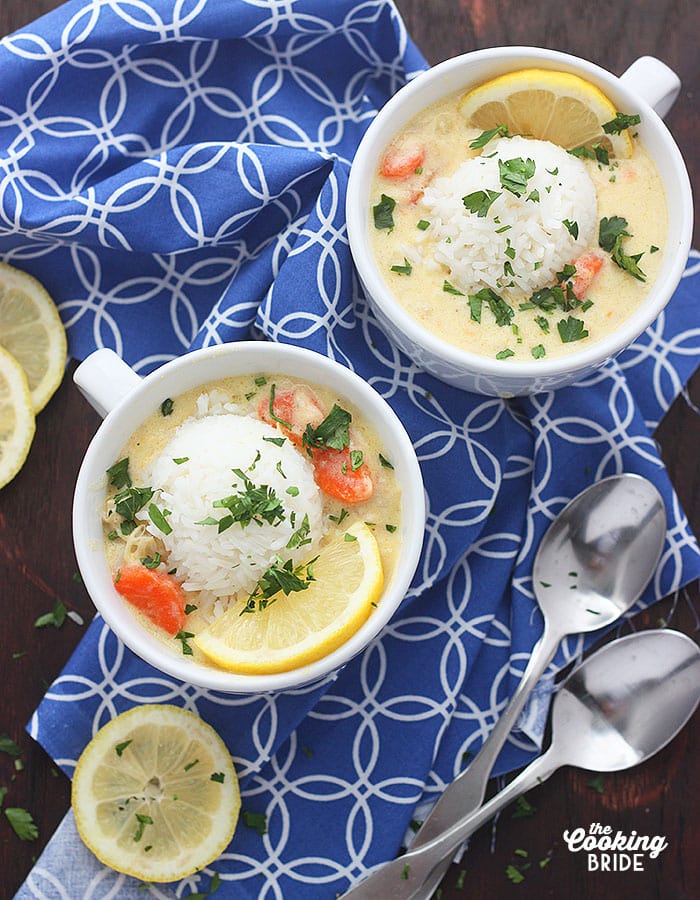 You might know this recipe as Greek Lemon Chicken Soup. It was one of the first recipes I tried when I was learning how to cook. The date on the recipe is from 2002. I used to make it quite a bit, and then for whatever reason I just stopped. I think it's The Husband's fault. He decided he didn't like lemon in his chicken soup and that was that.
A couple weeks ago, another variation of this recipe began circulating on Facebook. It inspired me to dig out my old recipe and give it another go. I made it for lunch one blustery, cold Monday afternoon. As soon as the creamy broth hit my tongue, I knew The Husband would just have to get over his aversion. It's too good to make once every 10 years.
This recipe calls for eight egg yolks that you have to temper before adding to the soup. If you are unfamiliar with that term, all it means is that you introduce a little hot broth to the egg yolks before adding them to the soup. It is very important that you don't skip this step, or else you could end up with scrambled eggs in your soup.
Do you have to use Meyer lemons? No. I just happened to have some on hand already and thought it would be a nice touch. This soup is like velvet. It's warm and creamy and totally brightens up a cold January day.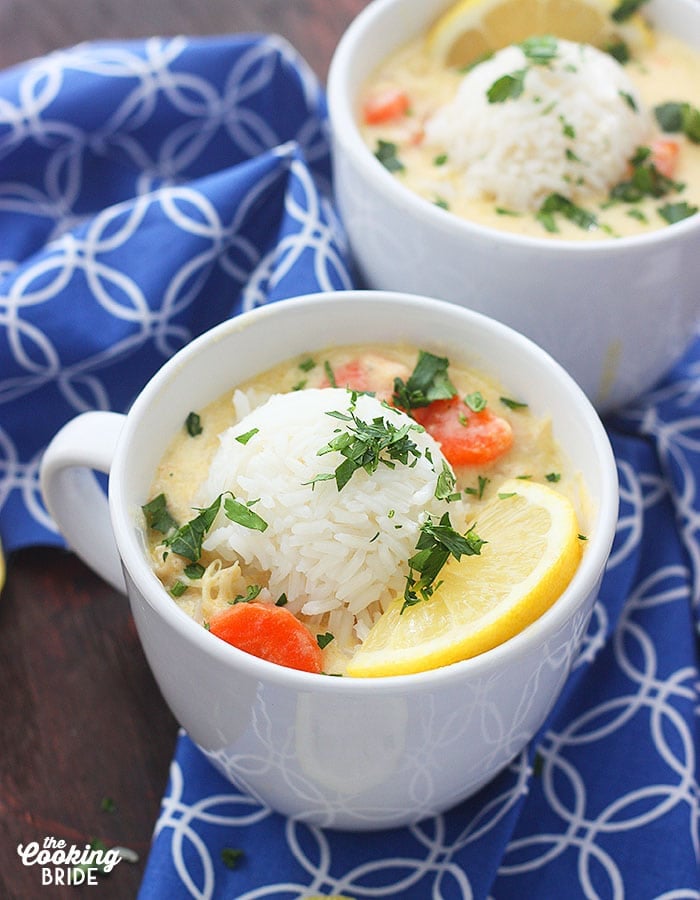 Meyer Lemon Chicken Soup
Tender veggies and a splash of lemon juice in this creamy, velvety Meyer lemon chicken soup really brightens up a cold winter's day.
Ingredients
1/4

cup

plus 1 tablespoon unsalted butter, softened, divided

1/2

cup

diced celery

1/2

cup

diced carrots

1/2

cup

diced onion

8

cups

chicken broth

1/2

cup

fresh lemon juice

2

tablespoons

chicken bouillon

1/4

teaspoon

ground white pepper

1/4

cup

all-purpose flour

1

cup

cooked white rice

1

cup

diced

cooked chicken meat

8

egg yolks
Instructions
In a large stockpot, melt 1 tablespoon of butter over medium-high heat. Add the carrots and sauté for about three minutes. Add the celery and onion and sauté until all the vegetables are tender, about seven more minutes.

Add the chicken broth, lemon juice, bouillon, and white pepper. Bring pot to a boil, then reduce the heat and simmer for about 20 minutes.

In a small bowl, combine the remaining butter and the flour. Gradually whisk it into the soup mixture, being careful to whisk out any lumps. Simmer soup for an additional 10 minutes.

In another medium sized bowl, gently beat the egg yolks until they are a light yellow color. Slowly add some of the hot soup mixture to the eggs. Whisk constantly until eggs are combined. Then add the egg mixture to the pot, stir to combine, and heat through. Add rice and chicken.