Last updated on September 3rd, 2023
Oven baked oysters are topped with a buttery mixture of garlic, herbs, and white wine and sprinkled with freshly grated Parmesan cheese.
Several years ago, The Husband and I made a road trip to Louisiana to visit friends. They took us out to a seafood restaurant that was known for having good oysters. I was pregnant with Big Brother at the time, so raw oysters on the half shell were out. That's when I discovered the beauty that is grilled oysters.
The Husband and I loved the grilled oysters so much, we later tried to recreate them at home. Unfortunately, we are not master oyster shuckers. In fact, we've both come to the opinion that we hate shucking oysters. Thankfully, another friend introduced us to canned oysters baked in a muffin pan. We haven't shucked another oyster since.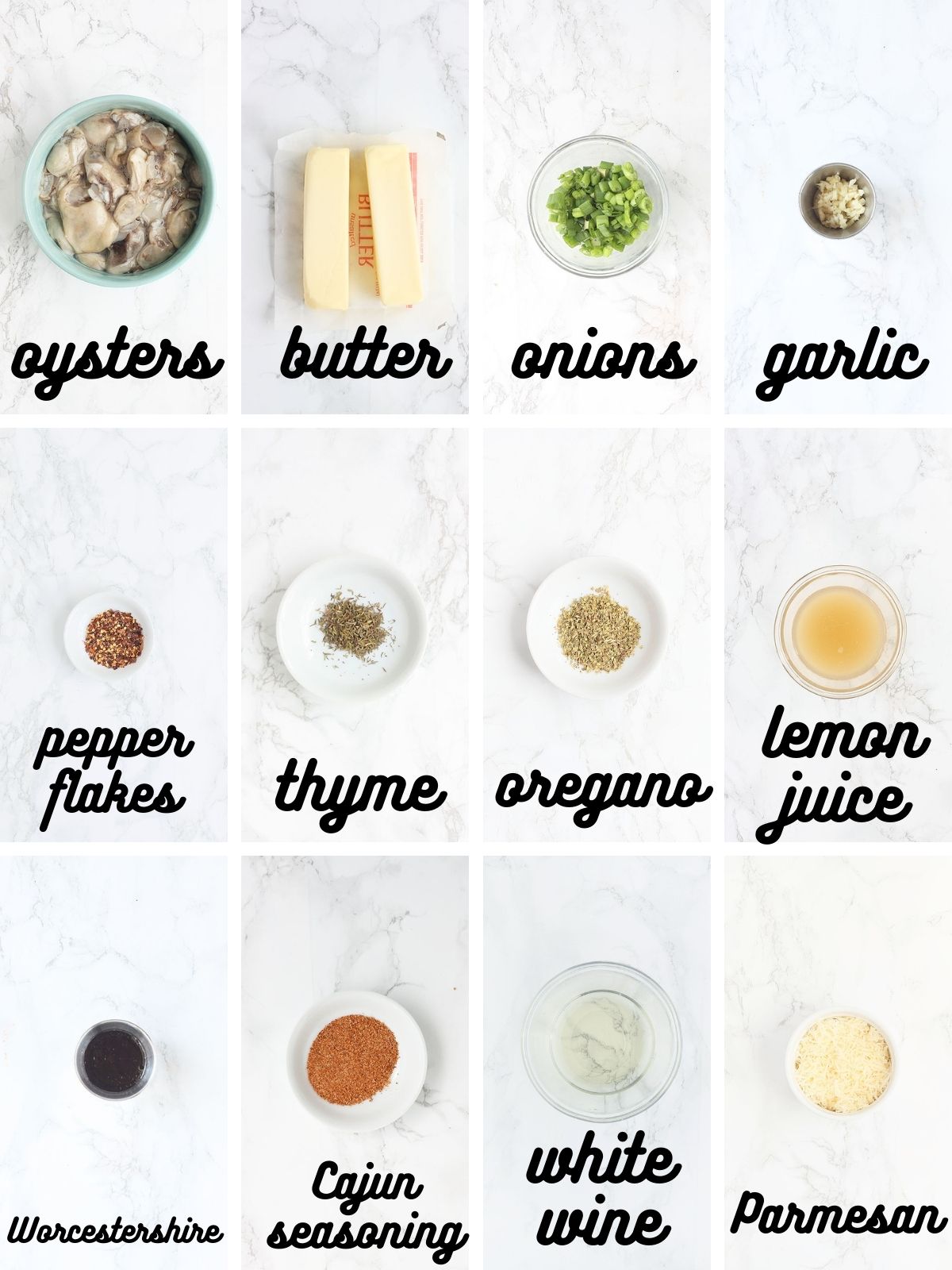 Choosing the Right Type of Oysters
When purchasing shucked oysters, I head straight to the fresh seafood section of my local grocery store. Next to the display of fish, there is a refrigerated case full of fresh prepackaged items. There, I can always find one or two brands of fresh, whole shucked oysters.
If your store doesn't have a robust seafood section and there isn't a seafood market close by, scope out the canned meat aisle close to the canned tuna. Looked for canned whole oysters – not smoked and not boiled. You want raw.
Make the Garlic Butter Sauce
In a large saucepan, melt ½ cup of unsalted butter over medium heat. Once the butter has melted, add ½ cup of diced green onions, five cloves of minced garlic, 1/2 teaspoon of crushed red pepper flakes, 1 ½ teaspoons of dried thyme, ½ teaspoon of fresh dried oregano, one tablespoon of fresh lemon juice, ½ teaspoon of Worcestershire sauce and one tablespoon of Cajun seasoning. Stir everything to combine.
Sauté the butter mixture for two minutes. Add one ounce of white wine. Continue to sauté, stirring continuously, until the green onions are soft. Remove saucepan from the heat and it allow to cool for three minutes. Add another ½ cup of butter to the sauce. Stir until the final stick of butter has melted. The sauce should have a creamy consistency at this point. Set the butter aside.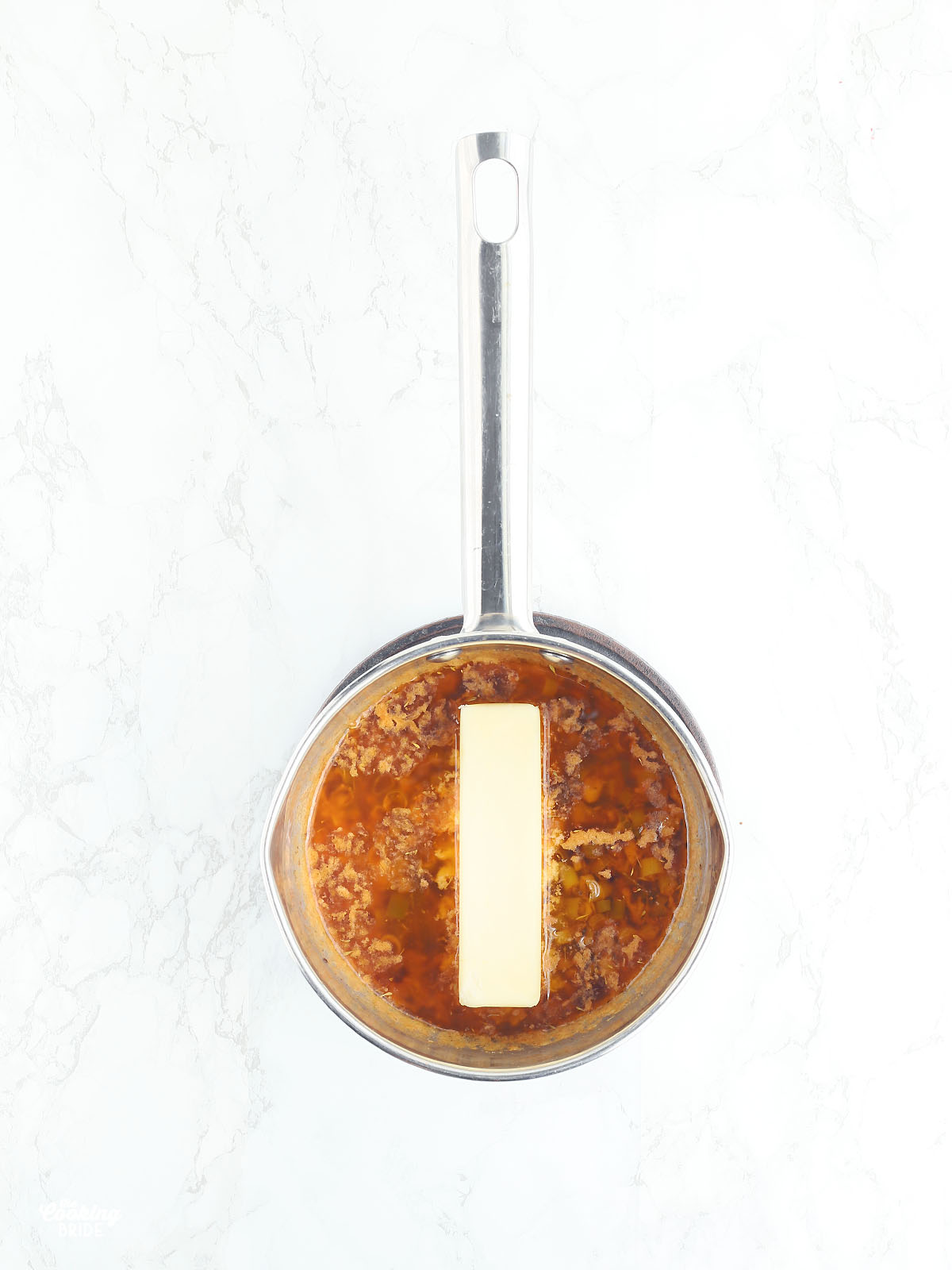 Prep the Oysters
Preheat the oven to 350 degrees. Place one oyster in the bottom of each cup in a muffin pan. If your oysters are exceptionally large, you may want to cut them in half. Some brands remove the foot that the oyster uses to attach itself to the inside of its shell. It's usually a tough, suction cup looking thing. If this hasn't been removed from your oysters, remove and discard this now.
Spoon an equal amount of garlic butter sauce over the top of each oyster. I like to try to make sure each oyster is submerged in the sauce. Place the muffin pan in the oven and bake for seven minutes.
Top with Parmesan Cheese
Remove the oven baked oysters from the oven and sprinkle the top of each with one tablespoon of grated Parmesan cheese. Return the pan to the oven and bake for an additional 1-2 minutes or until the cheese is melted.
I like to serve baked oysters straight out of the oven with sliced, toasted French bread. The husband likes his oysters on saltine crackers. Spoon an oyster onto the center of a slice of bread or a cracker.
Don't forget to drizzle some of that leftover garlic butter sauce over the top. Sprinkle with additional shredded Parmesan cheese, chopped green onions or a sprinkle of hot sauce is desired.
Grilling
If you love the flavor of grilled oysters … good news! This technique also works well on a gas or charcoal grill. Simply place the muffin pans over a preheated grill and follow the instructed cooking times.
Storage, Reheating and Freezing
Don't do it. Trust me when I say, these are best eaten right out of the oven. Oysters tend to turn rubbery when reheated. Likewise, freezing and thawing cooked oysters will change the texture and flavor.
More Oyster Recipes