Last updated on April 15th, 2023
Sink your teeth into these oven baked BBQ chicken thighs just like Grandma used to make. Chicken pieces are marinated and basted in a simple homemade sauce and basted for added flavor.
This post may contain affiliate links. Click here to learn more about how affiliate links are used on this site.
A few weeks ago, my mother-in-law sent me a scan of a handwritten recipe for her mother's homemade barbecue chicken.
"Growing up, it was one of our family favorites," she wrote. "Mama served it with mashed potatoes and a couple of vegetables."
I never got to meet The Husband's maternal grandmother, whom they called Grandmama. She passed away a few weeks before we started dating. But I almost feel like I've met her from the stories his family tells. Especially the stories about her cooking.
The few handwritten recipes I have from my own Grandmother are priceless. So many women cooked from memory, that there was no recipe. Thankfully, I had the sense to sit down with Mamaw several years ago and pick her brain for chicken and dumplings. But now that my own grandmother is gone and Mamaw's memory isn't what it used to be, I wish I had taken the opportunity to do it more. When this recipe for oven baked barbecue chicken came into my inbox, I felt honored to have it in my arsenal.
Ingredients and tools you'll need
My mother-in-law often tells me how her mom, who raised four children on her own, often made simple economical meals. As a mom managing a tight grocery budget, I appreciate the simplicity of the ingredients. To make this recipe, you'll need:
4 pounds chicken pieces – I used bone-in skin on chicken thighs because they are full of flavor and cheap. However, you can use this on any cut of chicken you want.
1 ½ cups tomatoes juice
¼ cup white vinegar
1 teaspoon sugar
1 ½ teaspoons Worcestershire sauce
¼ cup ketchup
½ teaspoon yellow mustard
½ teaspoon ground black pepper
1 teaspoon onion powder
1 teaspoon garlic powder
2 teaspoons salt
Other tools you'll need:
Non-stick baking sheet or casserole dish – this needs to be large enough to accommodate the chicken pieces without crowding. I do recommend lining the baking pan with foil for easy clean up.
Baking rack (optional) – I like to use these because they let airflow under the chicken pieces and allow all the grease to drip down rather than pooling around the meat.
Make the BBQ sauce
In a large mixing bowl, combine the tomato juice, white vinegar, sugar, Worcestershire sauce, ketchup, mustard, pepper, onion powder, garlic powder and salt. Whisk everything together, then pour 1/2 a cup of the sauce into a separate bowl for basting and set aside.
Place the chicken thighs in a large bowl or freezer bag. Pour the sauce over the top and turn the chicken pieces over in the sauce to coat. Allow the chicken to marinate in the sauce in the refrigerator for at least two hours. Every so often, move the chicken pieces around to ensure that all the pieces are soaking up the sauce.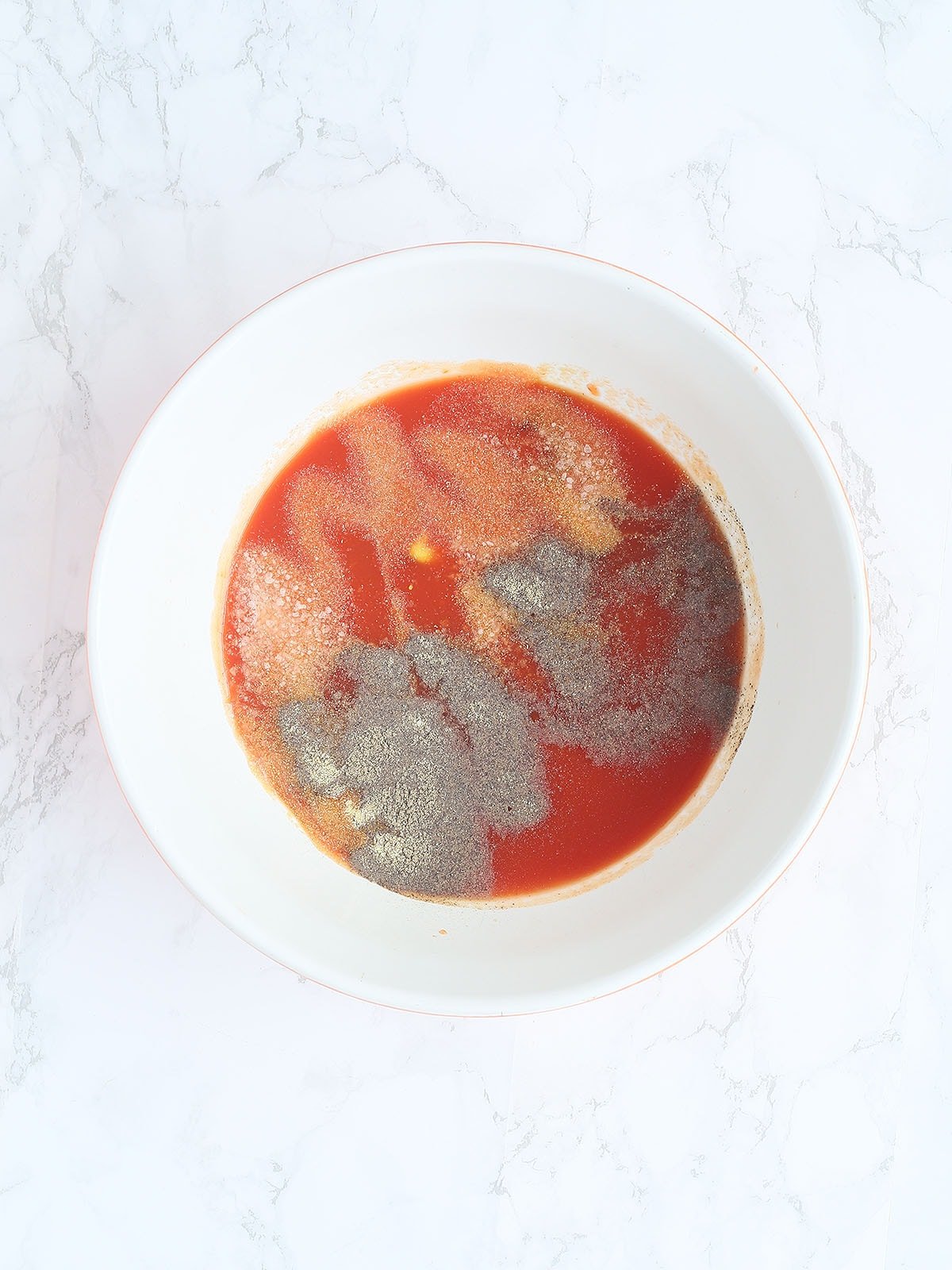 Bake the chicken thighs
Remove the chicken pieces from the sauce and arrange them in a single layer on the baking rack or baking dish. Bake the chicken at 350 degrees for an hour, basting with the reserves sauce every 15 minutes. The internal temperature of the chicken should reach 155 degrees F. Let the chicken pieces rest for 15 minutes before serving. During that time, the chicken will continue to cook and should reach 165 degrees F, which is the safe internal cooking temperature as recommended by the USDA. The sauce forms a nice sticky crust on the outside of the chicken. I like my BBQ chicken thighs dry, but if you have any leftover sauce, you can coat the chicken one more time when they come out of the oven for a "wet" barbecue.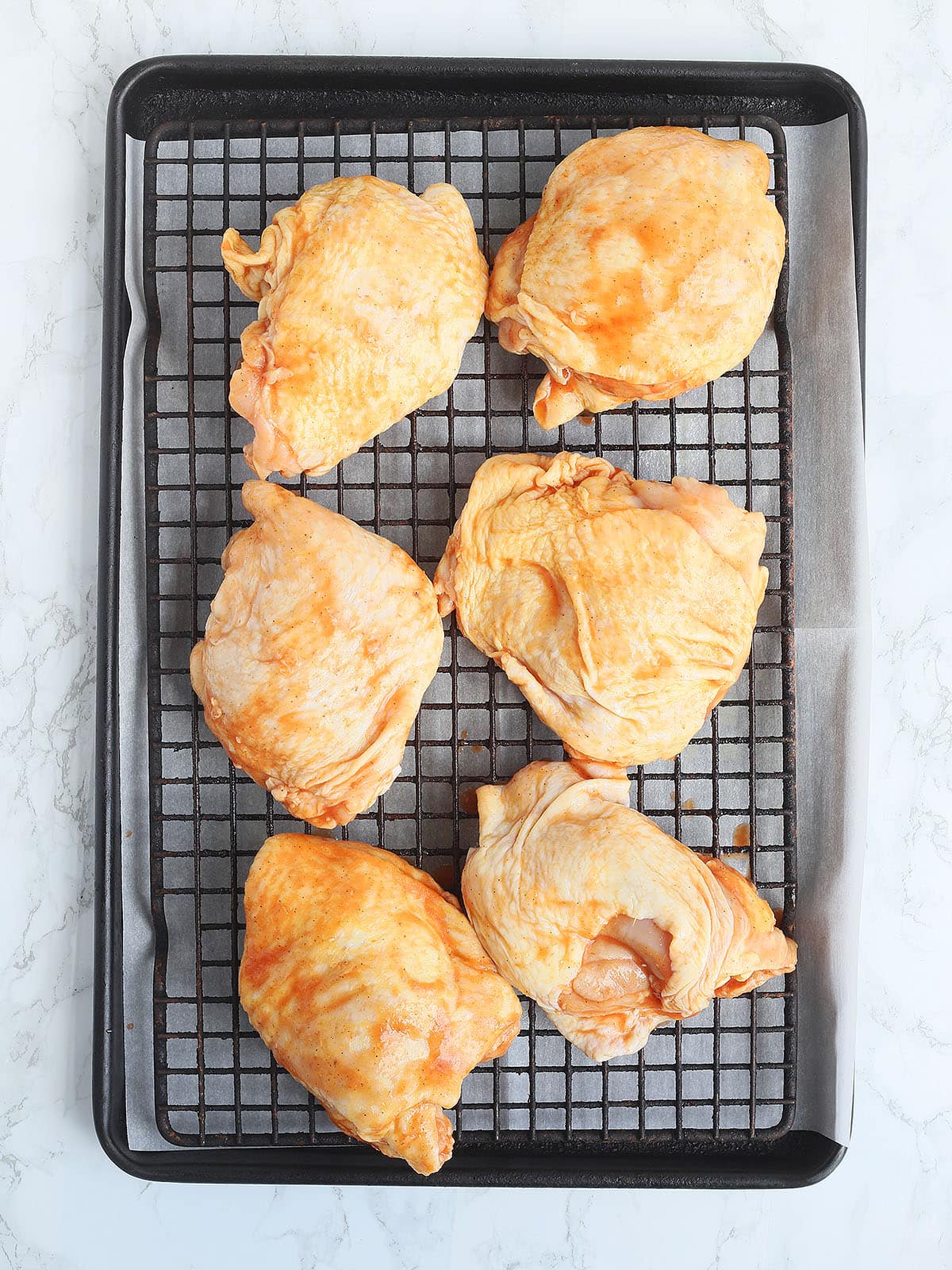 Storage, Freezing and Reheating
Storage. Oven baked BBQ chicken thighs should be stored in an airtight container with a lid or in a freezer bag in the refrigerator within two hours. Consume within four days.
Freezing. To prevent freezer burn, store portions in a vacuum sealed bag. You can also wrap each chicken piece individually in a layer of plastic wrap. Consume within three months. Allow the the chicken to thaw completely overnight in the refrigerator before reheating.
Reheating. You can reheat the chicken thighs in the microwave, but it's not my favorite option simply because microwaving leaves the skin soggy (yuk). Instead, preheat the oven to 350 degrees and bake the chicken for about 10-15 minutes until heated through. However, my favorite way to reheat chicken is in an air fryer. I reheat mine at 350 degrees for about 10 minutes, but keep in mind that your setting my be slightly different depending on your brand.
Serve Oven Baked BBQ Chicken With: