Last updated on September 29th, 2020
Looking for an easy pumpkin pie recipe you can made from scratch? This traditional recipe will be a hit on your Thanksgiving dessert table.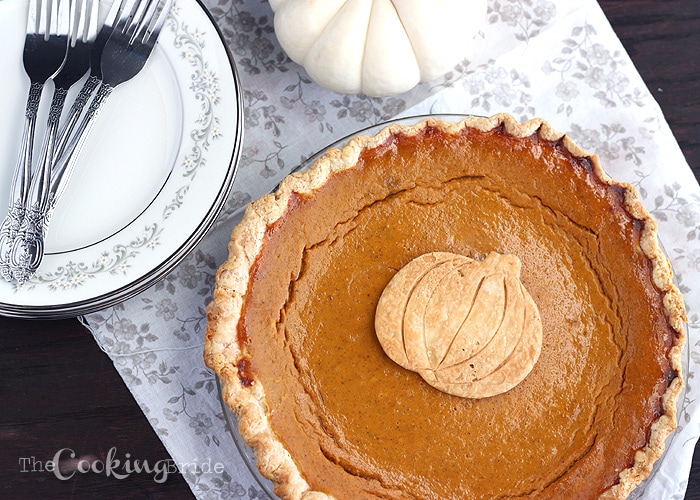 This post may contain affiliate links. Click here to learn more about how affiliate links are used on this site.
Big Brother started kindergarten this year. He is absorbing all the new information he is being taught like a little sponge. Earlier in October, his class studied pumpkins. He came home and asked if we could make pumpkin pie. You guess it … we made pumpkin pie.
When Big Brother asked if we could make a pumpkin pie recipe from scratch, there was no question what recipe I was going to use. This is my grandmother's recipe. It is legendary among my family.
However, I hate to admit  in the 10+ years I have been cooking, this is the first time I have ever made it. During the holidays, the pumpkin pie is usually someone else's responsibility. Therefore, I've never had the opportunity to make it. I am pleased I got to share the experience with my oldest son.
If you are new to making pie, this is a good recipe to start with. There aren't a ton of ingredients or a million steps you have to follow. The recipe is simple, straight forward and to the point.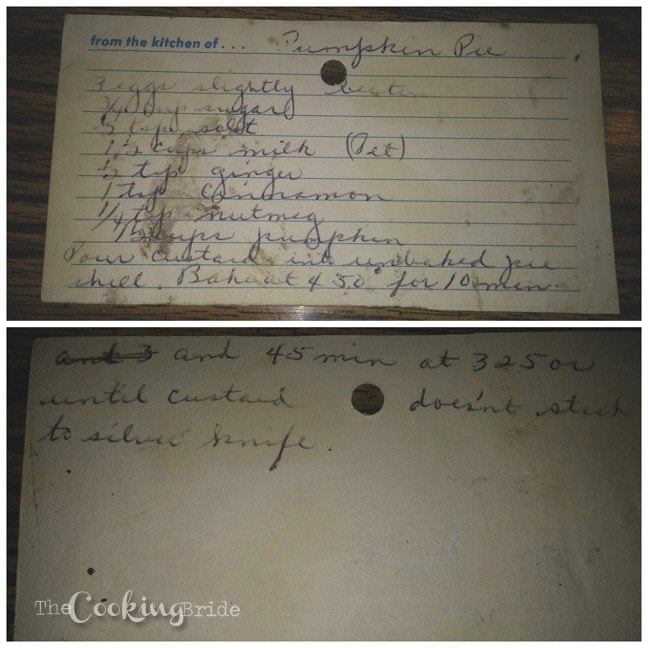 What's the difference between pumpkin puree and pumpkin pie filling?
As you peruse the grocery store to purchase your ingredients, you might notice cans of pumpkin puree right next to cans of pumpkin pie filling?
Pumpkin puree is straight cooked and pureed pumpkin and nothing else. Pumpkin pie filling has added sugar and spices and is intended to be used in desserts or as a pie filling.
I prefer to use pumpkin puree over pumpkin pie filling because I control the flavor, the amount of sweetness, and the spices.
How to Make Homemade Pumpkin Pie from Scratch
Before you get started, you're going to need an unbaked pie crust. Check out my five tips for making flaky homemade pie crust here. Be sure to keep the pie crust chilled while you prepare the filling.
Next, preheat your oven to 450 degrees. While the oven is heating, combine three slightly beaten eggs with sugar, salt and evaporated milk. Add ground ginger, cinnamon and nutmeg, then finally a cup and a half of pumpkin puree. Using an electric mixer, combine everything together until smooth.
Remove your prepared pie crust from the oven. Pour the filling into the crust, then carefully place the pie in the oven and bake for 10 minutes.
Without taking the pie out of the oven, reduce the oven temperature to 325 degrees and bake for an additional 45 minutes. We start out at a high temperature to "set" the pie, then reduce the heat to finish cooking it.
How to Prevent a Cracked Pie
As you can see, my pie is cracked around the edge. Why does a pie crack? Two reasons: It was baked for too long or it cooled too quickly.
Overbaking. As the eggs coagulate during baking, they help create a nice creamy center. However, if baked too long, they begin to tighten up. A pie can crack even after it has been removed from the oven  Even though it had been removed from the oven, the eggs still continue cooking.
There are a few ways to prevent this:
Obviously, don't over bake. If the recipe says to bake 45 minutes, take it out at 45 minutes even if it looks a little underdone. Remember, the pie will continue to cook for a few minutes even after it has been removed from the oven. The pie is ready to come out of the oven when the edges look set, but the center is still a little jiggly.
Make sure your oven is calibrated to the right temperature. Believe it or not, it's pretty common for an oven to be off by a few degrees. Invest in an oven thermometer to ensure you're baking at the optimal temperature.
Check the internal temperature of the pie. Optimal temperature at the center of the pie is 160 degrees. A meat thermometer can help you determine this. The downside to this is that you will end up with a small hole in the center of the pie. Insert strategically placed dollop of whipped cream here.
Don't sweat it. A cracked pie happens to the best of us. It's not the end of the world and it does not affect the flavor.
Cooling. Extreme temperature changes, such as a hot oven to a cool kitchen, can also cause a pie to crack. The solution is to let the pie cool slowly in the oven. Turn the oven off, leave the door ajar, and let the pie cool for about 20 minutes before removing it to finish cooling on a wire rack.
My grandmother died two years before Big Brother was born. It makes me sad that she and my grandfather never got to meet my kids, or that my boys will never know my grandparents like I did. Recently, I heard a Terry Pratchett quote that really resonated with me, ". . . a man is not dead while his name is still spoken . . ." As long as there are pictures, memories and pie, she won't be forgotten.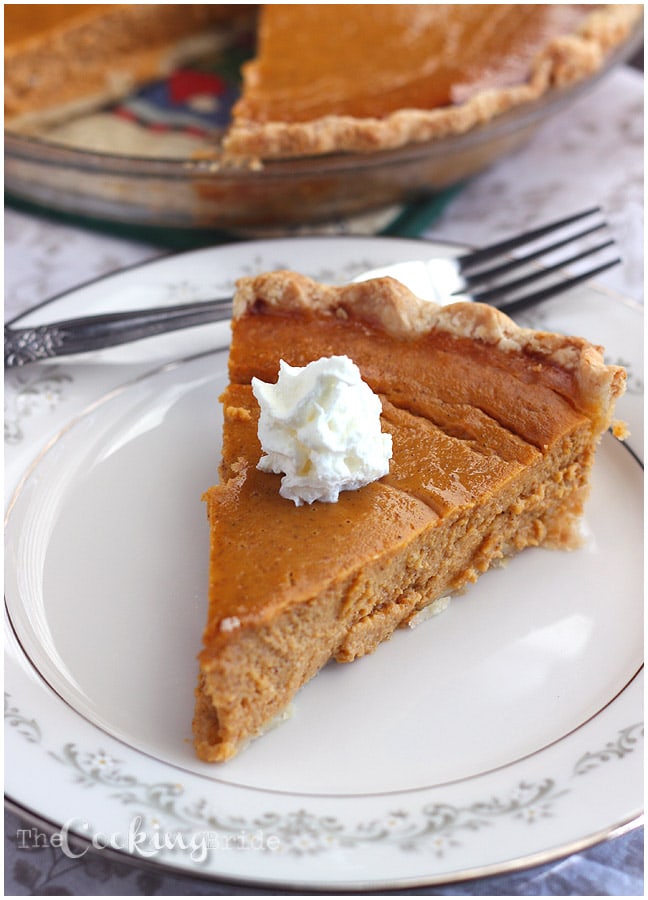 You Might Also Like:
Pumpkin Pie Recipe from Scratch
Looking for an easy pumpkin pie recipe you can made from scratch? This traditional recipe will be a hit on your Thanksgiving dessert table.
Ingredients
3

eggs

slightly beaten

¾

cup

sugar

½

teaspoon

salt

1 ½

cups

evaporated milk

½

teaspoon

ginger

1

teaspoon

cinnamon

¼

teaspoon

nutmeg

1 ½

cups

pureed pumpkin

Dough for single pie crust
Instructions
Preheat oven to 450 degrees.

Combine pie filling ingredients in a medium mixing bowl. Mix with an electric mixer on medium speed until mixture is smooth.

Pour filling into an unbaked 9-inch pie crust.

Bake pie for 10 minutes. Reduce oven temperature to 325 degrees and continue baking for an additional 45 minutes or until a knife inserted in the center of the pie comes out clean.
Nutrition
Calories:
205
kcal
|
Carbohydrates:
32
g
|
Protein:
5
g
|
Fat:
5
g
|
Saturated Fat:
3
g
|
Cholesterol:
75
mg
|
Sodium:
247
mg
|
Potassium:
168
mg
|
Fiber:
1
g
|
Sugar:
23
g
|
Vitamin A:
6660
IU
|
Vitamin C:
8.2
mg
|
Calcium:
148
mg
|
Iron:
0.7
mg