Last updated on August 31st, 2023
Mississippi Sin Dip is creamy, cheesy and sinfully delicious. Sour cream, cream cheese, shredded cheddar and ham are baked until melty and gooey.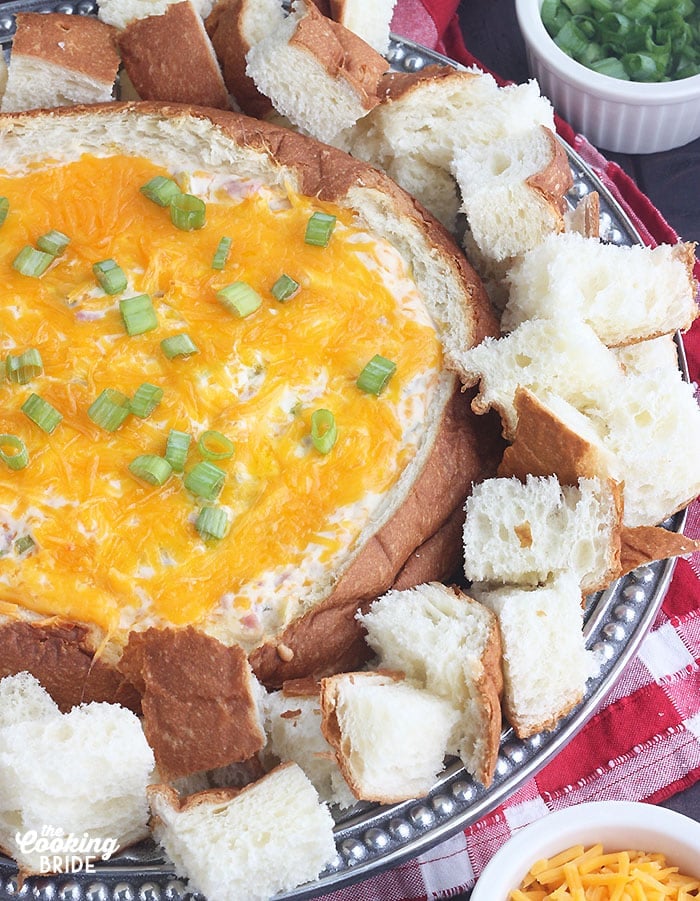 Football season is officially in full swing. I'm not a big football person, but The Husband is. While he's laid claim to the living room television, I use it as an excuse to catch up on my reading. And maybe whip up some sort of yummy finger food for us to nosh on.
I don't know about y'all, but I can make a meal out of a hot dip recipe. This Mississippi Sin Dip is no exception. It's creamy and cheesy, laden with diced ham and green onions. The night I made this, The Husband and I couldn't even finish it all.
Why is it Called Mississippi Sin Dip?
Sin dip is rumored to have originated by a Mississippi State Fan (hence the name Mississippi Sin Dip). To this day, Mississippi Sin Dip is a popular dish among tailgaters in The Junction in Starkville on game day.
It's called sin dip because it's so rich, it's a sin to eat it. Don't let that deter you. We're all sinners, aren't we? Might as well eat something delicious.
How to Make Mississippi Sin Dip
Start by setting out one brick of cream cheese so that it can come to room temperature. While you're waiting for the cream cheese to soften, preheat the oven to 350 degrees.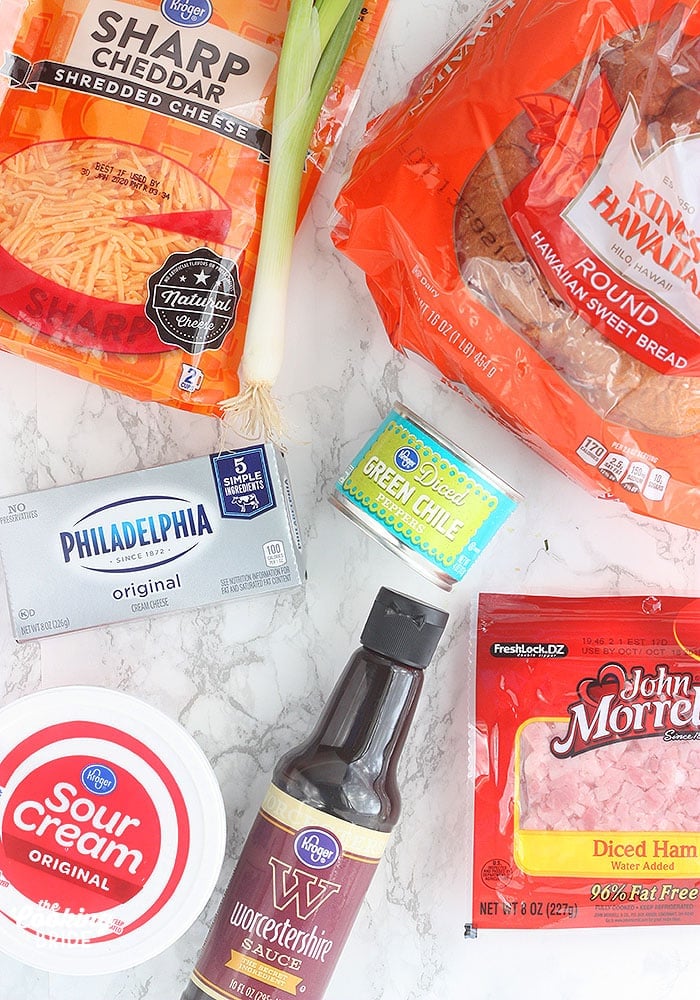 Combine the softened cream cheese with 1 ½ cups of sour cream, 2 cups of shredded cheddar cheese and 1/3 cup of chopped green onions in a large mixing bowl. Add in ½ cup of chopped ham. I purchased pre-chopped ham to save myself some time, but if you have some leftover ham in your fridge, by all means use it. You can also substitute the ham for ½ cup of cooked, chopped bacon.
Finally add one small can of chopped green chilies and two or three dashes of Worcestershire sauce. Using an electric mixer, beat everything until it's well combined. Season with additional salt and pepper to your taste if needed.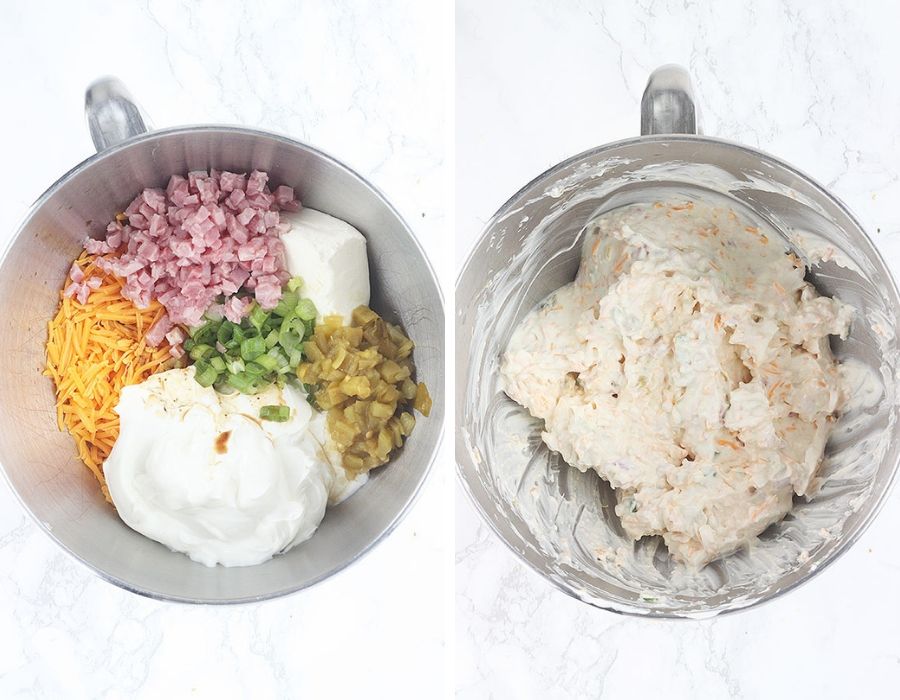 Making the bread bowl
Sin dip is traditionally served in a hollowed-out loaf of bread. I chose King's Hawaiian Round Sweet bread because I like the little bit of sweet from the bread with the salt dip. Other bread varieties you could use are sourdough, French bread, Italian bread or any crusty bread large enough to allow you to hollow out the inside.
Start by cutting the top off the bread. Don't throw it away! We're going to use it later for dipping. Using a spoon, start carving out the perimeter. Leave about a one-inch border all the way around. You can use the spoon or clean hands to scoop out the insides of the bread. Again, don't throw anything away.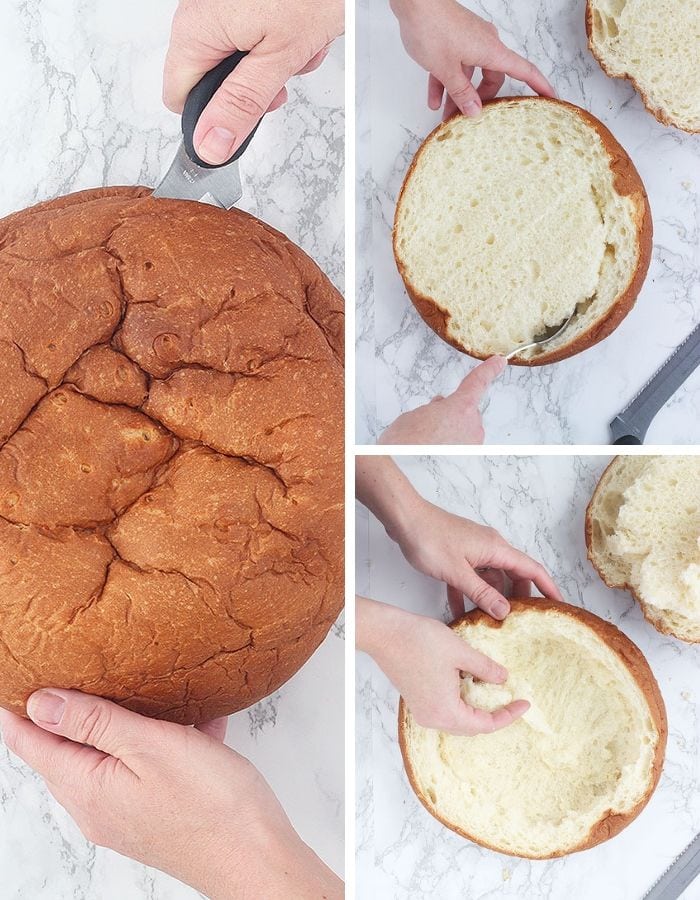 Baking the Dip
Spoon all the dip into the hollowed-out bread bowl. Spread it around into an even layer if needed. Top with ½ cup shredded cheddar cheese.
Wrap the entire thing in aluminum foil. I recommend spraying the top of the foil with a little cooking spray to prevent the cheese on the top from sticking. Place the sin dip in the oven and bake for one hour.
Take all that leftover bread and cut it up into cubes. It will be perfect for dipping once the dip comes out of the oven!
Can Mississippi Sin Dip be made in advance?
You can mix the actual dip ingredients together beforehand and store it in a covered dish in the refrigerator. I recommend waiting to carve out the break bowl and baking the dip until just before serving. You may need to let the refrigerated dip come to room temperature for about 30 minutes beforehand to let it soften and make it easier to spread into the bread bowl.
If you are in a position where you are traveling, such as to a party or football game, I suggest baking it then leaving it wrapped in the foil for as long as possible so the dip will retain the heat.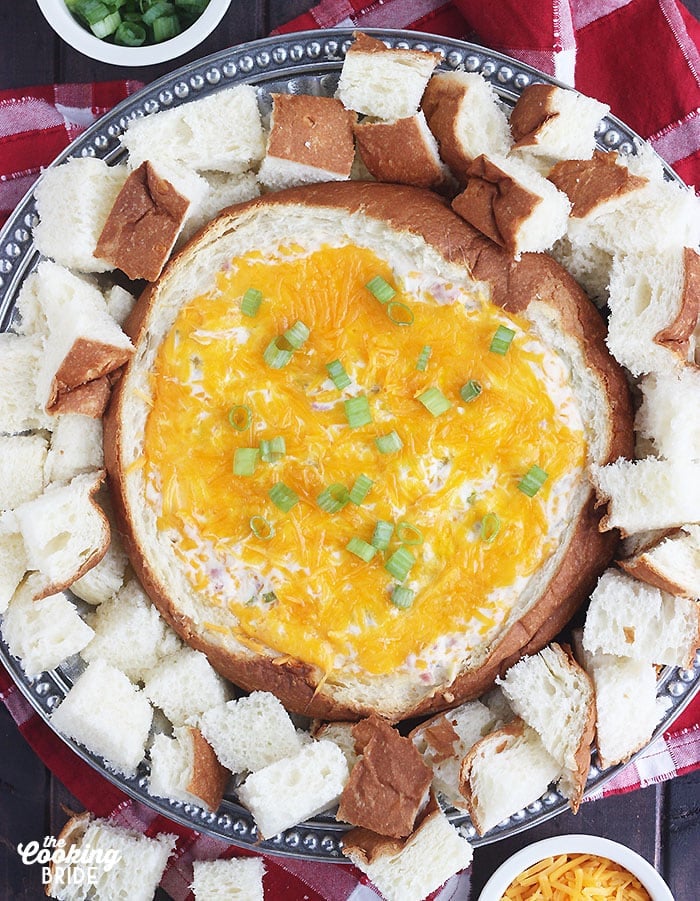 Can sin dip be reheated?
Mississippi Sin Dip is best served straight from the oven, but it can be reheated with success. If you're reheating the bread bowl and all, rewrap everything in the aluminum foil to prevent the bread from drying out. Bake at 350 degrees until it's heated through. Check after 30 minutes, but it could take up to one hour.
Looking for more dip ideas?
Check out these other tasty dip recipes or explore my Dip Recipes board on Pinterest.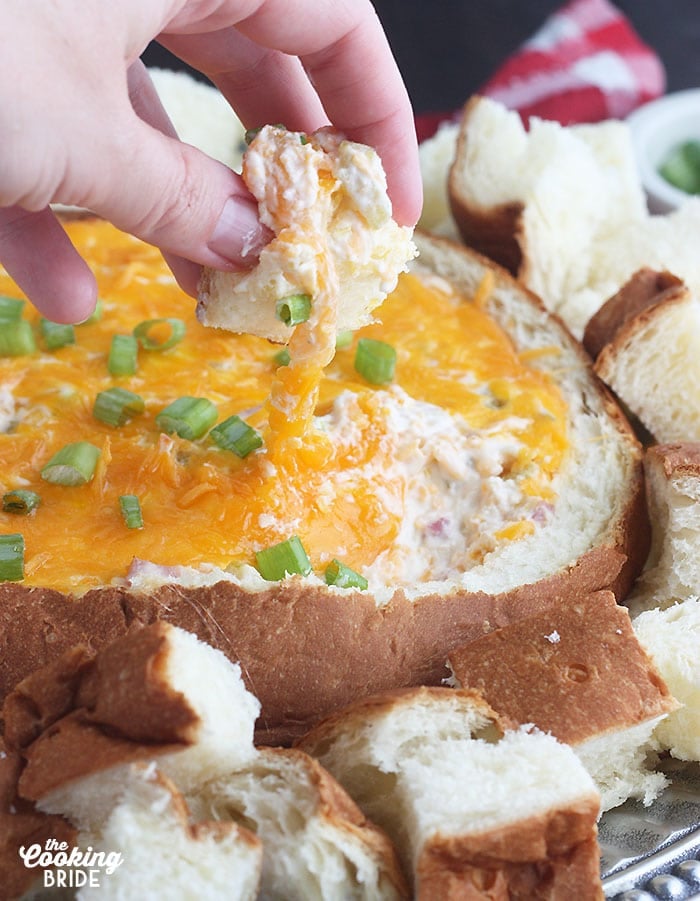 Mississippi Sin Dip
Mississippi Sin Dip is creamy, cheesy and sinfully delicious. Sour cream, cream cheese, shredded cheddar and ham are baked until melty and gooey.
Ingredients
1 ½

cups

sour cream

2 ½

cups

shredded cheddar cheese

divided

1/3

cup

chopped green onions

1

(8oz.) package cream cheese, softened

1/2

cup

chopped ham

1/3

cup

chopped green chilies

2-3

dashes Worcestershire sauce

1

loaf crusty bread
Instructions
Preheat the oven to 350 degrees F.

Mix the sour cream, two cups of shredded cheese, green onions, cream cheese, chopped ham, green chilies and Worcestershire sauce in a large mixing bowl. Beat until everything is evenly combined.

Slice the top third off the bread. Set aside. Using a spoon or clean hands, carve out the interior of the loaf of bread, leaving a one-inch border. Reserve the bread you spooned out for dipping.

Spread the dip into the hollowed-out bread. Top the dip with the remaining shredded cheddar cheese. Wrap the bread bowl completely in foil.

Bake for one hour.

Serve as a dip with the hollowed-out bread, crackers or chips.
Notes
Nutritional info is for dip only. Does not include the bread bowl.
Nutrition
Serving:
1
serving
|
Calories:
68
kcal
|
Carbohydrates:
2.4
g
|
Protein:
5.6
g
|
Fat:
4.1
g
|
Saturated Fat:
2.5
g
|
Polyunsaturated Fat:
0.1
g
|
Monounsaturated Fat:
0.8
g
|
Cholesterol:
16.7
mg
|
Sodium:
231.7
mg
|
Potassium:
47.6
mg
|
Sugar:
0.8
g
|
Vitamin A:
5.7
IU
|
Vitamin C:
0.4
mg
|
Calcium:
13.4
mg
|
Iron:
0.4
mg