Last updated on June 11th, 2023
Rich and hearty shrimp gumbo recipe is laden with tender shrimp, crabmeat, oysters and herbs and spices for an authentic Creole flavor.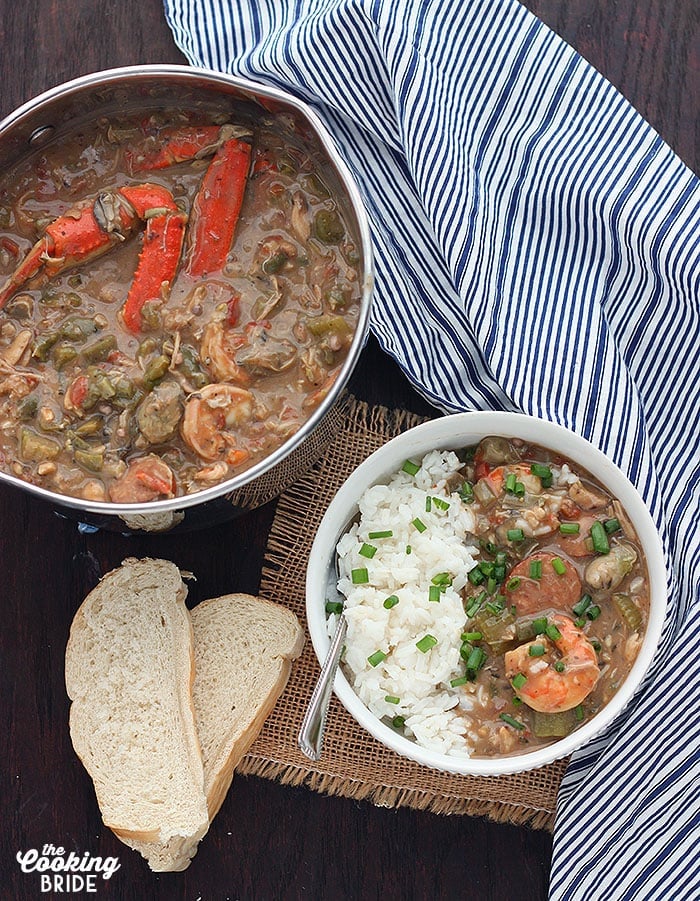 Every summer, my family and I try to make a short trip to the Alabama coast for a few days. We rent a condo with a kitchen and typically prepare our own meals. Not only is it cheaper to do it that way, but who in their right mind wants to drag two hungry and exhausted kids out in public? Hungry + exhausted = melt down. No thanks.
However, at least one of those nights The Husband and I have to splurge on some really good seafood gumbo from one of our favorite seafood markets, Lartigue's. We buy a quart for dinner and a gallon to take home.
Over the years, The Husband and I have eaten our fair share of gumbo. But to this day, the seafood gumbo at Lartigue's remains our favorite. Those of you who travel with kids know that vacationing with little ones is never relaxing. So, after a day on the beach, we both look forward to hot showers, putting the kids to bed, and sitting out on the balconey with a bowl of gumbo, a glass of white wine, and listening to the waves.
A few weeks ago, The Husband and I were reminiscing over Lartigue's gumbo. It's at least another six months until our beach trip. That's when I decided to try recreating the recipe myself. We picked the perfect weekend for it. The boys were away and it was bitterly cold outside.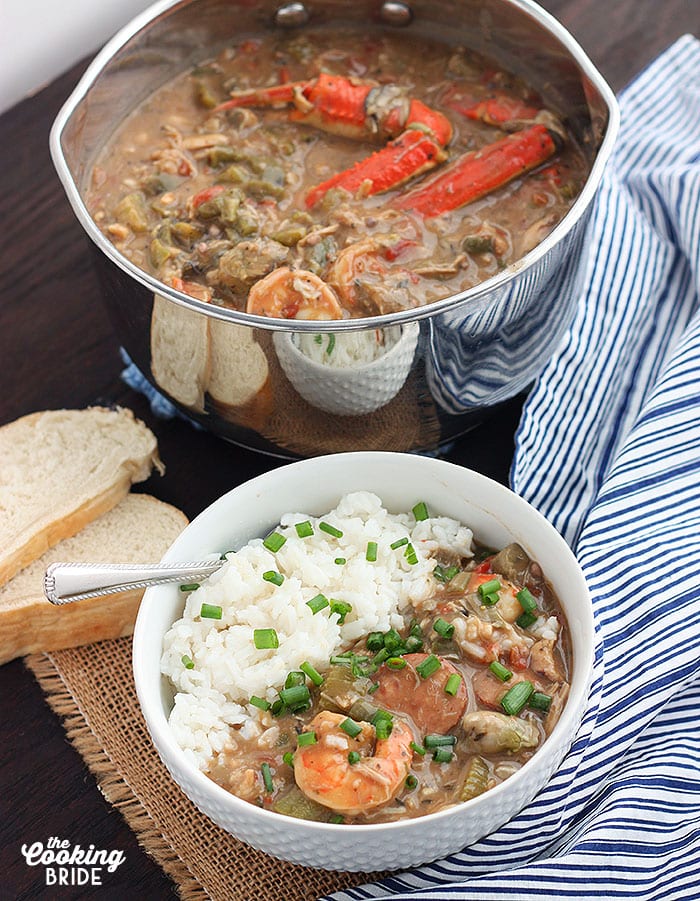 It Starts with a Roux
A roux is a mixture of fat and flour cooked together to form a thickening agent. Every gumbo recipe starts with a roux. But you may see terms such as white roux, blonde roux or brown roux. The longer you cook the roux, the darker it becomes and the less effective it is as a thickening agent. Therefore,  a blonde roux is cooked longer than a white roux. A brown roux is cooked longer than a blonde and a white roux.
A longer cooking time develops a different flavor in each roux. White roux has a light flavor and color and used in cream sauces where thickening is important, such as sausage gravy. As the roux continues to cook, caramelization forms and imparts a nutty flavor. It will still thicken, but not as well as a white roux.
The fat you use in a roux can be anything from cooking oil, bacon grease, shortening, etc. I have eaten a lot of gumbo over the years and I've cooked my fair share as well. Since sharing my recipe for chicken and sausage gumbo, I've discovered that a roux that starts with melted butter rather than oil produces a better flavor.
Tips for Making a Roux
Making a roux can be tricky business if you don't know what you are doing. Here are a few tips to get you going:
Use a heavy bottomed pan. In this case, we're using a stock pot.
Heat your fat first. Then gradually whisk in the flour. I emphasize gradually because you don't want to dump all the flour in at once or it could get lumpy. Add a little flour at a time, then mix it together using a wooden spoon or whisk. Once the mixture is smooth, add a little more and repeat the process.
You're going to need to give the roux your undivided attention for a few minutes. If you walk off, even for just a minute, you could come back to a smoky burnt mess. At that point, there is nothing to do but start over.
Keep stirring! This prevents the roux from burning.
Now We're ready to make gumbo
Every gumbo recipe has to include something called the trinity – onions, bell peppers and celery. You will find that combo in a lot of Cajun an Creole cooking. Once you've achieve a brown roux, add the onions, bell peppers and celery to the pot. Give it a good stir and cook for about six minutes until the vegetables begin to soften. Next, add some diced garlic and cook for another two minutes.
Now we are ready to add some stock. Keeping with the seafood theme, I opted to use homemade shrimp stock. Shrimp stock is just as easy to prepare as chicken stock. Check out my post here on how to make it. It really adds another level of flavor to the gumbo. You can buy seafood stock at the grocery store or you could also use chicken stock.
Slowly add the chicken stock, stirring constantly as you pour, to prevent clumping. I added some traditional sliced andouille sausage (you could also use smoked sausage) and skinned, uncooked chicken thighs. Add a can of diced tomatoes, whole snow crab legs, Worcestershire sauce, cayenne pepper, paprika, oregano, hot sauce, thyme, bay leaves, and salt and pepper.
Bring the gumbo to a boil. The then reduce the heat and simmer, uncovered, for an hour. After an hour, remove the chicken thighs from the pot and set aside to cool. Add in some sliced okra and simmer for another hour.
Once the chicken is cool to touch, go ahead and pull it off the bone and shred it. When you have 15 minutes of cooking time left, add the shredded chicken to the pot along with your seafood. I loaded the pot up with oysters, crab meat, and of course, shrimp. The seafood does not take long to cook, that's why we add it at the very end. Adding it to early could result in overcooking and the seafood will have the texture of rubber (yuck).
Before serving, remove and discard the bay leaves and the crab legs. Also, be sure to have some cooked white rice on hand. I would love to do a blind taste test one day to see how my seafood gumbo compared to Lartigue's. But on a chilly winter's night with no beach vacation in the very near future, I thought this seafood gumbo recipe it was pretty darn good.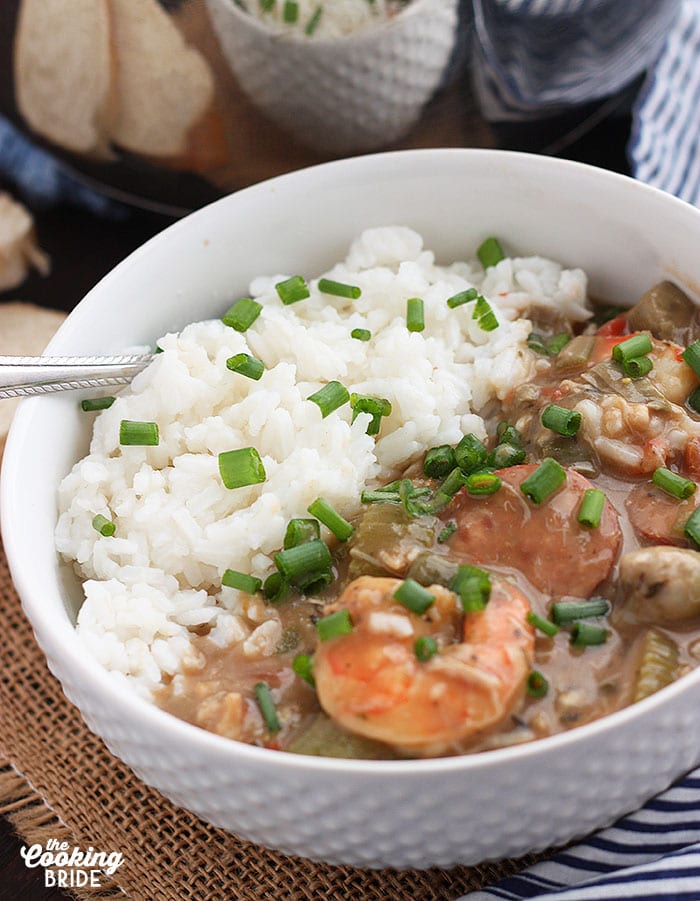 You May Also Be Interested In:
Seafood Shrimp Gumbo
Rich and hearty shrimp gumbo recipe is laden with tender shrimp, crabmeat, oysters and herbs and spices for an authentic Creole flavor.
Ingredients
1

stick unsalted butter

at room temperature

¾

cup

flour

2

cups

yellow onion

diced

1

cup

green pepper

diced

1 ½

cups

celery

diced

7

cloves

garlic

finely diced

2 ½

quarts

shrimp,

seafood or chicken stock*

2

large chicken thighs

skin removed

1

pound

andouille sausage or smoked sausage

cut into ¼ inch rounds

1

(15 ounce) can diced tomatoes

1

bunch crab legs

optional

¼

cup

Worcestershire Sauce

½

teaspoon

cayenne pepper

½

teaspoon

paprika

½

teaspoon

oregano

2

dashes hot sauce

2

tablespoons

chopped thyme

2

bay leaves

salt and freshly ground pepper

2

cups

frozen okra

1

pound

medium shrimp

peeled and deveined

2

cans

(8 ounces) each oysters

1

(8 ounce) can crab claw meat

½

cup

fresh Italian parsley

chopped

½

cup

green onions

chopped
Instructions
Melt butter in a large stock pot over medium-high heat.

Whisk in flour a little at a time until there are no lumps and a thick and creamy roux begins to form. Cook the roux until it turns a light brown color, like the color of caramel. Stir constantly! Be patient and don't let the roux burn. If you burn the roux, you must start over again.

After roux is cooked, add the onions, peppers and celery. Cook for about 6 minutes.

Add the garlic and cook for another 2 minutes.

In a slow, steady stream, whisk in the chicken stock. Whisk constantly to prevent lumps.

Add sausage and chicken to pan.

Add the diced tomatoes, crab legs (if using), Worcestershire sauce, cayenne, paprika, oregano, hot sauce, thyme, bay leaves, and salt and pepper.

Bring gumbo to a boil, uncovered, and then lower the heat to medium low and simmer for an hour.

Remove the chicken thighs and set aside to cool.

Add okra and simmer for another hour.

Shred the chicken meat. Discard the bones.

During the last 15 minutes of cooking, add the shredded chicken meat, shrimp, oysters, crab meat and parsley.

Remove two bay leaves and crab legs before serving.

Serve gumbo over hot, cooked rice. Garnish with green onions
Notes
Recipe for homemade shrimp stock can be found here:
https://cookingbride.com/soups-and-stews/homemade-shrimp-stock-recipe/