Last updated on October 18th, 2023
Get cozy on a cold fall or winter's night with this easy Southern chicken and dumplings recipe straight from the kitchen of a Southern grandma.
This post may contain affiliate links. Click here to learn more about how affiliate links are used on this site.

I was reared on the Southern chicken and dumplings of a lady named Ms. Dot, who was basically the community baby-sitter. After I grew up, years went by and I snubbed my nose at plate after plate of chicken and dumplings because they simply did not match the culinary goodness of what I remember as a kid. That is, until I met Mamaw.
Mamaw is my husband's grandmother and she loves to feed people. She takes offense if you show up at her house not hungry. Back when The Husband was still just The Boyfriend, he decided things were getting serious enough between us to meet Mamaw. When we met, she set a plate of chicken and dumplings down in front of me. I just knew I probably wouldn't like them, but there was no way I was going to break this little old lady's heart by turning down her food. So, I gingerly raised a fork to my lips and took a bite.
Oh glorious rapture in heaven! Finally, someone who knew how to make the Southern chicken and dumplings of my childhood! Shortly after The Husband and I got married, I went to her house with the sole purpose of learning her recipe. Of course, there was no recipe. It was "a little bit of this" and "a little bit of that." I watched, frantically jotted down notes, and listened to her stories of growing up on a farm in south Mississippi. Later, I went home and made it again, this time writing down measurements, cooking times, and adding my own touches.
Make the Dumplings
I prefer my dumplings to be like thick, flat noodles. In order for them to keep their shape an hold up during cooking, they will need to try out for a few hours. I always make the dumplings first, then let them sit out at room temperature to "dry" while I cook the chicken and make the broth.
To make the dumplings, you'll need two cups of self-rising flour, four tablespoons of shortening (like Crisco), and 1/3 cup of ice-cold water in a large mixing bowl. Mix the flour and shortening together, breaking the shortening into smaller pieces, until you have small pea sized pieces of shortening mixed evenly throughout the flour.
Next, stir in 1/3 cup of ice-cold water. Start mixing until the dough comes together and pulls away from the side of the bowl. You may need to add additional water, but do so 1-2 tablespoons at a time to make sure you don't add too much.
Turn the dumpling dough out onto a floured surface like a large cutting board. Knead the dough with your hands 2-3 times. Then flatten the dough out into a disk and start rolling it out until it's about 1/8-inch thick. Then start cutting the dumplings into strips that measure 1-inch wide and about 2-inche long. I find it's easiest to use a pizza cutter to do this, but a sharp knife will also get the job done. Once you've cut the dumplings, set them aside.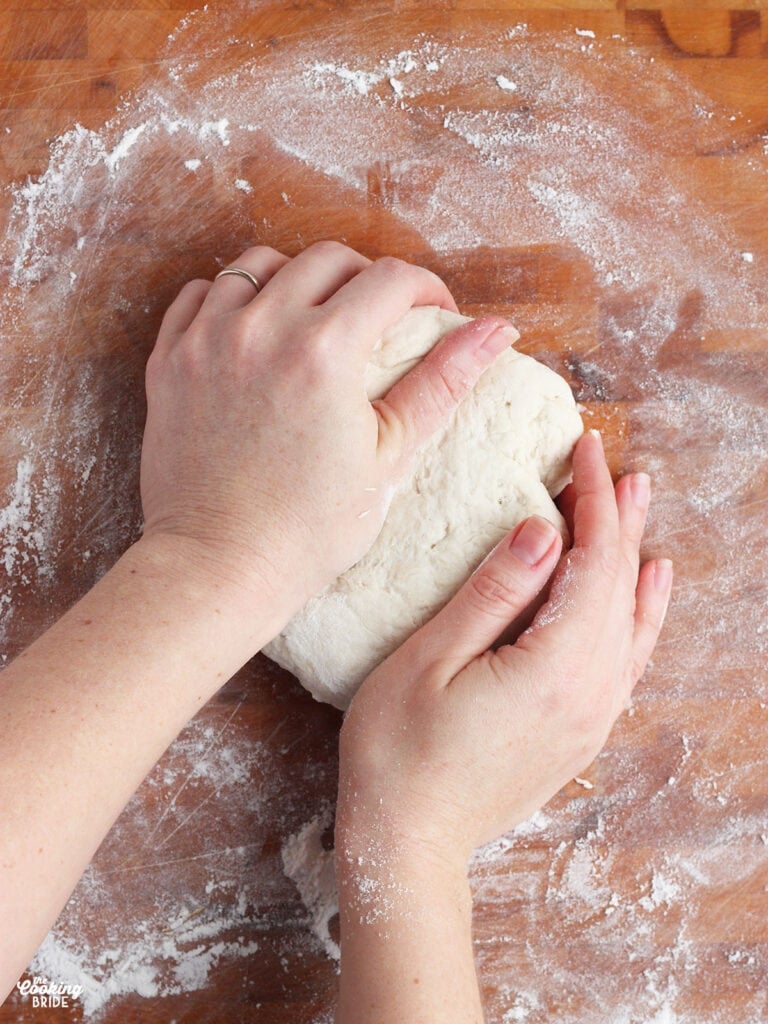 How to Freeze the Dumplings for Later
Uncooked dumplings freeze beautifully! Arrange your cut dumpling in a single layer on a foil lined baking sheet. Place the entire sheet on a flat surface in the freezer and leave them overnight or until the dumplings are frozen solid. Carefully place the frozen dumplings in a large freezer bag, squeeze out the air, seal the bag and place them back in the freezer. The dumplings can be frozen for up to three months.
Make the Chicken Broth
I like to use dark meat chicken, such as chicken thighs, because they have more flavor. Using a sharp knife, I remove and discard the skin from four large chicken thighs. I place them in a stock pot and cover them with eight cups of cold water. Bring the water to a boil, then reduce the heat to low, cover the pot, and simmer for 20-30 minutes until the chicken is cooked through.
Remove the chicken from the water and set aside to cool. Once the chicken is cool enough to touch, remove the meat from the bones and shred it.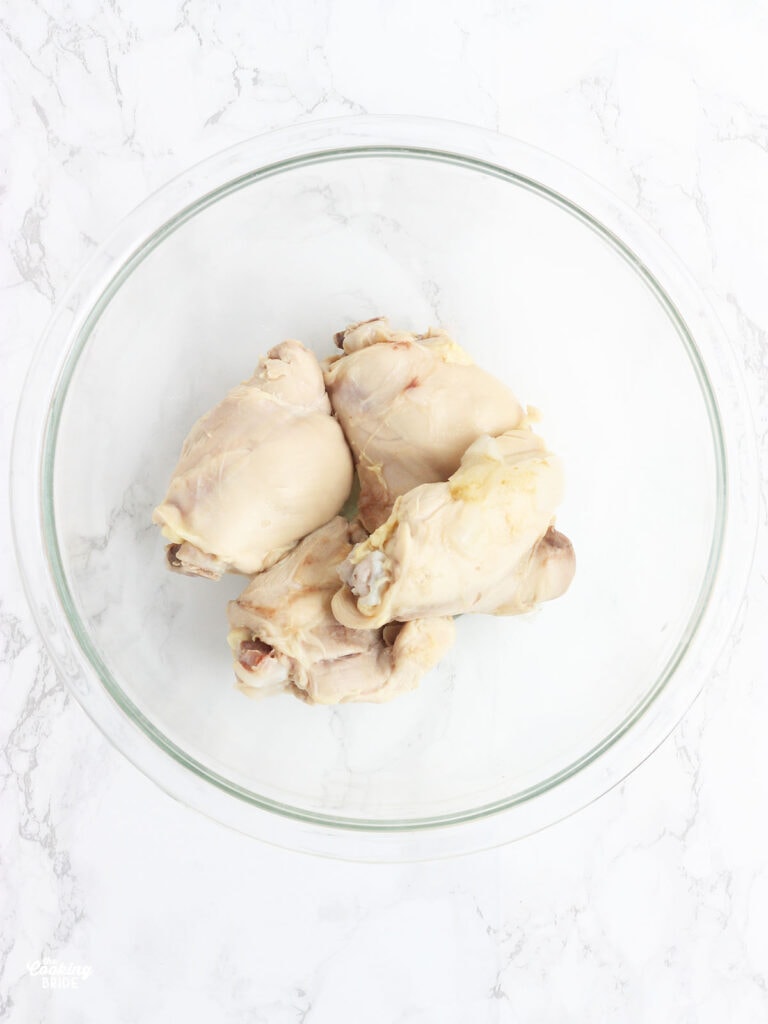 Cook the Dumplings
Bring your broth to a simmer over medium to medium-low heat. Too rapid of a boil will quickly overcook your dumplings, so we want to start out slow. Add the dumplings, one at a time. Allow the dumplings to boil in the broth for five minutes, stirring occasionally.
If you're using previously frozen dumplings, I do find it's better to cook them from their frozen state rather than thawing them. They tend to fall apart if thawed first. Follow the instructions above, but you will have to allow the dumplings to cook for just a little longer.
Add your cooked, shredded chicken to the pot along with one teaspoon of garlic powder. Cook for an additional five minutes until everything is heated through. Remove the pot from the burner and add salt and pepper if to taste. Allow the chicken and dumpling to set for 15 minutes before serving.
How to Reheat Leftover Southern Chicken and Dumplings
Leftover chicken and dumplings should be cooled completely before transferring them to an airtight container with a lid. Consume leftovers within four days. Because the dumplings will continue to soak up all the broth, you will need to add some additional chicken broth to reheat. Simply place the chicken and dumplings in a saucepan, add about one cup of chicken broth, and reheat over medium heat. Feel free to add more chicken broth if needed to reach your desired consistency.
I don't recommend freezing chicken and dumplings once they've been cooked. The texture of the dumplings changes and they become grainy and mushy.
You Might Also Enjoy: