Last updated on May 15th, 2023
Classic, homemade hearty chicken noodle soup from scratch is made with shredded chicken thighs, homemade broth, celery, and carrots.
This post may contain affiliate links. Click here to learn more about how affiliate links are used on this site.

When it comes to food, my kids could not be more different. My oldest is what I would consider picky. My youngest will pretty much eat anything you put in front of him. However, they both agree, out of all the soup recipes I make, this is their favorite (trust me, getting my kids to agree on anything these days is a big deal).
Thankfully, this soup is super easy to prepare. With a little prep, you can even throw this together on a weeknight after work. A big hot bowl is the perfect way to chase away the winter blues on a cold night.
Make the Broth
You will need four cups of cooked, shredded chicken and eight cups of broth to make this recipe. If I've made a roast chicken for dinner earlier in the week, I will save any leftover chicken meat for soup. I always keep homemade chicken broth on hand in my pantry.
But sometimes, I just get a craving for chicken noodle soup and I don't have any leftover chicken to work with. I essentially "kill two birds with one stone" by cooking my chicken meat and making my broth at the same time.
You will need 4-5 pieces of uncooked chicken. I prefer chicken thighs because, in my opinion, they have more flavor. But if you prefer chicken breasts, go right ahead and use them. Place the chicken pieces in a stock pot and cover them with a little more than eight cups of water (because some of it will evaporate during cooking).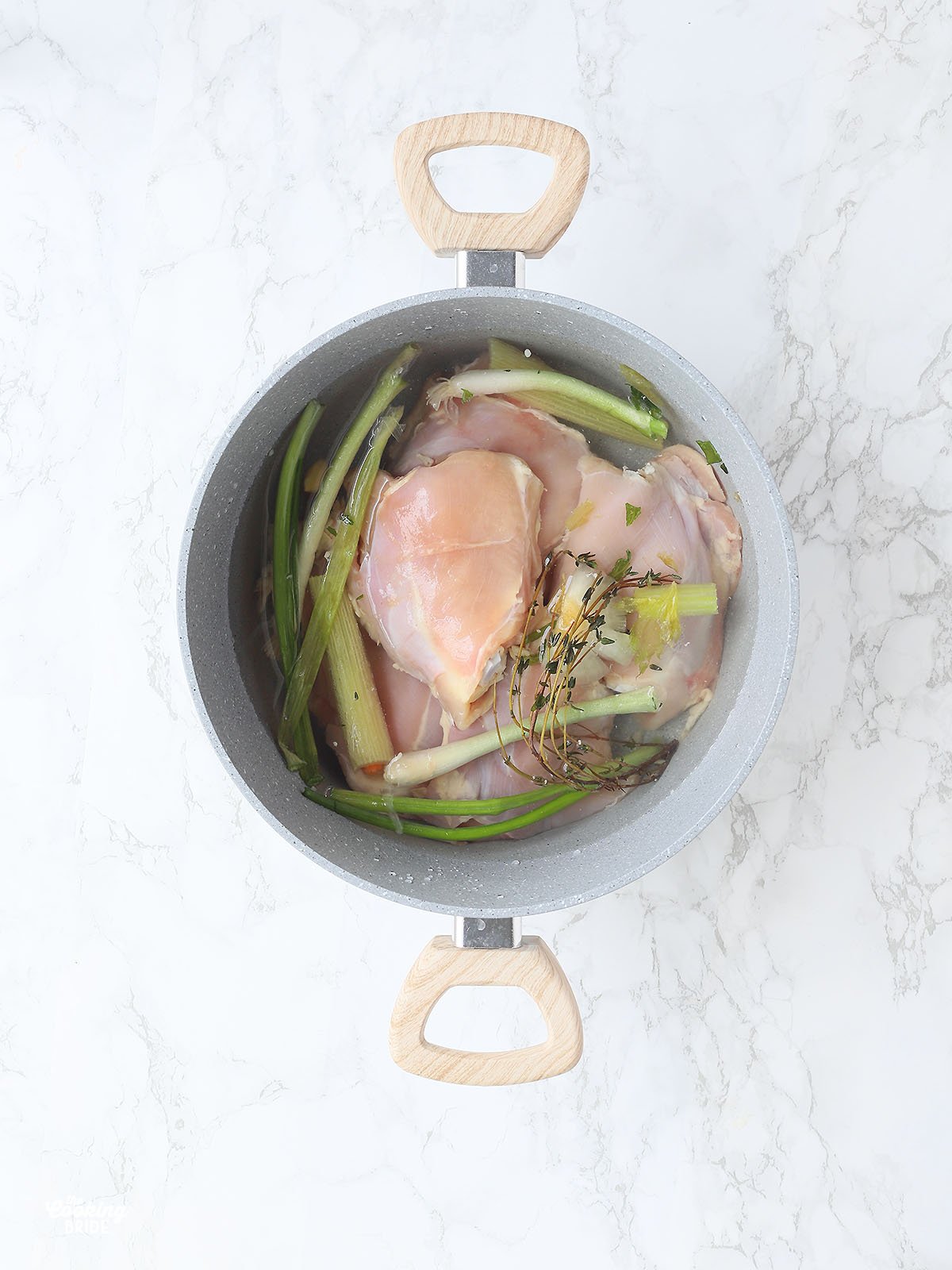 Bring the water to a boil. Then cover the pot, reduce the heat and simmer for 20-30 minutes until the chicken is cooked through. Remove the chicken from the pot and set aside until it is cool enough to touch. Then pull the meat from the bones and shred. If you're short on time during the week, this can be done a day or two ahead of time. Just store the broth and the chicken meat in the fridge until you are ready to use it.
How to Make Homemade Hearty Chicken Noodle Soup
Since we already have our chicken and broth prepared, this soup comes together in no time flat! Bring the broth back to a boil. Add two cups of sliced carrots and cook for three minutes. Then add two cups of sliced celery and cook for 10 minutes.
Add 1/3 cup of cooking sherry and 1 1/2 tablespoons of dried parsley. Add the shredded cooked chicken to the pot and cook for an additional seven minutes until the chicken meat is heated through. Season the soup with salt and pepper to taste.
Why I don't Cook my Noodles in the same pot
Whenever I make chicken noodle soup, or any soup that calls for noodles, I always cook the noodles in a separate pot and add them to the individual bowls right before serving. One, it allows everyone to fix their soup to their preference. My kids and I like all the "stuff" in soup, whereas my husband is the complete opposite. He likes more broth.
Two, noodles tend to absorb all the broth, both during cooking and after. This can be problematic if you have soup you want to store for later as leftovers. When reheating, you'll need to add additional chicken broth to compensate for the broth that was lost. Don't even think about freezing. The process of thawing and reheating completely changes the texture of the noodles, turning them into complete mush.
While the soup is cooking, heat approximately six cups of salted water in a medium saucepan. Add 2 1/2 cups of wide egg noodles, or pasta of your choice, and cook the noodles according to the package directions. Drain the noodles and add them to the individual bowls just before serving.
Storing, Freezing, Canning and Reheating
Storing: Store leftover chicken noodle soup, without the noodles, in an airtight container for up to four days.
Freezing: Transfer leftover chicken noodle soup, without the noodles, in an airtight container. Be sure to leave a few inches of space between the soup and the top of the container to give the soup room to expand as it freezes. Consume within three months.
Likewise, the soup can also be transferred to a freezer bag. Again, leave some room for expansion. Carefully fold the top of the bag down to remove any air, then seal. I like to lay my bags flat on a level surface until they are frozen solid. Once frozen, they can be stacked, which takes up less room. Allow the frozen soup to thaw in the refrigerator overnight.
Canning: This method will require a pressure canner. Transfer leftover chicken noodle soup, without the noodles, into clean glass quart jars. Leave one inch of headspace. Wipe the rims with a clean cloth. Place a lid on the top of each jar and secure with a ring. Process at 10 pounds of pressure for 90 minutes adjusting for altitude, according to your pressure canner's directions.
Allow the canner to cool until the pressure releases. Cool the jars in canner overnight. Remove jars and check the seal after 24 hours. Lid should not flex up and down when center is pressed. Remove the rings before storing. Canned soup will last up to 18 months.
Reheating: Pour the contents of the soup into a medium saucepan, cover and reheat over medium heat. Cook noodles separately according to package directions.
You Might Also Like: