Last updated on March 31st, 2023
Nothing goes better with a steak dinner than twice baked potatoes. With my freezing instructions, you can have twice baked potatoes anytime!
I loooove a good steak and baked potato dinner. While a fluffy baked potato slathered in butter makes my mouth water, a twice baked potato loaded with cheddar, bacon and green onions makes me swoon. When I prepare this recipe, I usually make a lot … way more than we can eat in one meal. That's because they freeze really well, meaning we can have twice baked potatoes any time we want.
The Best Type of Potato to Use for Twice Baked Potatoes
There are so many delicious types of potatoes out there, each with their own texture, taste and skin type. For twice baked potatoes, we want something that will hold up well during the process of baking, scooping out the insides and filling them back in.
For me, a good old Russet potato is the best way to go. They are high in starch and low in moisture, which causes their "meat" to become tender and fluffy once they are baked. The skin of a Russet is also thicker, which means your potato is less likely to fall apart.
Season and Bake the Potatoes
First, preheat the oven to 450° F. I prefer to cook my potatoes at a higher temperature so the skin gets nice and crispy. Next, poke several holes in the outside of the potato. As the potato cooks, steam builds up inside. The holes allow the steam to escape, otherwise the pressure can build up and the potato will rupture like a volcano.
As a kid, I never ate the skin of a potato. That's probably because most people forget to season the outside of the potato. For seasoning, I combine one teaspoon salt, garlic powder and onion powder with ½ teaspoon ground black pepper. Brush the outside of the potato with olive oil, then sprinkle the seasoning over the top, sides and bottom of the potato. Now, the potato skin is my favorite part!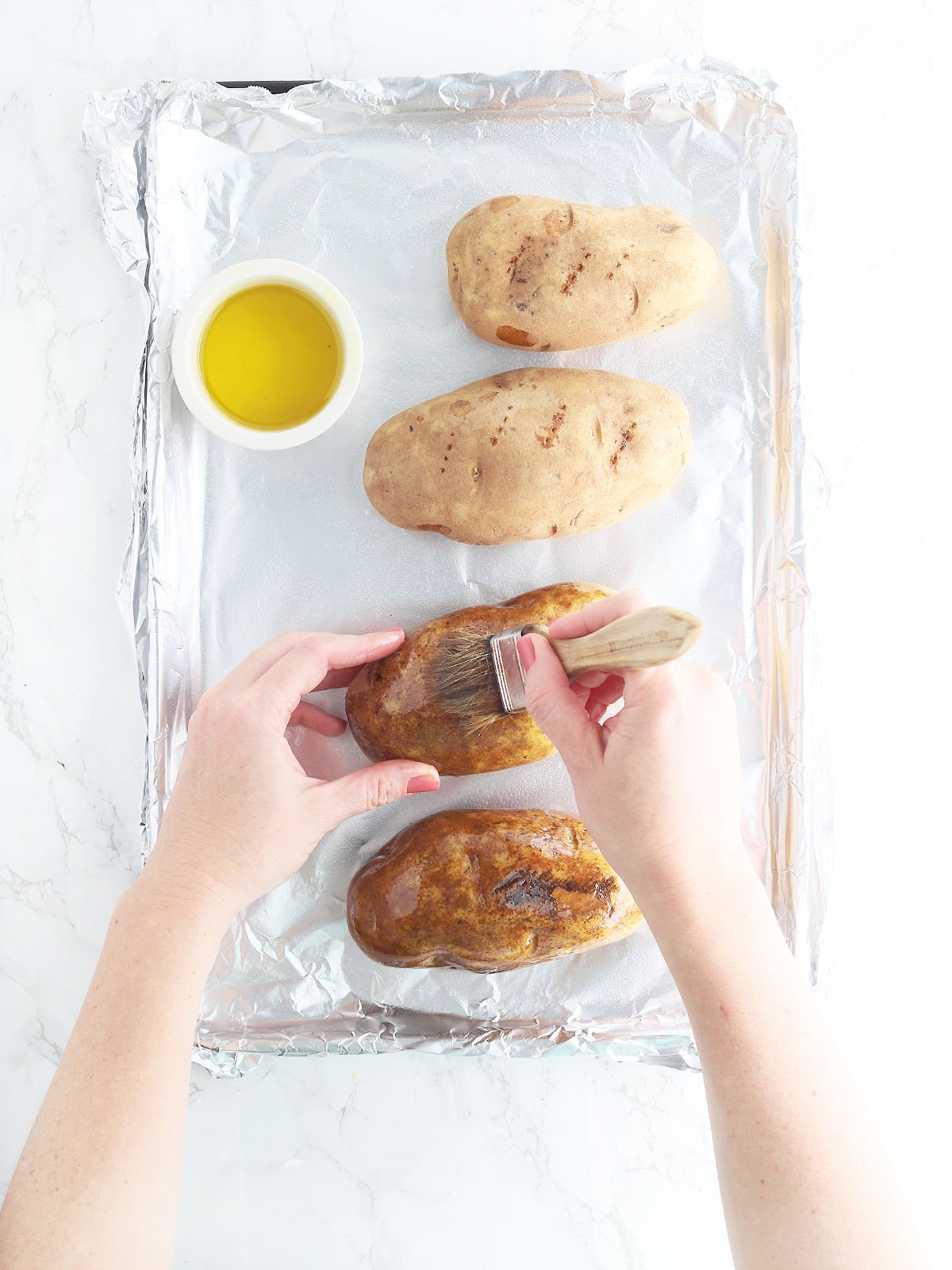 Place the oiled and seasoned potatoes on a foil lined baking sheet and bake for about 35 minutes. We want the potatoes tender enough to cut through, but not quite cooked all the way done. This makes it much easier to scoop out the insides later on.
Scoop out the Insides
Once the potatoes are cooked, set them aside to cool for about 30 minutes. You want them cool enough that you don't end up scalding your fingers, but yet still warm. A warm potato is so much easier to work with than a cold one.
Cut the potatoes in half, then using a large spoon (an ice cream scoop works well too) carefully hollow out the insides of each potato half. However, leave about a ½ inch border so the skins don't fall apart. You are essentially creating a "shell" to spoon the twice baked potato filling back in to.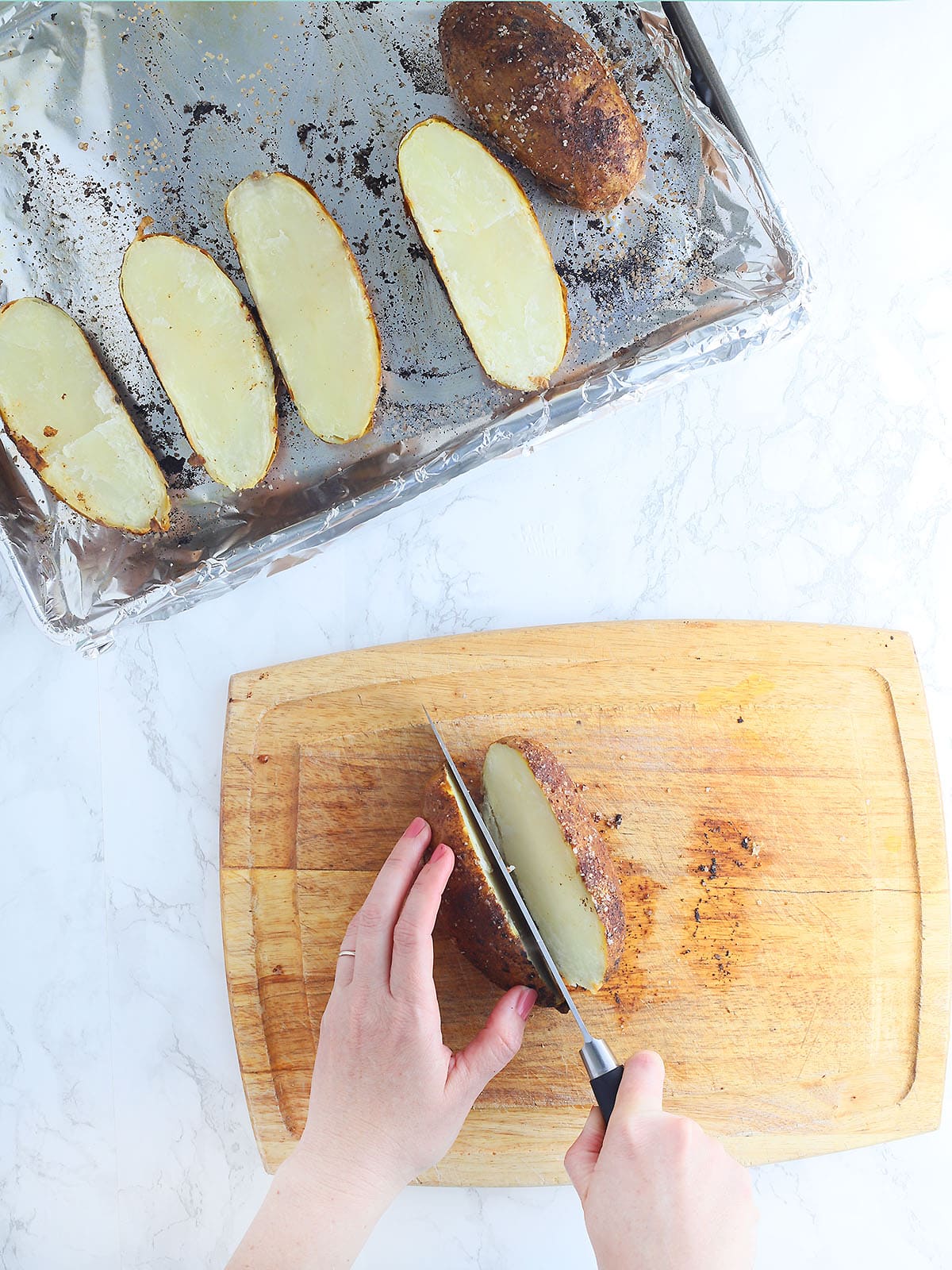 Make the Potato Filling
Next, mash the potato insides you just scooped out. You can use a potato masher or a fork, but I like to give them a quick spin with an electric mixer. Once the potatoes are fluffy and lump free, add ½ cup of milk, ¼ cup of sour cream and two tablespoons of softened unsalted butter. Mix until the ingredients are thoroughly combined.
Of course, we can't stop there. It's not a baked potato without all the fixin's. I also add one cup of shredded cheddar cheese, ¼ cup of bacon bits and ¼ cup of chopped green onions. Give this a mix once again, then taste the filling to gauge how much salt and pepper you need to add.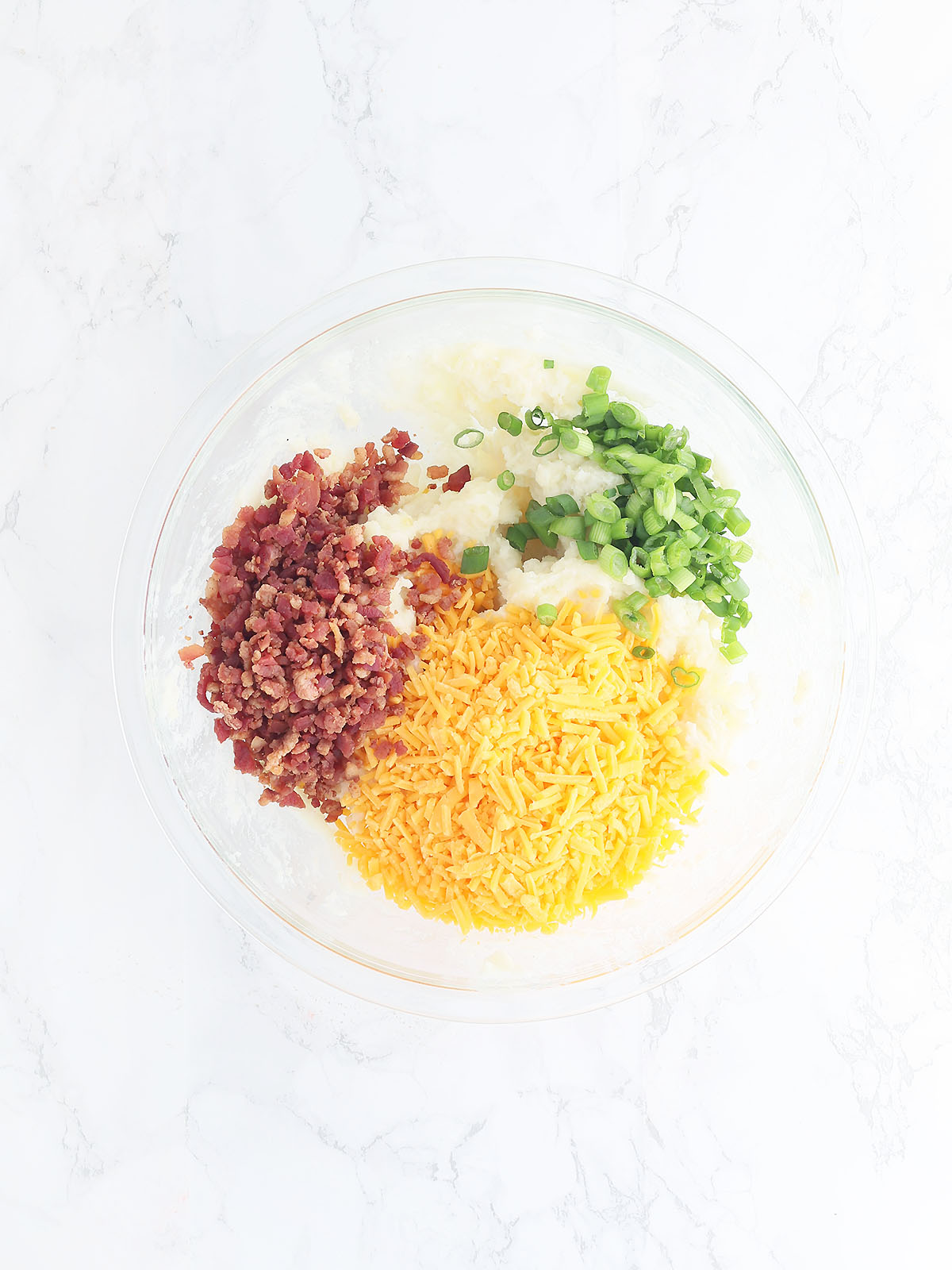 Once you've got the filling seasoned to your liking, start spooning everything in equal amounts back into the hollowed-out potato skins. If you are planning to freeze the potatoes for later, go ahead and wrap the unbaked potatoes in plastic wrap and place them in the freezer.
Bake
If you are going to eat them now, sprinkle the tops with a little bit of additional shredded cheese. Line them up on the same foil lined baking sheet you used earlier and place them back in the oven. Bake the stuffed potatoes for an additional 5-10 minutes until the cheese is melted. The potatoes will be HOT, so you might want to let them rest for a few minutes before diving in (it will be hard, I know).
Storage, Freezing and Reheating
Storage. I recommend storing baked or unbaked twice baked potatoes in an airtight plastic container. If storing unbaked potatoes, wait to add the cheese – it's just going to fall off – until right before baking. Potatoes should be consumed within four days.
Freezing. Baked or unbaked potatoes can be frozen. If the potatoes have not been baked, hold off adding the cheese until you are ready to bake – it's just going to fall off. Wrap the potatoes tightly in a layer of plastic wrap. Once the potatoes are frozen solid, you can toss them all together in a plastic freezer bag so they take up less room or don't get lost in the freezer. You will need to let the potatoes thaw completely before baking or reheating.
Reheating. If you are in a hurry, baked twice baked potatoes can be reheated in the microwave for about 2-3 minutes until heated through. This is not my preferred method, however, because you lose the crispy skin. I like to preheat the oven to 350 degrees, place the potato on a baking sheet, and bake for about 10 minutes until the potato is heated through.
Serve Twice Baked Potatoes With