Last updated on July 12th, 2023
Royal red shrimp are the star of Southern seafood. Serve these royal reds over a bed of tender linguine tossed in spicy garlic butter sauce.
The best shrimp come from the Gulf of Mexico. You will never convince me otherwise. And the best of the best shrimp are royal reds. The Husband and I feel so strongly about this, we love royal red shrimp so much, that we make a point to put aside money every year to purchase as many pounds of royal red shrimp as we can afford during our annual beach trip to the Alabama Gulf Coast. Yes, they are that good.
What are royal red shrimp?
We've already established that royal reds are a type of shrimp. But why are they so sought after and how are they different from the shrimp you purchase at the grocery store? First, they are more difficult to harvest. Shrimp are bottom feeders, living along the ocean floor. Most shrimp live in shallow waters. However, royal reds can only be found in deeper waters ranging from 1,200 – 2,000 feet. Fishermen have to travel farther out to catch them, catching shrimp at that depth is more difficult and hauling them to the surface is risky because the shock of warmer water could kill them before they have a chance to be processed. Because of this, yields are smaller.
Because royal reds are so prized, they aren't shipped out beyond the coastal areas where they are caught. The Mississippi Gulf Coast is only a three-hour drive for me and I can't find them locally. Occasionally, you'll come across some fella who has driven down to the coast, purchased a load and is selling them out of the back of his pickup in a parking lot or along the side of the road (and yes, against my better judgement, I have bought shrimp out of the back of a pickup from a fella along the side of the road). You want them, you have to go get them and usually you have to go to a seafood market to purchase them. In addition to Alabama, royal reds can also be found in coastal towns in Mississippi and Florida.
Royal reds are larger than their shallow water cousins. In fact, they are more closely related to a prawn. Even when raw, their natural color is bright red versus the white or gray color of regular shrimp. And finally, the flavor – the reason we love them so much. Their texture is meaty, almost like a lobster. And their flavor is briny like the sea.
How to Cook Royal Reds
These are not the shrimp you want to fry up for po' boy sandwiches or throw in a pot of gumbo. To do so would be absolute blasphemy. You want to choose a simple recipe that highlights their natural flavor rather than hides it. This simple pasta dish fits the bill perfectly.
I purchase my royal reds head off but shell on. I explain why in addition to providing instructions on how to peel and devein the shrimp in a previous post. Once my shrimp have been cleaned, I arrange them in a single layer on a foil lined baking sheet coated with cooking spray along with several juicy cherry tomatoes, hopefully harvested from my garden.
Drizzle two tablespoons of olive oil over the shrimp and cherry tomatoes, then give them a good stir to coat them with the oil. Then combine 1/2 teaspoon of kosher salt, 1/2 teaspoon of ground black pepper, 1/2 teaspoon of garlic powder and 1/2 teaspoon of Italian seasoning in a small bowl. Sprinkle the seasoning mixture over the top of the shrimp and tomatoes and give it another stir to ensure everything gets seasoned. Place the baking pan in a 375-degree oven and roast them for approximately seven minutes. The shrimp should be opaque and the cherry tomatoes warm and just starting to burst.
Prepare the Linguine
Linguine is a long noodle similar to spaghetti. The difference is, linguine is flat, whereas spaghetti is round. Since we using a light sauce here, I prefer the wider noodle to soak up as much of that garlic butter sauce as we can.
While the shrimp are roasting, bring a large pot of salted water to boil over medium high heat. Once the water is boiling, add one 16-ounce package of linguine. Cook the linguine according to the package directions. Before straining ladle out one cup of water the pasta has cooked in and set it aside. Drain the pasta and return the empty pot back to the burner.
Melt three tablespoons of unsalted butter in the pot. Once the butter is melted, add two cloves of minced garlic and one teaspoon of red pepper flakes. Sauté for one minute. Return the linguine to the pot along with ¼ cup of shredded Parmesan cheese. Toss the pasta until it is coated with the butter and red pepper flakes. Season the pasta with salt and pepper.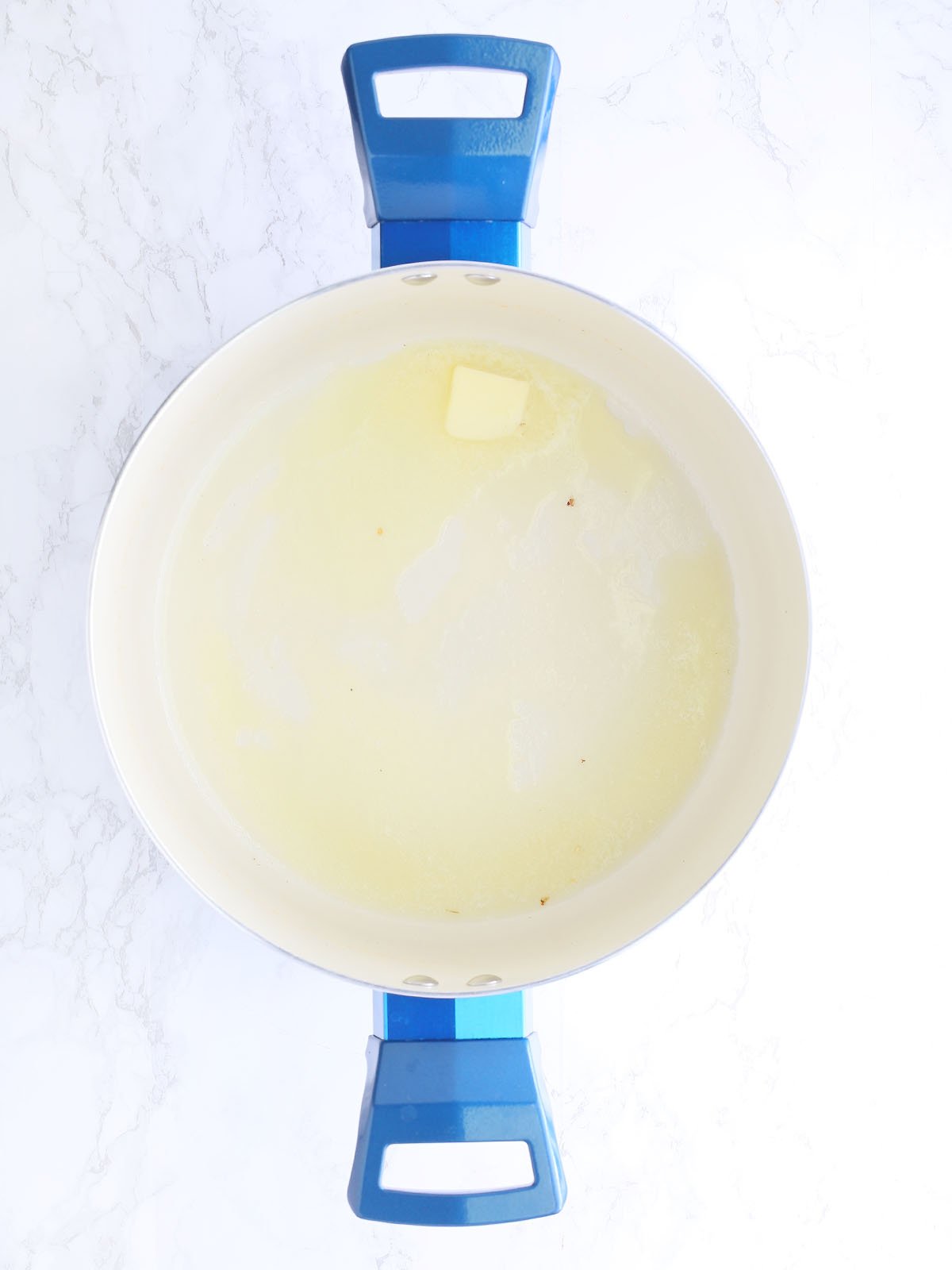 Plate the pasta
To serve, pile even amounts of the linguine on individual plates. Top with the shrimp and cherry tomatoes. Garnish with chopped fresh basil and additional Parmesan cheese if desired.
Reheating
Have leftovers? With a little care, you can reheat this dish. First, store the shrimp and the pasta separately in the fridge in airtight containers. To reheat the pasta, add an ice cube to the container and loosely cover with the lid. Heat in 30-60 second increments until heated through. As the ice melts, it will steam the pasta and prevent it from drying out. If needed, drizzle with a little olive oil.
To reheat the shrimp, preheat the oven to 250 degrees. Arrange the shrimp and tomatoes on a baking sheet and cook until heated through, about 15-20 minutes. Reheating at a lower temperature reheats the shrimp without recooking it and prevents it from becoming tough.
What to serve with Royal Reds over Linguine: