Last updated on April 2nd, 2023
Add sliced okra to these fried cornmeal hoe cakes for a delicious summer treat. They are perfect when topped with homemade comeback sauce.
This post may contain affiliate links. Click here to learn more about how affiliate links are used on this site.

Okra is one of those vegetables that is really common in the South, but most people can only think of a handful of way to prepare it. Fried okra is the most popular preparation. Don't get me wrong … I LOVE me some fried okra. And everybody knows you put okra in your gumbo. But after that, what is there?
Plenty! If you know how to prepare it right, okra is incredibly versatile. I love it in this Roasted Chicken with Okra and Tomatoes. I never make a meat and cheese plate without adding some Pickled Okra to the tray. And now I have one more recipe to add to my arsenal – fried okra hoe cakes.
Hoe Cakes, a staple of the good ol' days
You might have also heard hoe cakes referred to as griddle cakes, fried cornbread or johnny cakes. In its original form, the cakes are nothing more than cornmeal and water. It's rumored Native Americans made these cornmeal cakes on hot rocks. Slaves later adapted the technique by using the blade of a hoe over an open fire (hence the name hoe cakes).
Thankfully, hoe cakes have come a long way since the slave days of water and cornmeal. I replaced the water with tart, creamy buttermilk, added some cayenne pepper for heat and sliced fresh okra for yummy texture. I fried them in a cast iron skillet with a little oil until they are golden brown and crispy on the outside and fluffy on the inside.
How to Make Okra Hoe Cakes
In a medium mixing bowl, combine one cup of self-rising white cornmeal, one cup of all-purpose flour, two teaspoons of baking powder and ¼ teaspoon of cayenne pepper. If you like a little more heat, feel free to add additional cayenne to your liking.
Add 1 ½ cups of buttermilk and two lightly beaten eggs and stir to combine. Then gently fold in one cup of fresh or frozen okra. If using frozen okra, I do recommend letting it thaw and them draining off any excess water first. Keep stirring until the okra is dispersed throughout the batter evenly.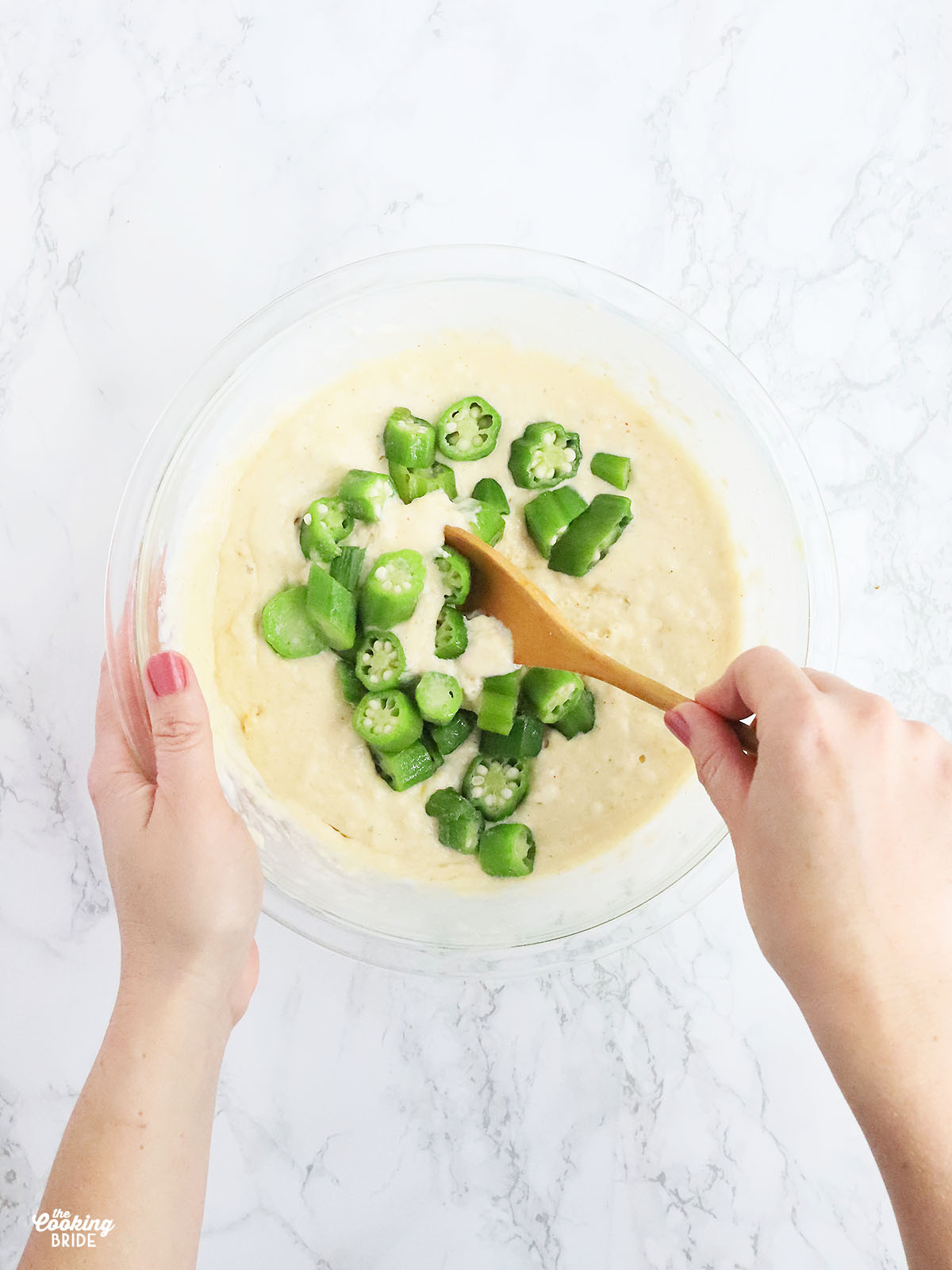 Fill a 10-inch skillet with two inches of vegetable oil. I prefer to use a cast iron skillet when it comes to frying. Heat the oil over medium high heat. Working in batches, scoop 1/4 cup of the batter into the hot oil. The cakes will puff up as they fry, so only add about 3-4 hoe cakes at a time to prevent overcrowding and sticking together.
Cook the cakes for about 2 to 3 minutes until the bottoms are brown and bubbles form on the tops and edges. While it's cooking, carefully spoon some of the hot oil over the top. Turn and cook for an additional 2 to 3 minutes until the other side is golden brown. Remove the cakes to a plate lined with a paper towel to drain the grease. Repeat with the remaining batter.
If you're looking for something to dip the hoe cakes in, I suggest whipping up a batch of Mississippi Comeback Sauce (as shown seen in the pictures) or Homemade Remoulade Sauce.
Storage, Freezing and Reheating
Storage: Once cooled, place the hoe cakes in an airtight container of freezer bag. Store in the refrigerator for up to four days.
Freezing: Cooked hoe cakes can be successfully frozen. To prevent them from sticking together, I suggest laying them out in a single layer on a baking sheet, let them freeze, then transfer them to plastic freezer bag.
Reheating: Okra Hoe Cakes can be reheated from both frozen and thawed. Preheat the oven to 350 degrees. Place the cakes on a lined baking sheet and toast them for about 5-15 minutes. It will take a little longer for them to heat through if they are frozen. If the hoecakes are thawed, you can also toast them again in a little cooking oil over medium heat in a skillet.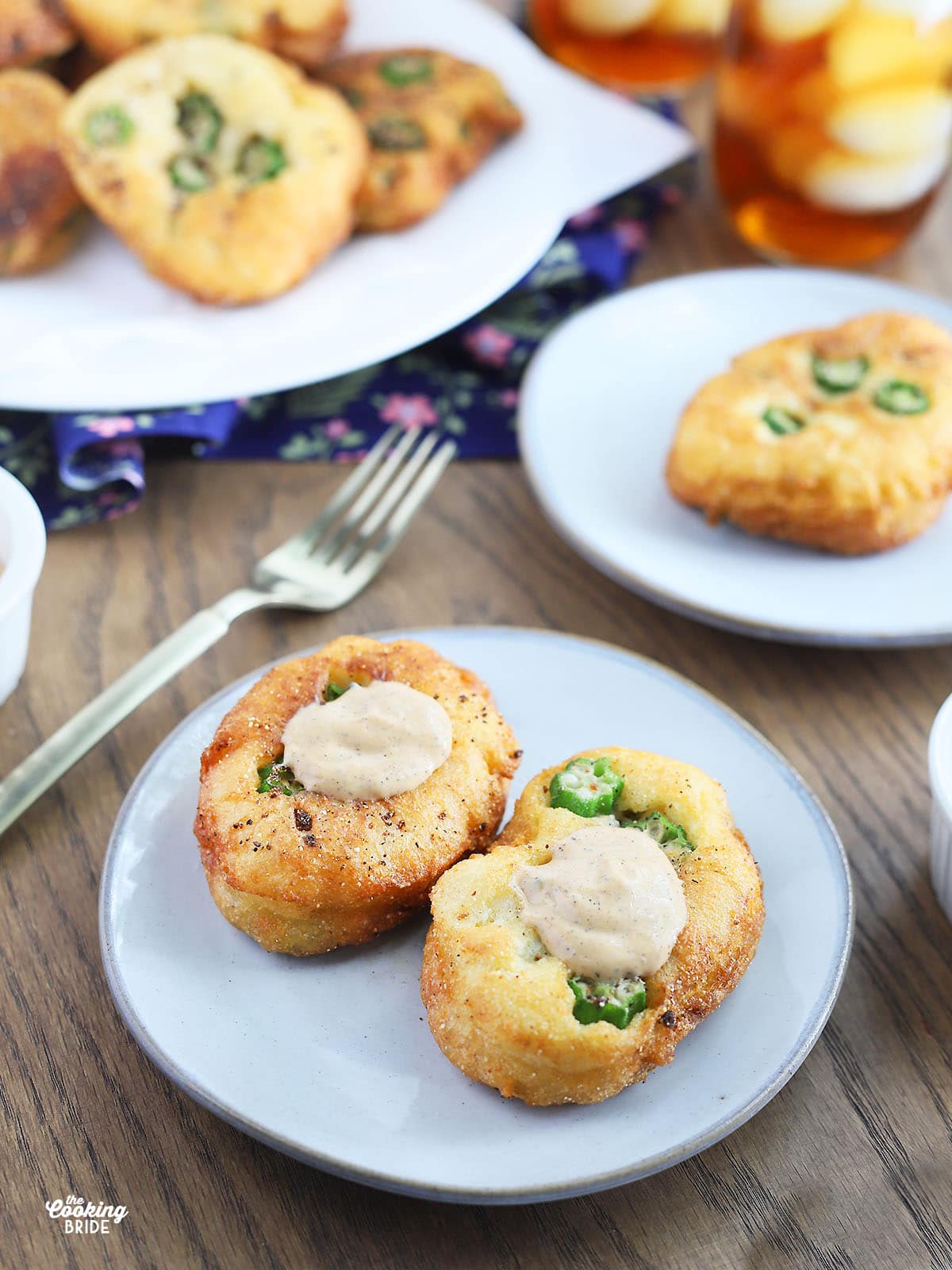 Serve Okra Hoe Cakes With: