Last updated on May 15th, 2023
Homemade shrimp stock and crunchy, spicy croutons make this creamy shrimp bisque a warm and inviting treat on a cold day.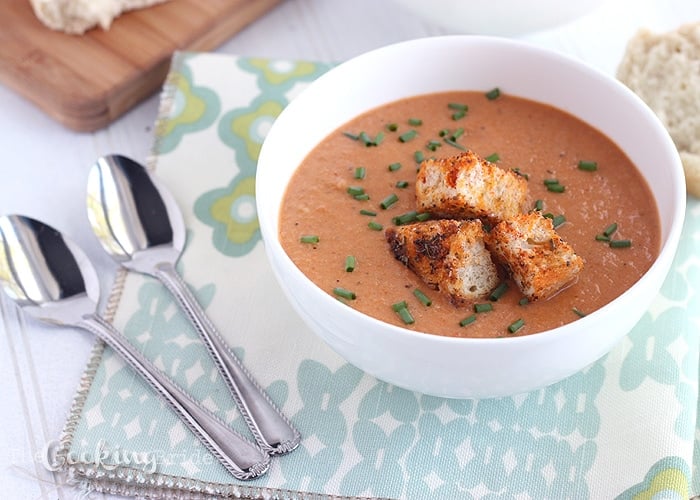 I swear, it seems like every time I make this bisque I rediscover just how good this is.  I mean, in my mind as I'm flipping through the recipe arsenal I remember that every time I've made it that it was good.  But then I go to make it, take a bite and Ohhh!  This is SOOOO good!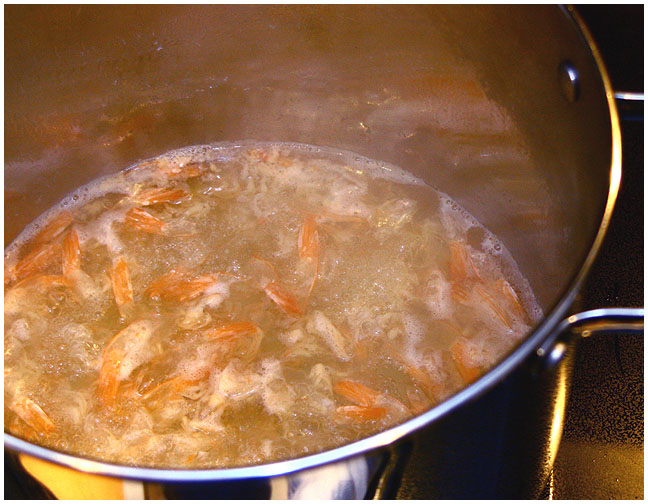 Shrimp bisque sounds fancy and this will surely impress any friends or family members you serve it to.  Go ahead and pretend that it contains a long list of expensive and impossibly hard-to-find ingredients.  I'll never tell that you used the cheapest bag of frozen shrimp you could find (that still had shells on of course).  That's what I did.  Seriously, you are just going to pulverize the shrimp into paste anyway.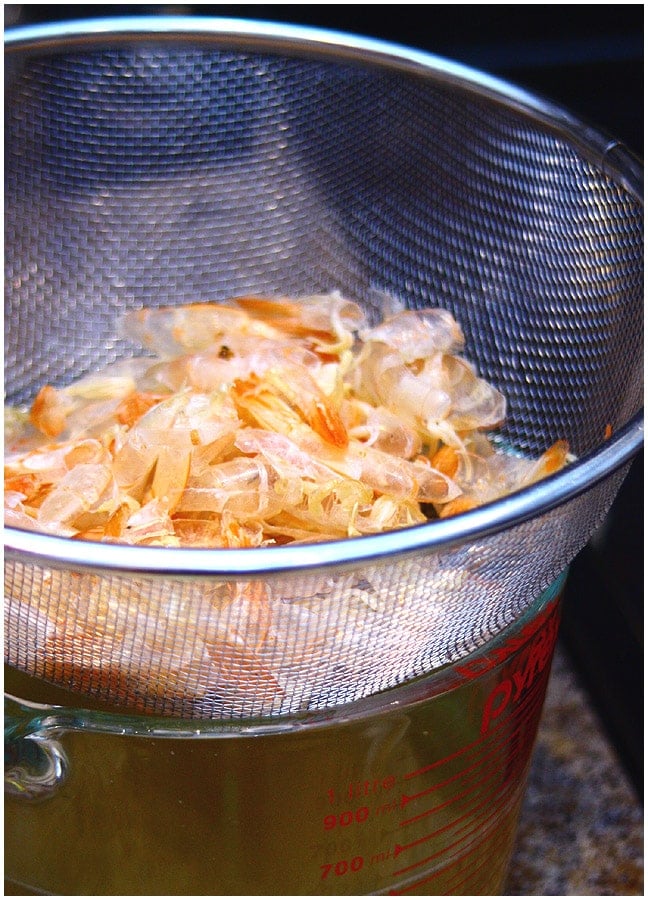 If your household is not a big consumer of Cognac, you could leave it out.  But I would strongly recommend that you leave it in.  We aren't big Cognac drinkers either.  The first two times I made this recipe I left it out simply because we didn't have any in the house.  Then awhile back my husband watched the episode of "Three Sheets" on the Travel Channel where Zane Lamprey actually travels to Cognac, France, and decided he needed to become a Cognac drinker.  It wasn't to his liking and we've had a bottle sitting in the liquor cabinet ever since.  It really does bring out a whole new flavor to the bisque that wasn't there before.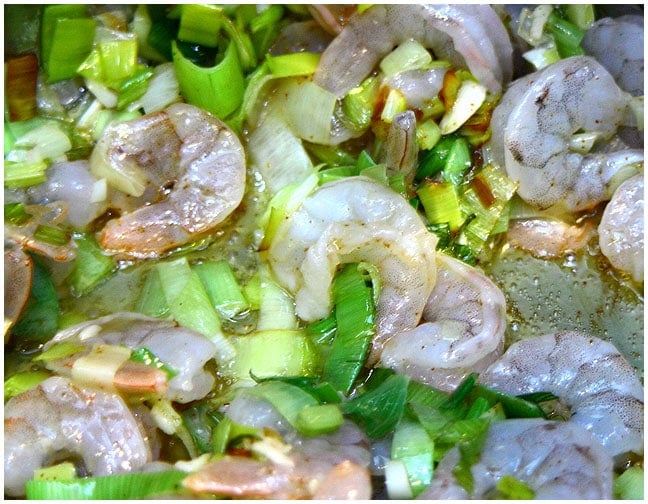 The croutons were sort of an afterthought.  I had some stale homemade bread lying around and decided instead of throwing it out I would make croutons.  I had to guess on the measurements because I really just sprinkled until I thought they tasted good and then toasted them in the oven.
One last thing, this bisque is super filling.  As some of you avid readers know, I occasionally refer to the love of my life as "the carnivore husband."  Sunday night after eating a very large bowl, he was so full he even turned down chocolate cake.  Enough said.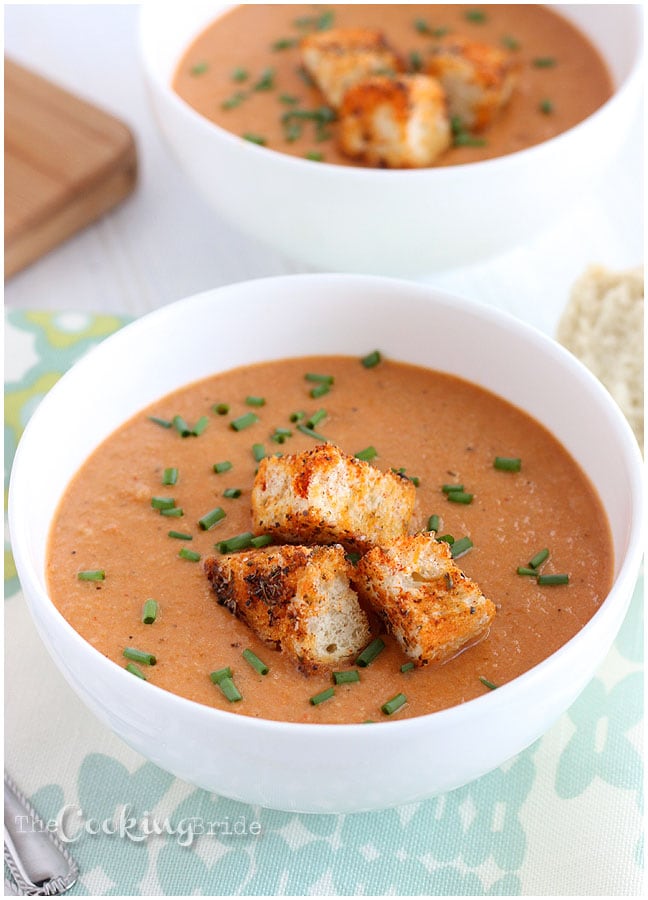 Shrimp Bisque with Spicy Croutons
Homemade shrimp stock and crunchy, spicy croutons make this creamy shrimp bisque a warm and inviting treat on a cold day.

Ingredients
For the bisque:

1

pound

shrimp

shells on

4

cups

chicken stock

3

tablespoons

olive oil

2

leeks

white and light green parts, chopped

3

cloves

garlic

coarsely chopped

Pinch

cayenne pepper

1/4

cup

Cognac or brandy

1/4

cup

dry sherry

4

tablespoons

unsalted butter

1/4

cup

all-purpose flour

2

cups

heavy cream

1/3

cup

tomato paste

2

teaspoons

kosher salt

1

teaspoon

freshly ground black pepper

For the croutons:

2

cups

stale bread

sliced into cubes

3

tablespoons

olive oil

1

tablespoon

salt

1

tablespoon

Italian seasoning

1

tablespoon

paprika

1/4

tablespoon

cayenne pepper
Instructions
For the bisque:

Peel and devein shrimp, reserving shells.

Place the shrimp shells and chicken stock in a large stockpot. Bring to a boil. Reduce heat and simmer for 15 minutes.

Strain and reserve the stock. Add enough water to make 3 3/4 cups. Discard shells.

Heat the olive oil in the same stock pot.

Add the leeks and cook for 10 minutes over medium-low heat until the leeks are tender but not browned.

Add the garlic and cook 1 more minute.

Add the cayenne pepper and shrimp and cook over medium to low heat for 3 minutes, stirring occasionally.

Add the Cognac and cook for 1 minute, then the sherry and cook for 3 minutes longer.

Transfer the shrimp and leeks to a food processor or blender and process until coarsely pureed. If using a blender, you may need to add a small amount of stock for a smoother puree.

Wipe out pot and return to burner. Melt the butter.

Add the flour and cook over medium-low heat for 1 minute, stirring with a wooden spoon. Gradually add the heavy cream and cook, stirring with a whisk, until thickened, about 3 minutes.

Stir in the pureed shrimp, the stock, tomato paste, salt, and pepper and heat gently until hot but not boiling. Season, to taste, and serve hot.

For the croutons:

Preheat oven to 350 degrees.

Arrange bread cubes in a single layer on a baking sheet. Drizzle with half of the olive oil. Stir bread cubes and drizzle with the other half of the oil.

Combine spices. Sprinkle one side of the cubes, stir, and sprinkle cubes with the remaining spices.

Bake for 15 minutes. Stir croutons, and bake for an additional 15 minutes or until croutons are toasted and dry.

Allow croutons to cool. Store in an airtight container.