Last updated on August 29th, 2022
Get out of the chicken rut. Honey Balsamic Glazed Chicken is salty and sweet, crispy and sticky, and ready in 30 minutes.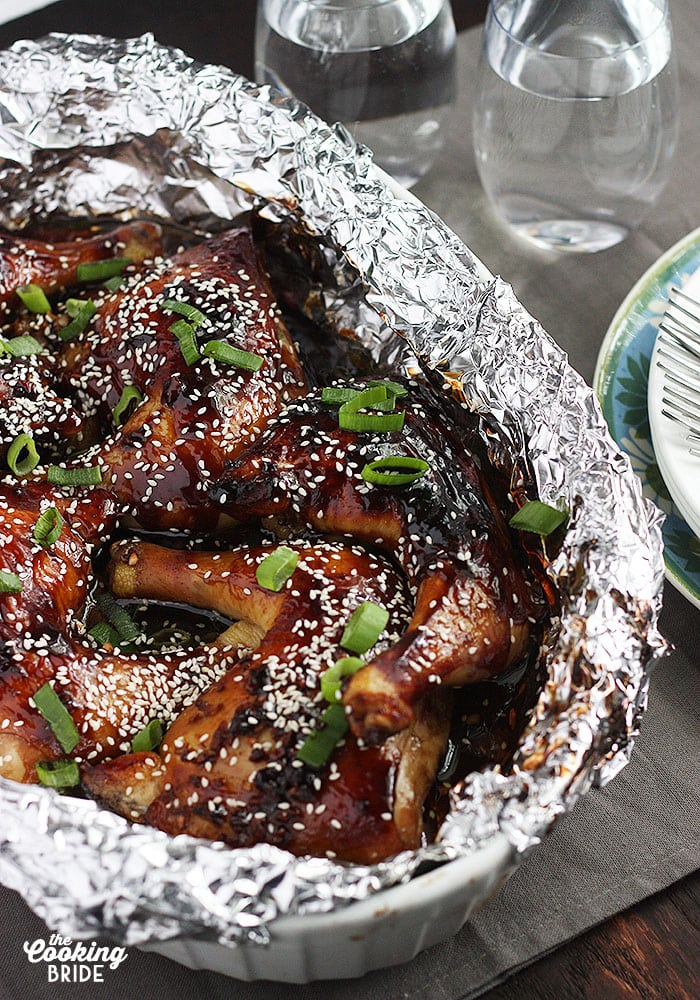 This post may contain affiliate links. Click here to learn more about how affiliate links are used on this site.
Chicken is one of the most versatile meats to prepare. But have you noticed how easy it is to get in a rut? Honey Balsamic Glazed Chicken is one of those recipes that will please everyone at the table. It's a combination of sweet and salty, crispy and sticky. Better yet, it's easy enough to prepare for a busy weeknight meal.
What Cut of Chicken Should I use?
I prefer chicken quarters or chicken thighs. They are dark meat and folks just assume that dark meat = unhealthy. That simply is not the case. The truth is, chicken thighs, quarters, and breasts are all good sources of lean protein. However, thigh and quarters have so much more flavor and aren't prone to dry out like chicken breasts. You could remove skin if you really want to, but that crispy golden delicious skin isn't as bad for us as we have been lead to believe. It's unsaturated fat (the good kind!) which can  lower both your blood pressure as well as bad cholesterol. I say leave it on!
How to Make Honey Balsamic Glazed Chicken
This chicken needs to marinate for at least two hours. However, you can mix up your ingredients in the morning and let your chicken to marinate in the fridge while you are work. I recommend whipping up the marinade the night before, that way all you have to do it dump and go the next day.
Once your oven is preheated to 450 degrees, place the chicken on a greased foil lined baking sheet. You can also line a casserole dish with foil. I strongly recommend this since the chicken marinade is sticky and you don't want to be cleaning your casserole dish with a jack hammer later on.
Arrange the chicken in a single layer on your pan or casserole dish. But, don't toss that marinade! While your chicken is baking in the oven, bring the marinade to a boil. This will kill off any bacteria that could make you sick. Once you've boiled it over medium heat for about 10-15 minutes, add a little cornstarch to thicken it up and slather that stuff on after the chicken has come out of the oven.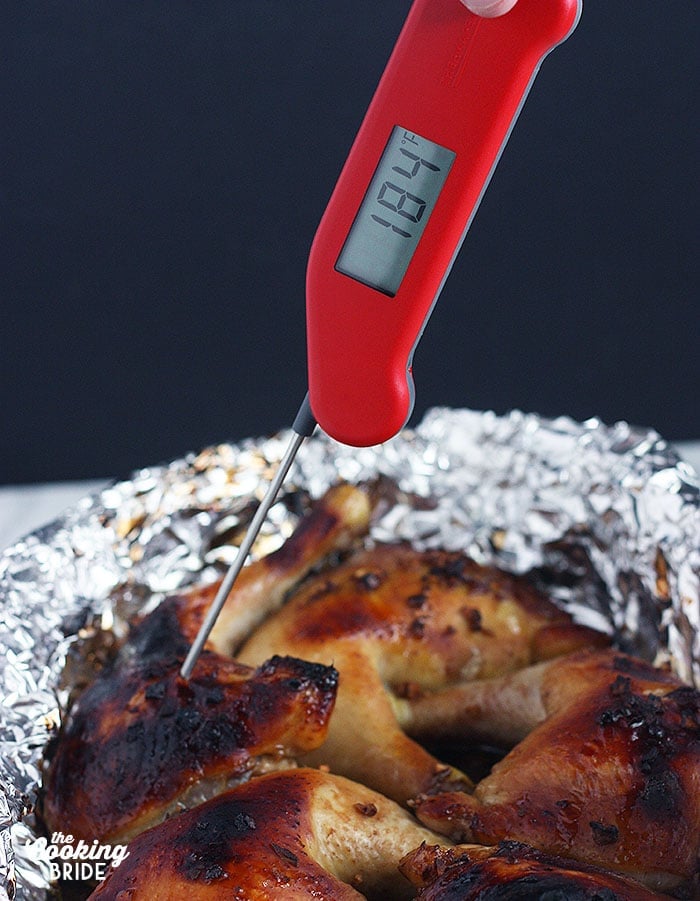 Optimum internal temperature for chicken around 180 degrees. A good meat thermometer will ensure your chicken is cooked through and safe to eat. The Thermapen Mk4 is my personal fave when it comes to meat thermometers.  I recommend taking it out of the oven when it is about 10 degrees away from being done.
Let your chicken rest for about 15 minutes before serving — your internal temperature will continue to rise as your chicken rests. While cooking, all those juices rise to the surface. Letting your meat rest before cutting into it gives those juices time to seep back into the meat, meaning you have a juicy, flavorful piece of chicken and not a piece of chicken that's bone dry,
If you are in the grilling mood, this recipe adapts well to the grill. Before serving, I like to sprinkle my Honey Balsamic Glazed Chicken with some sesame seeds and sliced green onions before serving. This is great served with hot cooked white rice.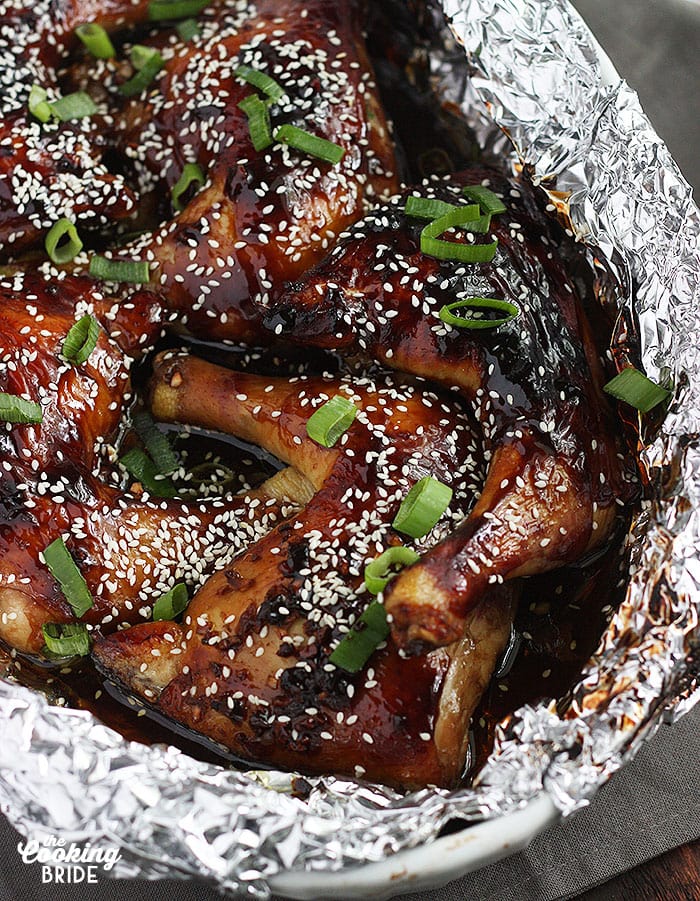 Honey Balsamic Glazed Chicken
Get out of the chicken rut. Honey Balsamic Glazed Chicken is salty and sweet, crispy and sticky, and ready in 30 minutes.
Ingredients
1/2

cup

balsamic vinegar

1/2

cup

honey

1/2

cup

brown sugar

1/4

cup

soy sauce

5

garlic cloves halved

6

chicken quarters

1

tablespoon

cornstarch

2

tablespoons

sesame seeds optional

1

green onion sliced optional
Instructions
Combine the vinegar, honey, brown sugar, soy sauce in a large bowl. Whisk until honey has dissolved.

Pour mixture into a large resealable plastic bag. Add garlic cloves.

Add the chicken and seal the bag with as little air as possible in the bag. Marinate in the refrigerator for two hours.

Preheat the oven to 450 degrees F.

Place the chicken on a greased foil-lined baking sheet or casserole dish. Reserve marinade.

Bake until the chicken skin is caramelized and slightly crispy, about 30 to 35 minutes.

In the meantime, place the marinade in a small saucepan. Bring to a boil. Reduce heat to medium low and simmer for 15 minutes. This will help thicken the sauce and kill any bacteria that can cause food poisoning.

Add cornstarch, 1 teaspoon as a time, until sauce reaches desired thickness. The sauce will continue to thicken once removed from the heat.

Remove chicken from the oven. Brush on sauce. Sprinkle with sesame seeds.