Last updated on September 9th, 2023
Cheesy chicken spaghetti with Rotel is classic comfort food. Pasta is tossed with shredded chicken, cheese and Rotel tomatoes then baked until melted.
This post may contain affiliate links. Click here to learn more about how affiliate links are used on this site.
Chicken spaghetti is one of those simple comfort food dishes that frequently shows up at church potlucks or a family get together. And for good reason — it's super simple to prepare, economical, easily feeds a crowd and tastes delicious.
When I decided to post a chicken spaghetti recipe, I knew without a doubt who I needed to ask – The Husband's Aunt J. He swears her chicken spaghetti recipe with rotel is the end all beat all. Loaded with creamy, cheesy goodness, I kinda have to agree.
How to Make Chicken Spaghetti with Rotel
Boil the chicken
Typically, chicken thighs are my go-to cut. However, the day I went shopping for this recipe, bone-in split chicken breasts were on sale for $.99 a pound. It was a no brainer!
Start by bringing a large stock pot of water to a boil over high heat. Add one teaspoon of salt to the water to help season the chicken meat while it cooks. Remove the skin and as much fat as you can from the chicken. Add the chicken to the pot, reduce the heat to medium and boil the chicken for 20 minutes until the meat is cooked through.
Using tongs or a large slotted spoon, remove the chicken from the pot, but don't drain the water just yet. Set the chicken aside to cool. Once it has cooled enough to handle, shred it into smaller, bite-sized pieces.
Cook the Spaghetti
Add one more teaspoon of salt to the cooking water and allow it to come to a boil once again. Then toss in your spaghetti noodles. Cooking your chicken and spaghetti in the same water allows the noodles to absorb some of the chicken flavor from the broth, adding and extra level of flavor.
Cook the noodles according to package directions, about seven minutes until it is cooked through but still a little firm. Before draining your pasta, ladle out one cup of the cooking water and set it aside. Drain the pasta.
Saute the Vegetables
Take that same pan and melt one stick of unsalted butter over medium heat. Add one large diced onion and one large diced green bell pepper and sauté until the vegetables are tender, about 5-7 minutes.
You will only need half of one 16-ounce brick of Velveeta cheese for this recipe. Take that half and cut it into smaller pieces. Add the pieces to the pot with the vegetables along with one 15-ounce can of Rotel tomatoes. I used mild tomatoes for my kids, but if you like a little heat, by all means use the original or hot versions. Don't bother draining the tomatoes. Just dump it all right in.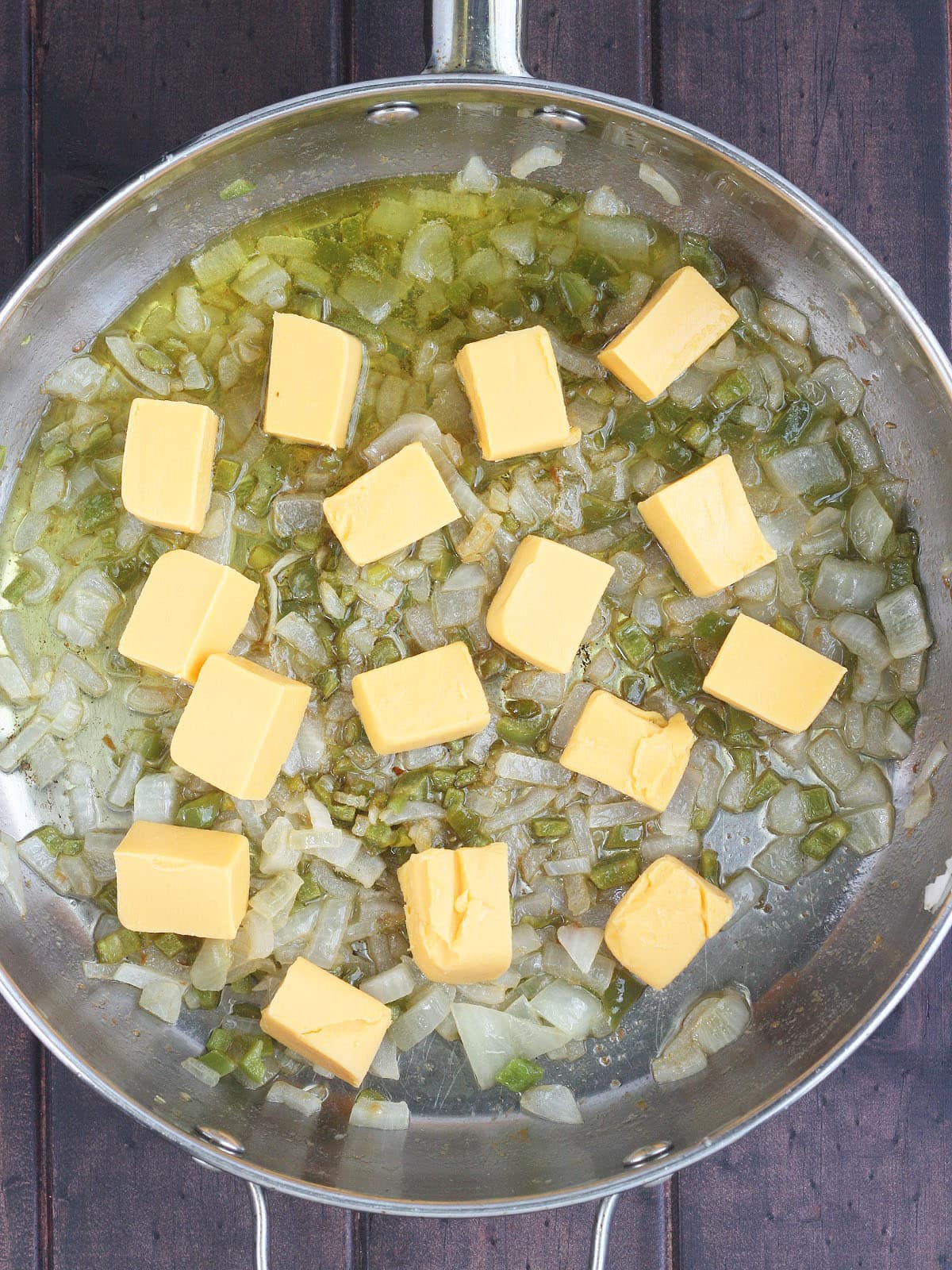 Assemble the casserole
Add the cooked spaghetti and shredded chicken to the pot and stir until everything is combined and evenly incorporated throughout. Use some of the reserved cooking broth from earlier to thin things out a little of the mixture seems too thick. Pour the spaghetti mixture into one 9 x 13 x 2-inch casserole dish or two 8 x 8-inch casserole dishes. Top the chicken spaghetti casserole with ½-cup of shredded cheddar cheese.
Preheat the oven to 350 degrees. Bake for 20-30 minutes until the casserole is cooked through and the cheese is melted over the top.
How to Reheat Chicken Spaghetti with Rotel
Leftover cooked chicken spaghetti should be refrigerated within two hours. It can be stored in the refrigerator for up to five days. Individual portions can be reheated in the microwave for 1- ½ minutes, depending on your altitude and microwave model. If you are reheating a large portion, cover the casserole dish with foil to prevent the chicken spaghetti from drying out and bake in a 350 degree oven for 15-20 minutes until heated through.
Can chicken spaghetti be frozen?
One of the great aspects of this recipe is that it can be doubled or tripled without a lot of added cost, then frozen! I recommend investing in some aluminum casserole dishes so you're not tying up your good dishes in the freezer.
Cover the uncooked chicken spaghetti with a layer of aluminum foil. So you don't have to hunt for the recipe later, write the oven temp and cooking directions on the top of the foil with a Sharpie. Chicken spaghetti with Rotel can be frozen for up for six months.
What to serve with Chicken Spaghetti
Did you enjoy this recipe? Leave a 5-star rating and a comment!