Last updated on May 20th, 2020
Nothing compares to the flavor of homemade whipped cream. With only two ingredients, you can make homemade whipped cream yourself in minutes!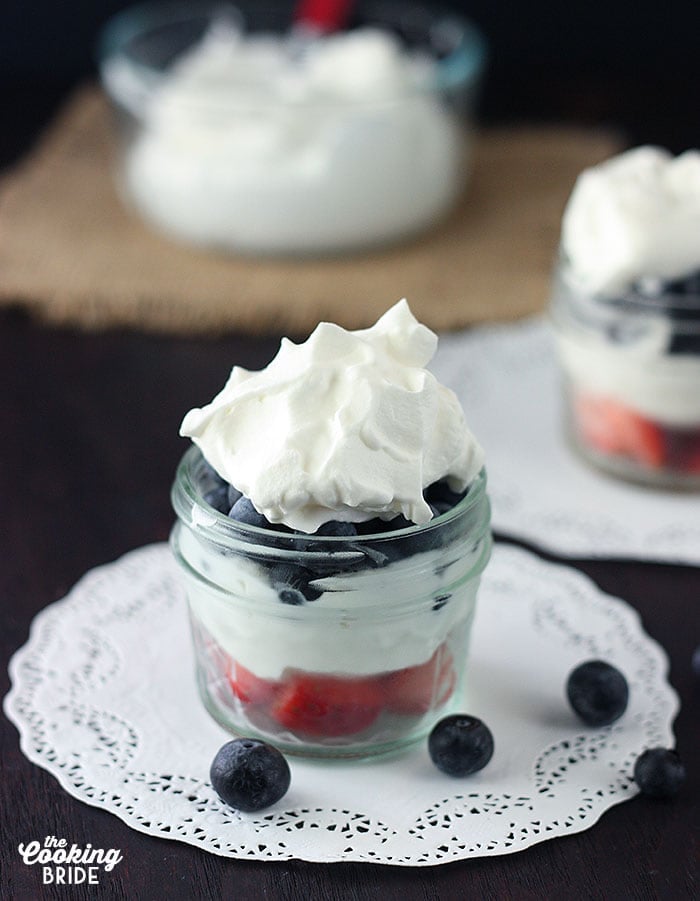 Admit it, sometimes the best part of a dessert is the big pile of whipped cream on the top. Am I right?
More than once I have been guilty of reaching into the freezer at my grocery store and pulling out a plastic tub of "whipped topping." It's just easy. But have you ever taken a real whipped cream vs. whipped topping taste test?
What is the difference between whipped cream and whipped topping?
Do you remember that commercial where a woman sits down at a lunch counter, orders a slice of pie and the waitress asks her, "Oil or cream?"
Oil or cream?
Turn over that tub of whipped topping and look at the ingredients. You'll see water, hydrogenated vegetable oil, high fructose corn syrup, corn syrup … then we finally see skim milk, light cream and a whole bunch of stuff I can't even pronounce.
Redi Whip does at least list milk and cream as its first two ingredients, but even it has a bunch of other questionable ingredients.
Do you know what is in this homemade whipped cream? Heavy whipping cream and sugar. Yep, that's it.
Besides simplifying the ingredient list, real whipped cream just tastes better. I dare you to compare whipped topping and whipped cream side by side. You can absolutely taste the difference. Real whipped cream has a richer, sweeter flavor than whipped topping.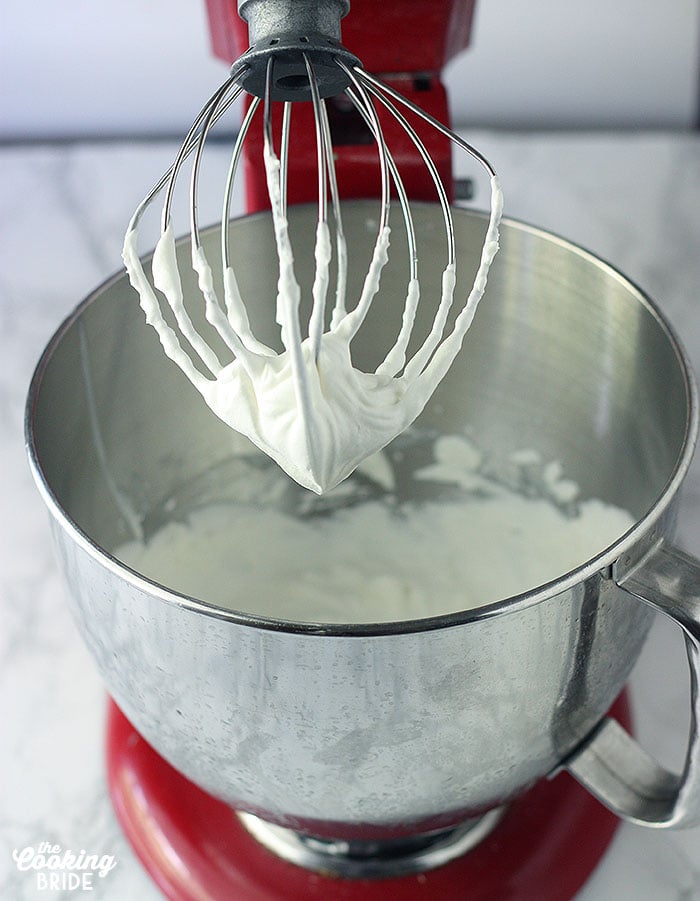 How to Make Homemade Whipped Cream
Just chill. If you caught my post on how to make meringue, my one of my tips was to start with room temperature ingredients. Whipped cream is the exact opposite. You want everything SUPER COLD. Chilled cream allows air to be incorporate as it whips, which gives it that fluffy consistency. I even go so far as to place my bowl and beater in the freezer about 30 minutes ahead of time.
The good kind of fat. Fat content is key here. You want to look for heavy cream or heavy whipping cream. Other types of milk, such as half and half or whole milk won't whip up properly.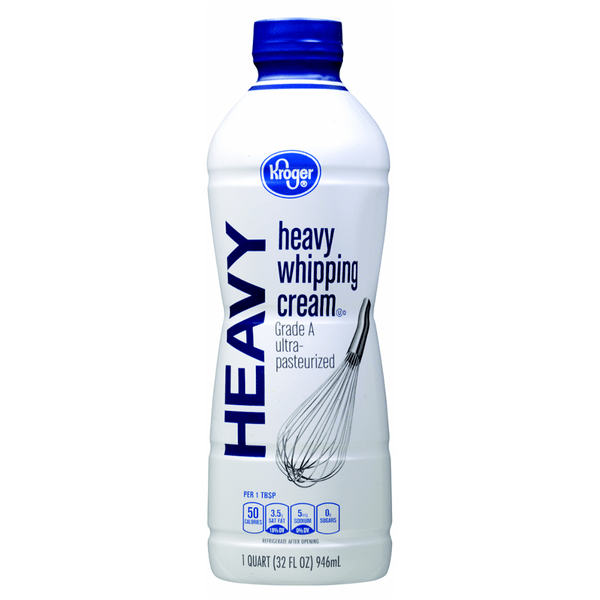 Gimme some sugar. Plain old white granulated sugar is fine, but I prefer using powdered (aka confectioners') sugar. It's more fine that granulated, so it dissolves easier. You don't have to worry about gritty whipped cream from undissolved sugar. Powdered sugar also has a little cornstarch in it that helps keep the whipped cream stable as it whips.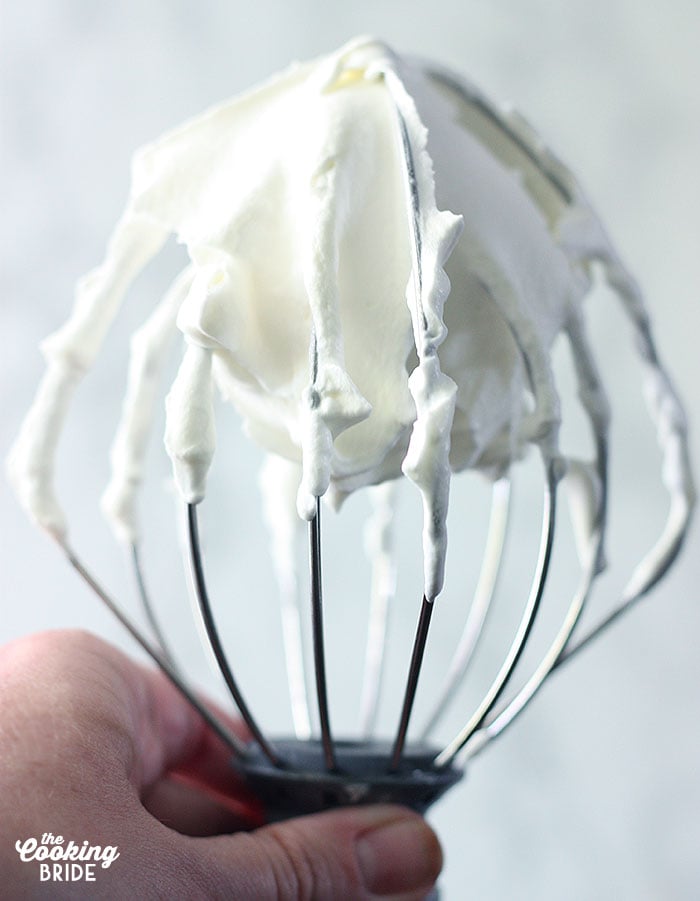 If using granulated sugar, add it at the beginning before you start mixing. If using powdered sugar, add it at the end when soft peaks have formed, so the cornstarch can help stabilize the cream.
Wait, soft peaks? Haven't we heard that term before? Refer back to my post on meringue if you don't remember. Start whipping your cream on low to medium speed to prevent splattering until it starts to thicken up. Then crank it up to medium-high.
Whip it good, but not too good. Over beating your heavy cream will cause the milk solids to separate. Next thing you know, you've got butter. Whip just until soft peaks form, them stop.
How to Store Homemade Whipped Cream
Homemade whipped cream can last in the refrigerator for up to two days. If it looks a little flat, bring it back to life with a few whips of a handheld whisk.
Homemade whipped cream can also be store in the freezer for up to two month. Simply spoon it into an air tight freezer safe container. Before using, let it thaw in the refrigerator. Alternately, spoon individual servings onto a foil lined baking sheet, then place the sheet in the freezer until frozen. Place the frozen servings in a plastic bag. When you're ready to serve, just take what you need.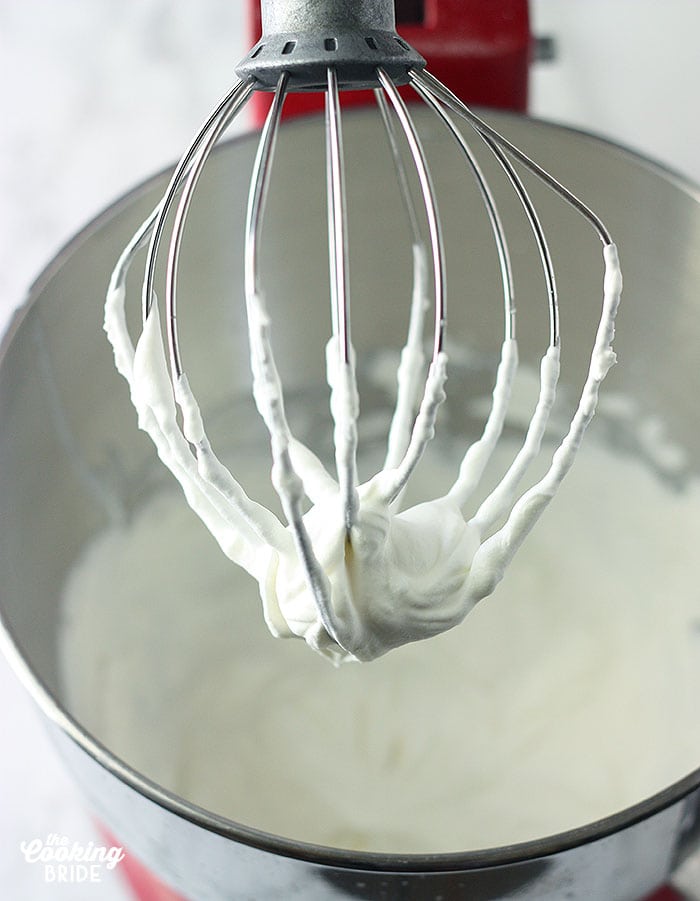 You Might Also Like:
Homemade Whipped Cream
Nothing compares to the flavor of homemade whipped cream. With only two ingredients, you can make homemade whipped cream yourself in minutes!
Ingredients
1

cup

cold heavy whipped cream

4

tablespoons

confectioners' sugar
Instructions
Place mixing bowl and beater(s) into the freezer for about 15 minutes to chill.

Pour cold cream into the chilled bowl. Mix on medium-low until the cream begins to thicken. Then turn the mixer up to medium-high. Beat until soft peaks begin to form.

Add the confectioners' sugar. Whip for about 1 more minute until the confectioners' sugar is incorporated.

Serve immediately or store in the refrigerator for up to two days. Whipped cream can also be frozen for up to two months.