Last updated on September 21st, 2023
Cajun shrimp and rice, also known as shrimp delicate, is a savory shrimp dish served with a rich velvety gravy over rice.
About a year or so ago, a reader left a nice comment on my post for Crawfish Cornbread with Gravy. He asked if I had ever heard of Shrimp Delicate, the official state dish of Louisiana. I had not heard of the recipe in question, but I vowed to find out more.
I did locate a recipe for Shrimp Delicate, which I used as inspiration. It calls for a packet of beef stew seasoning mix; however, I came up with my own blend using herbs and spices I had in my cabinet. I absolutely loved the taste of the shrimp paired with the beefy flavor of the gravy.
Unfortunately, I found zero information on the origin of Shrimp Delicate, how it got its name or if it truly is the state dish of Louisiana. Oh well, I certainly won't let that deter me from making this again.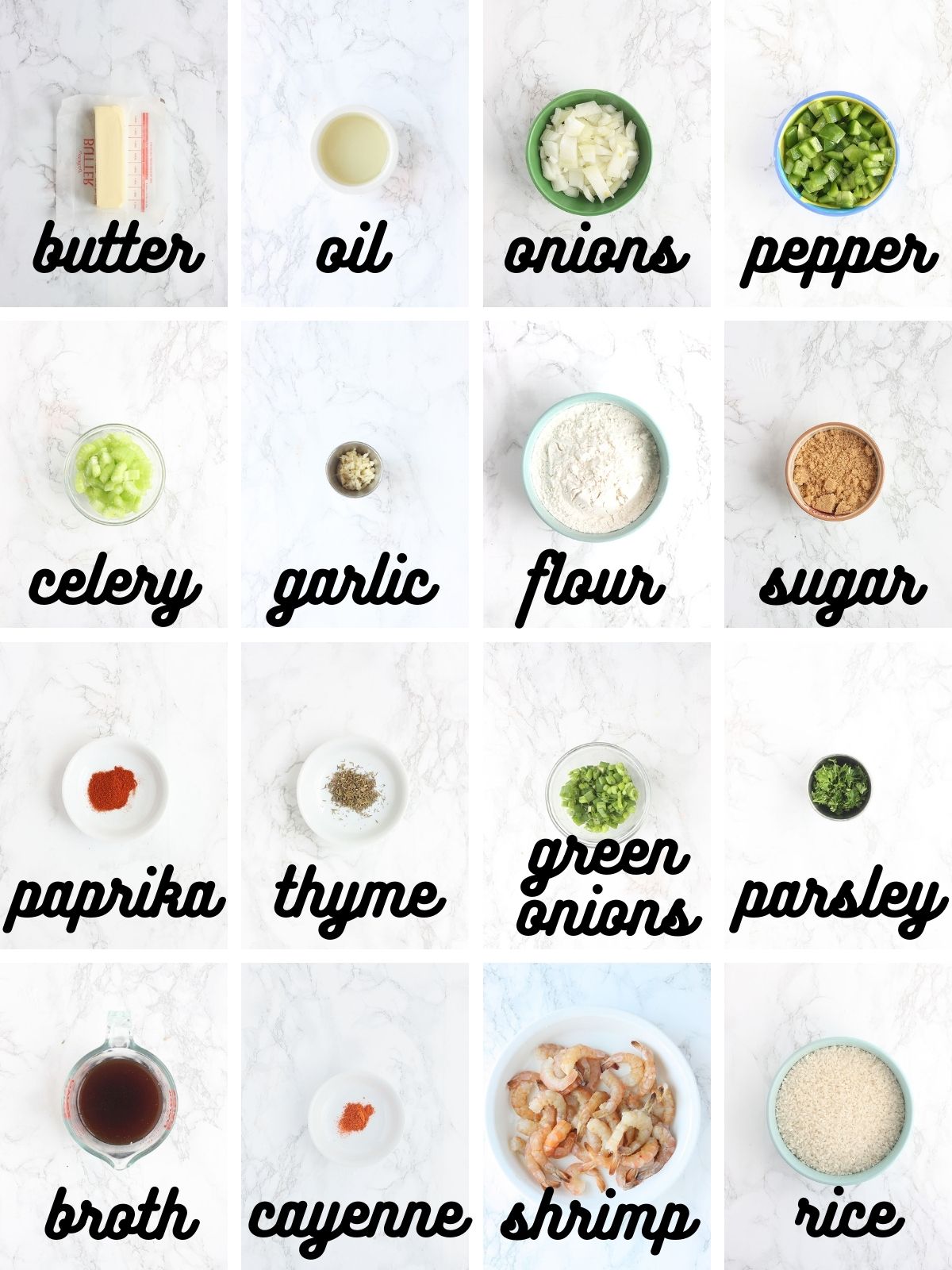 Sauté the Vegetables
Melt 1/2 cup of unsalted butter with two tablespoons of vegetable oil in a large skillet over medium heat. Once the butter is melted add one small, chopped onion, one chopped green bell pepper, and one sliced celery rib to the pan. Sauté the vegetables for 7 minutes until they are tender. Add two cloves of minced garlic and continue to sauté for another 30 seconds.
Make a Roux
Gradually stir in three tablespoons of all-purpose flour to the butter and vegetables. Cook for one minute, stirring frequently, until the flour thickens and forms a roux.
Simmer the Gravy
Add two teaspoons of brown sugar, two teaspoons of paprika, one teaspoon of dried thyme, one teaspoon of ground black pepper, 1/2 teaspoon of salt and 1/4 teaspoon cayenne pepper. Next, add four chopped green onions, a 1/4 cup of chopped fresh parsley and three cups of beef broth. Add additional salt, if needed, for taste.
Bring the sauce to a boil, reduce the heat to medium-low. Simmer, uncovered, for 20 minutes.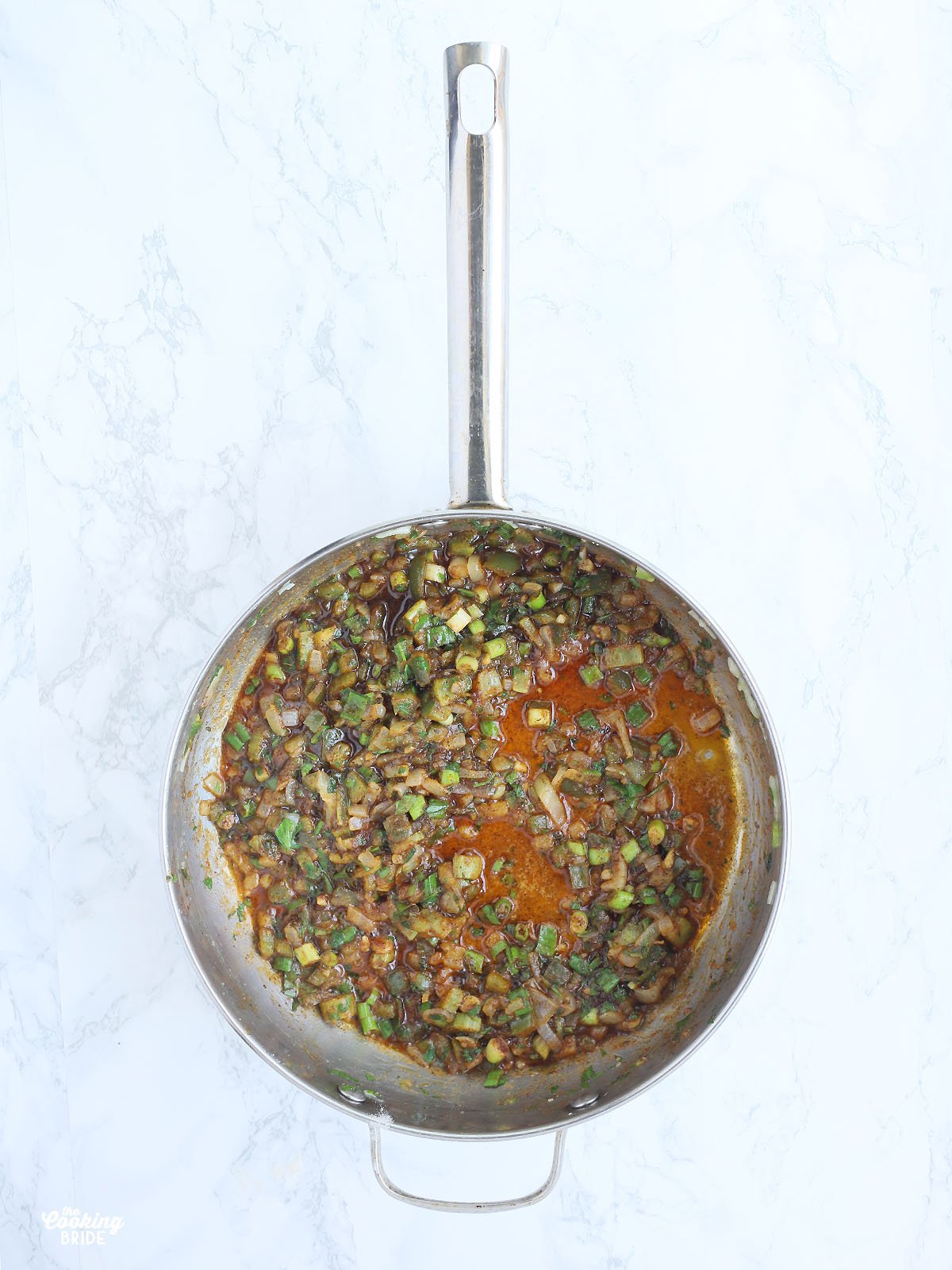 Add the shrimp
Finally, stir in one pound of peeled and deveined shrimp. Deveining just means you are removing the sand vein that runs along the back of the shrimp. If you leave the vein in, the grit that's contained in that vein will end up in your food. Yuck! If you are unsure the proper way to peel and devein shrimp, I recommend this quick YouTube tutorial.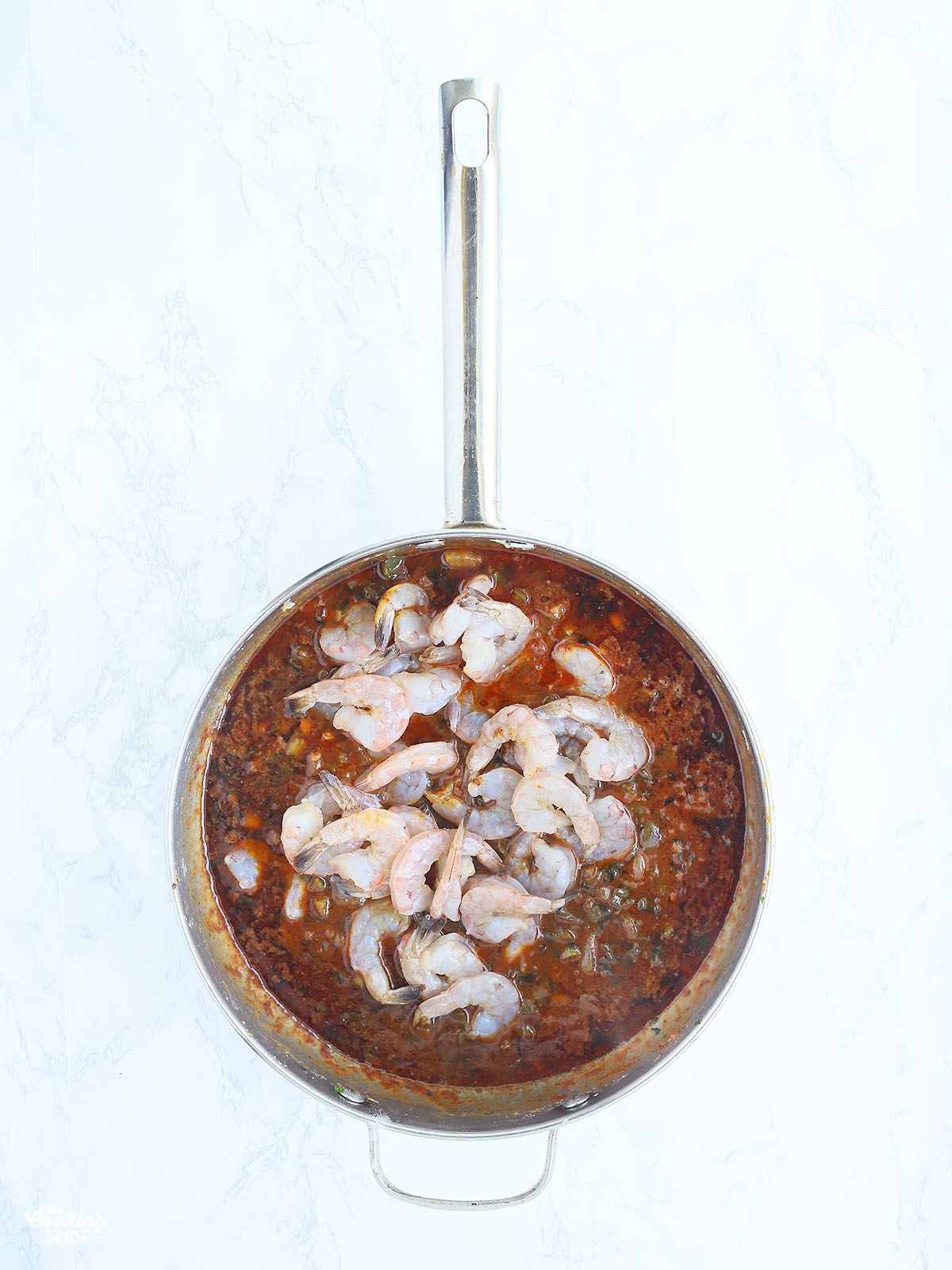 Some people like leave the tail on, as I have done in the photos. Visually, it's more appealing. But honestly, I think it is a pain to have to bite off and dispose of all those tails while I'm eating. When I'm not photographing shrimp for the blog, I remove the tails in addition to the shells.
Cook the shrimp for 8-10 minutes until shrimp have just started to turn pink and are heated through. Serve the shrimp and gravy over hot cooked rice.
Storage, Reheating and Freezing
Storage: Uneaten shrimp delicate should be stored in an airtight container in the refrigerator within two hours. Shrimp should be consumed within four days.
Reheating: Reheat the shrimp in a saucepan over low heat. Cook just until the shrimp and gravy are heated through.
Freezing: Freeze the shrimp with the gravy in an airtight container or freezer bag. Consume within three months. Allow the shrimp the thaw overnight in the refrigerator. Reheat the shrimp in a saucepan over low heat. Cook just until the shrimp and gravy are heated through.
More Shrimp Recipes: