Last updated on June 30th, 2023
Tart blueberries add a whole new flavor to traditional peach cobbler. Serve your blueberry peach cobbler with a scoop of vanilla ice cream.
This post may contain affiliate links. Click here to learn more about how affiliate links are used on this site.
During the summer, a fruit cobbler is one of my favorite desserts when fresh fruit is so plentiful. I recently adapted my tried-and-true peach cobbler recipe to include ripe, juicy blueberries. The warm, flaky crust, sweet peaches, tart blueberries and a scoop of vanilla ice cream is truly comfort food for the soul.
How to Make Blueberry Peach Cobbler
If you don't have access to fresh peaches, I suggest looking for frozen peaches. They will need to be thawed first. As a last resort, you can also use canned peaches, but look for the kind canned in fruit juice rather than syrup. You'll need to drain the peaches first. Frozen blueberries are also fine, but again, thaw them first. Your cobbler may have a little more liquid in it from using frozen fruit.
First, preheat the oven to 350 degrees F. Place ½ cup of butter in an 8 x 8 baking dish and heat it in the oven until it is melted. While the butter is melting, combine two cups of peeled and sliced peaches and one cup of blueberries with one cup of sugar. Set aside.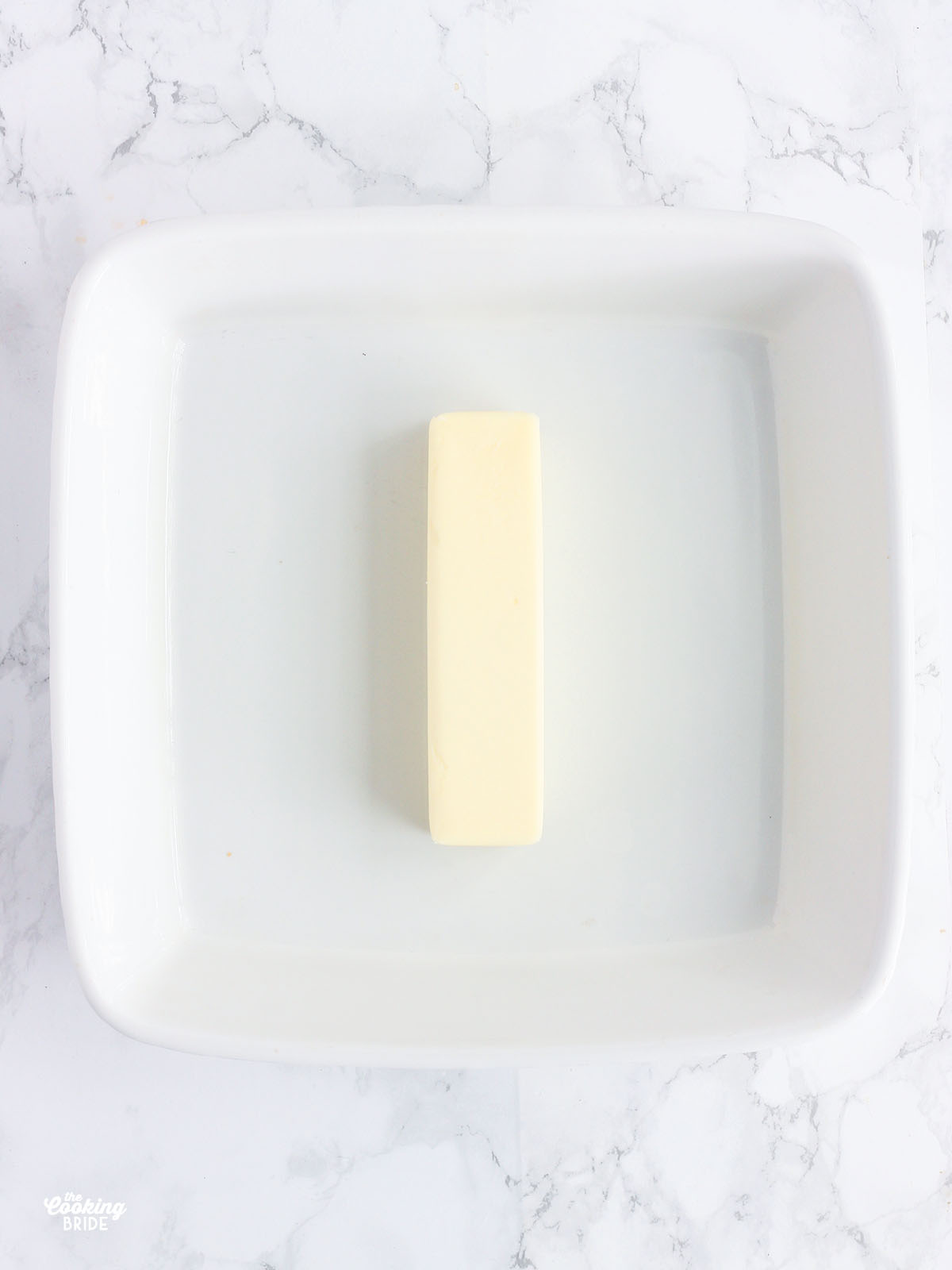 In a separate mixing bowl, combine the one cup of sugar, ¾ cup of flour, two teaspoons baking powder, 1/8 teaspoons of salt and ¾ cup of milk. Remove the melted butter from the oven. Pour the batter over the top of the butter. Do not stir!!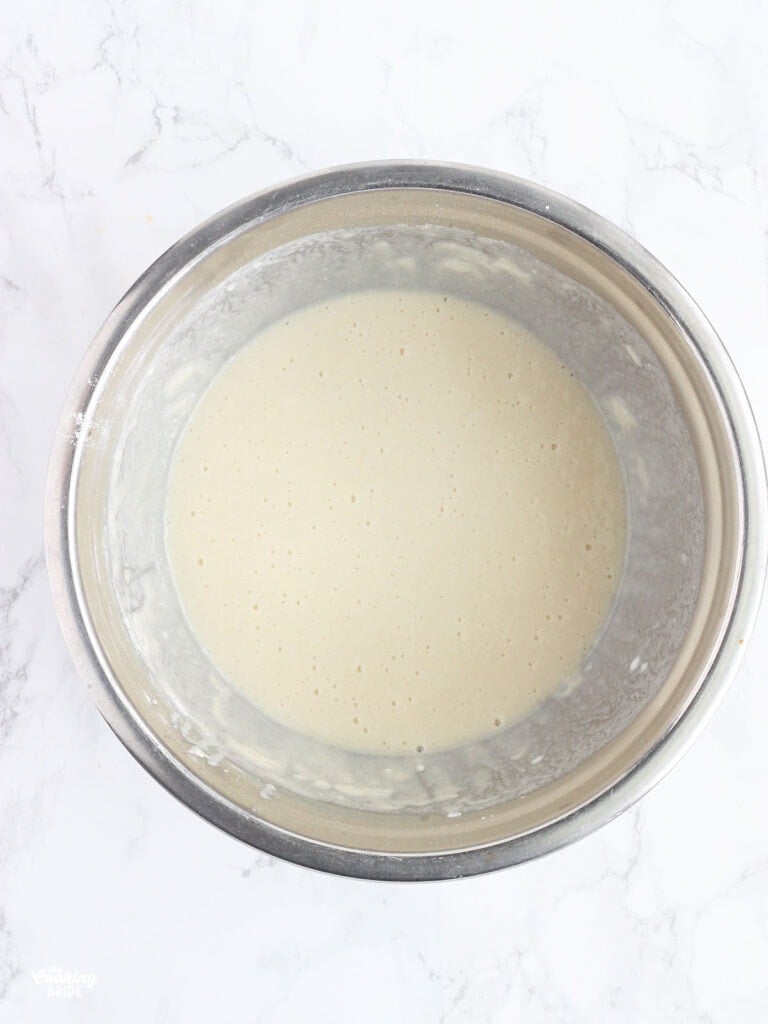 Pour the fruit over the top of the batter. Again, do not stir. Bake for one hour until the crust has risen to the top and is golden brown. Serve warm with ice cream or whipped cream.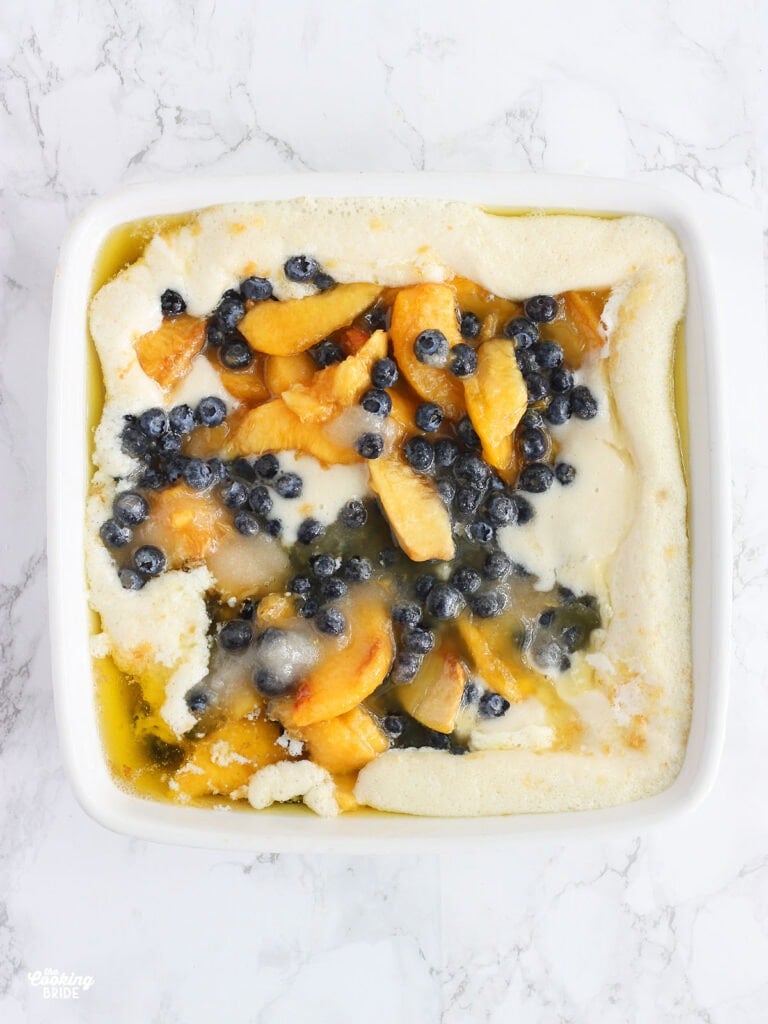 Storage, Freezing and Reheating
Storage: Allow the blueberry peach cobbler to cool completely. Cover the top with plastic wrap or aluminum foil and store in the refrigerator for up to four days.
Freezing: I have never tried to freeze this cobbler in its unbaked state, so I can with confidence recommend doing this. A baked peach cobbler can be frozen for up to three months. Cover the top with plastic wrap or aluminum foil.
Reheating: Allow the peach cobbler to thaw in the refrigerator before reheating. Preheat the oven to 350 degrees. Bake for 20-30 minutes until the cobbler is heated through. Individual servings can also be reheated for 1-2 minutes in the microwave; however, the crust will not be as crisp.
You Might Also Enjoy: