Last updated on March 29th, 2023
Healthy baked teriyaki salmon is quick, easy and delicious. Salmon filets are marinated in a flavorful spicy homemade chili garlic infused teriyaki sauce.
So, it's been awhile. A little over 10 months to be exact. I never thought I could stay away that long. I have a good excuse. Really, I do.
There's the usual stuff. I've been busy with my freelance work, family . . . Oh yeah, speaking of family.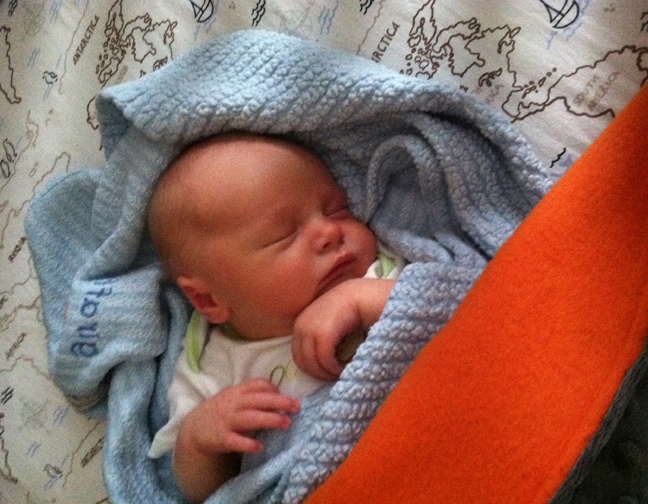 I realize if you don't know me personally, this may come as a surprise since I never officially announced on the blog that I was pregnant.
Meet Little Brother. He was born on August 14, just four days after Little Tot turned four.
Speaking of Little Tot. He's not really a Little Tot anymore, huh? I guess now that he's a big brother, a name change is in order.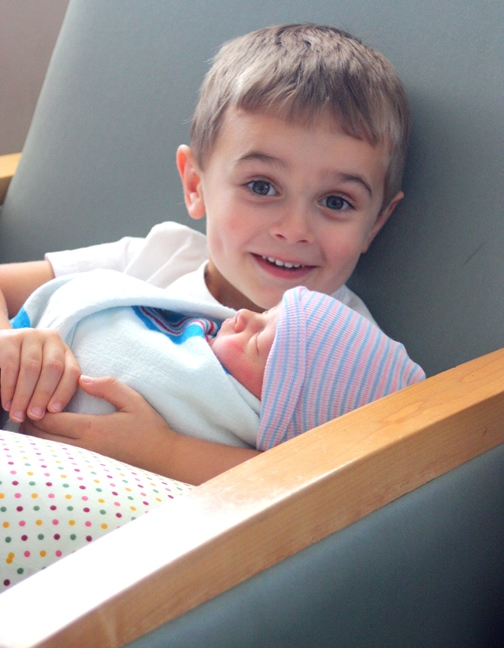 This pregnancy was definitely harder on me. Soon after becoming pregnant, nausea set in. Who wants to cook when just looking at certain foods makes you feel like you could hurl at any second? My energy levels were in the negative, yet I still had to keep up with an overactive three-year-old. Combine that with my freelance work, and well, something had to take a back burner.
Honestly, I had no idea how hard it would be raising two kids. You parents that have big families, my hats off to you. Two kids are kicking my butt. I don't know how I would manage with four or five.
The Husband suggested when I did finally pick blogging back up, that I should resurrect my very first recipe. I had to go back and look because I couldn't even remember what my first recipe was. The original post was kinda sad. Bless my heart,I didn't even know enough to include a picture, not that my photography skills were too stellar back then anyway.
How to Make Baked Teriyaki Salmon
I like this recipe because it's easy and quick. These days, I need more easy and quick meals that I can throw together while my preschooler is distracted by a Tom & Jerry rerun. The most important thing is to make sure you allow 30 minutes for your salmon filets to marinate.
The marinade consists of several Asian-inspired ingredients, including rice wine vinegar, chili garlic sauce and oyster sauce. All of these ingredients should be available in the ethnic food aisle of your grocery store. Add some canola or vegetable oil, ketchup, salt and ground black pepper, minced garlic, dried oregano and brown sugar. Stir until the brown sugar is dissolved.
You can reserve a little bit of the marinade to use later as a dipping sauce like I have done in the pictures. Otherwise, I like to put my salmon in a gallon-sized freezer bag, pour the marinade in, press to remove the air from the bag, then seal it up an place it in the fridge.
When you're ready to bake, preheat the oven to 350 degrees. I always line my baking sheets with foil so the clean up is easy. Arrange the salmon in a single layer on the foil-lined baking sheet and throw the marinade away. Bake for about 20 minutes until the center of the filet feels firm and the fish flakes easy with a fork.
I like to serve these baked teriyaki salmon filets with cooked white rice and edamame.
You Might Also Like:
Baked Teriyaki Salmon
Healthy baked teriyaki salmon is quick, easy and delicious. Salmon filets are marinated in a flavorful spicy homemade chili garlic infused teriyaki sauce.
Ingredients
¼

cup

vegetable oil

¼

cup

soy sauce

2

tablespoons

ketchup

1

teaspoon

rice wine vinegar

¼

teaspoon

pepper

2

cloves

garlic crushed

1

teaspoon

dried oregano

2

teaspoons

chili garlic sauce

2

teaspoons

brown sugar

1

teaspoon

oyster sauce

4

salmon filets

about 1 ½ - 2 inches thick
Instructions
Combine all ingredients except the salmon in a small mixing bowl. Pour half the mixture into a large resealable plastic bag. Set the remaining sauce aside.

Add the salmon filets to the bag. Allow the filets to marinate for 30 minutes.

Preheat the oven to 350 degrees.

Arrange fillets on a lined baking sheet. Discard the sauce used for the marinade. Bake filets for 20 minutes or until the center of the filet flakes easily with a fork.

Drizzle filets with remaining sauce before serving or serve as a dipping sauce on the side.