Last updated on May 17th, 2023
Yummy green chicken enchiladas are an easy weeknight favorite and freezer friendly. Make your own homemade salsa verde – it's easy!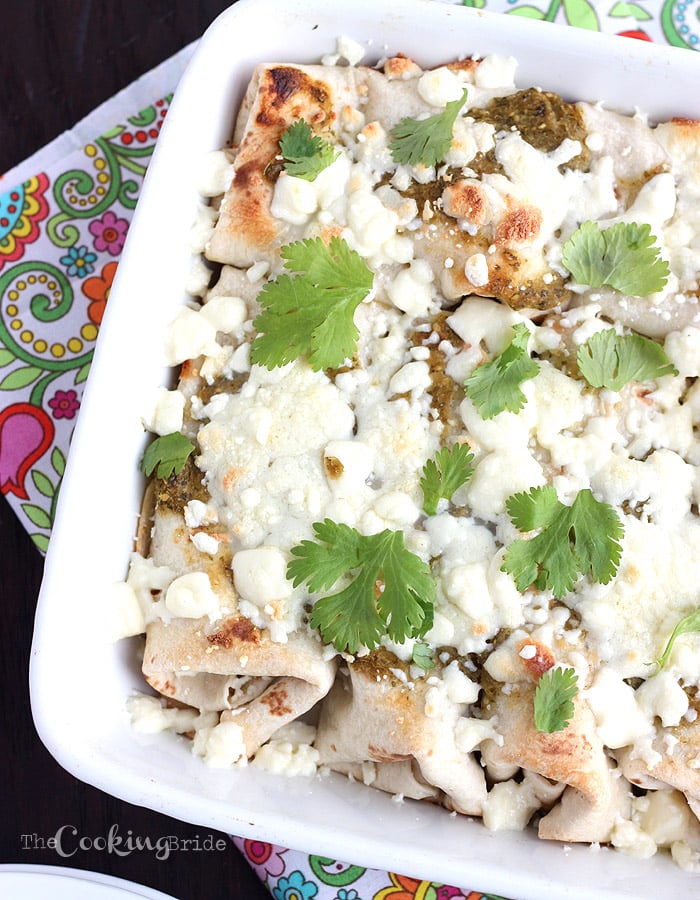 For a few years I have been fascinated by tomatillos.  I remember seeing them for the first time in the produce section of my grocery store.  I'm sure I was scanning the produce bins, looking for celery or carrots, when they landed on these round . . . fruits? vegetables? . . .wrapped in paper husks.  The name sounded like tomato.  Was it the same thing?
My thirst for knowledge led me to Google.  Turns out they are a fruit, known as green tomatoes in Mexico, and are a staple of Mexican cuisine.  So my next question was, what do you do with them?
Maybe it was coincidence that in the same week two recipes using tomatillos came across my path?  One was for a traditional salsa verde used in chicken enchiladas and the other a unique take on a pasta sauce.
Enchiladas are not my favorite item to order at a Mexican restaurant.  They usually come out swimming in a big glob of beans and red sauce, transforming my tortilla into something resembling a soggy wet sponge.  How appetizing . . .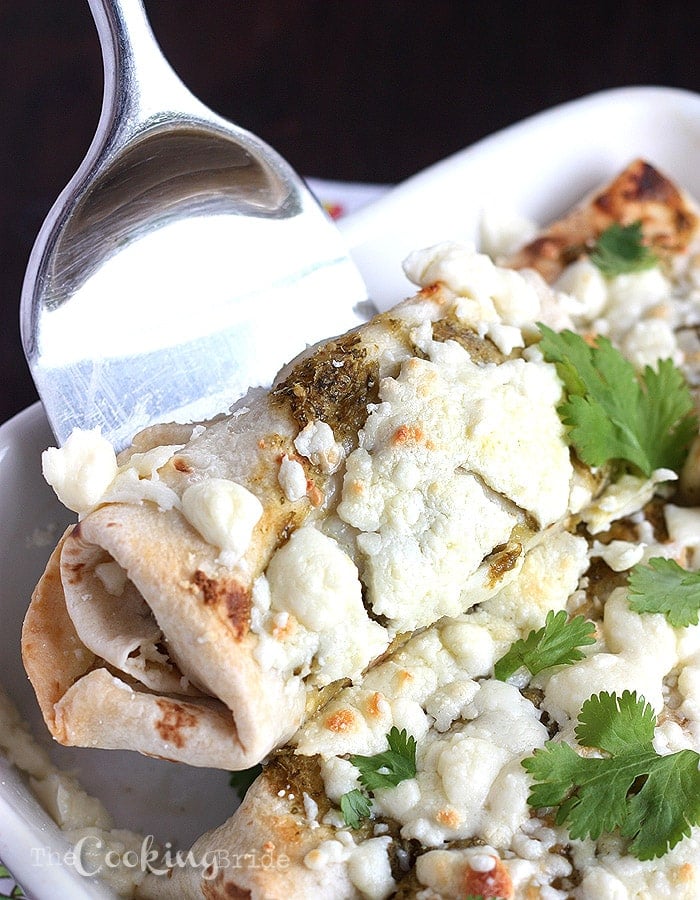 I do enjoy making them at home where I can control the amount of sauce that goes into my dish, leaving a little tortilla exposed so I get some crunchiness along with the ooey, gooey center.  This recipe would be great for a crowd since it makes quite a lot of food.  Being that  it's just the two of us – Carnivore Husband and myself – I halved the recipe and we still couldn't eat the whole pan.
If you plan ahead, you can do a little double time with this.  Remember the roast chicken from earlier in the week that I used to make chicken noodle soup?  It appears again as the filling for my tortillas.  The pasta sauce in the next post calls for roasted tomatillos.  What do you know?  I just happen to be roasting tomatillos for my enchiladas.  Why not double up and save yourself a step later on?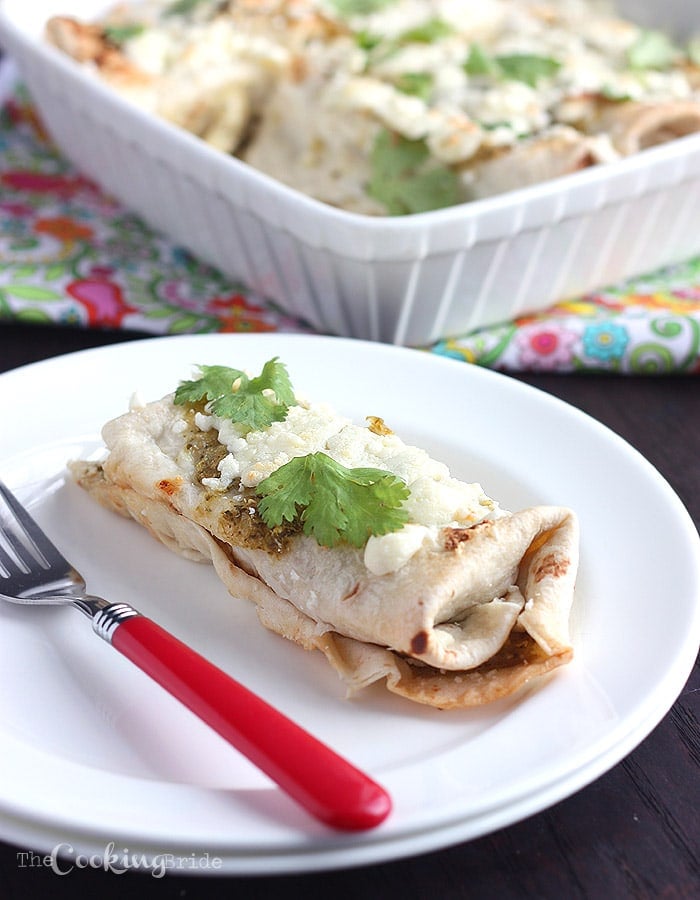 You Might Also Like:
| | | |
| --- | --- | --- |
| | | |
Chicken Enchiladas with Roasted Tomatillo Salsa Verde
Yummy green chicken enchiladas are an easy weeknight favorite and freezer friendly. Make your own homemade salsa verde - it's easy!

Ingredients
Tomatillo Salsa Verde:
1

pound

tomatillos

husked

1

white onion

peeled, sliced, quartered or whole

4

garlic cloves

2

jalapenos

2

teaspoons

ground cumin

1

teaspoon

salt

1/2

cup

chopped cilantro leaves

1/2

lime

juiced
Enchiladas:
Extra-virgin olive oil

1/2

medium onion

diced

3

garlic cloves

chopped

1 1/2

teaspoon

ground cumin

1/4

cup

all-purpose flour

2

cups

chicken stock

Chopped cilantro leaves

4.5

cups

shredded chicken

Salt

Freshly ground black pepper

10

large flour tortillas
Instructions
Preheat oven to 400 degrees.

Combine tomatillos, garlic cloves, and jalapenos on a baking tray. Roast for 12-15 minutes. Toss into a food processor and process until ingredients are combines and sauce is chunky.

Reduce oven heat to 350 degrees.

Heat olive oil in a large skillet over medium high heat. Add onion and cook for 5-7 minutes, or until onion is translucent.

Add garlic and cumin and cook for one minute more. Gradually add flour and then add chicken stock. Stir to ensure that flour is well combined and mixture does not get lumpy. Continue to cook for a few minutes more until liquid begins to thicken.

Remove pan from the heat. Stir in roast chicken and half of the salsa verde sauce. Season with salt and pepper.

Spread about 1/4 - 1/2 cup salsa verde sauce on the bottom of a 13 x 9 x 2-inch baking dish.

Wrap tortillas in plastic wrap and microwave them for 10-15 seconds until tortillas are soft and pliable. Lightly coast each tortilla with a small amount of salsa verde sauce.

Arrange the chicken mixture down the center of each tortilla. Sprinkle with shredded cheese.

Roll each tortilla and place seam side down in the baking dish. Pour remaining salsa verde over enchiladas and sprinkle with remaining cheese.

Bake uncovered for 30 minutes until cheese is melted.
Notes
If freezing, follow recipe through Step 10. Complete Step 10 prior to serving.
Inspired by Tyler Florence.