Last updated on March 30th, 2023
A quick and easy weeknight meal, you can prepare this London Broil in the oven. Warm spices of cinnamon, coriander and ginger complement the flavors of the beef.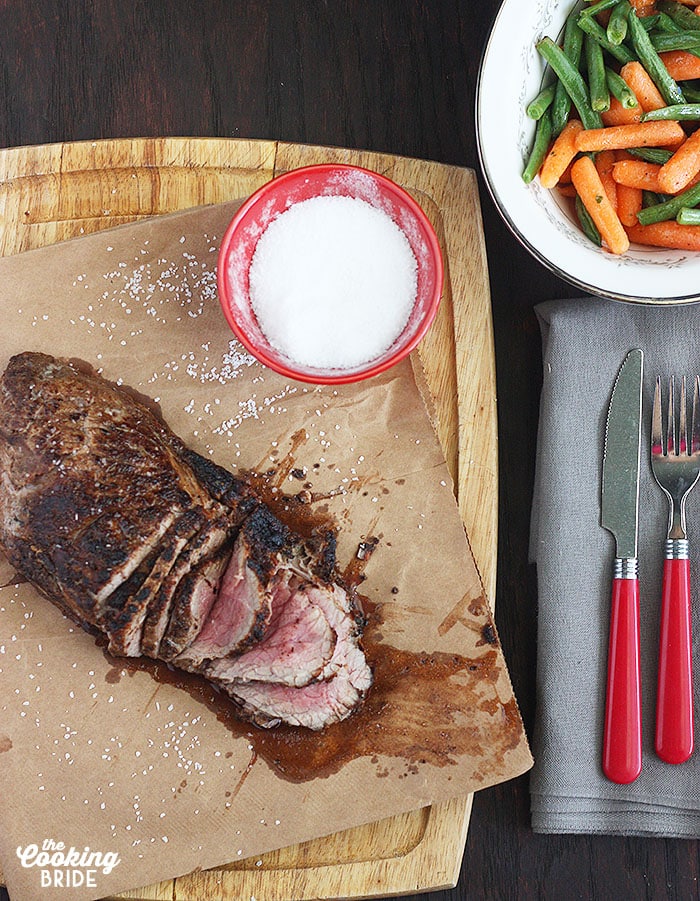 Have you ever purchased some sort of exotic spice for one recipe and then never used it again? It gets pushed to the lonely dark corners of the spice cabinet and occasionally rediscovered only when I was having a hard time reaching something on the top shelf and had to break out the step ladder.
Oh yeah, there is my bottle of coriander.
We like red meat in our house, but has anyone else noticed that the price of cow is ridiculous these days? I am always looking for a new way to cook a cheaper cut of beef, like a London Broil.
What is a London Broil?
Despite its name, the London Broil does not hail from Britain. It has nothing to do with the cut of beef, but rather the cooking method. Most London Broils are flank or top round steak. They are cheap because they are typically tough. Unless you prepare them right.
How to Prepare a London Broil in the Oven
First, preheat your broiler. Position an oven rack a few inches from the heating element.
I like to bring my London Broil close to room temperature before cooking. This allows the meat to cook more evenly. Twenty to 30 minutes on a counter should be plenty of time. I like to go ahead and apply my spice rub so it can absorbs into the meat while I'm waiting.
After your London Broil has come to room temperature, heat some cooking oil in a skillet over medium high heat. I prefer to use cast iron to sear the meat because it heats quickly and evenly. It gives me that perfect crust on the outside and after I've seared the meat I can move directly from stove top to oven.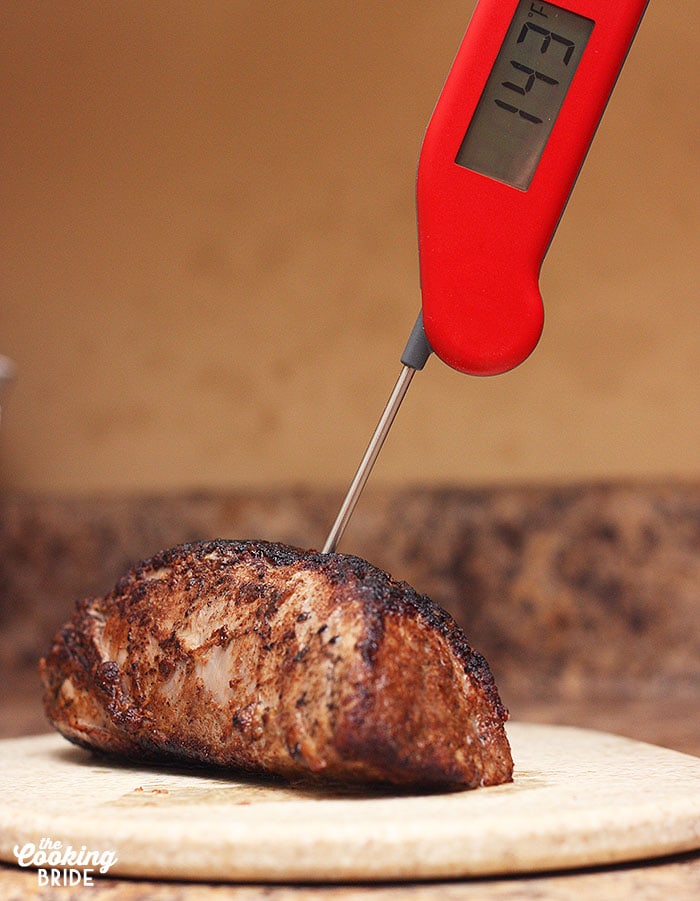 Before broiling, check the internal temperature of your meat. I have found the Thermoworks Thermapen® Mk4 to be the most accurate meat thermometer I've tried (and trust me, I've tried dozens!). You want to gauge how far away your London Broil is from done before you finish it in the broiler. Medium rare is 145 degrees, medium is 160 degrees and well done is 170 degrees. Check your temp at the thickest part of the meat. If you're pretty close, you'll only want to broil for a few minutes. If you like less pink, cook for a little longer. You want to take your meat out when it's at least 10 degrees away from its final cooking temperature. Don't worry, it will finish cooking while it rests.
Why Should You Let your meat rest?
During cooking, the juices in the meat draw away from the center towards the surface. If you cut into the meat right away, all that juice will run out all over your cutting board. Allowing the meat to rest for 10-15 minutes gives the juices time to redistribute. Tent your London Broil with a little aluminum foil if you are worried about dinner getting cold.
Slice Against the grain
As I mentioned earlier, London Broil tends to be a tough cut of meat. That's why you want to slice it against the grain. Take a close look at the meat at your will see strands of connective tissue. Slicing parallel, or with the grain results in a chewy bite. However, slicing perpendicular, or "against the grain" causes it to be more tender.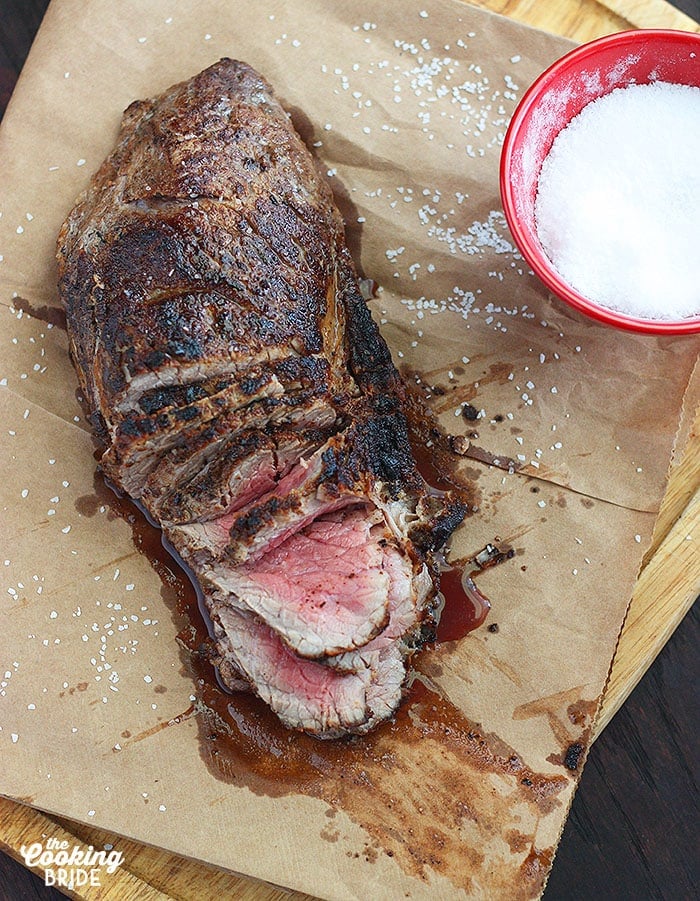 Spices Used in This Recipe
You don't find many meat rubs calling for warm spices like cinnamon, coriander or ginger. But don't worry, this is not a sweet rub.
What is coriander? Well actually, it's cilantro. Here in the U.S., we refer to cilantro as the leaves and stalks of the plant while coriander is the seed. However, in other parts of the world, the word cilantro does not even exist. If you aren't a cilantro fan, don't turn your nose up just yet. This rub does not have that strong soapy smell or flavor that cilantro leaves tend to emit.
This rub is warm with a hint of saltiness that complements the red meat perfectly. I frequently serve this on a weeknight because it takes only minutes to prepare. Serve with a side of roasted vegetables or soft warm flatbread.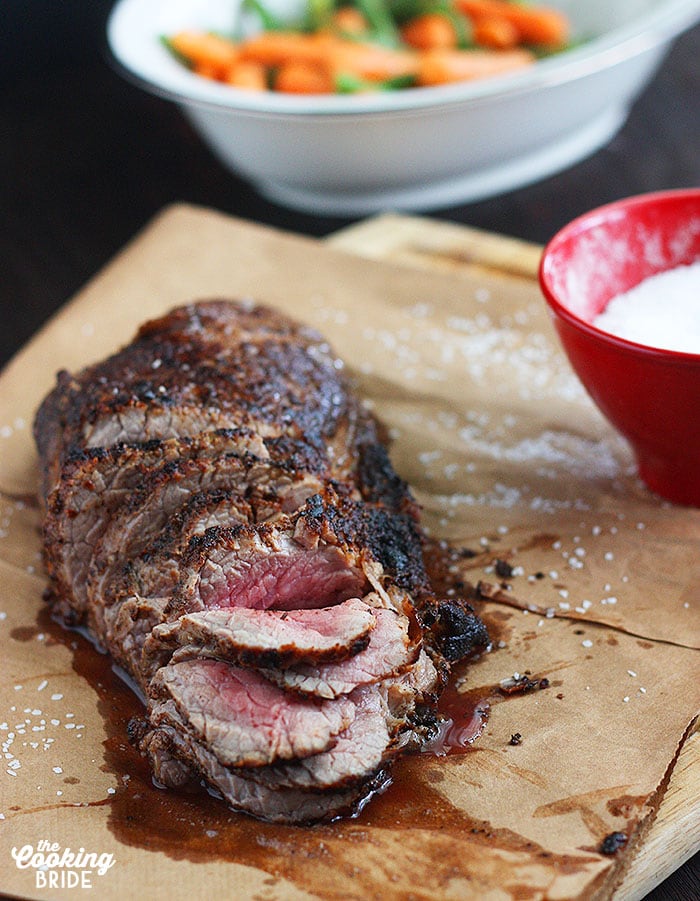 Recommended Side Dishes:
Moroccan Spiced London Broil in the Oven
Inspired by Fine Cooking Magazine
Ingredients
2

tablespoons

olive oil

½

teaspoon

coriander

½

teaspoon

ground cinnamon

½

teaspoon

grated fresh ginger

2

medium gloves garlic

mashed

Kosher salt and freshly ground black pepper

1 ½

pound

London Broil
Instructions
Preheat broiler 450 degrees. Place an oven rack a few inches from the heating element.

Combine 1 tablespoon of oil with coriander, cinnamon, ginger, garlic, 1 teaspoon salt, and ¼ teaspoon pepper. Coat London with spice mixture. Let it marinate for 20 minutes.

Coat a cast iron or oven-proof skillet with canola or vegetable oil. Heat over high heat. When the skillet is very hot, sear the London broil on both sides (you may want to turn on your exhaust fan before doing this).

If you like your steak rare, check it for doneness once it's seared. However, if you like your steak medium rare to well done, place it under the boiler to continue cooking until it reaches your desired doneness. Our steak was a beautiful medium rare after XX minutes.

Remove London broil from the oven. Allow it to rest for 10 minutes before slicing it against the grain. Serve with any accumulated pan juices poured over top.