Last updated on September 3rd, 2023
Apricot nectar cake is a simple, but divine, vintage dessert. Lemon cake mix is sweetened with apricot nectar and topped with a silky smooth glaze.
If a recipe starts with a boxed cake mix, can it really be called homemade?
My answer is yes. As my kiddos get older, life gets more hectic (and Big Brother's homework gets harder), I have less and less time to bake from scratch. My options become, never bake anything because I'm limited on time … or utilize shortcuts I have available. My family would definitely choose the latter.
Cake mixes were introduced during the Great Depression, but really began to take off after WWII. By the 1950's, however, sales began to slump. Market researchers discovered housewives felt guilty for using boxed cake mixes — as if it meant they were somehow being lazy (ladies, WHY do we allow ourselves to think like this?). This lead to a marketing campaign that encouraged women to add their own touches to cake mix, in effect making it their own, i.e. homemade.
I don't know for certain how apricot nectar cake was invented, but if I had to guess, this would be the reason. Variations of this recipe are in just about every vintage cookbook I own. If you had (or still have) a Mamaw with a recipe card box, your chances are good you'll find a copy of this recipe in it (bonus points if it's handwritten).
Things you'll need to make apricot nectar cake
With only seven ingredients, apricot nectar cake is a relatively easy dessert to throw together. It can even be prepared in advance. To make this cake, you'll need:
1 (15.25 ounce) lemon cake mix
3/4 cup vegetable or canola oil
3/4 cup apricot nectar
4 large eggs
Cooking spray
I topped my cake with a glaze, though my entire family said the cake probably would have been delicious even without the glaze. If you do decide to make it, you will also need:
2 cups powdered sugar
1 tablespoon butter, melted and cooled
1-4 tablespoons fresh lemon juice
1-4 tablespoons apricot nectar
What the heck is apricot nectar?
Until this recipe, I had never even heard of apricot nectar. Apricots are a stone fruit that look a lot like peaches, but are tart like plums. Nectar is juice. But since apricots aren't an especially juicy fruit, the juice is a bit thicker than something you would extract from an orange, apple or grape. Hence, the term nectar.
I was able to find apricot nectar on the juice aisle of my grocery store. There was only one brand to choose from and it came in cans instead of a bottle (Little Brother saw the open blue can sitting on my counter and thought I had been drinking Bud Light while he was away at school).
If you live in a larger area, you may be able to locate unsweetened apricot nectar. I wasn't willing to search all over creation for one ingredient, so I took what was readily available. The nectar I purchased contained corn syrup, so it was really sweet. I was definitely not going to be replacing my morning glass of O.J. with leftover apricot nectar. If you're interested in other ways to use leftover apricot nectar, I found a few recipes and cocktails that use the ingredient.
Bake the cake
In a large mixing bowl, combine the cake mix, oil and apricot nectar. Mix on medium speed until the cake mix is combined. Add the eggs, one at a time, mixing on medium speed in between each addition. Make sure the egg is incorporated before adding the next one.
Pour the cake batter into a greased Bundt cake pan. Bake the cake at 350 degrees for 30-45 minutes until a toothpick inserted near the center of the cake comes out clean. Allow the cake to cool for 30 minutes in the pan. Then run a knife around the edges of the pan and carefully invert the cake onto a large plate or a cooling rack. The cake needs to cool completely before adding the glaze.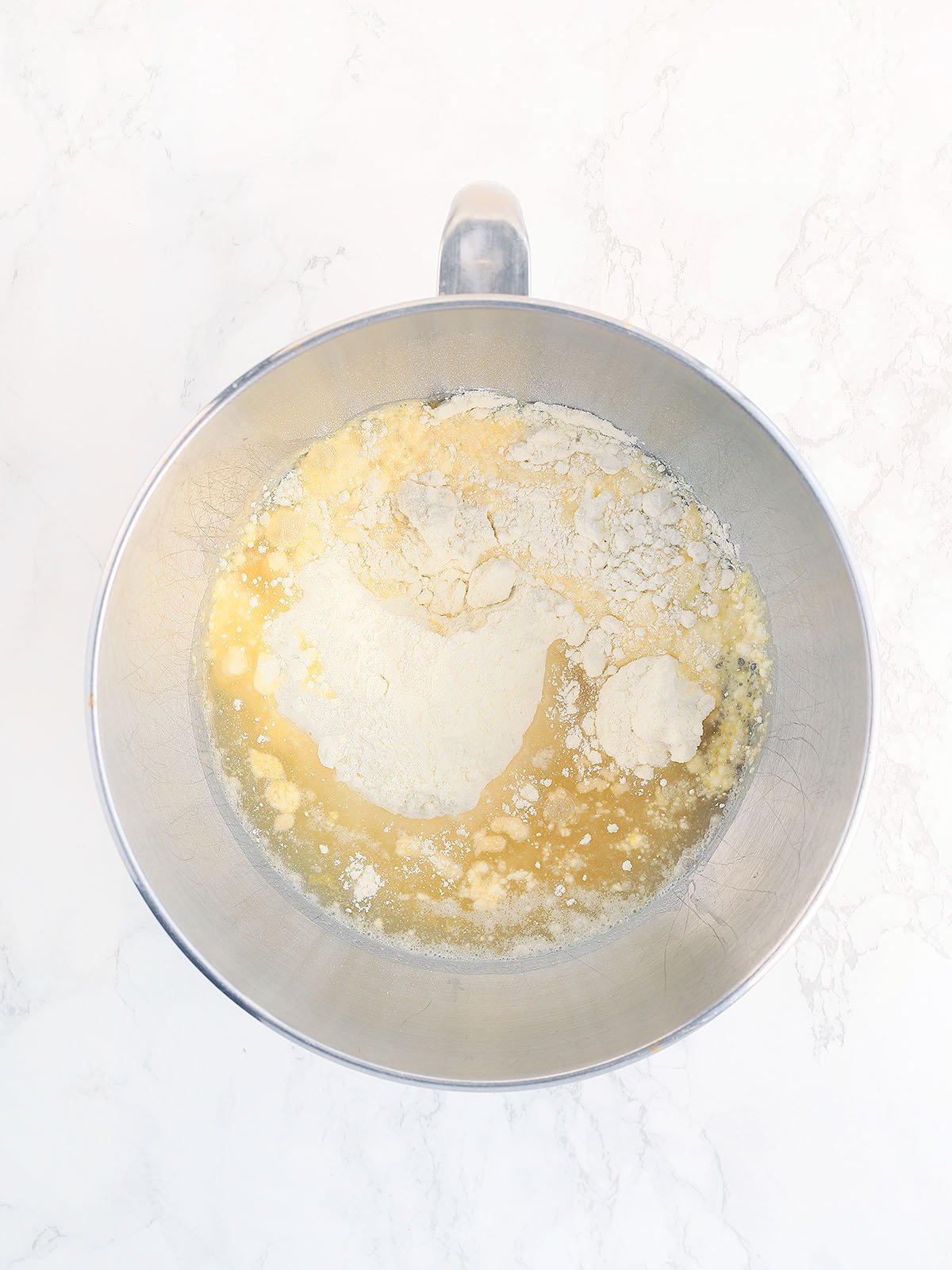 Make the glaze
In a separate mixing bowl, combine the powdered sugar, melted butter and one tablespoon each of the apricot nectar and lemon juice. A few caveats, the butter definitely needs to be cooled, but not to the point where it has solidified again. If the butter is still hot, it will make the glaze more runny. The butter should be cool to the touch.
Also, I highly recommend using freshly squeezed lemon juice. Bottle lemon juice has a weird metallic taste, in my opinion. Just about the only time I recommend using bottled lemon juice is if you're making homemade jam.
Whisk the glaze ingredients together until the powdered sugar is mostly dissolved. The glaze will be thick. At this point, you can thin it out with either additional lemon juice or additional apricot nectar. For a sweeter glaze, go with more nectar. To cut the sweetness, opt for more lemon juice. Add your juice of choice one tablespoon at a time, whisking after each addition. I wanted a glaze that would pour easily, but not so thin that it would immediately dissolve into my cake. I found three tablespoons total of liquid was sufficient, but feel free to add as little or as much as you want until the consistency is right for you.
Pour the glaze over the top and sides of the cooled cake. It's helpful to have something under the cake to catch any excess that drips off. The glaze will harden slightly after 30 minutes. You can speed this up by placing the cake in the refrigerator.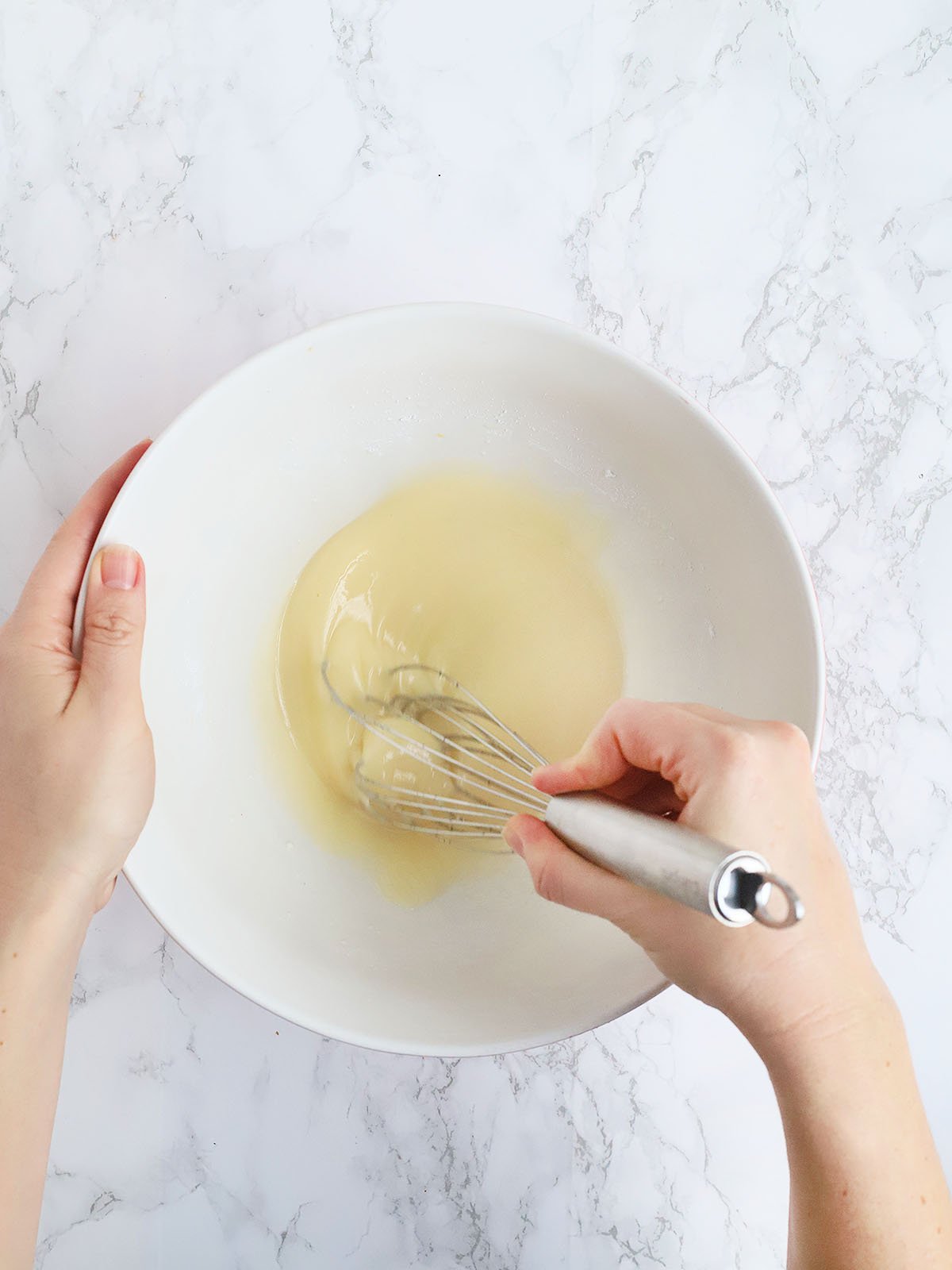 Storage and freezing
Storage. Apricot nectar cake can be stored at room temperature for 1-2 days. It will need to be kept in a cake saver or under a cake dome to prevent it from drying out. If your cake lasts longer than two days, I recommend sticking it in the fridge to keep mold from forming. The cake should be eaten within a week.
Freezing. Apricot nectar cake can be frozen for up to three months. I suggest freezing an unglazed cake. While it won't hurt anything to freeze the cake with the glaze on, it won't be as pretty once you thaw it. To prevent freezer burn, carefully wrap the cake in a layer of plastic wrap followed by a layer of aluminum foil. Allow the cake to thaw completely before adding the glaze or serving.
Frequently asked questions
More cake recipes