Hosting a large brunch crowd? It's not a proper brunch without a Bloody Mary cocktail. This spicy recipe is enough for an entire pitcher. Don't for get the garnishments!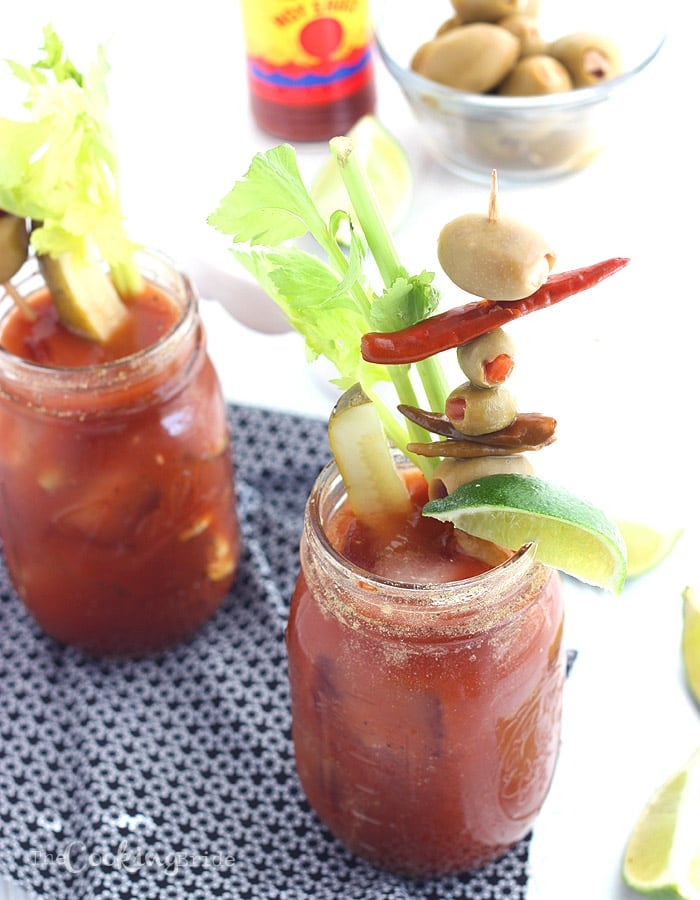 This post was in no way endorsed by Tony Chachere' s.
The opinions expressed in this post are completely my own.
My husband is a connoisseur of Bloody Marys. I'm willing to bet they are in his Top Ten List of Things he Loves Most, right after God, me, our boys, crawfish, and deer season. I've learned after living with this man for close to ten years that making the perfect Bloody Mary is an art form. Every detail is important, right down to the garnishes. In fact, there is a running joke among The Husband's friends that when my husband makes a Bloody Mary, it ends up looking a bit like this.
That is a total exaggeration, of course (sort of). But really, in all seriousness, the man has honed his craft. A few weeks ago, I just stood back and watched him work. That's when I decided The Husband's Bloody Mary Mix needed its own blog post.
The Husband has never really gotten into the process that goes into creating a blog post. He's more interested in when I'm going to photograph the end product so he can eat it. Buy ya'll, once I mentioned I wanted to write about his Bloody Mary mix, his eyes lit up. He was so excited.
His recipe has evolved over the years. He's experimented with every kind of base imaginable, from fresh tomato juice to V-8. It's finally come down to his all-time favorite base — Tony Chachere' s Bloody Mary Mix. He says it has just the right amount of spices and the flavor is better than any other he's tried (Trust me; I've seen a lot of other brands come through our kitchen).
This recipe is ideal for a crowd. Typically, The Husband mixes all his ingredients together in a giant washed out moonshine Hawaiian Punch container (I kid you not. We are high falutin' in this house). He recommends making the mix a day ahead of time for the best flavor.
A few other tips:
Always use fresh limes, no matter what. Use a juicer, if you have one, to get every drop.
Don't add too much vodka. It will dilute your drink. You can always add more to the individual glasses once you've served it up, but you can't take it out if you add too much.
The Husband says "shake the hell out of" the mix before serving just to make sure everything is thoroughly mixed. Or, if you are a little more high class than us and opt to use a nice pitcher instead of a moonshine plastic Hawaiian Punch container, give it a nice stir beforehand.
Use a strainer when pouring. (Read on, you'll find out why.)
Get creative with the garnishes! (See above.)
I am in no way endorsing the products I have listed below. However, The Husband demands strongly recommends that for best results, you should not deviate from what I have listed below.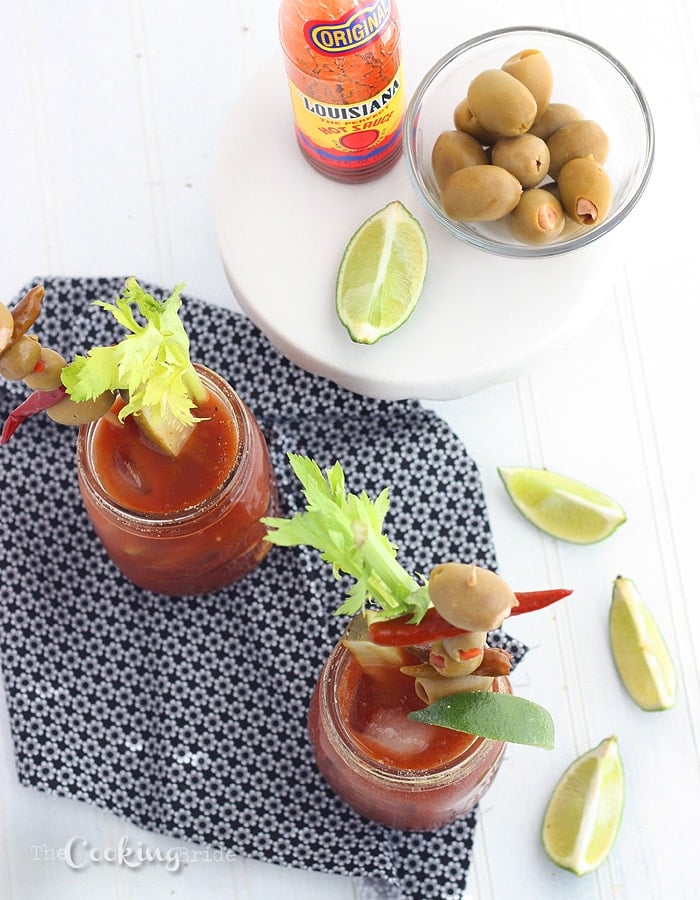 Bloody Mary Cocktail for a Crowd
Hosting a large brunch crowd? It's not a proper brunch without a Bloody Mary cocktail. This spicy recipe is enough for an entire pitcher. Don't for get the garnishments!
Ingredients
1

32 oz. bottle Tony Chachere' s Bloody Mary Mix

16

oz.

100-proof vodka

such as Burnett's

2

celery sticks

cut into thirds

2

dill pickle spears

quartered (such as Claussen)

10

or so Manzanilla olives stuffed with pimento

1 1/2

tablespoons

hot sauce

such as Louisiana hot sauce

1

tablespoon

Worcestershire sauce

10

or so pickled Tabasco peppers

1/2

cup

freshly squeezed lime juice

about 2 limes
Instructions
Combine all ingredients into a large container. Mix thoroughly.

For best results, prepare up to a day in advance.

Strain Bloody Mary mix into glasses. Serve over ice, if desired.

Garnish with additional celery, olives, dill pickle spears, lemon wedges, etc., if desired.