Last updated on May 15th, 2023
Fresh roma tomatoes, onions, jalapenos, and cilantro burst with flavor in this garden fresh salsa recipe. You'll never eat store bought again.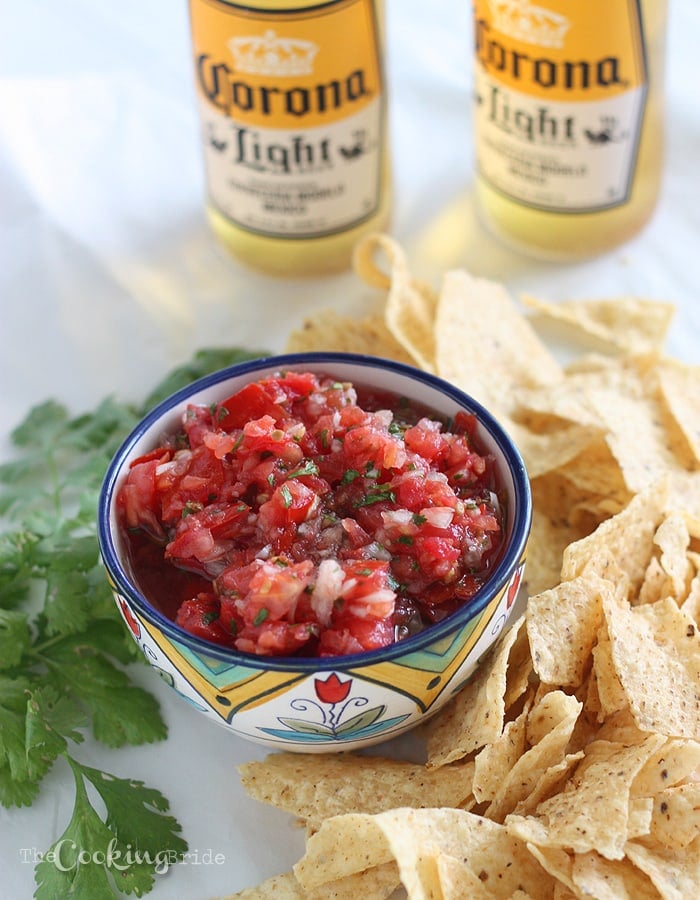 This post may contain affiliate links. Click here to learn more about how affiliate links are used on this site.
I like to think of myself as a gardener.
Keyword here is "think."
I've planted an herb garden every summer for three years with decent results.  I have mint for my mojitos, basil for my pesto, and a three-year-old rosemary plant that is starting to look more like a small tree.
Lo and behold, a few weeks ago a cucumber began to take shape.  And out of my nine bell pepper plants, one has actually started to produce.  The Husband and I were actually able to harvest enough cherry tomatoes to make a nice shish kebab last weekend. And finally, two homegrown roma tomatoes and a jalapeno pepper went into the making of this garden fresh salsa.
How to Make Homemade Fresh Salsa
I highly recommend getting your hands on a mini chopper or food processor. You'll have homemade salsa in no time. Otherwise, you'll be chopping for awhile. If you don't have the kitchen space or the budget to spring for a full-sized food processor, don't sweat it. I actually make this salsa using this exact mini food processor. You'll have to chop everything in batches, but it's still waaay faster than chopping by hand.
Roma tomatoes work best for this recipe because they have less juice. But I've made this recipe plenty of times using regular tomatoes. You just might want to remove all the seeds first to help cut down on the amount of water in your salsa.
You'll need seven roma tomatoes or 3-4 good sized regular tomatoes. You'll also need half a white onion, 2 cloves of peeled garlic and a jalapeno pepper halved and the seeds removed. I'm a wimp when it comes to spicy food. I find one jalapeno provides just enough heat without making me uncomfortable. However, if you prefer more heat, feel free to add additional jalapenos to your liking.
You'll also need white sugar, vinegar a little salt and a small bunch of fresh cilantro leaves. Throw everything in a food processor and pulse until your salsa reaches your preferred consistency. We like to leave our salsa just a little chunky. Serve with your favorite tortilla chips and a couple of cold beers, if desired.
How to Store Homemade Fresh Salsa
This fresh salsa recipe will keep in the refrigerator for several days. However, if you like to can food, I have had great success with canning this recipe. Because of the extra acid in the salsa from the vinegar, you can process these using the water bath canning method. Ladle the salsa into clean jars leaving 1/2 inch headspace. Use a spoon to remove air bubbles. Wipe rim. Center a hot lid on each jar. Apply band and adjust until fit is fingertip tight.
Process the filled jars in a boiling water canner for 15 minute. If you live in a higher altitude, you may need to adjusting the time. Remove jars and let cool. Check lids for seal after 24 hours.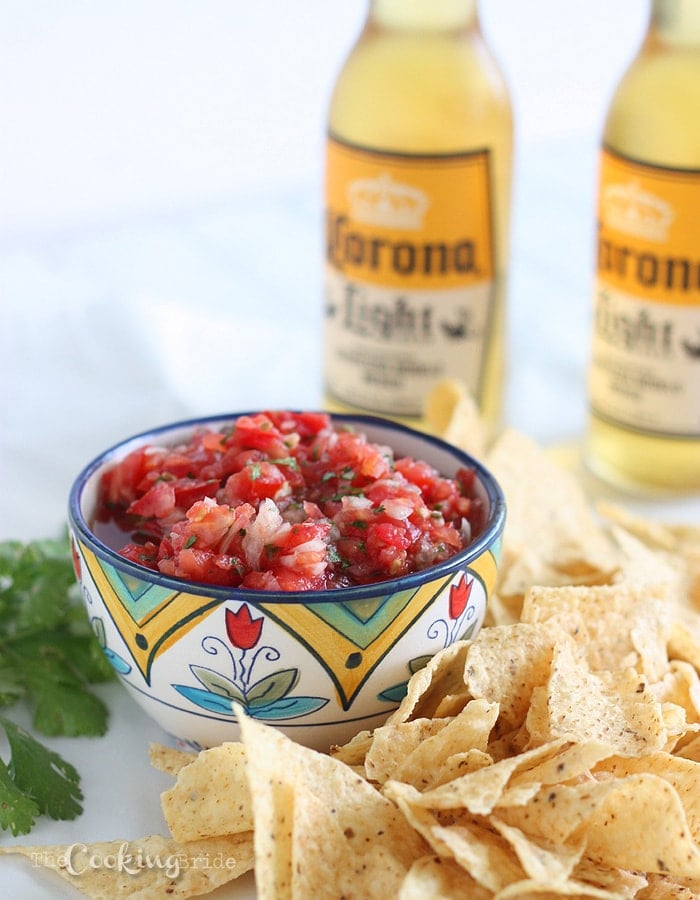 You Might Also Like:
Garden Fresh Salsa
Fresh roma tomatoes, onions, jalapenos, and cilantro burst with flavor in this garden fresh salsa recipe. You'll never eat store bought again.
Ingredients
7

roma tomatoes

quartered

1/2

cup

or one half of a medium white onion

2

cloves

garlic

1

jalapeno pepper

halved

1/4

teaspoon

sugar

1

teaspoon

white vinegar

1

teaspoon

salt

1/4

cup

fresh cilantro
Instructions
Put all ingredients into the bowl of a food processor.

Pulse until salsa reaches desired consistency (we like ours chunky).

Add additional salt as needed to taste.
Makes about 1 1/2 to 2 cups of salsa.
Notes
*If you prefer a milder salsa, remove the seeds and membrane from the jalapeno before tossing into the food processor.